EasyWP Review 2022: Is This Low Cost Hosting Any Good?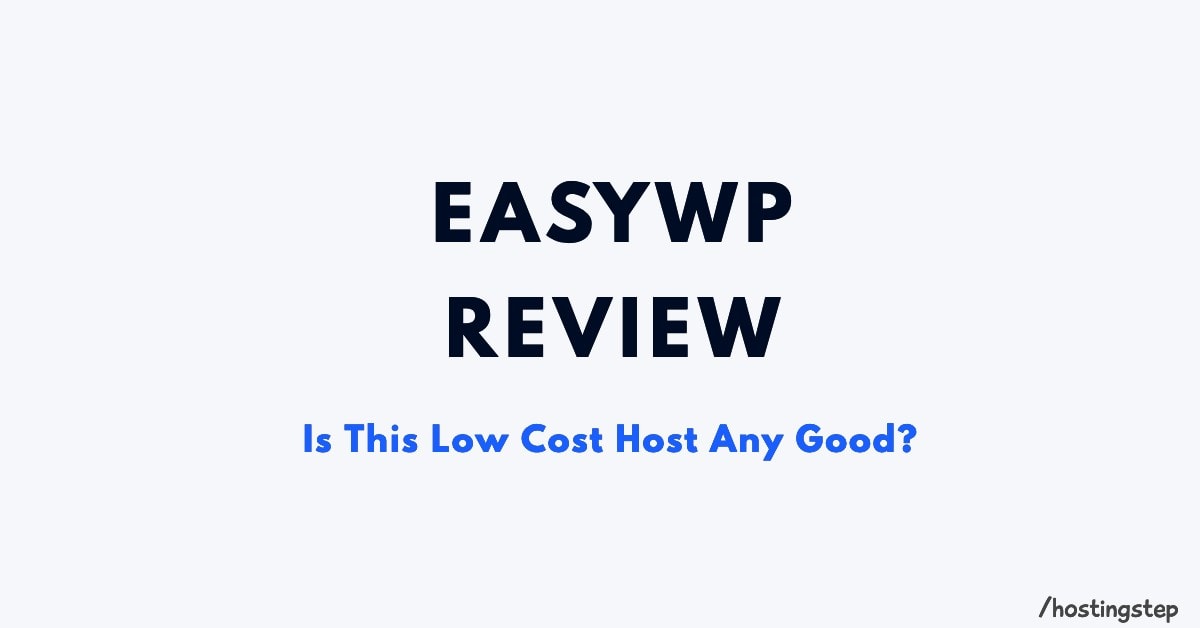 Here is my super in-depth review of EasyWP.
EasyWP is the new Managed WordPress Hosting from the team, NameCheap. I was looking to host one of my sites, and before that, I wanted to test it thoroughly.
In this EasyWP Review, I shared about
EasyWP Platform Details
Uptime & Response Time
EasyWP Pricing
Pros & Cons
Let's get started with EasyWP Review now.
EasyWP Overview
What is EasyWP? EasyWP is the new Managed WordPress Hosting platform from NameCheap, which comes with easy to use interface and inbuilt backups. The plans start from $4.88/month and go up to $13.88/month.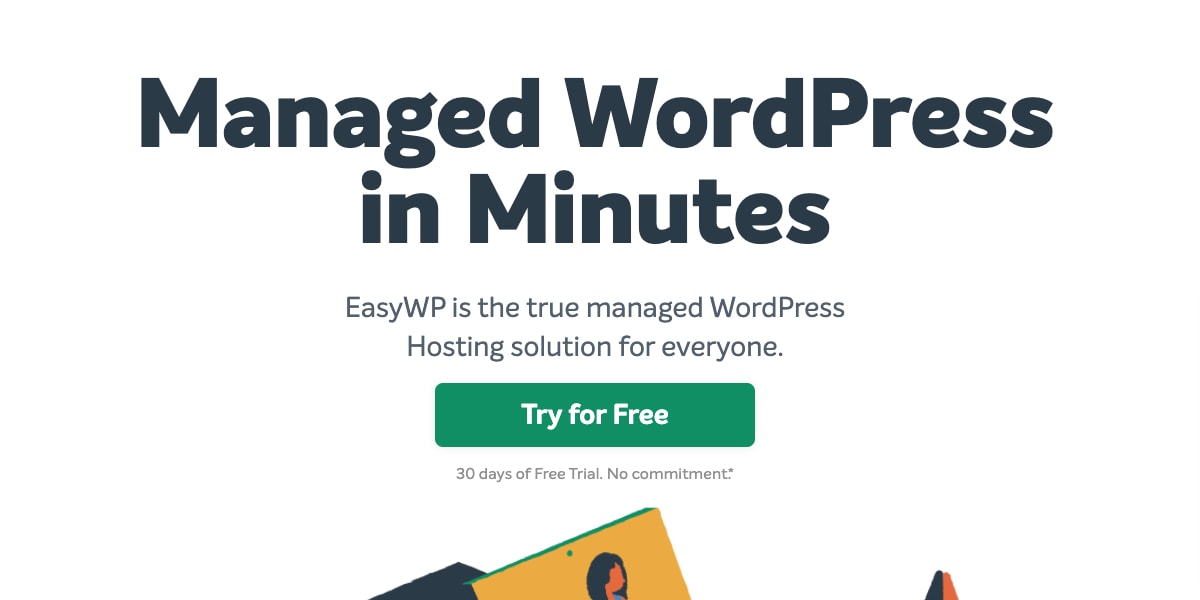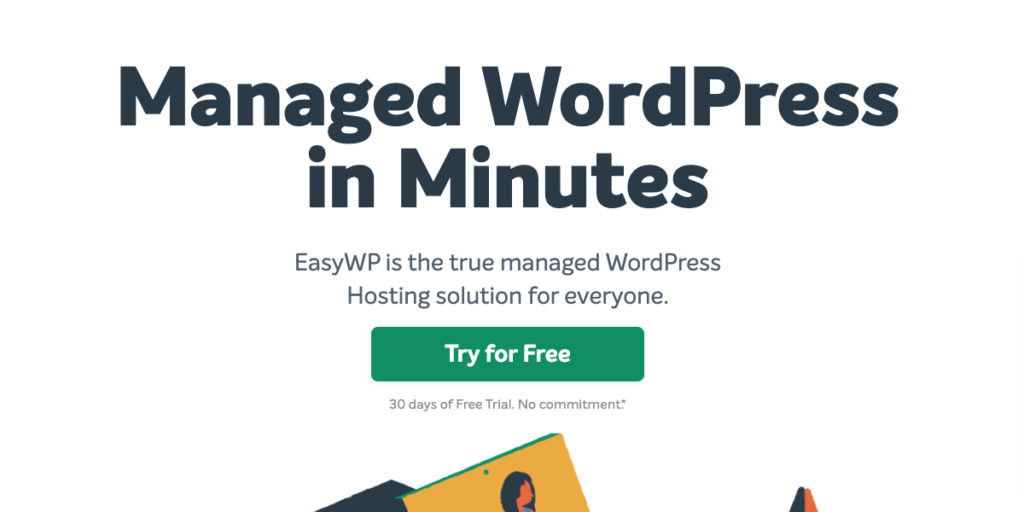 EasyWP Performance
1. Server Response time
A good hosting service should have high performance, and performance has many aspects. At Hostingstep.com, I did the highest number of performance tests on EasyWP. 
I first checked the server response time, which is often known as TTFB (Time to First Byte). I hosted a site on the EasyWP platform and monitored it using the Pingdom tool.
Based on 12 months' data, the EasyWP site averages 383 ms in the Server Response time test.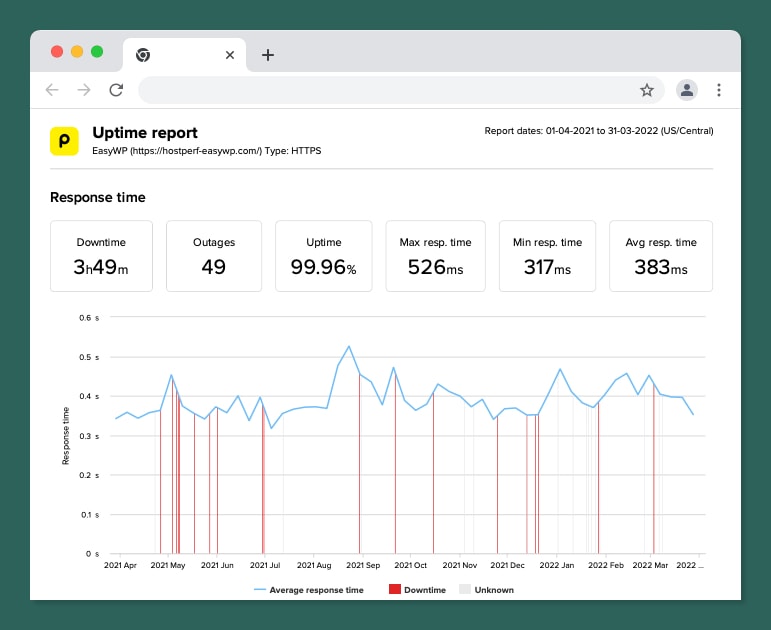 Are they faster? No.
There are nearly 7-10 hosts that are faster than EasyWP, and you check those fastest hosting lists here. To give you an idea, I've compared this host's performance with other similar-priced hosts. Note, the lower the TTFB, the faster your performance is.
EasyWP: 384ms (tested with Turbo plan of $8.88/month)
Cloudways: 303ms (tested with $10/month plan)
GreenGeeks: 309ms (tested with $2.45/mo plan)
A2 Hosting: 328ms (tested with $2/99/mo plan)
FastComet: 332ms (tested with $2.45/mo plan)
In terms of TTFB, EasyWP doesn't perform well.
2. Uptime
Next, I proceeded with the uptime check, and we are all pretty much aware of what a crucial factor uptime is.
I have constantly been testing my EasyWP site's uptime, and as per my last test report, my EasyWP had an uptime of 99.96%, which is quite average.
Again, I am comparing the uptime of similar-priced hosts here.
EasyWP: 99.96% (tested with Turbo plan of $8.88/month)
Cloudways: 99.98% (tested with $10/month plan)
GreenGeeks: 99.98% (tested with $2.45/mo plan)
A2 Hosting: 99.98% (tested with $2/99/mo plan)
FastComet: 99.99% (tested with $2.45/mo plan)
Again, the cheap-priced hosts efficiently perform better than EasyWP here.
3. Load Testing
How far is EasyWP good at handling high traffic? To find out the answer, I performed load testing on my EasyWP by sending 1000 concurrent traffic to the site and monitoring the load handling ability of the hosting service.
I have to be honest, and I wasn't impressed with the Load Testing results since it recorded 839 ms in the 1000 Clients in a 1-minute test. I wouldn't recommend anyone rely on EasyWP for sites that may have unexpected traffic spikes.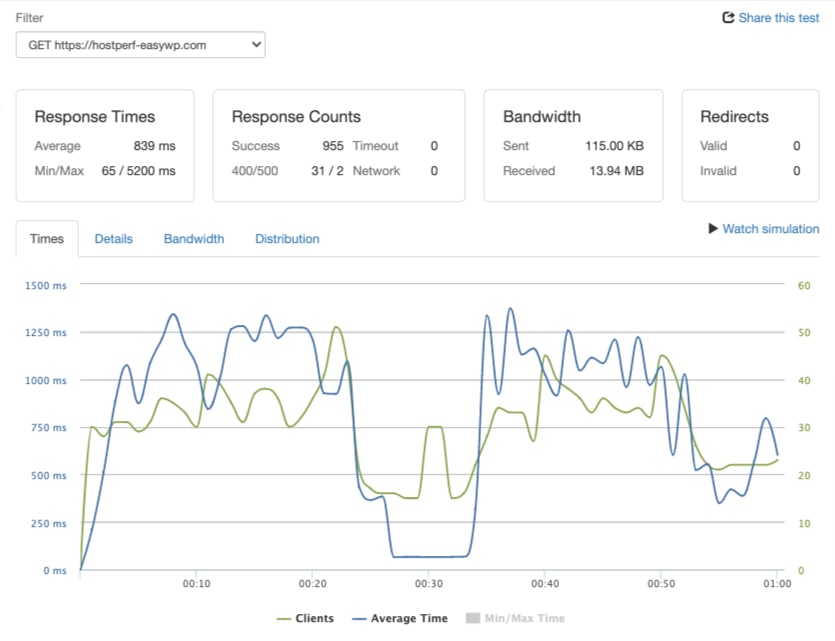 I made this test on a $7.88/month Turbo plan, and let's compare the results with other hosts. The GreenGeeks, priced at $2.49/month, took just 25 ms to handle the same 1000 users.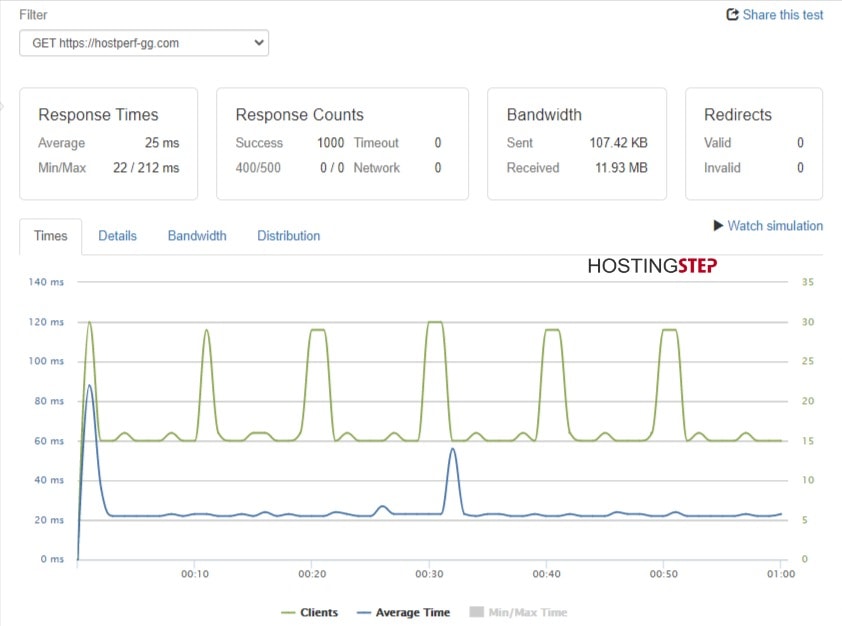 Many hosts like A2 Hosting and ChemiCloud are cheaply priced yet handle load tests better than EasyWP.
4. Global TTFB
I have been consistently testing the Global TTFB of the hosting services that I keep track of, and I test the Global TTFB by pinging my sites hosted with these services from as many as ten global locations. As far as the Global TTFB of my EasyWP goes, I found it pretty impressive in all the places.
As per my last test, the site had the lowest TTFB of 73.93 ms in San Francisco and recorded the highest TTFB of 651.71 ms.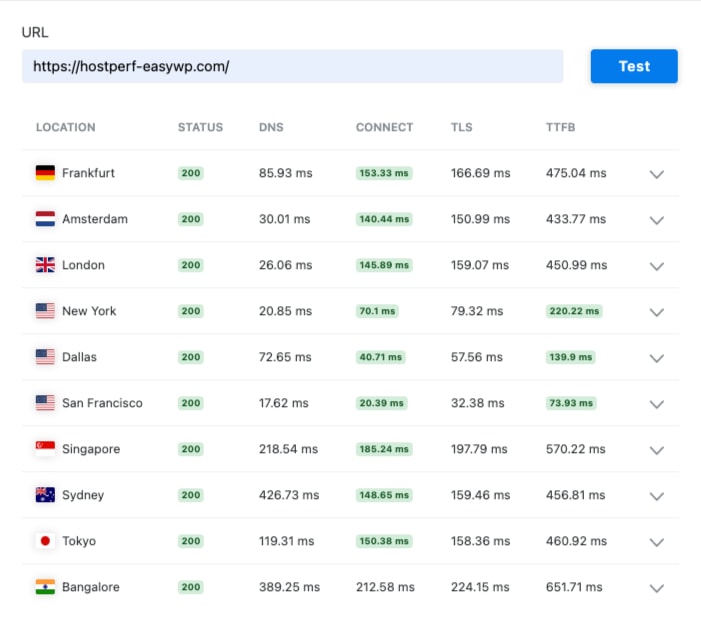 However, if you plan to use EasyWP with the target audience in multiple countries, then it's not a good choice as hosts like Cloudways at $10/month offer better TTFB across the globe.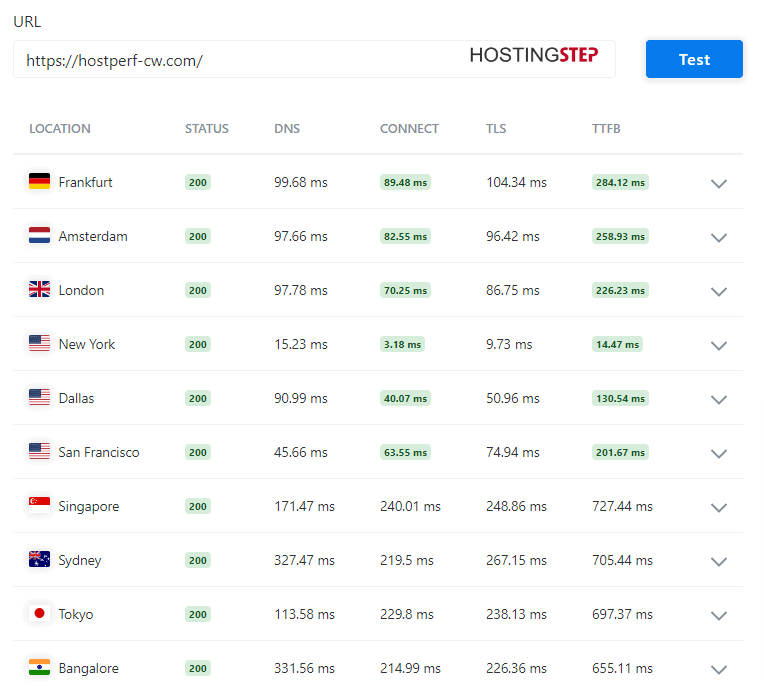 5. Core Web Vitals
User experience has become a crucial factor for sites to rank higher on the SERP. However, before you can host a site on a hosting service and strive to offer your visitors a fantastic user experience, you must first find out how supportive the hosting service is. This is where the Core Web Vitals test comes into play.
As I tested the Core Web Vitals of my EasyWP site, it recorded a 'Largest Contentful Paint' of 0.791s, a 'Total Blocking Time' of 0.000s, and a 'Cumulative Layout Shift' of 0. Going by the results, EasyWP undoubtedly has good Core Web Vitals, and sites hosted on EasyWP can certainly offer an excellent user experience.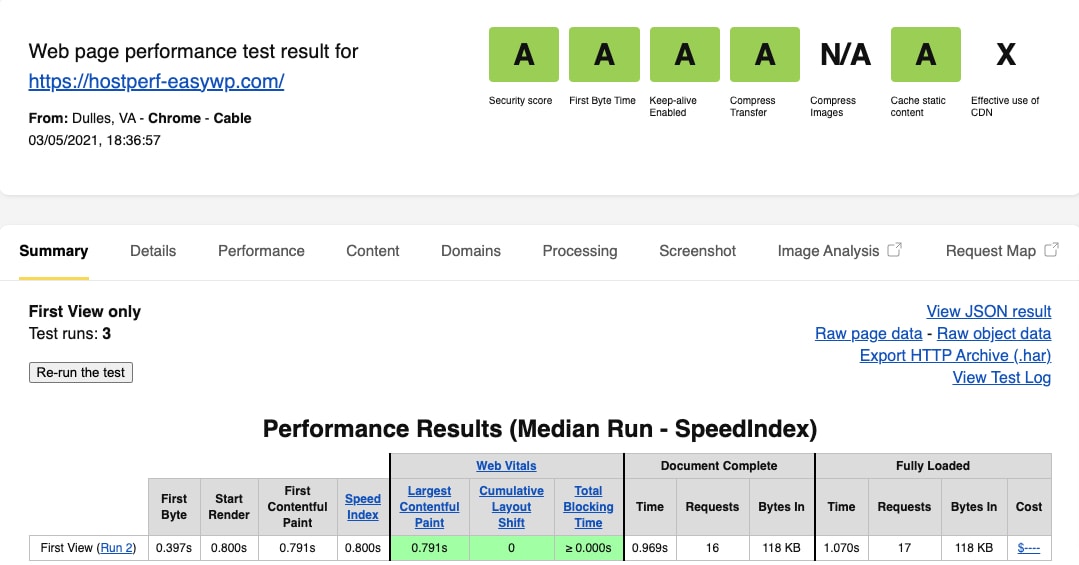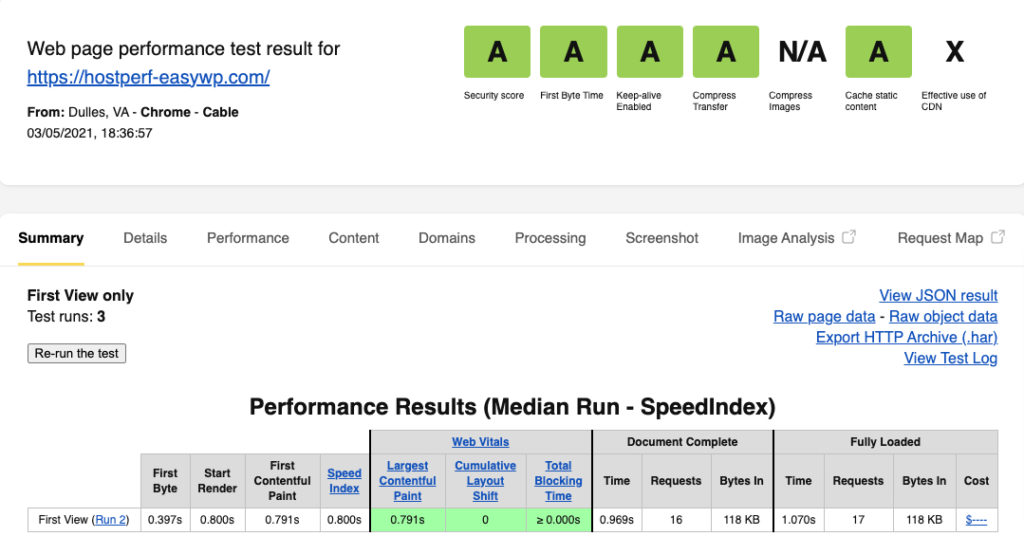 Pros of using EasyWP
1. Beginner Friendly User Interface
Setting up WordPress sites has never been this easy and quick before, and it hardly takes 90 seconds to set up a WordPress site with EasyWP.
EasyWP includes a 1-click setup using which customers can create and launch a custom WordPress site in just 2 minutes without dealing with the cPanel technicalities.
Once installed, you can get the site login details from the dashboard and start publishing posts in minutes.
2. Cheap Price
Pricing is undoubtedly another essential aspect to cover in this EasyWP review. If we consider the pricing, it is pretty reasonable and affordable. Customers can start for as low as $3.88, and resources-wise, it offers you a good value for money on all plans.
For users asking about $0.01 plans as seen in Google ads, it's applicable for the first month alone, and below are the regular charges from the second month.
EasyWP plans (with their monthly visitors and monthly pricing):
EasyWP Starter: 10GB SSD storage, 50,000 visitors, $3.88
EasyWP Turbo: 50GB SSD storage, 200,000 visitors, $7.88
EasyWP Supersonic: 100GB SSD storage, 500,000 visitors, $11.88.
Note: Prices have been increased up to $2/month on all plans. Please check the official site for the latest pricing.
A 30 Day Money Back Guarantee covers all the plans. But keep that in mind, the pricing is on a per-site basis, and you can't host another site in the same account.
3. EasyWP got 24×7 support
Nothing works without good customer support these days, and the managed WordPress hosting certainly has one of the finest and quickest comprehensive 24×7 support with the NameCheap team through live chat at every stage.
The NameCheap support team comprises executives with deep knowledge of WordPress and other hosting technicalities. The support has largely proved this point over the years by their dedicated role in assisting the customers.
4. Free SSL / CDN on Top Tier Plans
EasyWP offers customers a Free CDN on the Turbo and Supersonic plan. A free content delivery network would help users have their content delivered to their target audience in any world region at the best speeds by choosing the closest server location.
The company also offers Free PostiveSSL on its higher plans to add encryption, validation, and trustworthiness to your site.
Cons of EasyWP
1. No CDN & SSL On Starter Plan
If you think EasyWP is the cheapest way to start a blog, you are wrong. While the starter plan is priced at $3.88/month, it doesn't include SSL & CDN. Considering you can buy the cheapest SSL from NameCheap for $5.88/year and using a free Cloudflare CDN, the total hosting cost will be around $4.37/month.
Is the pricing affordable? No. Many similar hosts like FastComet start from $2.95/month, with free SSL & CDN even available on monthly billing. Not only that, but FastComet also offers faster performance than EasyWP.
2. CDN works only with Namecheap Domains
I don't know whether it's a beta stage limitation; you can't use Namecheap CDN when your domains are hosted elsewhere.
3. No Automatic Backups
EasyWP feels like it is in beta. For example, I started using them on June 21st, but the backups haven't been generated even after ten days, and it seems the backups need to be generated manually.
4. Limitations of WordPress Plugins
It's a tradition, Managed WordPress hosting companies restrict a set of plugins, but NameCheap EasyWP got a very long list of banned plugins.
While the EasyWP performance is similar to NameCheap's shared host, you can use their shared host and use any plugins of your own choice.
Is EasyWP Worth it?
EasyWP impressed me in several aspects like
The fastest way to launch a site
Good support etc
But the platform has several limitations which are essential for production sites. Like, there are no automatic backups. Almost 99% of host offers free daily and weekly backups but at EasyWP is just manual backups.
NameCheap advertises its plan as low-cost managed WordPress hosting. But in reality, EasyWP's starter plan comes with high limitations, and there are a lot of upsells involved.
The supersonic plan promises to handle 500,000 visits per month at just $11.88/month, which is excellent considering no shared host can handle such traffic.
At the same time, Cloudways DigitalOcean plan of $10/month can handle similar traffic, and what's more, you even host an unlimited number of sites in the same plan.
I tried EasyWP first in 2019 & again in 2020 and 2021. There were improvements, and let's see how EasyWP grows in the coming months. However, I can't recommend them for serious business as they lack the essential features to be called "Managed WordPress Hosting." Even considering the cost, there are better alternatives you can put your trust in.
EasyWP Alternatives
FastComet: Get started for $3.45/month and just pay monthly; no upfront billing is required. FastComet offers a faster response time and handles load better than EasyWP. You will also get automatic backups and restore. There is also free SSL and CDN included in the basic plan.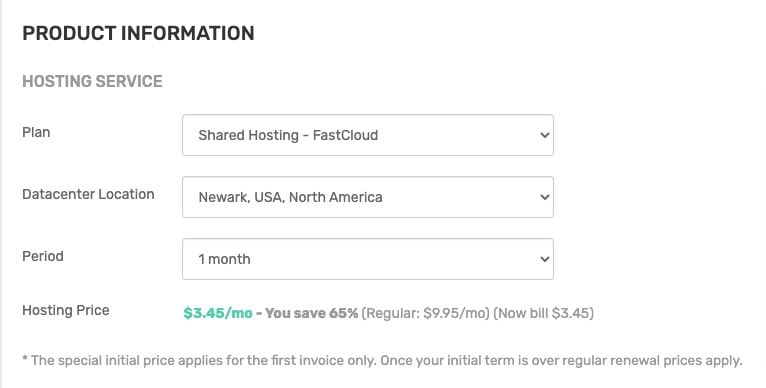 Cloudways: At $10/month, you can host unlimited sites, and it comes with no traffic limits. Cloudways user interface is similar to EasyWP yet advanced as Cloudways was first launched in 2011 and has become a stable product compared to EasyWP, which got founded in 2018. Use code "BIO25" to get 25% OFF on the first billing.
ChemiCloud: At $2.76/month (36 months billing), you can host a single website and get a free domain for a lifetime. As long as you keep hosting with them, they will renew your domains for free.