Hostinger started in 2004 and has various hosting products comprising Shared Hosting, WordPress Hosting, Cloud Hosting, and VPS Hosting. The service is considered one of the most affordable hosting services. Hostinger claims to have best performance, features, and support. 
I have gone through the various aspects of the service and would love to share my honest opinions about the service with you. In this post, I will share with you some of the pros and cons of this service. As you read this post, you will get a clear picture of the service in front of you.
Hostinger Pros
Affordable pricing with long-term billing
Hostinger offers the most affordable pricing and allows customers to start for as low as $1.99 per month. The plan comes with 1 Website and 50 GB SSD Storage. Anyone needing to host just one website can make the most out of this plan. However, there is a cache to it.
You can only get the plan at this price if you choose 48 months, and this is also wise for the customers since they can enjoy the benefits for 48 months while other hosting companies allow you to buy a plan for three years at the max.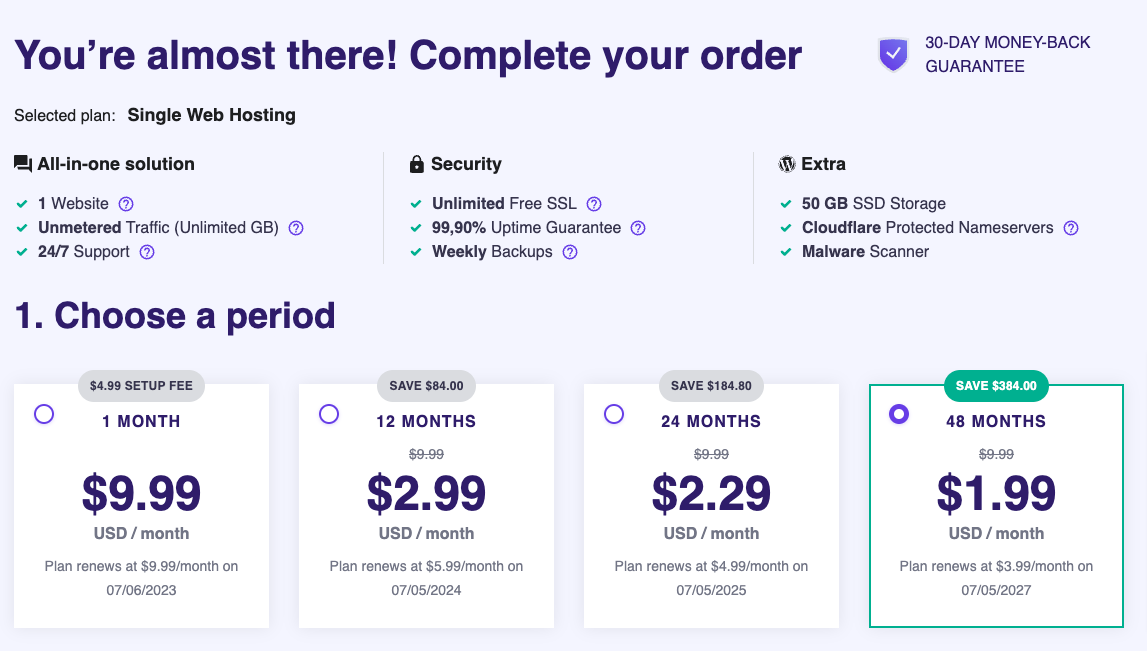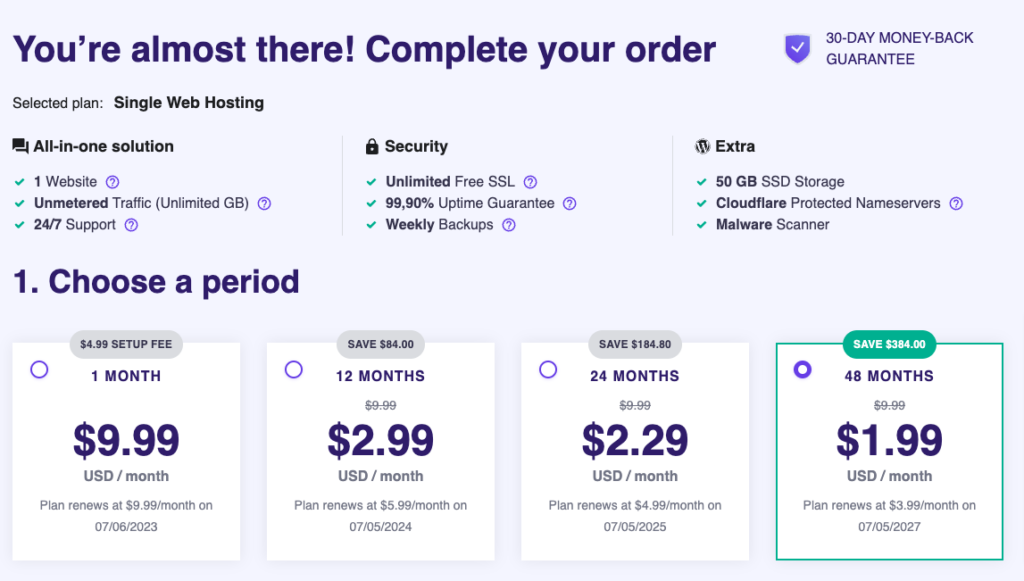 Even though the renewal price isn't the same as the introductory price, it's still more affordable than other hosting services. Another way to look at the Hostinger pricing is by considering the mid-tier and the highest-tier pricing.
Hostinger's mid-tier plan is priced at $2.99 per month with a renewal price of $6.99 per month, while the highest-tier plan is priced at $3.99 per month with a renewal price of $8.99 per month. Hence, you can see Hostinger's pricing is a lot more affordable than other hosting services such as Bluehost, or HostGator.
24/7 customer support
The next pro that is worth mentioning is Hostinger's customer support. There is no doubt that Hostinger has one of the finest support teams. Hostinger has experienced executives to help customers 24/7 through live chat and tickets. Besides, the web host has excellent tutorials and a Knowledge Base.
Fast servers (discuss test data)
As far as performance goes, you can expect a decent website performance with Hostinger. I can say this based on my test data. I monitor the average response time of seventeen hosting services on a constant basis, and as per the last test, Hostinger scored an average response time of 391 ms. Hence, it wouldn't be wrong to say Hostinger has fast servers.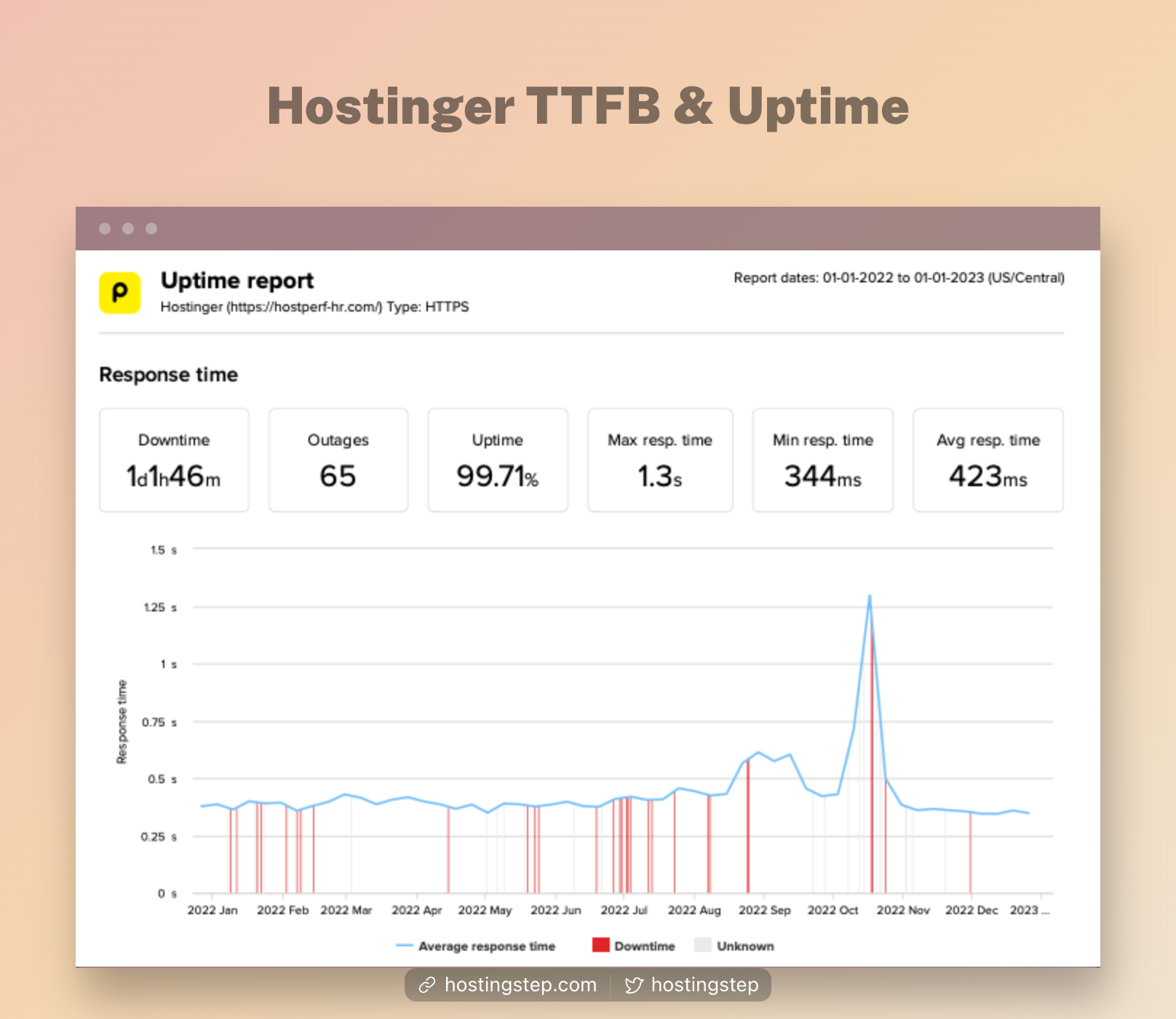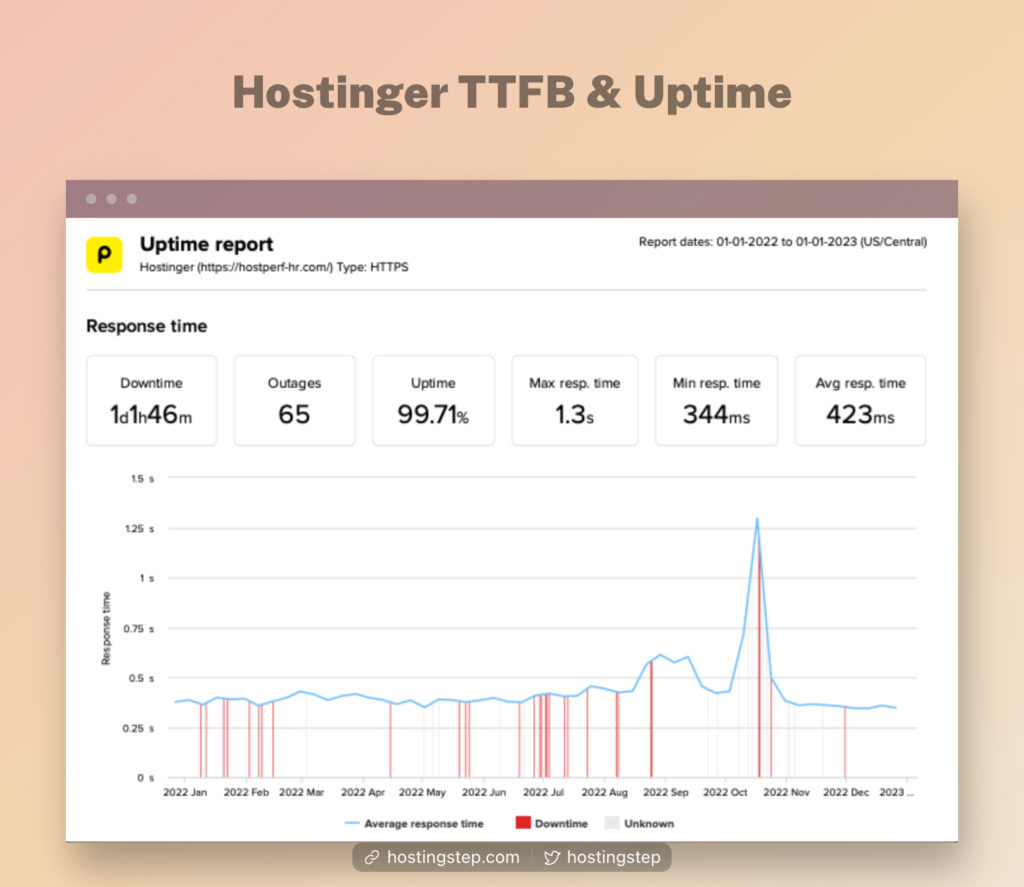 Easy-to-use control panel (hPanel)
Hostinger comes with an intuitive version of cPanel. If we consider usability, the control panel offers excellent usability with all essential tools arranged in an exceptionally neat and tidy way. It's easy to navigate on the control panel, and most importantly, you can have a brilliant single point of controlling every aspect of your hosting account.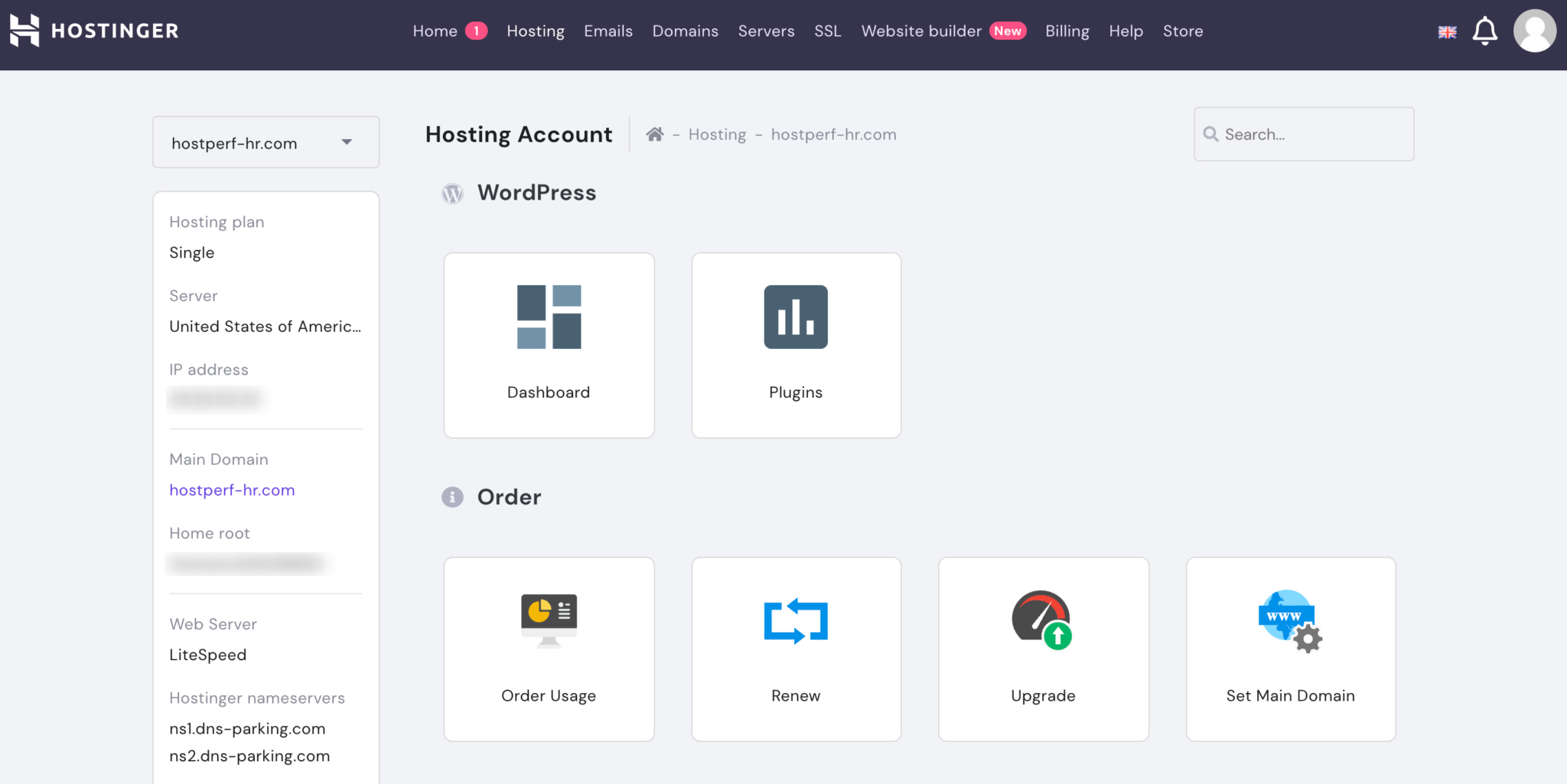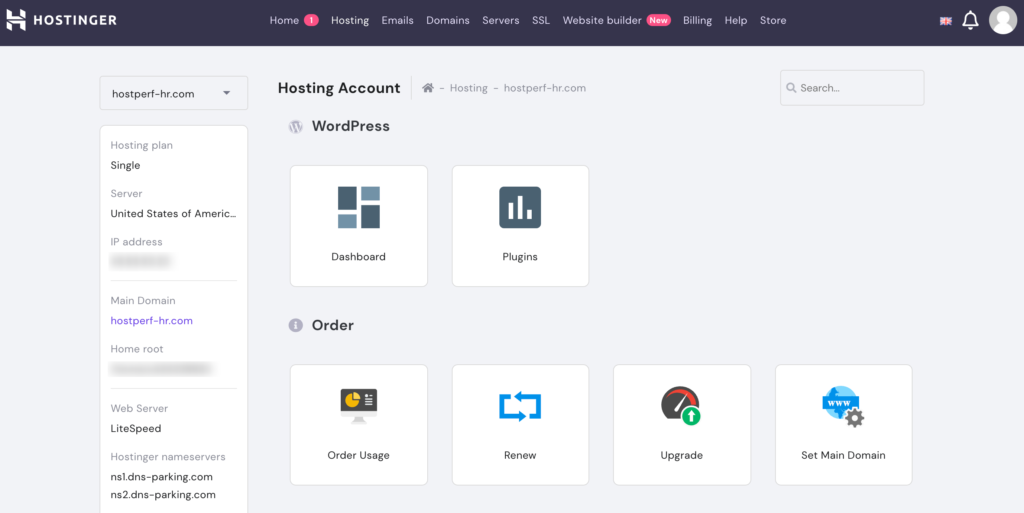 Free SSL and CDN
Hostinger comes with free SSL and Cloudflare Basic CDN, and you can easily enable SSL and Cloudflare CDN for your website right from the hPanel. All Hostinger plans come with Cloudflare-protected nameservers. Besides, it's equally easy to integrate other CDNs with your website on Hostinger.
Free website migration
If you have a website on any platform other than Hostinger, you can transfer it conveniently to Hostinger for free. Besides, you will get full support from the Hostinger technical team. It certainly gives Hostinger a leading edge over those hosting services that charge for website migration.
Premium security features included
Hostinger has premium security features comprising Unlimited Free SSL and Cloudflare Protected Nameservers included in all plans. Besides, Hostinger has excellent server-based security, characterized by mod_security, Suhosin PHP hardening, PHP open_basedir protection, and others.
Global data centers
Hostinger offers seven global data centers comprising the Netherlands, Lithuania, the United Kingdom, Singapore, India, the USA, and Brazil. Hence, customers can easily find their desired server with Hostinger.
Hostinger Cons
The starter plan has slightly limited features
Even though Hostinger's Starter plan is exceptionally affordable, it has limited features. For example, it lacks the WordPress staging tool and SSH access. Besides, unlike the higher plans, the plan doesn't come with a free domain.
Most importantly, if you are looking forward to hosting multiple websites, Hostinger's starter plan isn't the ideal option for you since it allows you to host just one website.
One big downside is that Hostinger doesn't offer daily backups on Single & Premium plans. Hostinger only offers weekly backup on these plans. The Daily Backups feature is only available on the Business plan.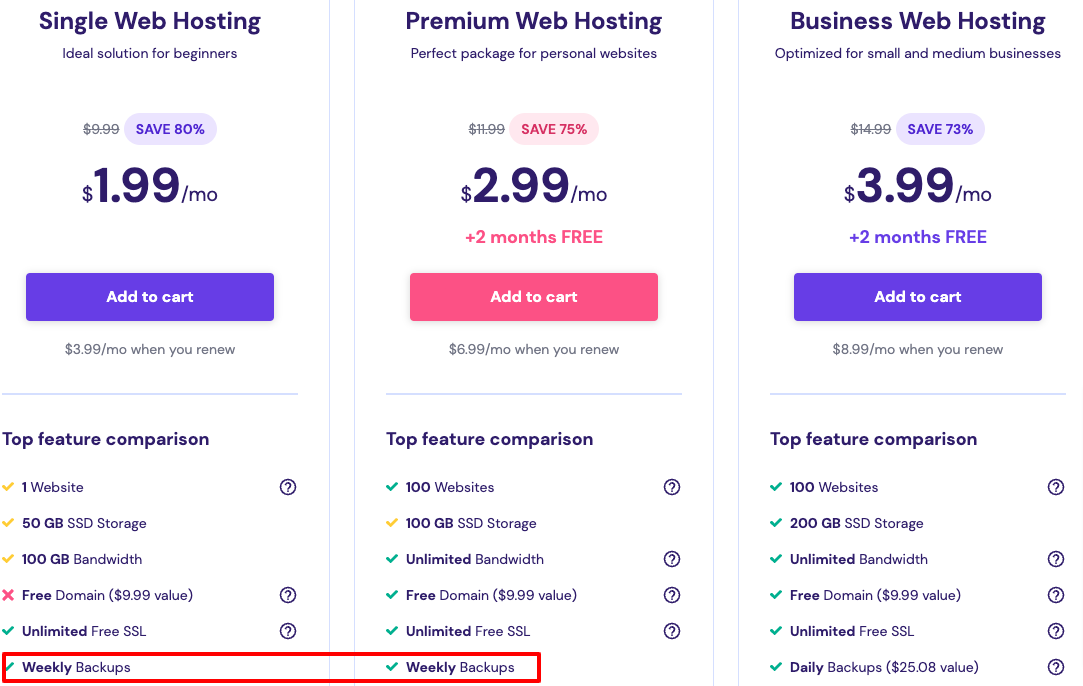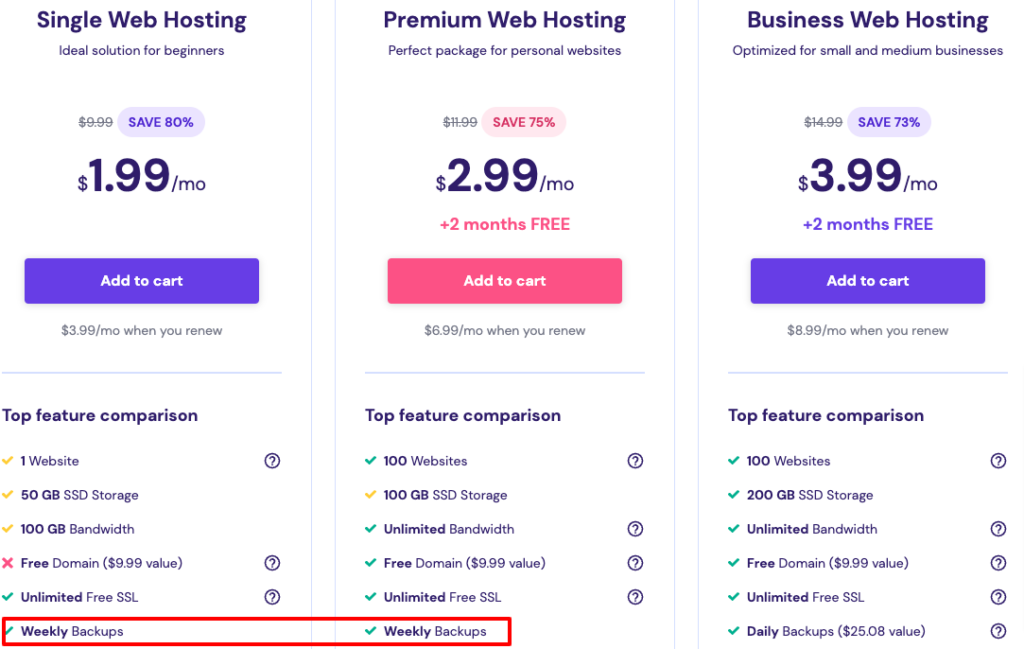 FAQs
How much does Hostinger cost?
Hostinger has three shared hosting plans and offers the most affordable entry price. The service allows you to host a website for an introductory price of $1.99 per month, and the renewal price for the same plan is $3.99 per month. However, to get the plan at the introductory price, you must buy it for 48 months.
What are the pros of Hostinger?
Hostinger comes with many pros, and here are the pros:
Hostinger offers affordable pricing and has the most affordable entry price
The service comes with an excellent 24/7 customer support
The service comes with a decent server response time backed by fast servers
Customers have free website migration, SSL, and CDN with Hostinger
Hostinger comes with premium security features and seven global data center locations
What are the cons of Hostinger?
Here are the cons of Hostinger:
Hostinger offers limited features on the starter plan: 1 Website support, No WordPress staging tool, and SSH access
The daily backups feature is not available in the Single and the Premium plans
In a Nutshell
Hostinger is undoubtedly the most affordable hosting service currently. At the same time, the service is also very reliable. As you have seen in the post, Hostinger offers decent performance and many premium features for free. Furthermore, the service comes with an outstanding customer support team. Even though Hostinger has a few cons, like no daily backups on lower tier plans and limited features on starter plans, it is overall a decent hosting service.