Kinsta started in 2013 and is currently one of the finest Cloud Hosting platforms for websites, online stores, applications, and enterprise projects. The platform claims to have a more straightforward, faster, and reliable cloud hosting. Kinsta hosting solutions comprise WordPress Hosting, Application Hosting, Database Hosting, WooCommerce Hosting, and Enterprise Hosting. 
I have done a detailed study on Kinsta and would like to share some of the pros and cons of the service with you all. Once you read this post till the end, you will get a clear picture of every aspect of the service.
Kinsta Pros
Fastest server architecture (Google Cloud C2)
Kinsta runs on the Google Cloud Platform's C2 Virtual machines which offers high computing power to handle huge workloads.
I tested the performance of the service by hosting a test website on Kinsta platform. The Kinsta site recorded a average TTFB of 348 ms. Besides, Kinsta has an uptime of 100%.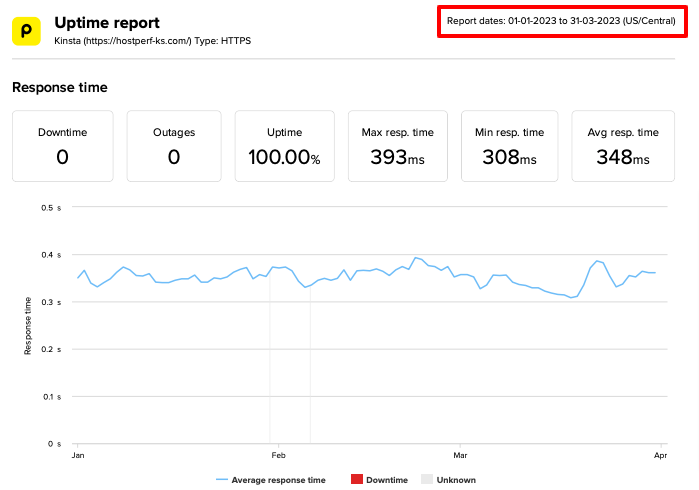 I have also tested the load handling capacity of the service, and it scored 47 ms with a traffic of 500 concurrent requests to the website.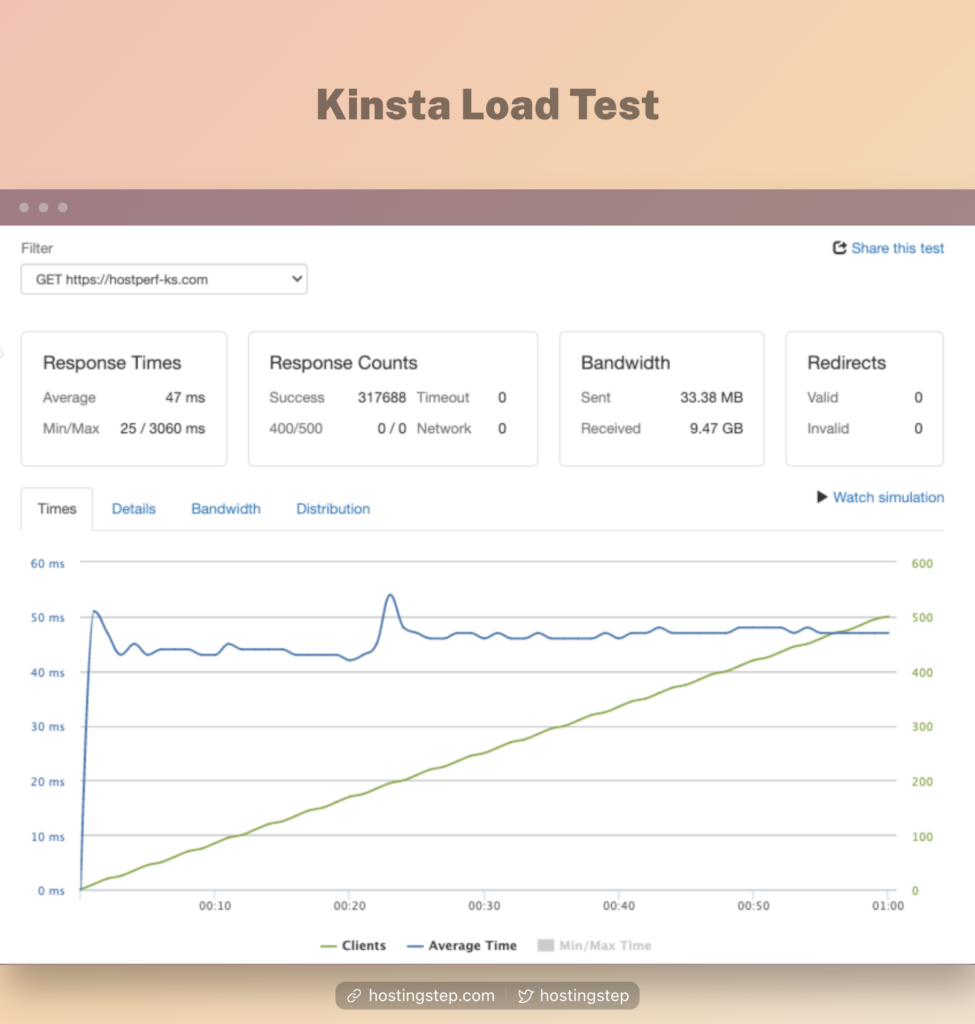 Advanced Control Panel
Kinsta comes with an advanced custom control panel, MyKinsta.
MyKinsta offers you a simple dashboard with details such as plan usage, site metrics, and various hosting tools to manage the cache, debug sites, set up redirects, and switch on the CDN from a single point of control.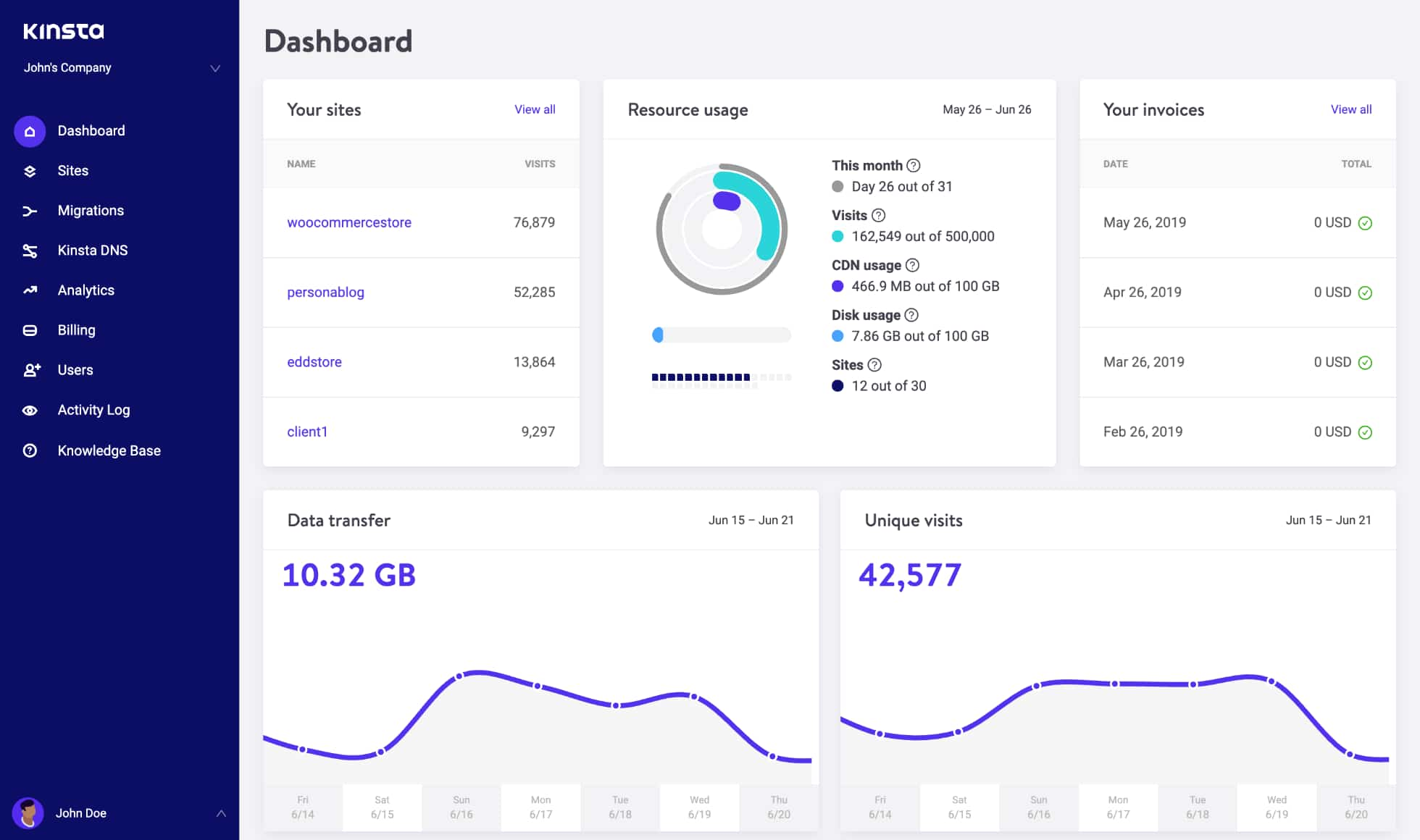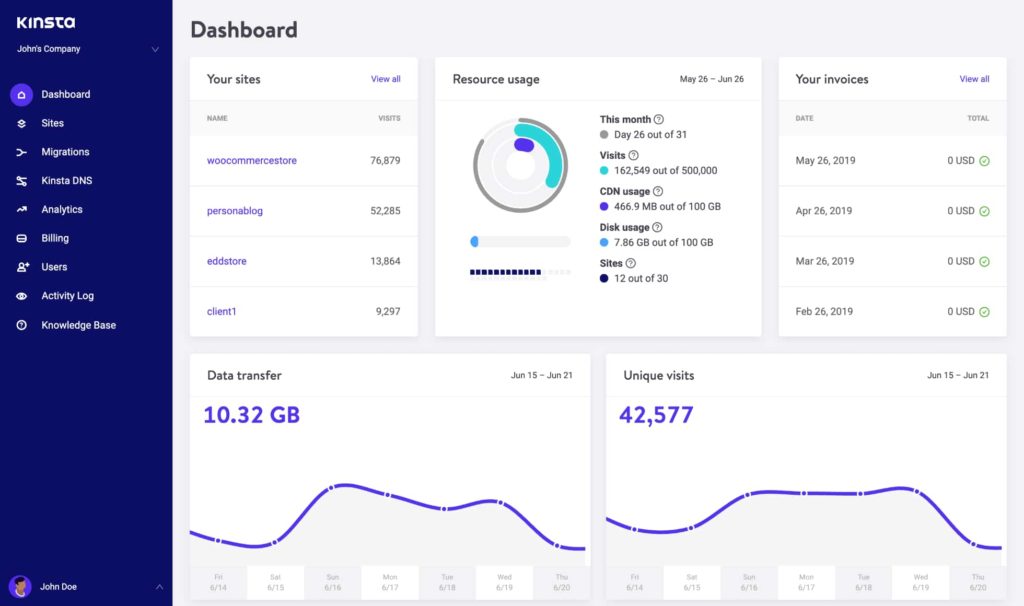 Further, it's super easy to manage clients and colleagues with granular access settings.
Global Edge Caching CDN
Kinsta offers customers its Global Edge Caching CDN for free on all plans. The CDN helps websites serve large files from the closest server to the target audience and helps websites load 44% faster.
Further, the CDN comes with HTTP/3 support and a super easy One-click setup.
Great customer support
Kinsta has an experienced and responsive customer support team. The team works round the clock to assist customers in breaking out of their technical difficulties through 24/7 live chat and tickets.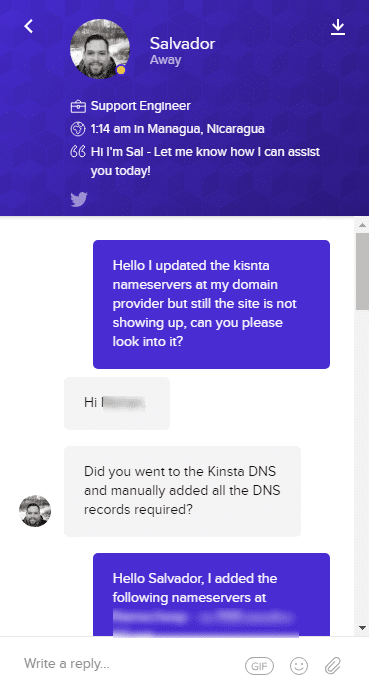 Customers can contact the support team right from the MyKinsta dashboard. Besides, Kinsta has good documentation for quick reference.
Free SSL, backups, staging sites
All Kinsta plans come with Free SSL. Besides, Kinsta has a decent backup policy characterized by free automated backups and free restoration.
Further, Kinsta offers free staging sites on all plans. The feature is easy to use, from creating a staging site and modifying changes to deploying final changes to the live site.
35+ global data centers
One significant advantage of choosing Kinsta is its large number of global data centers. Kinsta has over 35 global data centers.
It helps customers easily find their desired data center location to reach their target audience.
Built-in APM tool
Kinsta's APM tool is a hassle-free performance monitoring tool for WordPress, which helps you monitor your WordPress website's performance right from the Kinsta dashboard.
The feature is free on all plans. The option provides you with useful data and insights regarding different issues of your WordPress website and helps you take quick action.
Kinsta Cons
Not affordable for all
Kinsta is certainly not an affordable hosting service. Even the lowest-tier Kinsta plan starts at $35 per month.
If we compare Kinsta's pricing, Cloudways is much more affordable, with an entry price of $11 per month.
Optional Add Ons are pricier (like Redis, extra backups, disk space)
Kinsta has many advanced and powerful add-ons. However, the add-ons are way too costly. Nginx Reverse Proxy costs $50 per month, and Redis costs $100 per month. Automatic External Backups cost $2 per month, while automatic hourly and 6-hour backups cost $100 per site per month and $50 per site per month, respectively.
The Scale Disk Space add-on costs $20 per month for 20 GB increments. Billing for Kinsta add-ons and Kinsta plans together certainly makes the cost of website management very expensive.
FAQs
How much does Kinsta cost?
Kinsta has as many as ten pricing options. Customers can start with Kinsta for as low as $30 per month. The plan comes with 1 WordPress install and 10 GB of disk space. Besides, the service allows customers to contact sales and have custom plans for their mission-critical websites.
What are the pros of Kinsta?
Kinsta is undoubtedly a robust hosting platform that runs on the Google Cloud Platform. The service has the following pros:
Kinsta offers a decent performance backed by the fastest server architecture
Kinsta comes with a custom control panel, which is pretty advanced and easy-to-use
All Kinsta plans come with a free Global Edge CDN
The Kinsta support team is exceptionally experienced and fast in helping customers
All plans come with free SSL, backups, and staging sites
Customers have over 25 global data centers to choose from
The built-in APM tool helps customers easily monitor their websites' performance and take quick action
What are the cons of Kinsta?
Even though Kinsta is a powerful hosting service, it has a few cons:
Kinsta plans are pretty pricey, and even the lowest tier plan costs $35 per month
Kinsta add-ons are way too costly
The Bottom Line
Kinsta is undoubtedly a very reliable hosting platform. However, like every hosting service, Kinsta has its pros and cons. If you are looking forward to trying Kinsta, you should first make yourself familiar with the pros and cons of the service.
As you have seen in this post, Kinsta has many pros. The service offers excellent performance and comes with an advanced control panel. Besides, it has many useful free features such as SSL, CDN, and automated daily backups.
The cons are related to the pricing, and Kinsta is certainly not an affordable hosting option. I would certainly not recommend Kinsta to those who are trying to start a website with a tight budget. However, if you are okay with the pricing and genuinely need the advanced Kinsta features for your website's growth, you can go ahead with the service.