If you are looking for a reliable hosting service and wondering if Bluehost is a reliable hosting service to try, this post will provide you with all the essential information about the service.
In this post, I am going to share my honest opinion on Bluehost and walk you through its pros and cons. After you read the post till the end, you will undoubtedly have excellent clarity about Bluehost.
Bluehost Overview
Bluehost entered the hosting industry in 2003. It is one of the leading hosting services that offer customers products comprising Shared Hosting, WordPress Hosting, VPS Hosting, and Dedicated Hosting.
Pros of Bluehost
Affordable price to get started
Bluehost allows you to start for as low as $2.95 per month. It certainly makes the service affordable for anyone within a tight budget. The basic plan is available at a discount of 70% and is ideal for anyone who wants to start just one blog or website.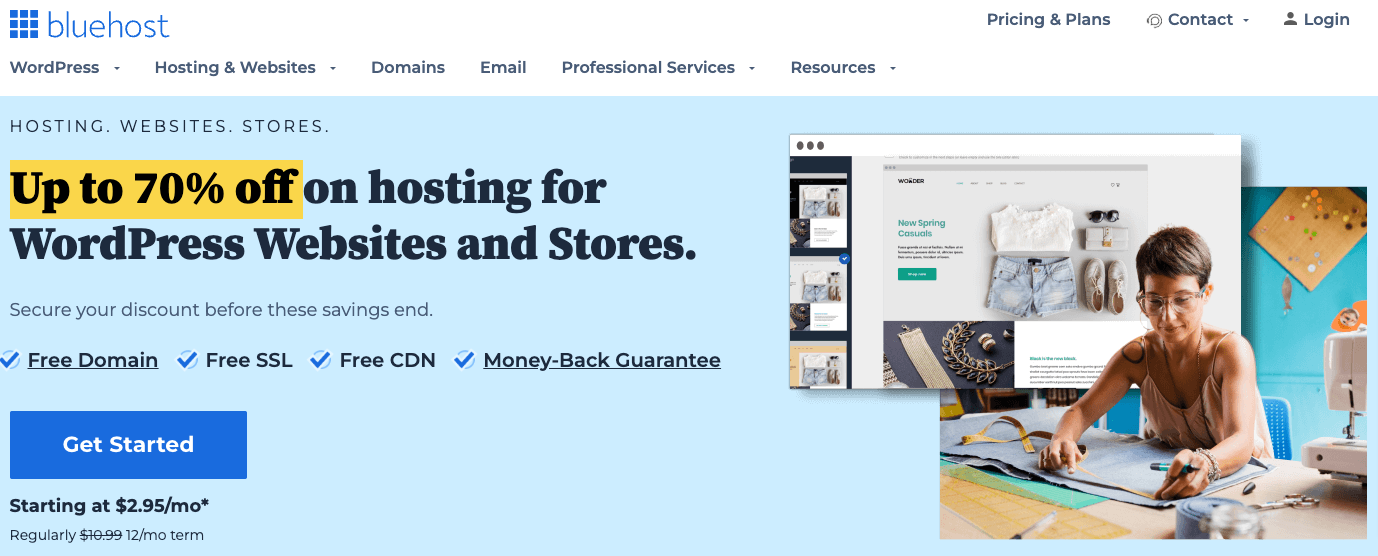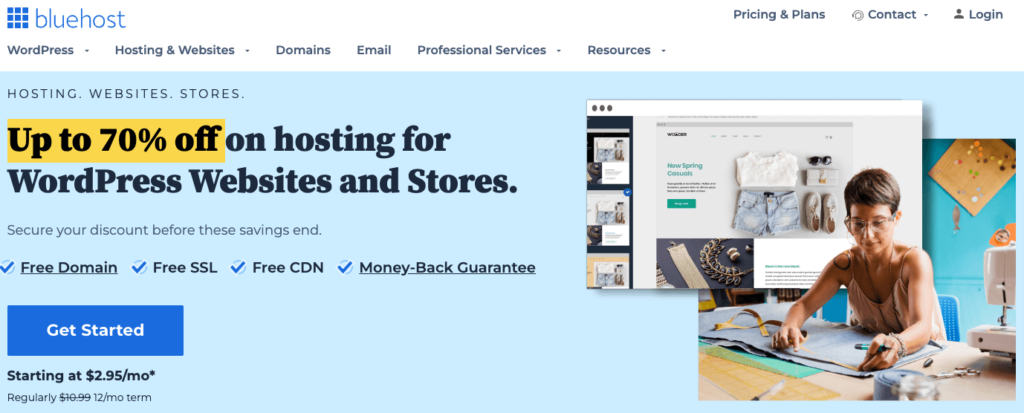 You can buy the plan for 12 to 36 months. We recommend buying the plan for maximum months so that you don't have to renew your plan that soon. In other words, by buying the plan for 36 months, you can enjoy the discounted price for 36 months.
Beginner-Friendly Control Panel
Bluehost comes with cPanel, which is exceptionally easy to use. cPanel has been the most user-friendly control panel, which is why many hosting services prefer cPanel over other control panel types. The Bluehost cPanel is neat and clutter-free. Even beginners should get the hang of it in about 10 minutes.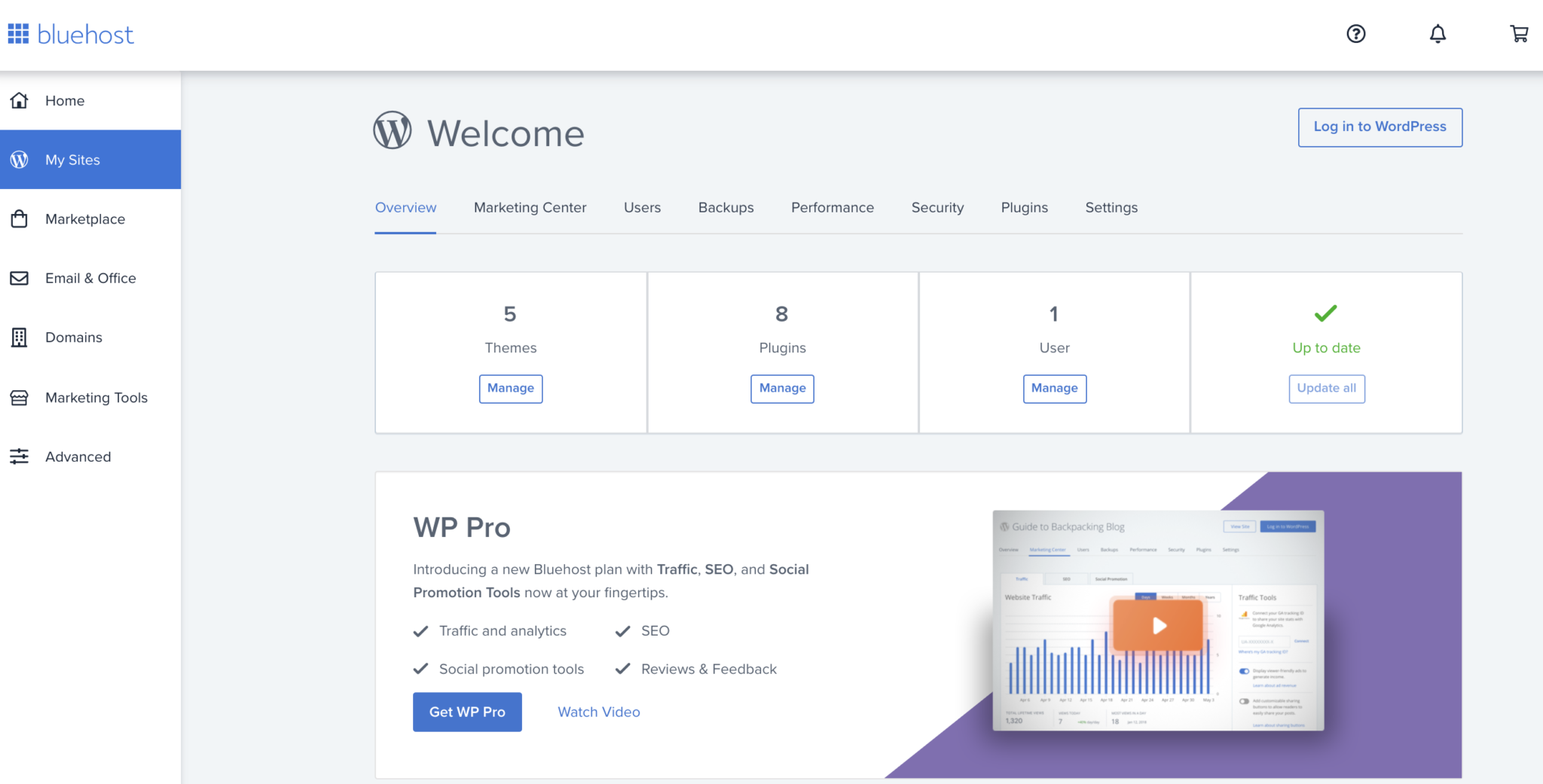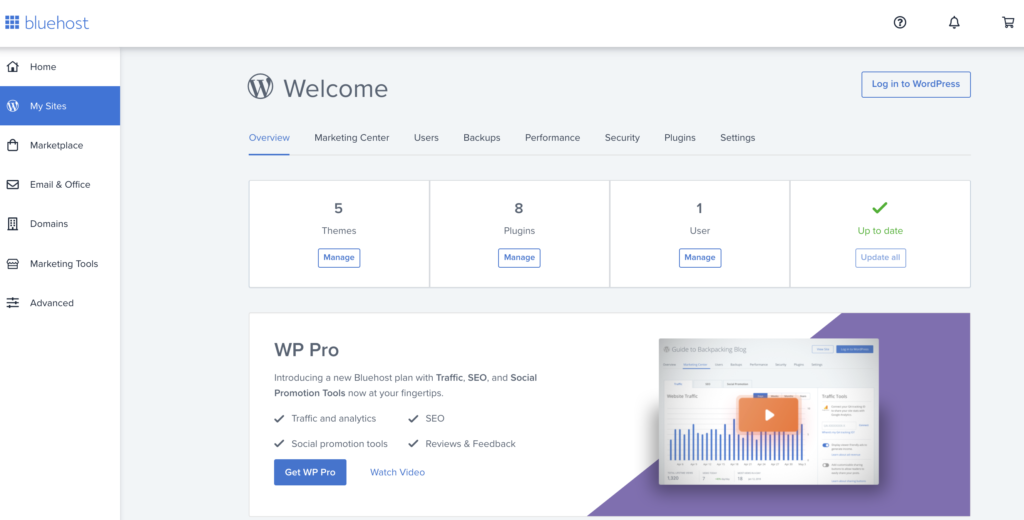 The control panel offers decent navigation and superb usability, with all essential tools placed in one place for an excellent single point of control. For example, you can manage your backups/restoration, website security, DNS, database, emails, and various other important functionalities of your hosting account from one point. Most importantly, everything is self-explanatory.
Email Hosting
Bluehost hosting allows you to create email accounts for free. Email Hosting is a feature that many hosting services have stopped offering with their regular hosting plans.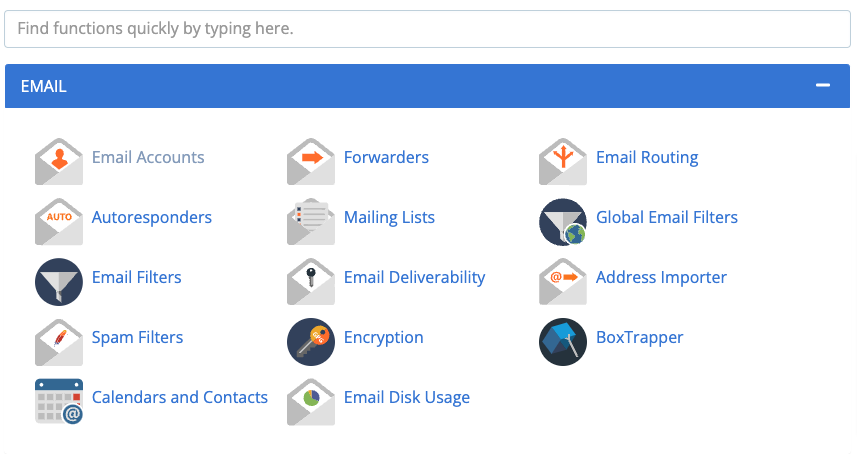 They instead provide email hosting separately to customers as a paid product. Hence, when you choose Bluehost hosting, you don't have to get email hosting separately for an additional cost.
Free Domain for 1st year
Did you know you can get a free domain for the 1st year when you buy a Bluehost plan? The option can help many beginners with a tight budget to start with their first website or blog without having to spend much in the beginning.


One year is enough for any website to grow and generate income. After that, you can conveniently pay for the domain. Hence, the free domain for 1st year is a very thoughtful initiative by Bluehost, and many customers are going to benefit from it.
Free CDN
Bluehost provides users with the option to integrate Cloudflare CDN with their websites. You can integrate Cloudflare CDN with your website from the cPanel Cloudflare CDN option.

Cloudflare Basic CDN is available for free and can exceptionally improve your site's content delivery speed, backed by powerful features such as reverse-proxy caching, script minification, Brotli Compression, and GZIP Compression.
30-day money-back guarantee
All Bluehost plans are available for a 30-day money-back guarantee. In case you are not happy with the service, you can cancel it anytime within 30 days from the date of purchase.
It is an excellent option for anyone who is up to trying Bluehost for the first time. Hence, one can try the service without any worries.
Cons of Bluehost
The starter plan is highly limited
Even though the Starter plan is affordable, it has limited resources. The plan allows you to host only one website, and the storage is also limited to just 10 GB SSD. Some of the limited features are
Free SSL only for first year
No SpamExperts and CodeGuard Protection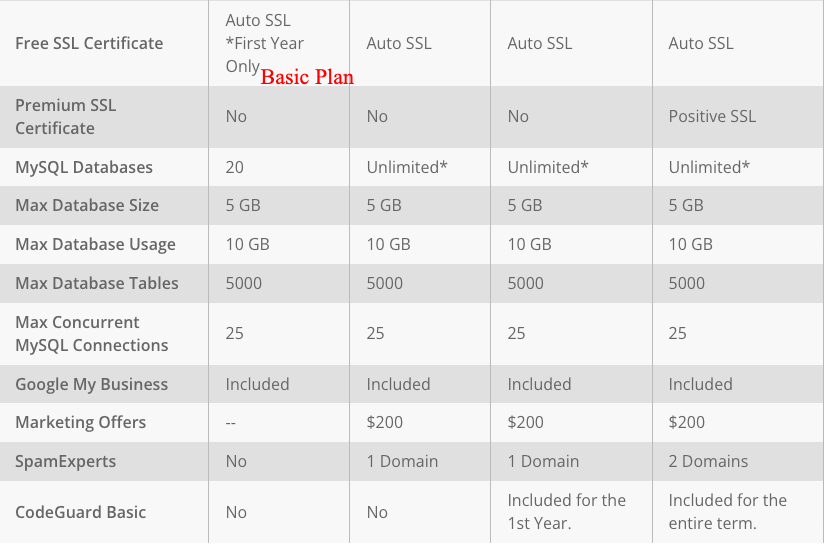 It can surely be a big downside for those who are planning to host more than one website or looking for more storage.
Many Upsells (like backups/security)
Bluehost comes with many upsells. For example, the service offers only basic security on and promotes SiteLock Security for additional charges at $35.88 per year (renews at $83.88).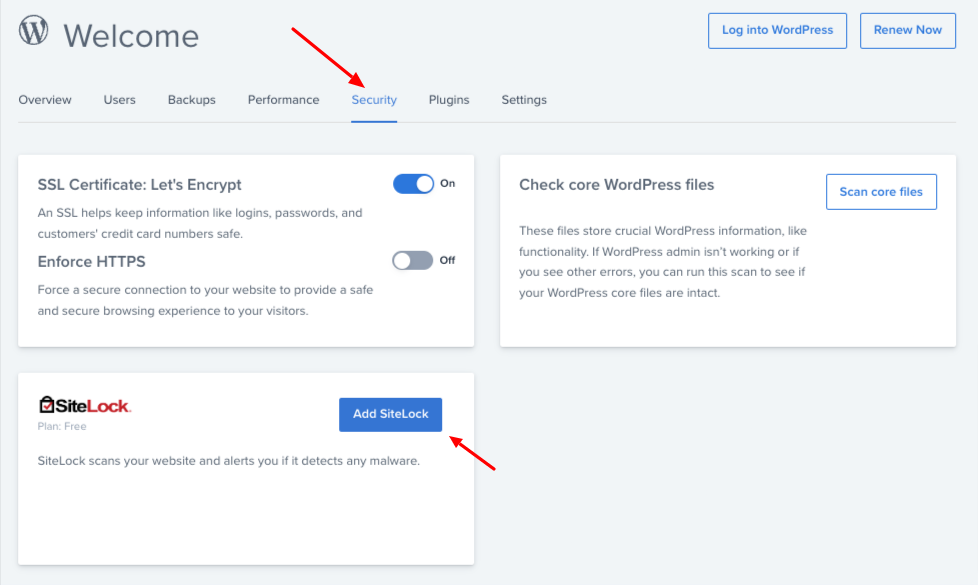 Another Bluehost paid add-on is CodeGuard, and since Bluehost doesn't provide automated backup on the lower tier plans, customers are bound to select CodeGuard for an additional charge.
Average speed & Poor Uptime
If I consider the speed and Uptime of Bluehost, it certainly doesn't have the best speed and Uptime. Bluehost ranks 15th in our list of 17 hosting services with their average response time.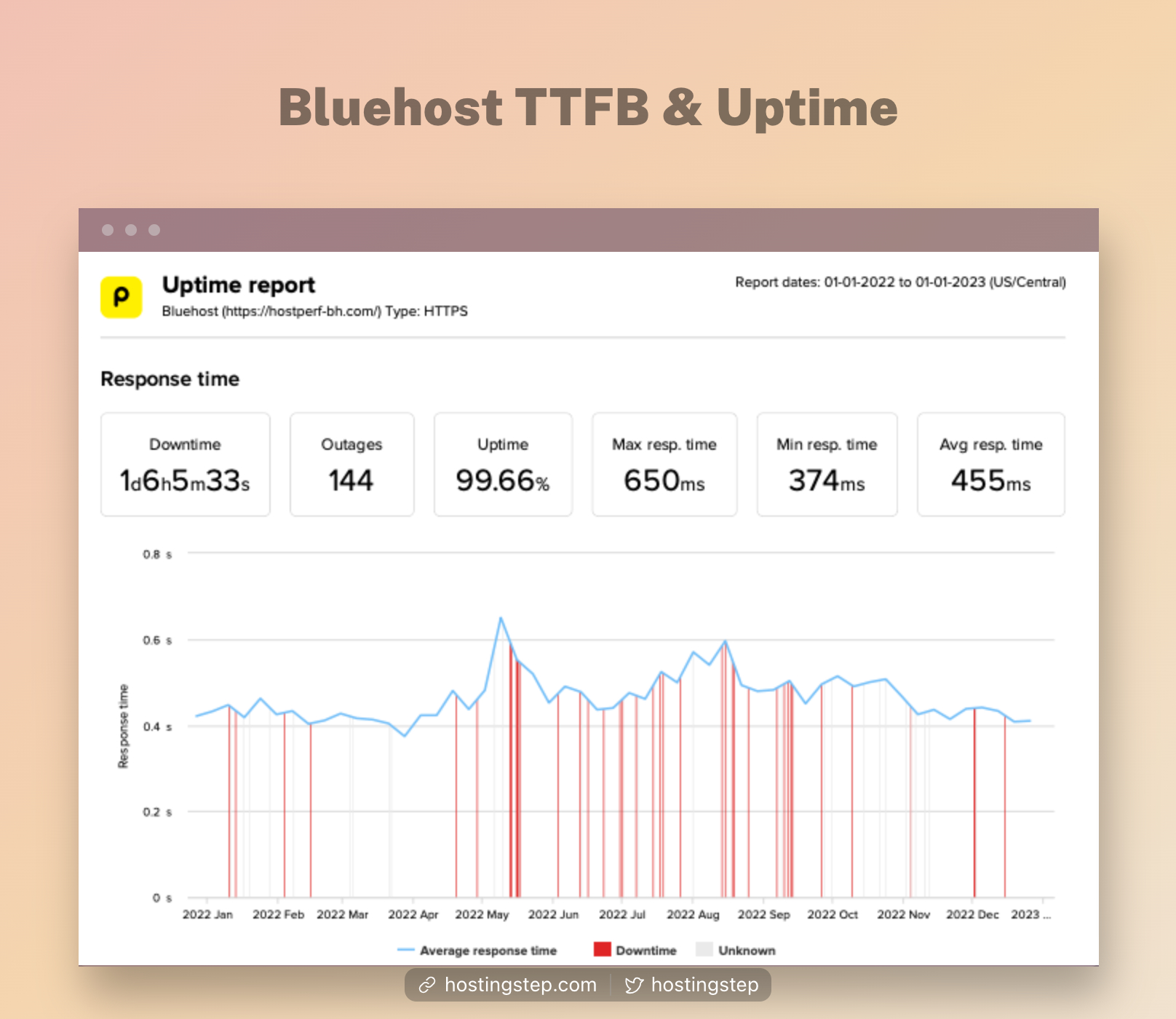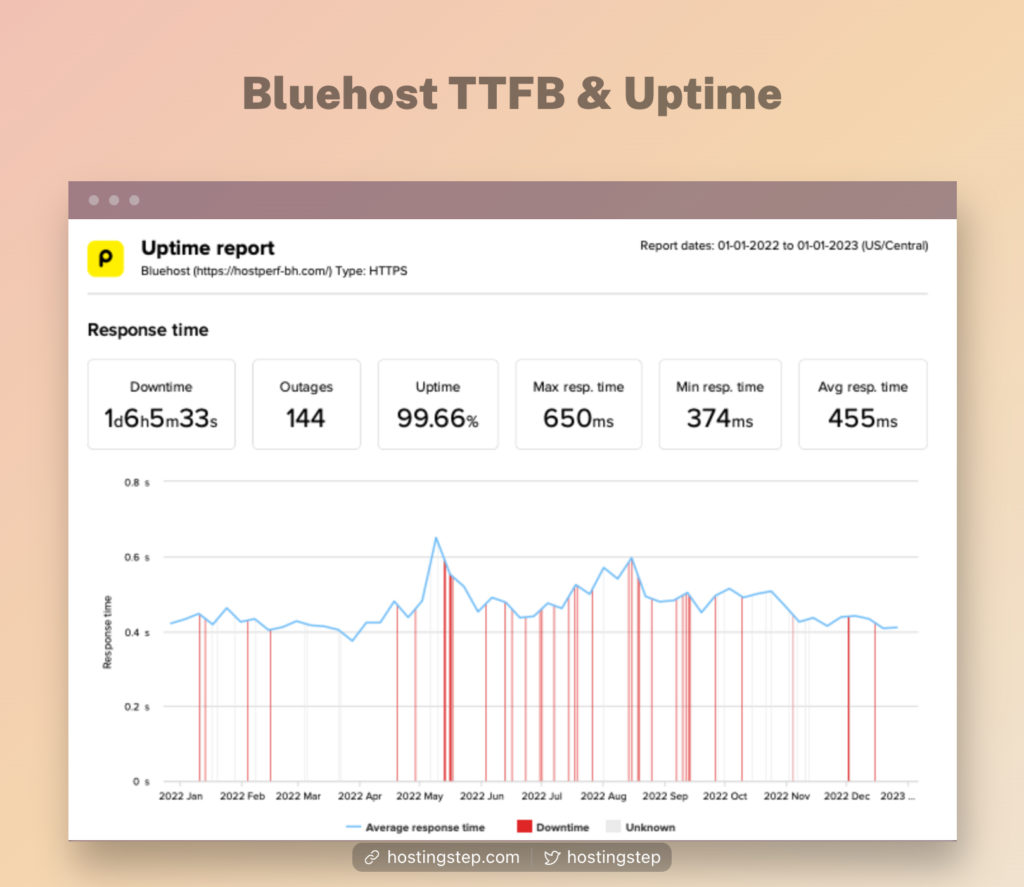 Bluehost has an average response time of 455 ms and an uptime of 99.66%. The uptime is the poorest of all the hosts we've tested so far.
There are many services with better average response times than Bluehost. Some of these Bluehost Alternative services are ChemiCloud, Hostinger, and SiteGround.
US-only data centers
One big downside is the fact that Bluehost comes with just US-only data centers, while many customers may have their target audience in countries other than the US.
Bluehost still needs to address this problem.
High Renewal fees
Even though Bluehost seems to have the most affordable pricing, you must understand that it's only the introductory price, and the renewal price is different.

For example, the Bluehost Basic plan is offered at an introductory price of $2.95 per month for 12-months billing, while the renewal price of the same plan is $10.99 per month.
FAQs
What are the pros of Bluehost?
Bluehost has several pros, and that's why it's one of the most liked hosting services. Here are some of its pros:
Affordable pricing
User-friendly control panel
Free CDN
Free Email Hosting
Free domain for one year
30 days money back guarantee
What are the cons of Bluehost?
Bluehost has certain cons, and it's always wise to get yourself familiar with the cons before going ahead with this service. Here are the cons of Bluehost:
The Bluehost starter plan, Basic, comes with very limited resources
Bluehost has many upsells like SiteLock and CodeGuard
All Bluehost data centers are located in the US alone
Bluehost has an average speed and Uptime
Bluehost renewal fees are high
The Bottom Line
I have tried to provide you with perfect clarity about Bluehost, and I am sure you have a clear picture of the service in front of you after reading this post. I have walked you through the various pros and cons of the service.
Even though the service has certain cons, it doesn't really make it a bad service unless it doesn't meet your requirements. Besides, you may feel free to try this service since it has a 30-day money-back guarantee.