5 Best Cloudways Alternatives 2022: Which Suits you Best?
This is the list of alternatives to Cloudways hosting based on performance, pricing, use-case, and other important parameters. If you are for any reason looking for a Cloudways alternative, then you are in the right place.
Best Cloudways Alternatives
1. Templ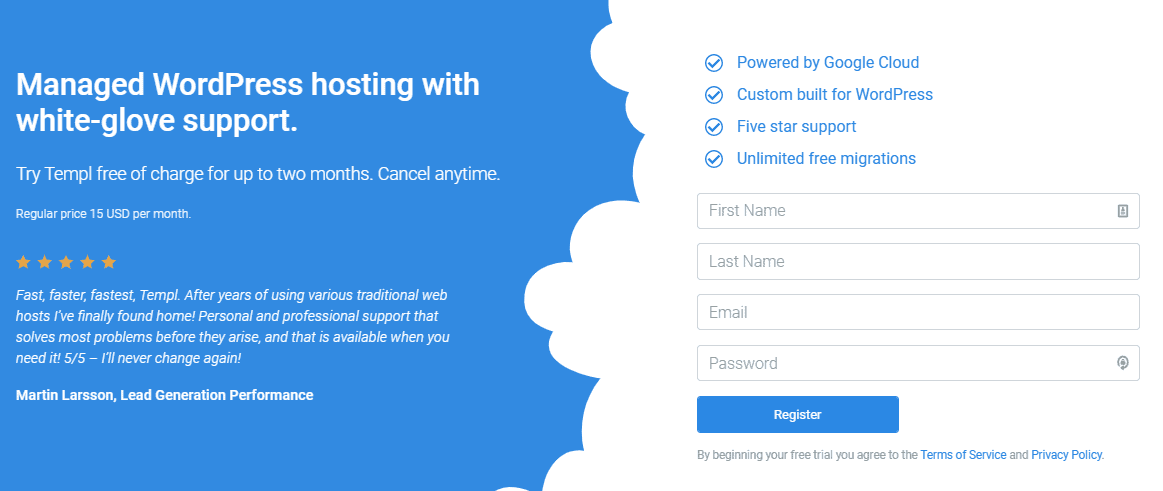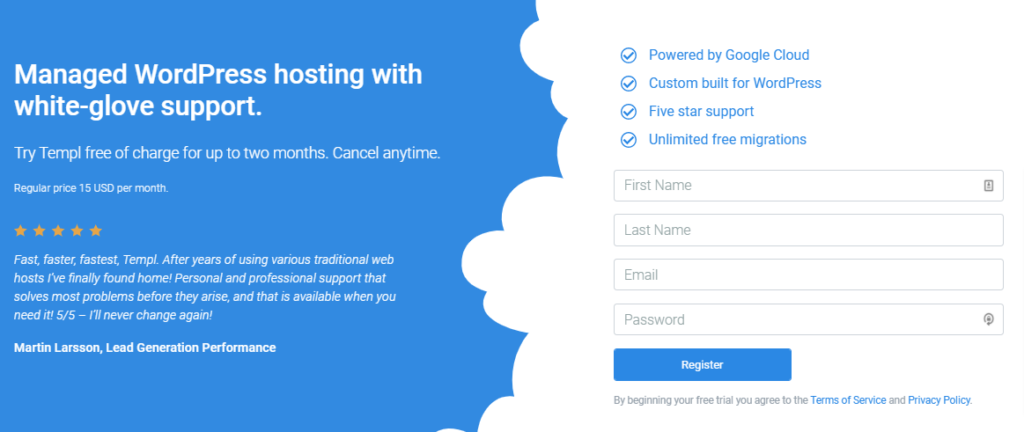 Based on our data, Templ is the best alternative to Cloudways hosting. I host more than five sites between Templ and Cloudways, and whenever I need to have a better performance, I move my sites to Templ. There are not many differences between Cloudways and Templ as it starts from $10/month and $15/month, respectively. Some of the best features of Templ hosting are
Google Cloud Platform and Google DNS
Google CDN included for free
Nginx and MariaDB
24/7 WordPress support
Free site migrations.
Cloudways is great, but it has some drawbacks. Their CDN comes as an add-on, and there is no automatic scaling; one needs to upgrade the server manually with some downtime involved. On the other hand, Templ provides you with automatic scaling and includes the best Google CDN for free, which is also faster than Cloudways CDN.
During our independent test, both Cloudways and Templ recorded 309 ms average response time, and both the hosts are the fastest in response time.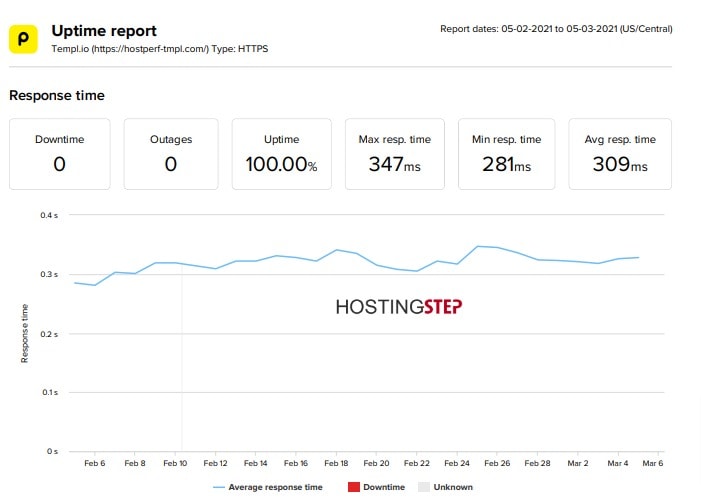 Modified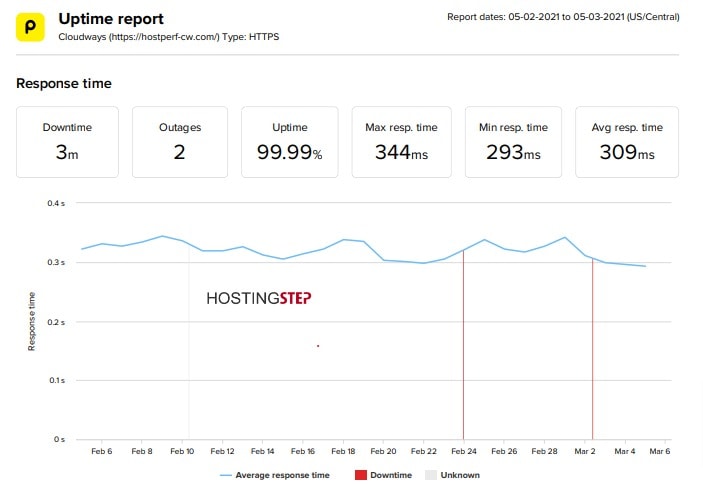 Original
In terms of load testing, we did three tests. In the first simple test, I've sent 1000 requests to the site at random times, and Cloudways recorded 10 ms, where Templ took 33 ms to complete the request. Now, I went for important load testing where the client load will be constant throughout the period.
Cloudways recorded 168 ms and 268 ms respectively in the 500 and 1000 clients load test, respectively. However, Templ took just 32 ms and 43 ms in the 500 and 1000 client load tests. Thus, if your website is having high traffic and looking for a better host to handle the load, the Templ should be your ultimate choice.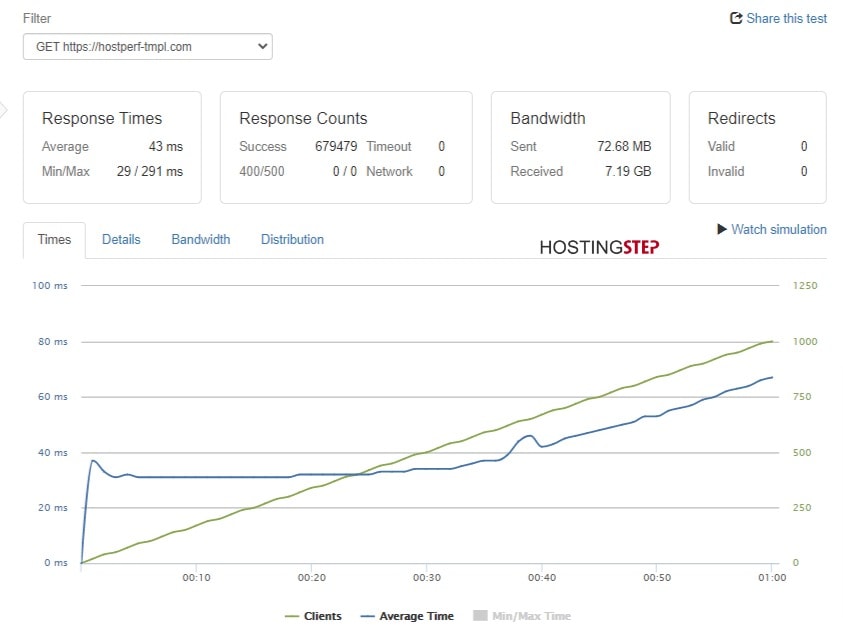 Modified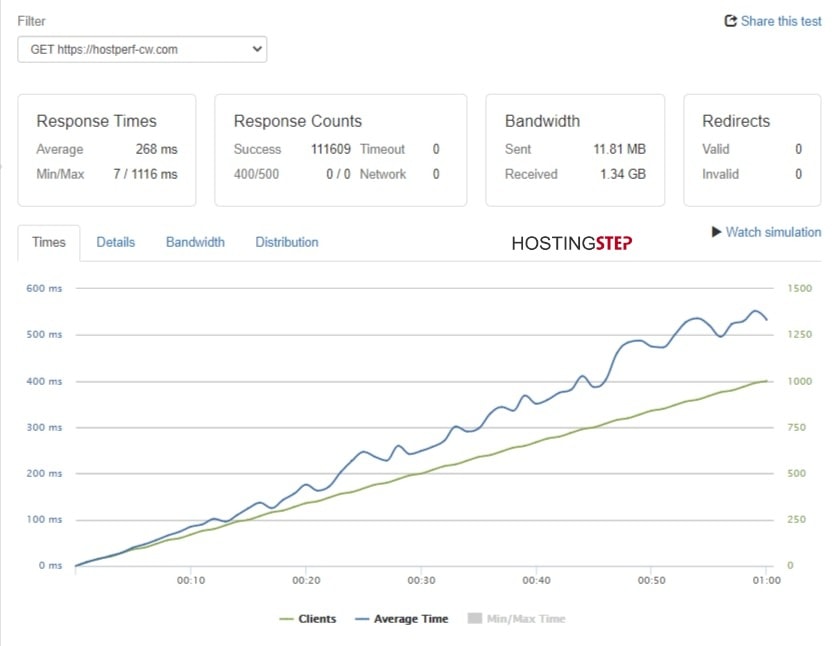 Original
Another major advantage of Templ is the access to 24 Google Cloud data center locations. No matter where you host your sites on Cloudways, Templ will provide you with a data center in the same region.
Templ provides 24/7 customer support via live chat, and it's absolutely better than Cloudways. If you're an existing customer of Cloudways, you might know they're good but not the best when it comes to supporting. So, Templ ticks the box here.
The only downside of Templ is the limited server resources like disk space. This is because Google Cloud is expensive compared to Digital Ocean or Linode, which are used in Cloudways.
Pros of Templ
Fastest performance than Templ hosting, thanks to Google Cloud hosting.
Better support compared to Cloudways.
Pricing is affordable, which also includes CDN.
Automatic scaling, no downtime involved.
Fast Global TTFB compared to Cloudways, better for sites with global traffic.
Cons of Templ
Compared to Cloudways, the Templ plan resources like disk space, bandwidth is in limited numbers as Google Cloud is expensive.
Overall, Templ is best suited for sites that require the best-in-class performance and features and great scalability.
2. Scala Hosting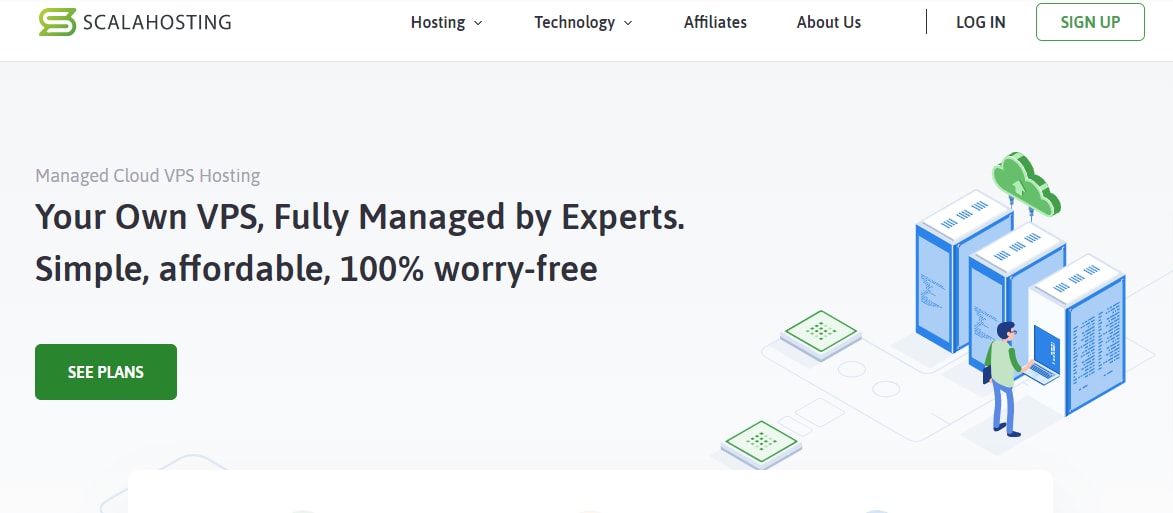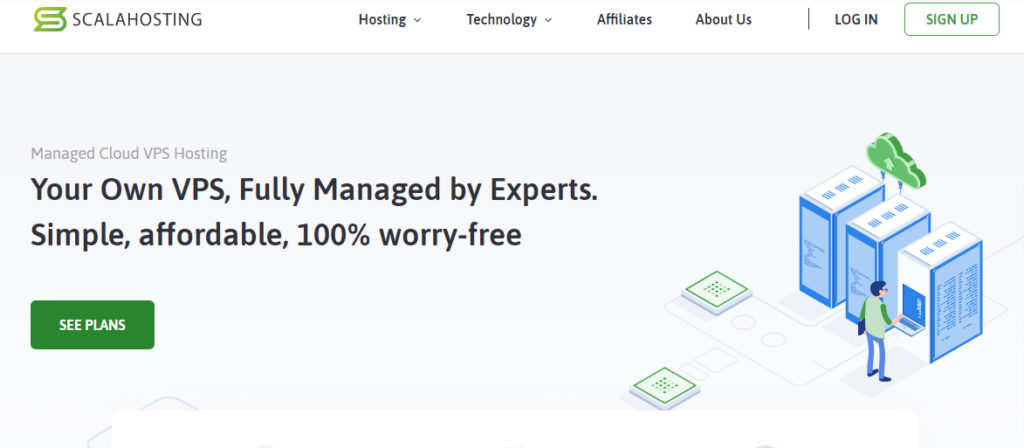 Scala Hosting works very similarly to Cloudways. Recently, they introduced Managed Digital Ocean plans to start at $9.95/month, much similar to Cloudways pricing. Scala hosting was founded in 2007, with over 700,000 websites hosted on their platform. They operate their own data centers in Dallas, United States. In recent years, they've partnered with DigitalOcean to offer hosting services through DigitalOcean's global data centers.
Scala Hosting uses its own proprietary control panel called "sPanel," and it comes with great user management. The most highlighting thing between Cloudways and Scala hosting is their pricing. Scala hosting placed their pricing cheaper than Cloudways, although both will use the same DO's servers. Here is the comparison of plans.
| Host | Scala Hosting | Cloudways |
| --- | --- | --- |
| Digitalocean 1 GB RAM | $19.95/mo. | $10/mo. |
| DO 2 GB RAM | $25.95/mo. | $22/mo. |
| DO 4 GB RAM | $41.95/mo. | $42/mo. |
| DO 8 GB RAM | $77.95/mo. | $80/mo. |
| DO 16 GB RAM | $149.95/mo. | $135/mo. |
If you look into the pricing, the 4GB RAM/8 GB RAM plans of Scala hosting are cheaper than Cloudways. But Scala hosting offers free unlimited daily backups while it was an add-on in Cloudways and a free domain. So, I think the pricing of Scala hosting is justified here.
Pros of Scala Hosting
The pricing is affordable to some plans compared to Cloudways. Also, it offers free daily backups while it costs $0.33/GB with Cloudways.
Options to choose Scala Data Centers, which gives you the flexibility to build your own cloud VPS.
Being in the industry since 2007 operates their own data centers, so the company is reliable to put our trust on.
Cons of Scala Hosting
Their spanel is great to use but comparable to Cloudways as the latter company does a lot of integration with Premium CDN, email services, and more, lacking in Scala hosting's sPanel.
In simple terms, If you find Templ hosting resources are limited, then Scala hosting should be your ultimate choice.
3. Rocket Hosting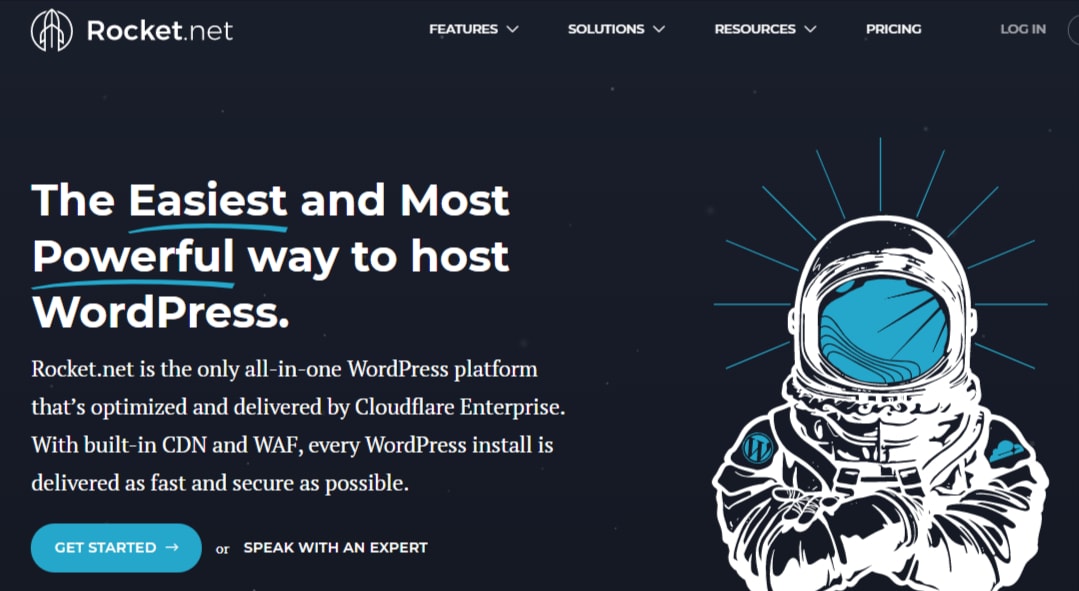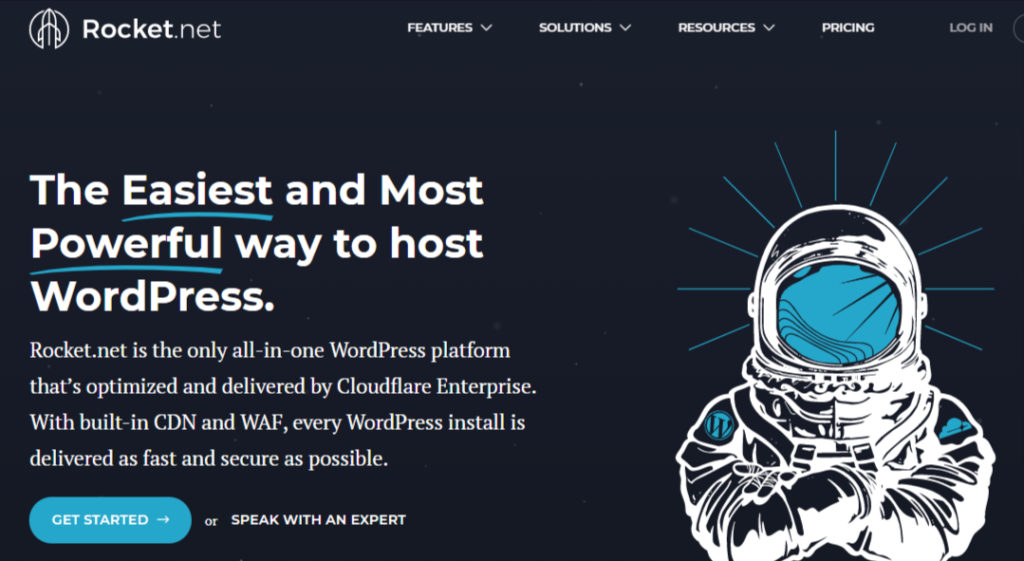 Rocket hosting is an interesting Cloudways alternative hosting service to use in 2021. Powered by Cloudflare Enterprise, Rocket hosting comes with Cloudflare's CDN and WAF security enabled by default. While Cloudflare Enterprise costs you $200/month/site, Rocket does a great job bringing their hosting plans starting at $30/month.
Focused on speed, some of the best features of Rocket host are
Cloudflare Enterprise CDN
Optimized Google fonts, save 100 ms in load time.
Hack and malware removal.
On-demand and automatic daily backups for free.
WordPress 24/7 customer support.
If you're using Cloudways, you need to pay for CDN and backups, an additional charge, but Rocket includes everything inside their plan. If you look deep, Rocket doesn't include just the CDN but does a full page caching enabled by default. That means, no matter where your data center is present, the TTFB will be the fastest throughout the globe. Also, Rocket allows you to host from 20 data center locations in the United States, United Kingdom, Asia, and Australia.
Just like on Cloudways, Rocket hosting provides services from 20 global locations so that you can host your sites based on your targeted customers.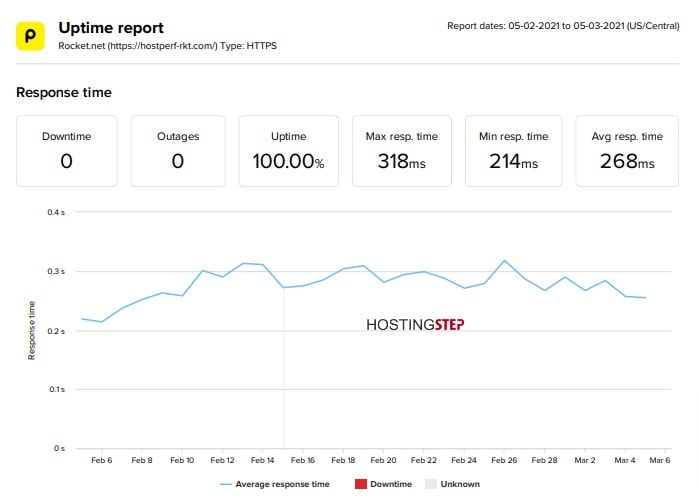 During our test, Rocket secured 268 ms average response time, and Cloudways recorded 309 ms. Rocket is faster because it comes with CDN enabled, and Cloudways was tested without CDN. Rocket hosting got 16 ms in load testing while handling 1000 requests, while Cloudways took just 10 ms. However, in constant load testing, Rocket recorded 60 ms in handling 500 constant client loads while Cloudways took 168 ms to handle the same load. Thus, Rocket is most suitable for high traffic sites.
Pros of Rocket
Powered by Cloudflare premium CDN and security network
24/7 WordPress customer support via live chat
Free migrations and a simple to use dashboard.
Server-level Google font optimization reduces 100ms load time
Affordable as you host more sites.
Cons of Rocket
The new company, but the founder has over 17 years of experience in the hosting industry.
4. Nexcess


Nexcess is the most affordable Cloudways alternative hosting for agencies. If you host more than 25 sites on Cloudways and look for an alternative, then Nexcess will be a great fit for you. Coming from the Liquid Web family, Nexcess offers managed WordPress hosting solutions that come with a feature-rich control panel, expert support, powerful server resources, and 24/7 customer support.
Some of the important features of Nexcess are
Visual based Automatic WordPress updates
Unlimited Email Hosting included
Nexcess CDN for free
Unlimited image compression
Server-based cache
Nexcess is not an affordable alternative to Cloudways if you need to host 10 sites. The charge for Nexcess/Cloudways 10-site plan comes around $100/month, so there is not much difference. However, The Builder plan of Nexcess allows you to host 25 sites and is priced at $149/month. In the case of Cloudways, you need to pay $250/month to host 25 sites. Likewise, the plans of Nexcess go cheap if you want to host 25/50/100 sites.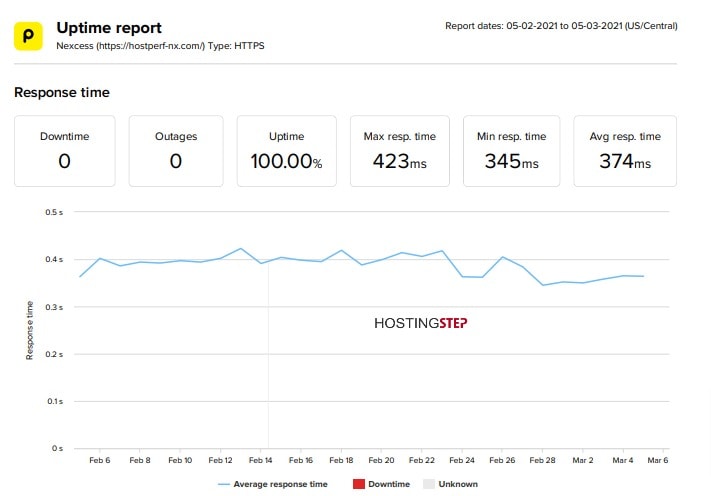 Coming to performance, Nexcess is so close to Cloudways. In server response time, Cloudways secured 309 ms while Nexcess recorded 374 ms in our test. I've sent 500 users to the site in terms of load testing, and Cloudways took 168 ms to process the request while Nexcess took 182 ms to handle the same request. As you can see from the results, Nexcess is not that fast as Cloudways, but the difference is negligible.
Pros of Nexcess
Cheaper alternative if you need to host more than 10 sites.
Includes free & premium speed optimization plugins.
Nexcess CDN with global POP locations comes included.
Unlimited Email hosting
Free automatic scaling
Cons of Nexcess
Not recommended if you need to host less than 10 sites
5. GreenGeeks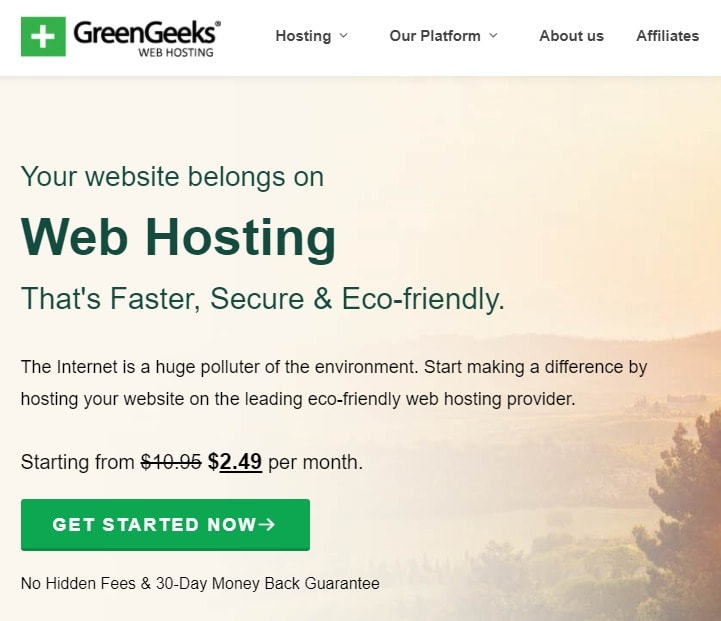 GreenGeeks is the only shared hosting alternative to Cloudways, which I recommend. In fact, their server response time is faster than Cloudways. Though Cloudways is good, it's not affordable for all, and not everyone needs to spend $10 on hosting per month, especially if you're a beginner. GreenGeeks comes packaged with great uptime, cPanel control panel, 24/7 live chat support, and LiteSpeed Optimized server setup. Some of the great features of GreenGeeks are
LiteSpeed Server and caching
MariaDB and HTTP/3 tech stack
Container-Based account isolation
Automatic backups
Scalable computing resources.
GreenGeeks offers equally or faster performance compared to Cloudways. The average server response time of GreenGeeks is 291 ms, while Cloudways recorded 309 ms. In terms of the simple load test, Cloudways took 10 ms while GreenGeeks took 25 ms to handle it. However, in a constant load test, GreenGeeks took just 35ms to handle 500 clients in a minute, while Cloudways took 168ms to handle the same load.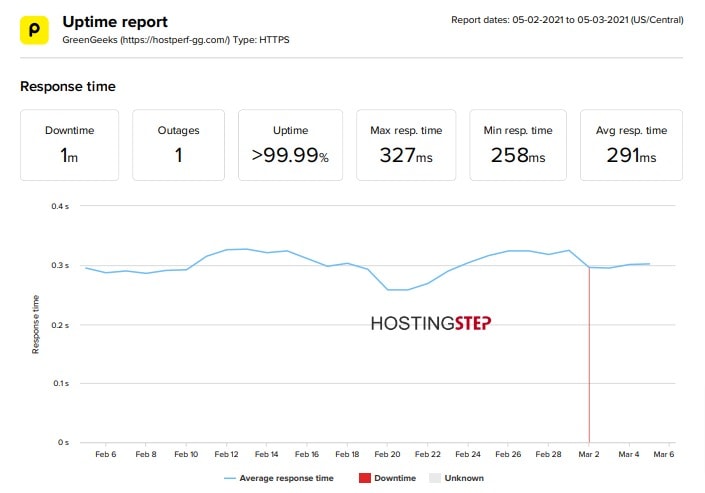 While I don't usually recommend shared hosting, GreenGeeks deserves to mention here, as their performance is better than many managed WordPress hosting, which cost $30/month. Simultaneously, our above performance data comes from the cheapest GreenGeeks plan of $2.49/month. Now, you can understand why I recommend them as an alternative here.
Pros of GreenGeeks
The cheapest alternative to Cloudways
cPanel powered, so comes with email hosting
Latest Tech stacks
24/7 USA based live chat support
Cons of GreenGeeks
Shared hosting is not reliable as like Cloud hosting.
Which Cloudways Alternative is good for you?
The Cloudways alternative is listed based on the use case.
Templ – Recommend for better performance to Cloudways.
Scala Hosting – Similar business model of Cloudways.
Rocket – Value for money alternative.
Nexcess – Cloudways alternative for agencies.
GreenGeeks – Shared hosting alternative.
In simple terms, if you're a blogger obsessed with speed, Templ hosting is the ultimate choice. Nothing can beat the power of Google Cloud with CDN & DNS. Scala Hosting is for someone who needs to host unlimited sites on a single server, just like on Cloudways. Rocket hosting comes with CDN in-built and a high traffic limit. Nexcess is suitable for agencies who need to host more than 10 sites at an affordable cost with a little compromise to performance. GreenGeeks is the cheapest shared hosting option available if you want to control your hosting costs.
Which hosting has a larger number of data centers than Cloudways?
Cloudways provides service through five cloud hosting providers named Digital Ocean, Linode, Vultr, Google Cloud Platform (GCP), and Amazon Web Services (AWS). Cloudways offers services from more than 60+ global data centers due to the presence of multiple cloud providers. There is no other hosting provider with such large numbers.
Templ hosting uses Google Cloud, so it offers service from 24 global data centers, and they're the next highest hosting provider on the list.
I'm using Cloudways with CloudwaysCDN. Which Hosting alternative is good?
CloudwaysCDN is powered by StackPath CDN, which is one of the fastest CDN in the world. Cloudways charge $1/25 GB bandwidth/ site. For your question, I recommend Rocket hosting. Since Rocket hosts use Cloudflare Enterprise, it is much more powerful than Cloudways' CDN. Apart from that, Rocket does full page caching, which means the host will cache your HTML pages on all the global POP locations; thus, the server response time will be better than Cloudways as it just caches the static resources in their CDN locations.
Which host is good that comes with email hosting?
Cloudways provides affordable email hosting addon through RackSpace email hosting. In case if you're moving out of Cloudways, you need to find an alternative service provider. The two best options are Google Workspace and Zoho, although the latter doesn't have the best features of Google. In our list, Nexcess offers unlimited email hosting for all sites. No matter which data center or which plan you choose, email hosting comes included for free.
Which alternative is best for agencies?
Nexcess is the ultimate choice. As an agency owner, what do you expect to reduce the cost? No overage charges because you can't bill those amounts from your clients. Include email hosting because third-party solutions are pricer. Need auto-updates because agencies can't do manual jobs on this. Nexcess got you covered with all.
For any given month, Nexcess offers 24-hours of free auto-scaling, which can happen at any time of the month; remember, Cloudways doesn't offer auto-scaling. There are no traffic-based limits. They also include free email hosting, which saves costs. It also includes visual-based auto-updates, which take before/after screenshots while doing an auto-update. If the visuals are broken after the update, Nexcess will revert the update. If no issue, Nexcess will pass the update. This feature saves a lot of time, and you don't find this feature with Cloudways or other managed hosts.