The FastComet coupon code allows you to enjoy 60% OFF on all shared hosting plans and 20% OFF on Cloud VPS and Dedicated Servers. Using our FastComet coupon code, you can start for just $3.45 per month.
Deal 1: 60% OFF on FastComet shared hosting
Coupon: SAVE60
Starting at $3.45/month
Applicable on any month billing.
Link: www.FastComet.com
Deal 2: 20% OFF on Cloud VPS hosting
FastComet Coupon Code
Get a 65% OFF on FastComet top-rated SSD shared hosting solution for personal and small business websites. The offer is valid for a limited time only.
Get a flat 20% OFF on FastComet fully managed SSD Cloud VPS for your growing online business with every technicality taken well care of by the hosting service itself. The deal is valid for a limited time.
Get a flat 20% OFF on FastComet fully managed Dedicated CPU Servers and have the most consistent performance for your dedicated business. The deal is available for a limited time.
How to claim the FastComet discount?
FastComet offers 65% OFF on shared hosting and a flat 20% OFF on Cloud VPS and Dedicated Servers. You can avail of any of these deals by clicking on the related DEAL button. When you click on the button, it should automatically get you to the deal page.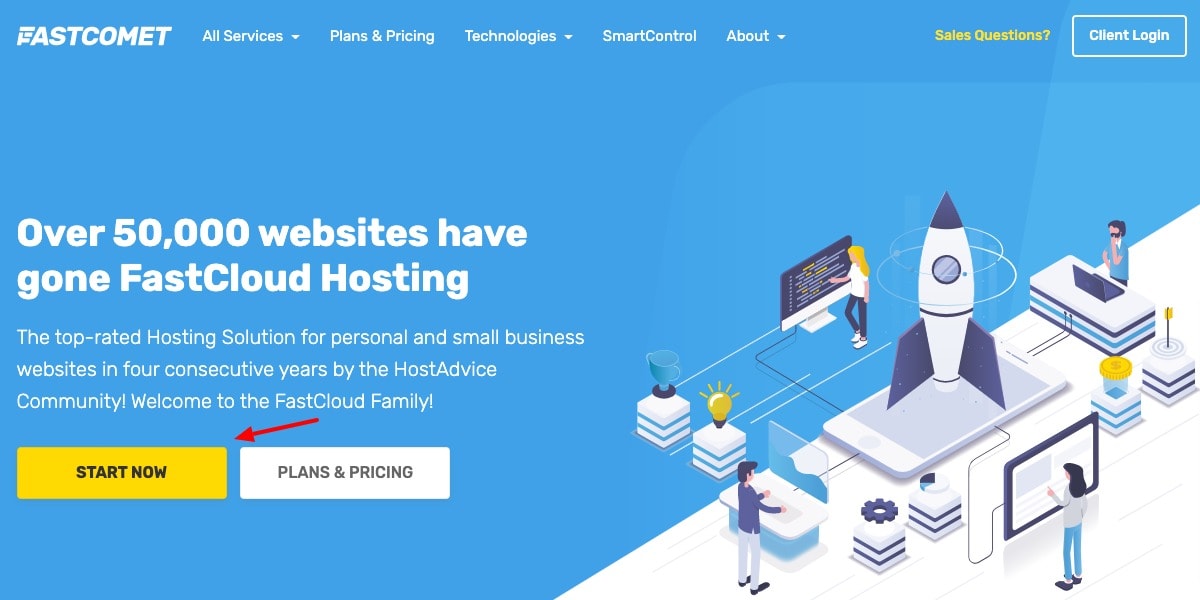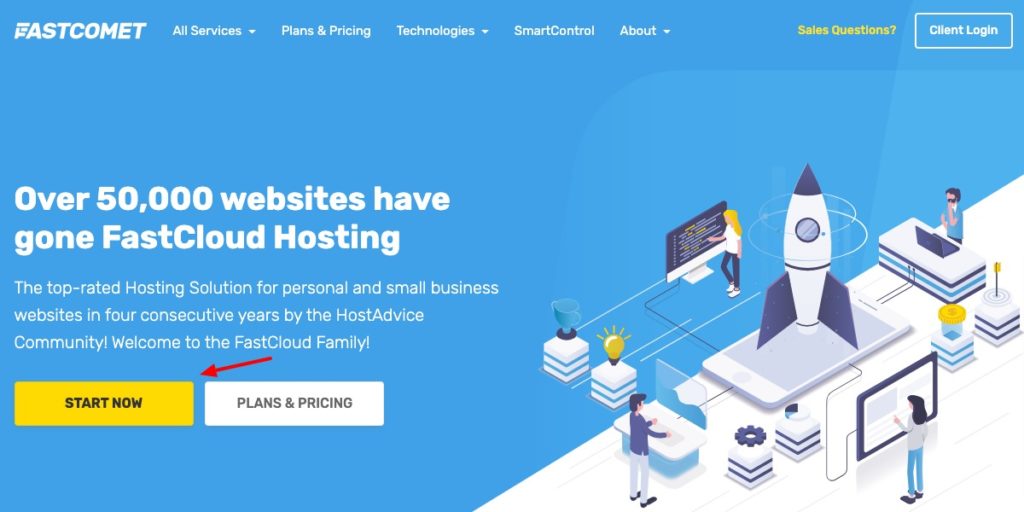 Step 1: Select a hosting plan.
The post has 3 deals for you, and you could grab any of them as per your requirements. To avail of the deal, you must click on the GRAB THE DEAL button right next to the deal, and this will take you to the pricing page with the discount automatically applied. The next best thing you can do is select your plan and proceed.


Step 2: Add or Register a Domain
Once you select a plan and proceed, you will be presented with a screen wherein you will be asked to add or register a Domain. If you already have a domain, you could add it to the hosting account by simply changing the DNS records and nameservers. If you haven't registered a domain yet, I would recommend not registering one with the hosting provider, and instead, you could get one from NameCheap since that will cost you less.


Step 3: Fill in the details.
After you have added or registered a domain, you will have to fill in some important details. This includes billing details, data center location, and period. You must make sure that you fill in your billing details correctly.
When it comes to data center location, the service provides customers with 11 data center locations across the globe to choose from, and you must choose the closest location to your target audience.
As far as selecting the period goes, you can select a minimum of 12 months and up to 36 months. I would recommend selecting 36 months since that way you can enjoy the deal for a long time. Besides, I would also suggest you don't select the extras.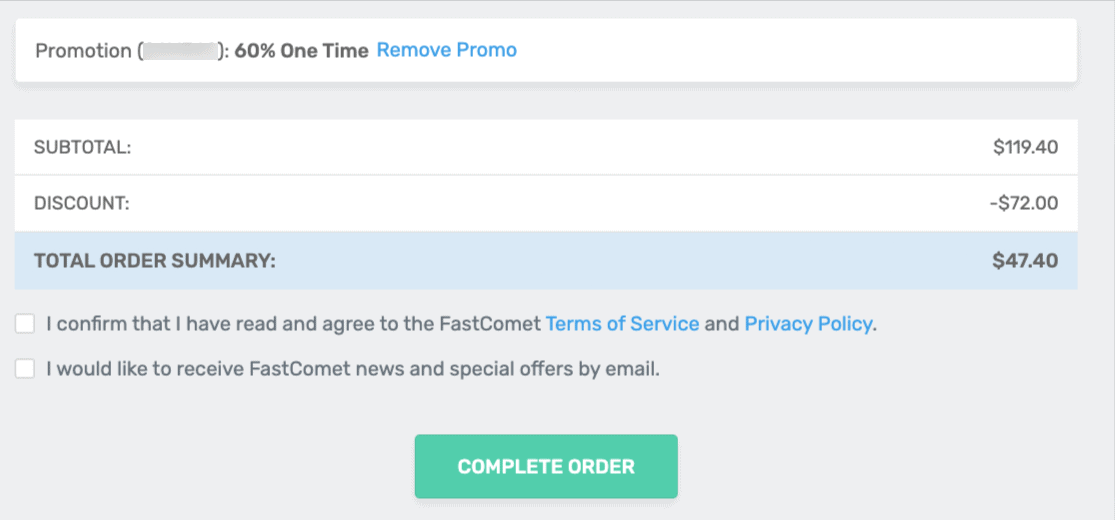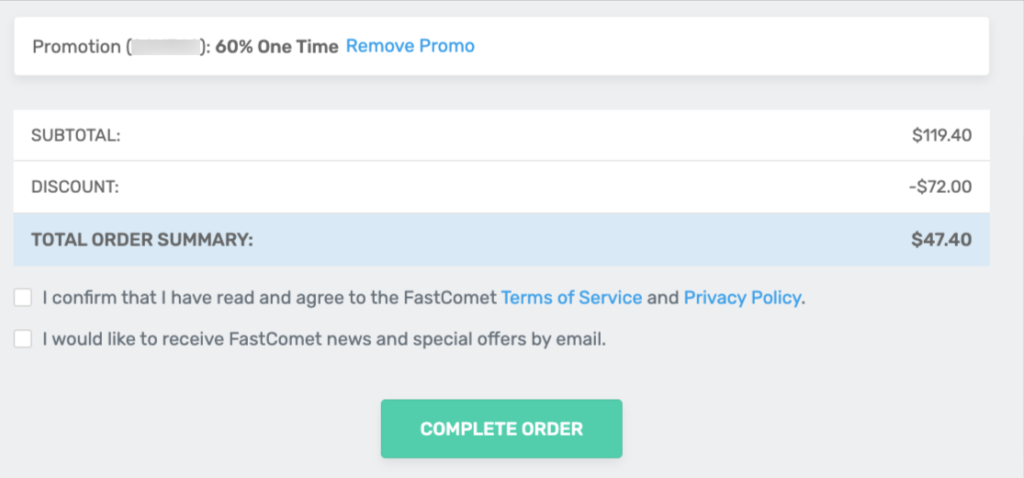 Step 4: Complete the Check-out process
After you fill in all the important details and click next, it will take you to the checkout page wherein the discount will have been already applied and all you have to do is click on the payment button to complete the payment.
Reasons to choose FastComet
FastComet offers high performance.
FastComet has a very good server response time with an average server response time of 322 ms. The service maintained a good uptime of 99.99%.
I found the service pretty dependable in terms of load handling as well. They also have brilliant TTFB across the various global locations with an average TTFB of 371.84 ms. Customers can also expect great help from the service in terms of user experience.
2. FastComet comes with the industry's best cpanel
Features-wise, FastComet hardly misses any important feature. They use cPanel, giving users the comfort of managing the various operations easily and neatly from a single point of control.
3. FastComet comes with Cloudflare CDN.
Besides, the service offers Cloudflare CDN on all plans for free. This helps sites with a blazing fast speed backed by auto minification, reverse-proxy caching, over 155 global locations, and Brotli compression.
4. FastComet has a robust security system in place.
Security is extremely solid and it comprises Let's Encrypt SSL certificates, Web Application Firewall, and Malware Scan to protect the servers from malicious traffic, DNS, and HTTP/S DDoS attacks.
5. FastComet comes with an unbeatable Support service.
FastComet has one of the finest support systems in the entire industry with the most experienced and friendly executives. The support team does an excellent job helping the customers with their technical issues 24/7 through live chat, phone, and ticketing. Both live chat and ticket support are extremely fast.
If you were planning to buy a FastComet hosting plan, there can't be a better time to buy one than buying one now. FastComet offers you 65% off on its shared hosting plans and a flat 20% OFF on Cloud VPS and Dedicated Servers. This is your time to make the most out of it.
In this post, I have provided you with every detail of the FastComet coupon and explained how you could claim it. Besides, I have also explained elaborately why you should choose FastComet.