This is my data-based review of 10Web WordPress Hosting.
In this review, I'll share:
My personal experience with 10Web.
Comparing 10Web performance data with it's competitors.
Pros and Cons of 10Web.
Let's get started.
10Web Review Summary
10Web.io is a WordPress hosting service that runs on the Google Cloud Platform.
The service comes with premium features like Cloudflare Enterprise CDN, Automated backups and 24/7 customer support.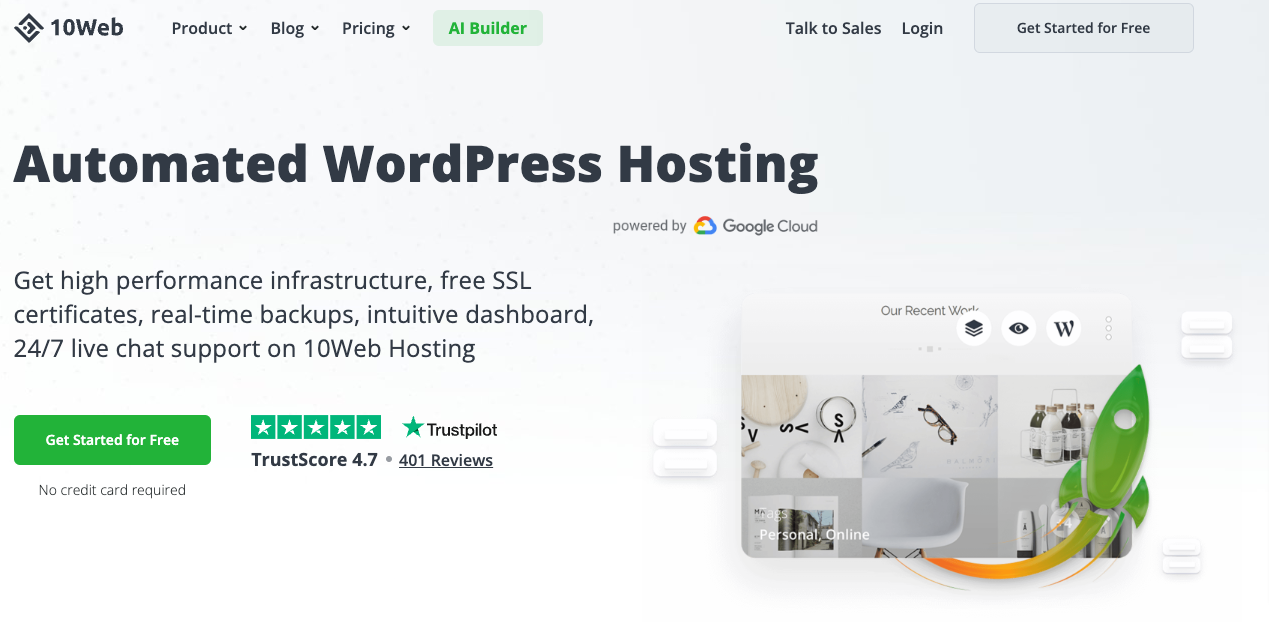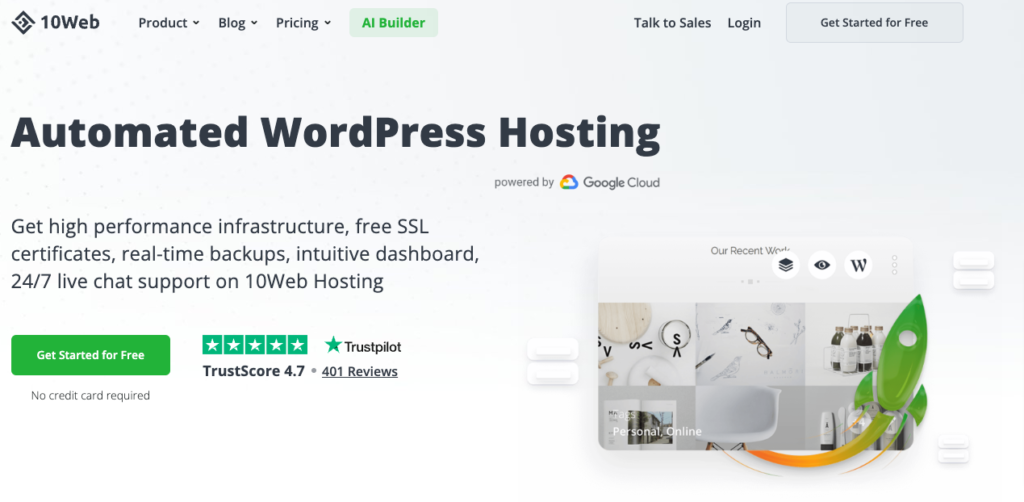 10Web Pricing
10Web comes with different plans for its customers to choose from, and the plans are based on the number of sites, monthly visitors, SSD Storage, and Backup Storage.
The web host offers you three plans to select from, and the plans are:
Personal: $10 per month, 1 Hosted Site, 25K Monthly Visitors, 10GB SSD Storage, and 20GB Backup Storage
Premium: $24 per month, 3 Hosted Sites, 100K Monthly Visitors, 15GB SSD Storage, and 75GB Backup Storage
Agency: $60 per month, 10 Hosted Sites, 400K Monthly Visitors, 50GB SSD Storage, and 250GB Backup Storage
Advanced features such as Multisite Support, White Label, and Additional Hosted Sites are only available in the Premium and Agency plans.
10Web Tech Stacks
Google Cloud Platform
Nginx, FastCGI caching, LXD containers
Cloudflare Enterprise CDN
10Web Performance test
1. TTFB Test
10Web claims to have fastest hosting, which got me curious to check the performance of their hosting service.
I started by testing the TTFB. I hosted a test site on the 10Web platform and monitored it continuously, along with other hosting services I keep track of.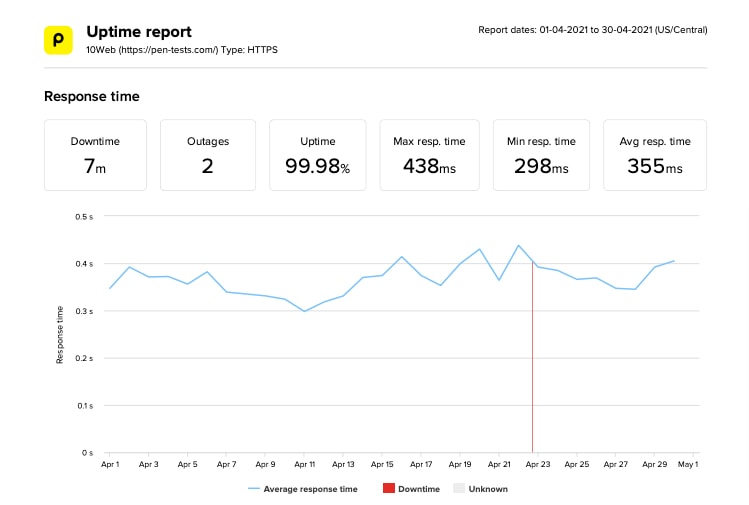 As per my last test, my 10Web site recorded an average server response time of 355ms, which is better than the average server response time of Kinsta and WP Engine.
Hence, 10Web has a reliable TTFB server response time. 
Uptime
The next important factor you can think of is uptime, and a website can never succeed without reliable uptime.
I have been continuously testing the uptime of my 10Web site, and according to the last test results, my 10Web site recorded 99.98%, which is very reliable.
Load Testing
Another crucial factor is the load-handling ability of the hosting service.
This is important to check this since many sites have high traffic and may experience sudden traffic spikes unexpectedly. This shouldn't be a worry as long as the hosting service has a dedicated system for handling the traffic spike. 
To test how well 10Web can handle high traffic, I performed load testing wherein I passed over 1000 concurrent traffic to my 10Web site and monitored how it responded.
My 10Web site recorded 79 ms in the Clients Per Test (1000 Clients in 1 min), and that's certainly a reliable performance. Hence, you can count on 10Web for high-traffic sites.
Global TTFB
Next, we move over to another essential performance aspect, the Global TTFB. In simple words, the Global TTFB test is a test to determine how well a hosting service performs across various global locations.
If you wonder why you would even need to know that, many sites rely largely on multiple international locations for traffic.
I have constantly been testing the global TTFB of my 10Web site across as many as ten international locations.
As per my last test, my 10Web site had performed brilliantly in all the locations, and the TTFB was exceptionally good in Dallas and New York with 66.42 ms and 95.99 ms, respectively.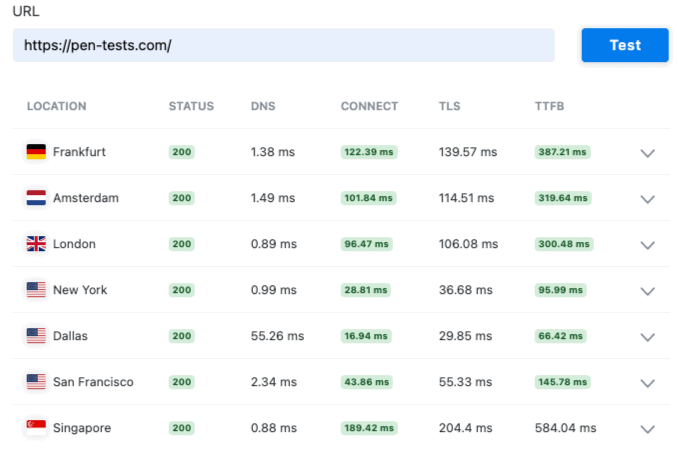 Core Web Vitals
For anyone looking for the best performance for one's site, user experience is a significant factor to consider.
Before you can start working on improving the user experience for your audience, it is essential to find out the core web vitals of the hosting service you are up to select. 
As I tested the Core Web Vitals of my 10Web site, my site recorded a 'Largest Contentful Paint' of 0.436s, a 'Total Blocking Time' of 0.000s, and a 'Cumulative Layout Shift' of 0.011.
The Core Web Vitals of 10Web is pretty good and comparatively better than many other hosting services.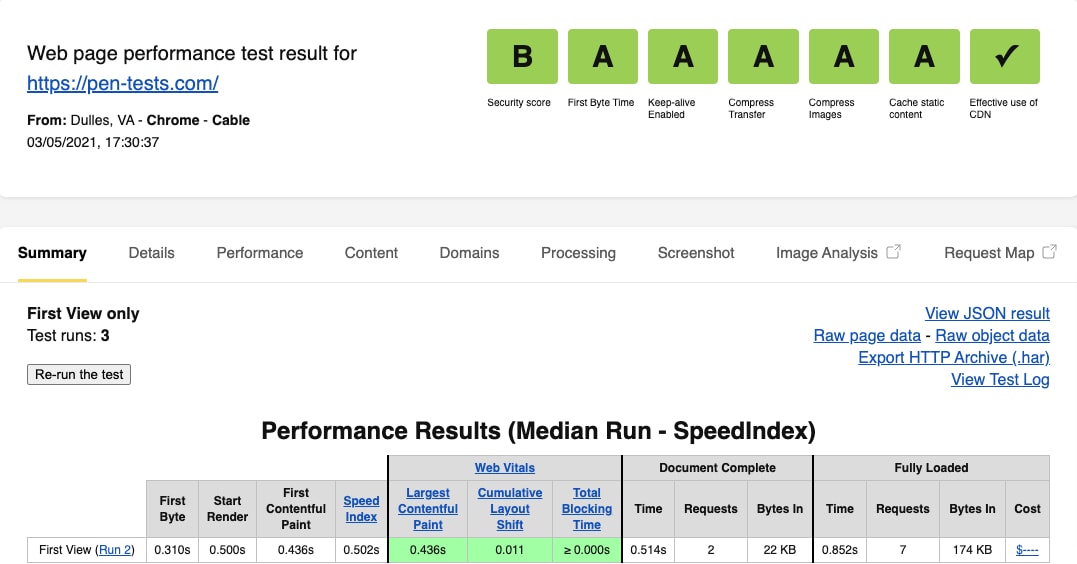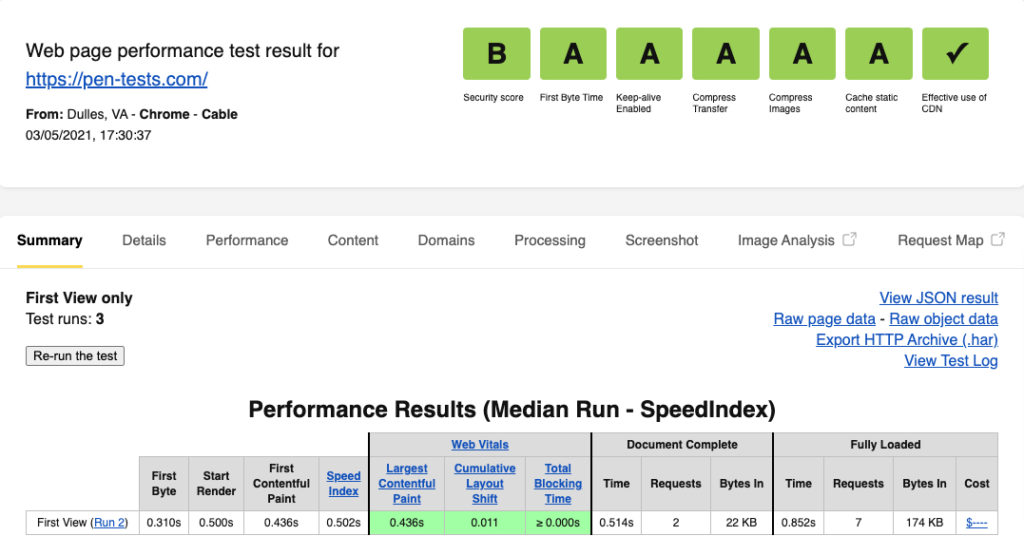 10Web Pros
1. Budget-friendly
Considering the pricing, it is much more affordable than the leading managed WordPress hosting providers such as Kinsta and WP Engine.
For example, a 10-site Agency plan cost $60/month on 10Web while same plan costs $110 on Kinsta/WP Engine.
Further, all plans come with a good amount of resources.
However, I would recommend choosing the Premium plan since the Personal plan supports only one site.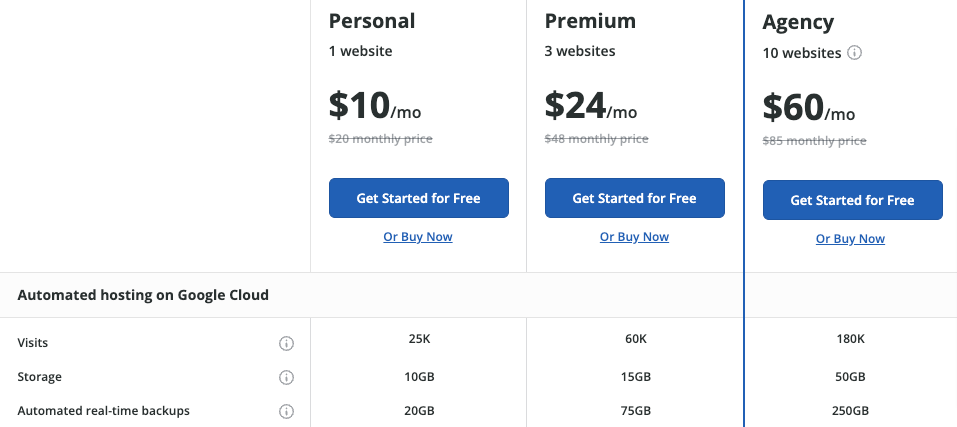 2. Blazing fast speed
10Web has over 90 optimization technologies, primarily reflected in the various performance tests.
10Web has an exceptionally brilliant server response time and an uptime of 99.98%. Besides, the web host is very reliable when handling high-traffic sites.
Further, the host has excellent Global TTFB and Core Web Vitals. 
3. Neatly arranged dashboard
10Web doesn't use cPanel and instead comes with a custom dashboard; I liked the most about the dashboard because all the options and features are neatly arranged alongside being advanced.
It is easy to navigate between the options; most importantly, even a beginner can get the hang of it in just a few minutes.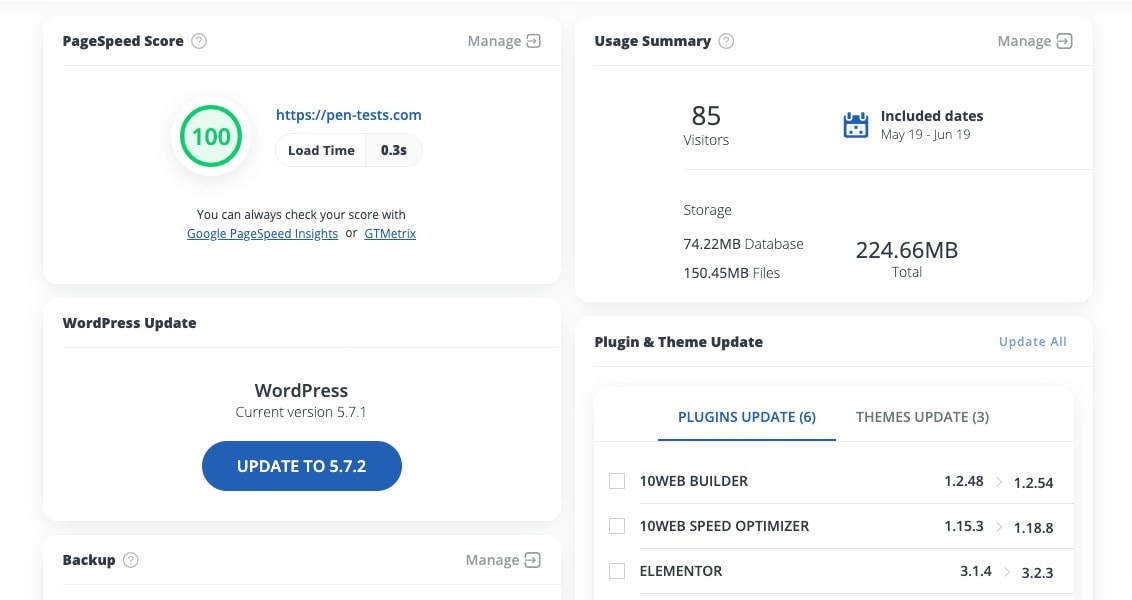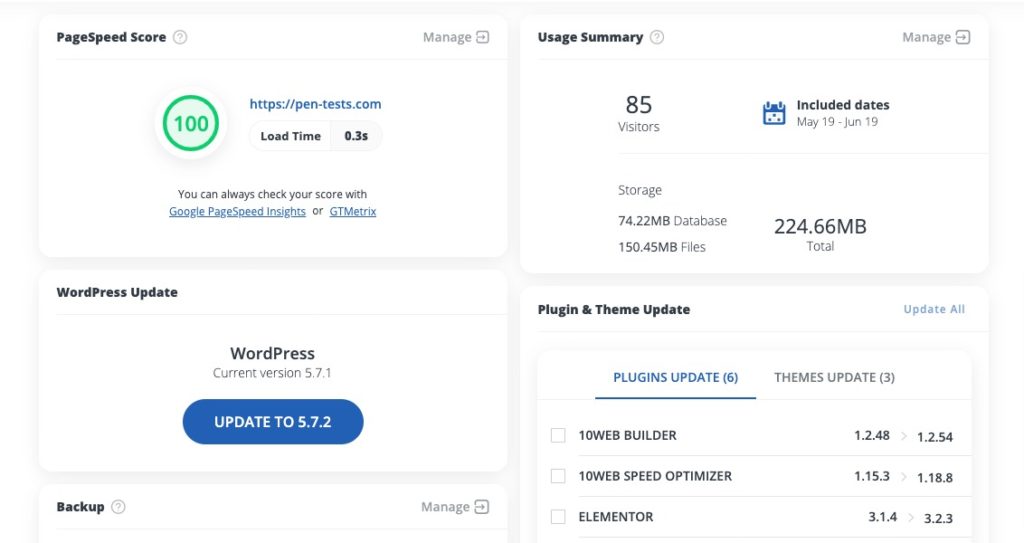 4. Lots of extras
10Web has lots of extras on all the plans, and you can't afford to get so much with any other host.
All 10Web plans come with Automated 1 Click Migration, Automated Website Builder, AI Website Builder, Designer Templates, Drag & Drop Editor Based on Elementor, and 30+ 10Web Premium Widgets.
5. 14-Day Free Trial
The host has a 14-Day Free Trial on all plans, which means you can try the plans before actually going ahead with buying one.
Most importantly, 14 days are good enough to try out any project and understand the various aspects.
10Web Cons
1. Email hosting is missing.
While most of the top managed WordPress hosting companies offer Email hosting for free with their hosting plans, 10Web doesn't offer Email hosting on its plans.
This can be discouraging for anyone who is looking for email hosting.     
10Web Features
Data Center Locations
One best practice while hosting a site is hosting it on the closest server to one's target audience, enhancing the site's speed. That's why it is wise to check in advance the data center locations of hosting services before choosing one.
As far as the data center locations of 10Web, the host has as many as 11 data center locations across the USA, Europe, and Asia.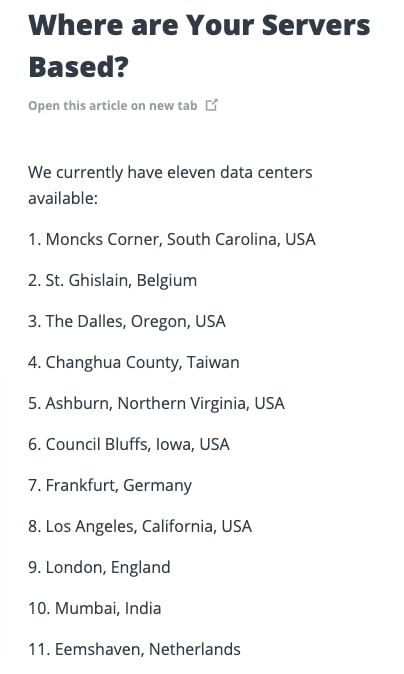 Staging
Staging is a handy feature for anyone who wants to test changes before deploying them to one's live site. 10Web offers straightforward staging on all plans.
Customers can click on their desired website from the dashboard and click on Staging Environment under the Hosting Services tab. Once you finish testing, it is equally simple to sync the changes to the live site.
Backup
A reliable backup system is one of the essential features of any good hosting service. Without a proper backup system, you are constantly surrounded by the risk of unexpectedly losing your website data.

10Web has a dedicated backup system characterized by Automated Real-Time Backup with free Backup Storage.
To be precise, the 10Web backup system comprises Database and Files Backup, Schedule Backups, Differential Backups, Logs, Amazon S3 cloud storage, and Different Archive Format.
Security
If you are up for hosting a site, you must not take the site's security lightly.
Many dreadful online threats like DDoS and Bruteforce can have the worst impact on your site anytime if you don't take good care of your site's security. 
10Web comes with excellent security features that comprise Vulnerability Scanning, File changes scanning, Original File Restore, Unlimited Scans, and Scheduled Scans.
Besides, 10Web users have the advantage of automated core and plugin updates.
Support
Encountering Technical issues is pretty standard when you are hosting a site. However, you don't have to be stuck with a problem for too long if you have a reliable support service.
10Web has a dedicated 24/7 support service on all plans, with experienced executives ready to assist you through live chat and email tickets.
Over the years, the host has done a remarkable job in terms of support.                                 
Conclusion
10Web is undoubtedly one of the best-managed WordPress hosting services. I tried to keep this post as comprehensive as possible, and I am sure you have got good clarity after reading this post so far.
Even though there is no denying that the service has a couple of cons, such as no email hosting, it has a very reliable performance for sure, and I can say that based on the tests I had performed on my 10Web site.
Besides, the service has exceptionally robust security and a great backup system. Last but not least, 10Web has a high-speed and knowledgeable support service to help customers.