This is our expert review of ChemiCloud concerning performance, support, pricing, and features. ChemiCloud, founded in 2016, is the youngest company to get reviewed at Hostingstep. ChemiCloud is traditional web hosting focused on shared & WordPress hosting and sells high power VPS and Dedicated Hosting. Why did I go to review this ChemiCloud? You'll get the answer below.
ChemiCloud Review: Summary
ChemiCloud is a reliable host, but their uptime reports are concerning. Their features, offerings, and customer support are great to get started.
What is ChemiCloud?
ChemiCloud offers a fast, secure, and reliable cloud hosting platform with the industry's best customer services. The company is customer-centric with an in-house support team with over ten years of industry experience.
ChemiCloud Pricing
ChemiCloud offers a variety of services ranging from Web hosting to Reseller hosting. Here is the brief of each service.
Web hosting: Starts at $3.95 per month, renews at $7.90 per month.
Website builder: Starts at $3.95 per month, renews at $7.90 per month.
WordPress hosting: Starts at $3.95 per month, renews at $7.90 per month.
Reseller hosting: Starts at $19.95 per month, renews at $19.95 per month.
Cloud VPS: Starts at $59.96 per month, renews at $79.95 per month
All the plans come with a 45-days money-back guarantee except the VPS host, who got a 15 days money-back guarantee. Access ChemiCloud Coupon to find our exclusive coupons and get started with ChemiCloud at a discounted price.
ChemiCloud Performance
Server Response Time
I monitored the server response time of my site hosted on ChemiCloud from over 20 USA locations, and my ChemiCloud site recorded an average response time of 343ms.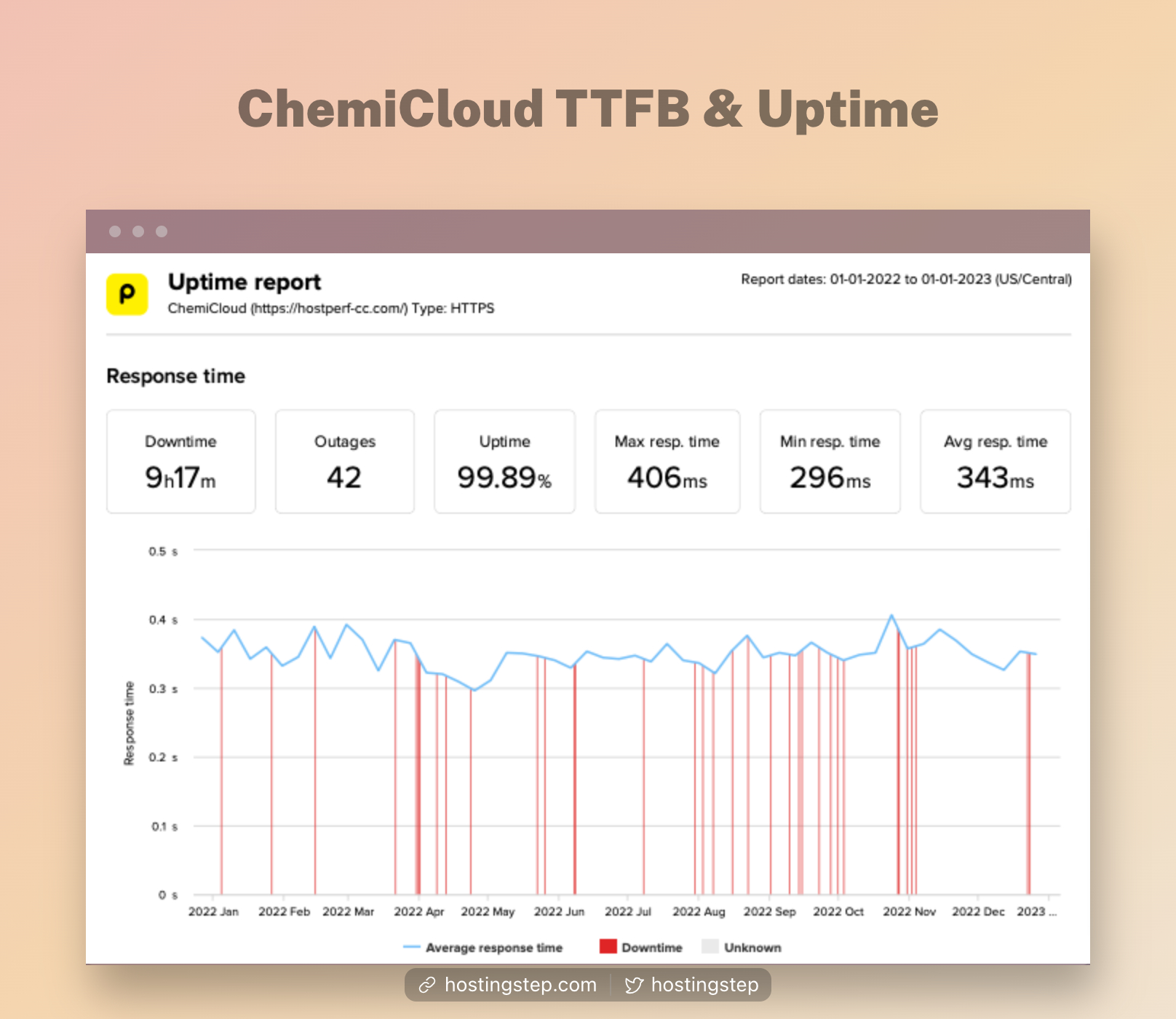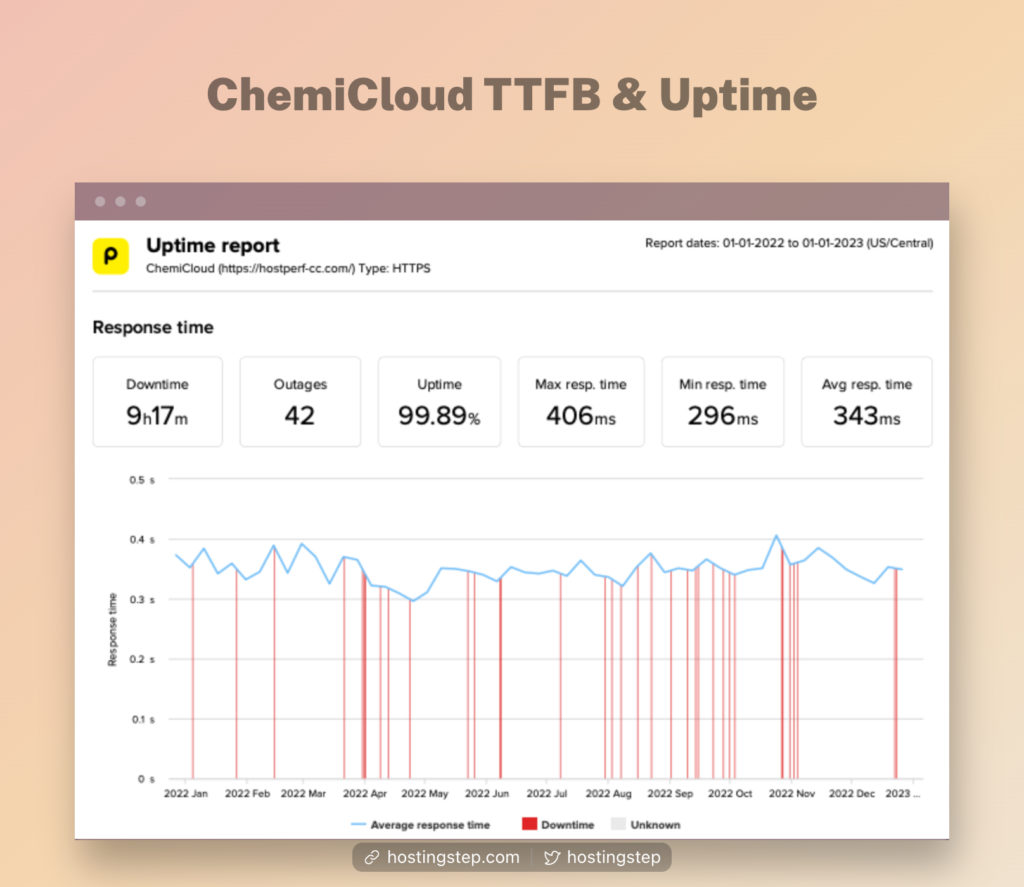 Uptime
I have tested my My ChemiCloud site for the past 3 months, and the site recorded an uptime of 100%. This is a sign of great reliability.
Core Web Vitals
Core Web Vitals are important signals for user experience and have a huge impact on ranking. Hence, you can't ignore the Core Web Vitals test at any cost. Hostingstep happens to be the first site to persistently share the Core Web Vitals report for various hosting services. Here is the Core Web Vitals report for ChemiCloud:


As you can see, my ChemiCloud site had a 'Largest Contentful Paint' of 1.8 s, a 'Total Blocking Time' of 0 ms, and a 'Cumulative Layout Shift' of 0. That's a decent Core Web Vitals score for sure, and ChemiCloud has comparatively better Core Web Vitals than Kinsta and SiteGround.
Load Testing
Next, I performed load testing on my site wherein I had sent 1000 visitors to my site in 1 minute and then 500 visitors for a minute to check how well it responds when it receives some viral traffic.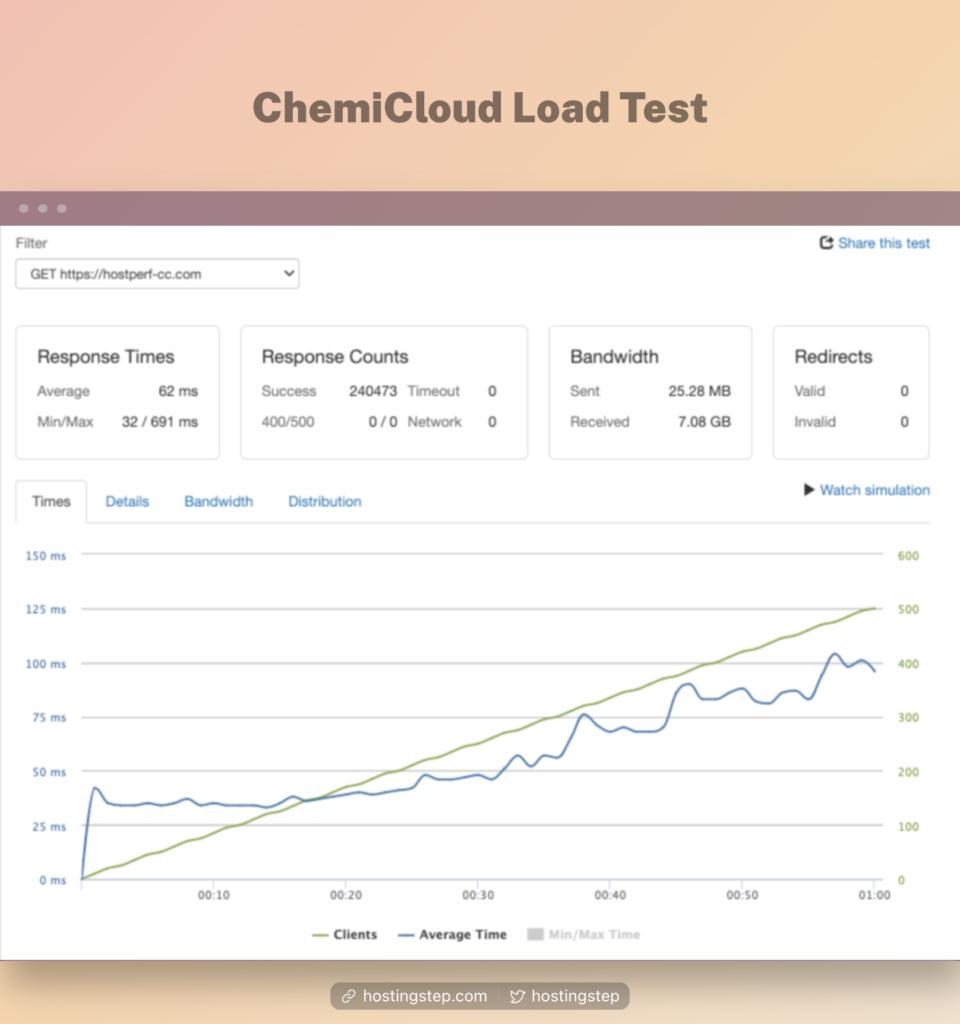 Global TTFB
The global TTFB test is another effective test for checking the performance of a hosting service and is especially useful for those sites that rely on multiple global locations for their traffic. I pinged my site hosted with ChemiCloud from ten global locations.

ChemiCloud recorded an average TTFB of 406.74 ms with a decent TTFB at all the places, especially New York, Dallas, and San Francisco. ChemiCloud has a better TTFB than many top hosting companies such as A2 Hosting, Kinsta, Bluehost, and WP Engine.
ChemiCloud Pros
1. Faster Performance
ChemiCloud sites load at a blazing fast speed backed by cutting-edge technology such as LiteSpeed Caching, 100% SSD storage, HTTP/2, PHP 7, and a free CDN.
You have already seen the difference in the performance tests. The service has scored brilliantly in all the performance tests.
2. Free Domain for Life
ChemiCloud offers a Free Domain for life on all plans. FastComet used to have this feature initially, but the host has discontinued the feature in the recent past.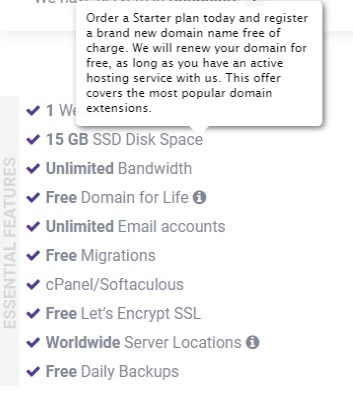 Most hosting companies offer a free domain only for the first year, and if you aren't wise enough to spot it in time, you may get easily deceived by it, taking it to be a Free Domain for Life.
However, with ChemiCloud offering a Free Domain for life on all plans, this will certainly reduce your website maintenance cost to some extent.
3. Reliable Platform
ChemiCloud is one of the industry's youngest companies; thus, their tech stack comes with the latest setup. They include LiteSpeed caching and server, MariaDB, and Immunify 360 for security.
Each new installation comes with LiteSpeed caching pre-configured; thus, your site loads faster just out of the box.
4. Global Data Centers
ChemiCloud has a decent global coverage with eight data center locations across the United States, Europe, Australia, and Asia. You can choose the closest server to your target audience for the lowest latency and a blazing fast page loading. Here are all the data center locations:
San Francisco (USA)
New York (USA)
London (UK)
Amsterdam (NL)
Bucharest (RO)
Bangalore (IN)
Singapore (SG)
Sydney (AU)
5. 24/7 Support
Every successful hosting company has one thing in common, and that is an extremely reliable support team. ChemiCloud is no different with an extremely reliable 24/7 support system backed by the most skilled and passionate hosting experts to help you with your hosting-related queries from setup, migration to troubleshooting problems through 24×7 live chat and tickets alongside a comprehensive knowledge base.
Cons of ChemiCloud
1. No 12 Months Billing for Starter Plan
Even though ChemiCloud has good plans and pricing alongside good promotional, it doesn't have 12 months billing for the starter plan. If you are looking for a plan with one-year billing, this is a limitation for sure.
ChemiCloud Features
Control Panel
ChemiCloud comes with a concise dashboard called the lab. Besides, it allows you to use cPanel with just one click. With cPanel, you can easily manage every aspect of your hosting account from a single point.
CDN
ChemiCloud allows you to enable Cloudflare CDN right from the cPanel. With that, you have the advantage of a reverse-proxy network, over 155 global locations, auto script minifications, image optimization, and more. Cloudflare helps site load at a breakneck speed by serving static content from the closest server to the target audience.
Staging
ChemiCloud provides users with effortless staging. You can create a copy of your production site from the control panel by going to the Softaculous Apps Installer under the Software section. You can freely test the various modifications and push the final changes to live right from the Softaculous section by clicking on the Push To Live.
Backups
Every website needs a good backup system, and that's why you have to look for a hosting service that comes with the most dedicated backup service. However, ChemiCloud does a brilliant job in backup and offers customers daily backups for free on all plans. The host stores the backups offsite for 30 days and
Security
As far as security goes, ChemiCloud has the best security system to protect sites against various online threats. ChemiCloud comes with rock-solid security features such as custom web application firewall rules, real-time 24/7 server monitoring, and traffic encryption using the Let's Encrypt SSL certificate.
ChemiCloud Review Conclusion
I did an in-depth study about ChemiCloud, and I found every aspect of this service reliable and fascinating. ChemiCloud has the best promotional price for plans and has the most advanced features in place. What I liked the most is that there is not a single important feature missing in this service. At the same time, there is no exaggeration, and the company offers you just what you would essentially need for running your site.
ChemiCloud has done exceptionally well in all the performance tests, and the host also has the best security features. The only con is the lack of one-year billing for the starter plan. However, this shouldn't be a huge problem since it is always wise to buy a plan for the maximum years to make the most out of the promotional price.