Liquid Web Reviews 2022: Is This Host Any Good?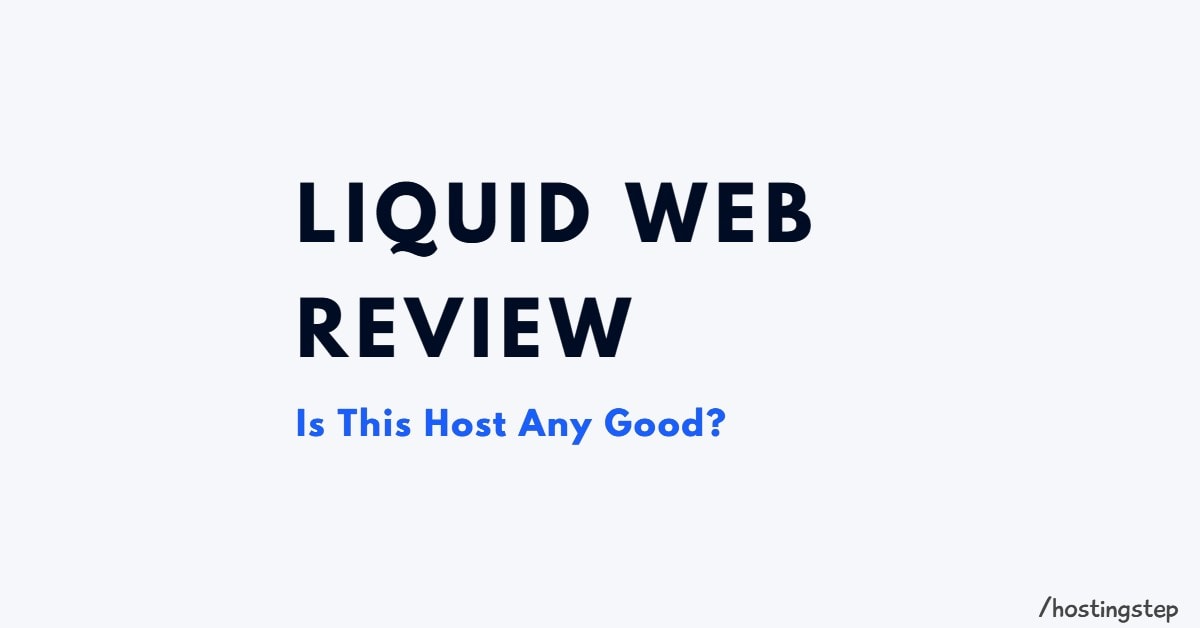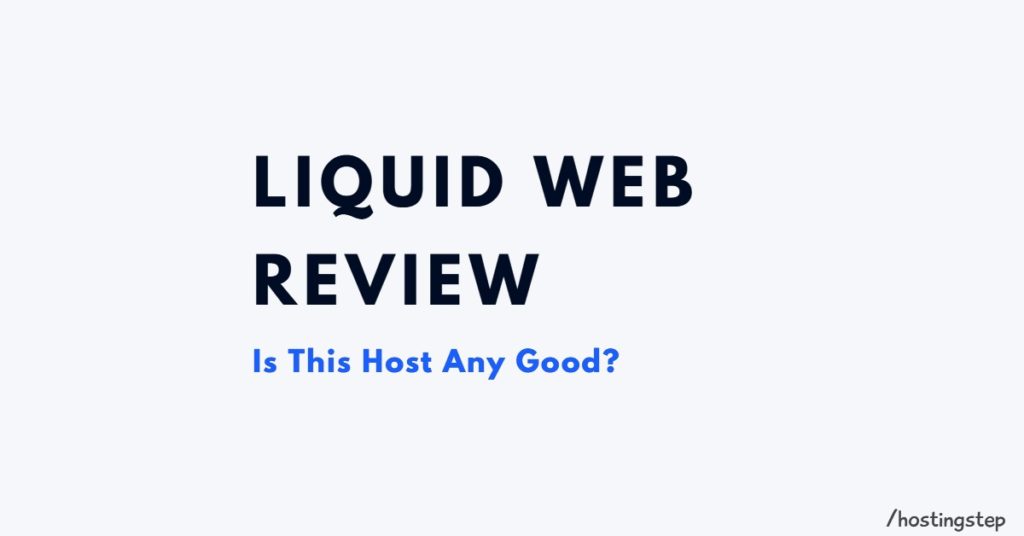 In this post, I wrote my long pending Review of Liquid Web.
Through this review, you will learn about
Liquid Web Overview
Hosting Plans
Why Liquid Web is best
Pros and cons
Liquid Web Review
Pros of Using Liquid Web
1. Liquid Web Offers Highest Uptime (100%)
Liquid Web promises 100% network uptime. This is the best in class SLA one can get, and even the top 3 cloud providers don't match Liquid Web's guarantee.
The 0.1% difference shows how valuable the Liquid Web as a company.
While all the top 3 cloud providers ( AWS, GCP & Azure) are founded as a "business product" due to cloud market expansion, Liquid Web was founded out of Matthew Hill's passion in 1997, where the company now runs under James F. Geiger from 2015. Here is a brief comparison of Liquid Web Managed WordPress SLA compared to others.
While all the above-mentioned hosting companies are truly the best in class, Liquid Web offers the best value for money invested.
2. Faster Performance than AWS, Digital Ocean & RackSpace
Cloud Spectator is an independent cloud benchmarking company operating since 2011 and known for its transparent, reliable, and repetitive tests. The company took a test with the following instances from top cloud providers and concluded
Liquid Web VPS handled queries 1.5x faster than Digital Ocean and 2x faster than AWS and Rackspace.
Liquid Web sustained the highest number of requests in the Apache Web server.
The single-core vCPU offers the fastest PHP processing than others.
You can check this page and learn more about how the test is done, the tech stacks choose, server location. Everything was done transparently and revealed how fast Liquid Web VPS compared to others.
But you don't need to trust reports alone; here is my site hosted on their VPS and see how fast my site loads across the globe with Liquid Web + Cloudflare CDN. Here is my full load time metrics, the whole site loads in just 800ms.
3. Liquid Web comes with 24/7/356 Support.
Support is one of another major thing why I stay with them because they are the only company as far as I remember offering support SLA of
Phone & Live Chat: 59 seconds of initial response guarantee
Help Desk: 59 minutes initial response guarantee.
But in most cases, you will be connected with an agent in less than 10 seconds, and most issues sorted in a few minutes.
Within support, I love their Proactive monitoring. A few months back, the hosting account got some SSH issues which were automatically reported to the support agent.
The team fixed the issue and sent me an email. I didn't know such a problem existed, and I never raised a ticket!
I don't know any such hosts do this kind of proactive monitoring.
4. White-Glove Site Migration
Consider any of the hosts who did site migration for you earlier. The process will be:
The new hosts ask for old host login details.
Details of FTP access
Site Transfer will be made using any plugins.
Here is how the professional site transfer takes place at Liquid Web. Once you raised a request, the site migration request will do:
Identify the software versions like PHP, the CMS version of your old host, and syncing the same with the new Liquid Web server to check compatibility.
Once done, the full account backup will be done, the specialist will ask you to check whether the site is functioning well without any issues.
Once you confirm things, Liquid Web will ask you to change the nameservers pointing towards their servers.
Here is more technical info on how site migrations are done:
5. Fully Loaded Managed Hosting
Apart from VPS & Dedicated hosts, their managed WordPress hosting is flying high with features that you don't find with any other managed hosts.
For a $19/month, WordPress plans Liquid Web offers:
Staging/ Production Sync
No limits on-site traffic
Unlimited image compression
Server-side caching
Fully Automatic backups.
I wrote a detailed Nexcess Review to understand how good their plans are compared to WP Engine and FlyWheel.
6. Free Cloudflare CDN & Special Paid Plans.
Cloudflare is deeply integrated with Liquid Web as you don't need the Cloudflare dashboard to perform the most common settings. With a simple click, you can enable/disable Cloudflare and manage the minify process. The best thing is the special Cloudflare Pro plan.
While the Pro plan costs $20/month on the official Cloudflare site, Liquid Web offers a special $10/month, including all the Pro plan features. By hosting your site with Liquid Web, you can save a minimum of $120 every year. This benefit can't be available with other hosts as far as I remember.
7. Comes Bundled With Advanced Features
Unlike most hosting providers, Liquid Web doesn't upsell the following things and comes included with any plans.
All Liquid Web plans come with free Standard DDoS Protection for free till 2 Gbps on Layer 4 attacks.
Acronis Cyber Backups with 250GB storage included for free on all Dedicated Server plans.
ServerSecure Advanced Security added on all plans by default which comes with an optimized security setup on all Windows and Linux servers.
The managed WordPress hosting includes many paid plugins free. Some of them are TinyPNG for unlimited image compression, ithemes pro for enhanced security, and Astra Pro theme.
The managed WooCommerce Hosting includes access to ConvertPro, Beaver Builder, Dokan Pro, ShopMaster, Social Web Suite, WP-Lister Pro, and Abandoned Cart Jilt Glew.io Reporting, and Jetpack Pro. Apart from these major products, Liquid Web offers private Cloud services, HIPAA compliant servers, VMware private load, and Server clusters for custom needs.
Cons of Liquid Web
1. No Shared Hosting
Liquid Web is clear on its market niche offerings. The cheapest way to get started with Liquid Web is their Managed WordPress/WooCommerce plans for $19/monthly billing or Choose long-term VPS plans to get started around $15/month.
Liquid Web stopped its shared hosting offerings in 2015 to focus on quality web hosting, which majorly includes VPS and Dedicated Servers.
2. Base Charges for Premium Email Hosting
Admit it; the cPanel email client is the worst of its kind with a user interface from the past. Liquid Web offers premium email hosting for $1 per month per user. However, there is a $10/month base charge for technical assistant and all other email support.
So, it costs $11/month for a single site while it costs around $6/month on Gsuite. However, the $10 per month base charges come with unlimited domain support. So, if you plan to use them for five domains, it costs just $15/month ( $10 base price + $1 per site), while the same can cost you $30/month on Gsuite.
You can use their email servers for more domains to save a lot.
Liquid Web Plans and Pricing
1. VPS Hosting
The Virtual Private Server (VPS) by Liquid Web comes with the control of Dedicated Servers cloud hosting's versatility, thus servings as an ideal solution for affordable solutions. Whenever you need help, the Most Helpful Humans in Hosting from Liquid Web will guide you for anything related to the application, hardware, and software issues.
The VPS is ideal for all those looking for Dedicated hosting equivalent access and the most affordable functionality of a VPS server.
Features
Faster than AWS and Rackspace – Liquid Web servers outperform other big VPS hosting solutions around the board as verified tests by Cloud Spectator, an authorized 3rd party cloud analytics company.
Cloudflare CDN – Users will get access to one of the most prominent CDNs in the world without any additional charge. Cloudflare CDN is used to speed up your site and further enhance security.
Integrated local backups – Local database backups are provided with all servers. For an additional layer of backup security, you could attach cloud backups that allow automatic full-site snapshots to provide unparalleled data privacy and restoration for your site.
Defense towards Distributed Denial of Service ( DDoS) Attack – DDoS Attack includes full basic security against small-volume DDoS attacks on every single site. Extensive security and mitigation are essential for wider and deeper threats.
Safe Server – Liquid Web provides ServerSecure security on every server. The server will be secured by a powerful suite of dedicated security protections, which will completely shield unauthorized entry and guarantee that all information remains protected.
Add-on Services
To further optimize the existing VPS hosting, you could select several of the following add-on features:
Block Storage – Block Storage Volumes allows users to build and transmit information directly through web servers.
Object Storage – Highly redundant and cost-effective storage to speed up your server resources and be called via simple API.
Load Balancing allows users to spread the traffic across various servers, which aims to provide easy access to even promotion activities.
VPN and Firewalls – Secure your web page from unwanted activity and assault with regulated firewall selections.
Pricing
With Linux, you could start with 2GB RAM for only $59 per month or 4GB RAM for $99 a month. You may also want to go bigger with 8GB RAM for $139 or 16GB RAM for $189 per month. However, with Windows, you could choose among three packages 4GB RAM for $129 a month, 8GB RAM for $169 a month, and 16GB RAM for $219 a month.
2. Dedicated Hosting
Liquid Web gives the highest run Dedicated Server software solutions in conjunction with the best service from Most Helpful Humans in Hosting.
With Dedicated Hosting, your website uses the cloud's full network resources rather than sharing them with other sites. You could choose among self-managed, core-managed, and fully-managed plans and get the finest currency support value.
Features
Dedicated Hosting is probably a much better ideal solution for those who expect and experience heavy web traffic in mid-sized to huge corporations. Here are some notable features of Dedicated Hosting could offer:
Firewalls – Firewalls to track in and out of traffic.
Load Balancing – Load management for better distribution of workload.
SAN Solutions – SAN solutions for crucial storage.
Acronis Backup – Acronis Backup is used as a managed backup solution that guarantees uninterrupted data security.
Cloudflare CDN – Liquid Web dedicated hosts come with limitless access to Cloudflare CDN.
Add-on Features
Intel Xeon (E3 or E5) – All servers that avail of the packages can access processors.
Free Setup – There is no setup fee for users and mostly ready to use for faster launching.
Multiple Datacenter – Users could choose the datacenter in the US and UK.
Root Access – Users have full access to the root server.
Available Operating Systems for Dedicated Servers
LiquidWeb also provides its new product for Windows and Linux Dedicated Servers with upgraded tools, fine-grained control mechanisms, and revitalized life cycles. Liquid Web also provides multiple package solutions, each with varying amounts of:
Processor Cores
Processing Power
RAM
Disk space
Bandwidth
Pricing
Liquid Web Dedicated servers available in a multitude of modules, varying from just a single processor database, two 480 GB solid states drive with a 1 TB backup drive. Also, 5 TB of monthly file transfer and 16 GB of RAM costs $199 per month to a high-end dual-processor server with two 480 GB solid-state drives.
A 4 TB SATA backup drives 8 TB of monthly transmission of data and 64 GB of RAM that is starting to cost $599 per month. Apparently, Liquid Web's dedicated servers are targeted at companies who want a professional web output and have the money to work with it.
3. Managed Wordpress Hosting
Liquid web built the best-managed WordPress platform base to make hosting easy. Liquid Web software is tasked to concentrate on stability and durability so you can focus on expanding your business.
Features
Fast Website – Either we're speaking about Nginx, PHP 7, image compression, or the server-side caching, you got all with the Liquid Web Nexcess portal. Based on the individual tests, Liquid Web came up with the best Fastest WordPress Hosting in 2021.
Automatic Plugin Updates – LiquidWeb obtains a copy of your site and checks plugin changes for you every day, instantly enough that you wouldn't have to think about keeping your website abreast of the latest again.
Migrate Site for Free – Once you're willing to upgrade to Managed WordPress, users will not be concerned about interruption or any cost. With the white gloves service and automation software, the LiquidWeb team works to ensure your site is moving around easily and quickly. You'll know exactly what is going on every step of the way without actually raising a finger.
Expert Support 24/7 – The priority is to make sure you feel considered as the number one priority. The support team understands WordPress, does have a deep background in troubleshooting bad results, and does not rest until the issues are resolved.
Guarantee Security – It has been specially optimized to increase your sites' efficiency and effectiveness and ensure protection.
Liquid Web special offers include SSL certificates, monitoring, automated backups, load balancing, and site optimization.
Pricing
LiquidWeb Nexcess WordPress plans were built to grow with your company, starting at just $19 monthly with no extra charges. LiquidWeb Managed Wordpress Hosting comes with different packages. For starters, you could avail of Spark for $19 a month or $190 annually. Or get bigger with Maker for only $79 per month and $790 per year.
However, if you really wanted extensive use of Managed Wordpress Hosting, choose the Designer for $109 a month and $1090 a year. You may also choose Builder for $149 a month and $1490 a year.
4. Managed WooCommerce
Liquid Web Nexcess high-performance cloud service is now running the Managed WordPress & Managed WooCommerce plans, providing outstanding speed, size, and security with the same strong assistance and expertise that users value.
Features
Fast Stores Designed for Conversions – Most hosts have developed platforms that work well for WordPress cached pages. Yet you can't hide your online shop the same way. We've built a tool that will dramatically increase your store's loading time.
High Performance Under Heavy Load – LiquidWeb has a different database table to hold order data that reduces query loads by 95 percent and increases your efficiency without upgrading plans by more than 75 percent.
Performance Tests Whenever You Need Them – Many hosts normally can't let you operate performance tests because they would damage the rest of the sites on their shared network. LiquidWeb is built for more than 20 efficiency analyses to check you get ready for heavy traffic.
Never Ignore Abandoned Carts Again – The collaboration with Jilt, the pioneer in abandoned cart technology for WooCommerce, ensures that you can take immediate steps to recover this missed revenue.
24/7 Web Support – Ultra-fast, professional support, whether it's email, chat, or phone pick-up.
Add-on Services
Physical Product Stores – This helps stores run two to ten times faster than other WordPress hosts have hosted them. If you have ready to ship goods, LiquidWeb will help you link to ShipBob, ShipStation, or TradeGecko.
Digital Stores – If you're establishing a SkyVerge or Prospress membership or subscription shop or constructing online courses with LearnDash or WP Courseware, the platform is built to make it simple and quick.
Pricing
Liquid Web Managed WooCommerce, for starters, has 1 Store, 30 GB Storage, 3 TB Bandwidth, Max 500 Orders per Hour, and 10 Premium Features that cost $19 per month.
Existing creator packages include a maximum of 3 Stores, 60 GB Storage, 5 TB Bandwidth, Max 1,000 Orders per Hour, 14 Premium Features, Beaver Builder Included Iconic WP, which all costs $79 monthly.
Also for enterprises package that cost $999 per month includes Up to 30 Stores, 800 GB Storage, 10 TB Bandwidth, Max 10,000 Orders per Hour, 22 Premium Features, Beaver Builder, Iconic WP, Dropshipping via ShopMaster, Marketplace via DokanPro, Jilt Pro, Glew.io and ElasticSearch Included.
5. Magento Cloud
A fully managed cloud system designed to automate Magento, and here are some notable features:
Auto Scaling – Control traffic surges without losing the sweat with Auto Scaling, which adds ten PHP staff to tackle a traffic spike.
Dev Sites – Upgrade your workflow development: check patches, new functionality, and configuration with the staging sites.
Improved Performance – LiquidWeb Magento Cloud is actively developing, modifying, and optimizing efficiency to keep your stores move faster without you having to raise a finger.
Secured Backup – Absolutely guarantee to know that the automated systems would back up your Magento store every day and preserve those backups for 30 days.
24/7 Engineered Solutions – Clients' store deserves the speed, security, scalability, and assistance that Nexcess alone can provide.
Add-on features
Magento Cloud is widely acknowledged for technological growth, advanced communications, configurable platform, and availability to world-class eCommerce and engineering skills; Nexcess has a commodity for every task and extensive site and stores strategic planning of any size.
45,000 servers under management
8 Global Data Centers
Magento Master on Staff
Expert Solution Engineers
Pricing
Magento Cloud pricing cost dependent on packages you are availing: XS for $49 monthly, S for $99 per month, M for $179 per month, the most popular L for $299 monthly, XL for $549 per month, and XXL start at $849 monthly. All that has a variable amount of feature access such as disk space, secondary domains, bandwidth, CPU, and RAM.
6. Cloud Sites
Liquid Web cloud sites is a managed hosting platform to provide the freedom to build any website or application using PHP or .Net without any technical server management skills.
Features
Cloud Sites enables you to quickly and efficiently access and control your pages. Here are some promising features of Cloud Sites:
Small Business Customers – One's site can't possibly afford to go down, and that is why you would like the perseverance that the platform gives you.
Corporate Application Hosting – If you're running application services on unconstrained servers, it's time to avoid using anticipation as a tactic.
SaaS Application Developers – Your SaaS requires some PaaS. Invest with your network and scalability needs so that you can concentrate on your task.
Agencies working on high traffic sites – Don't get stuck with your poor support. Collaborate with LiquidWeb technical experts to provide all the optimal answers for the sites of your clients.
Enhanced Up-Time – LiquidWeb has your back for 24 hours a day, 365 days a year, and can deliver proven customer high-speed uptime.
Add-on features
Cloud Sites does have an excellent capacity to keep your activities organized and make your lives easier.
Client Management – Build accounts for each of your customers to maintain your projects coordinated. You could also even provide a white-labeled dashboard for your clients to view their web status information.
Pricing
Cloud Sites include Unlimited Websites/Domains, Unlimited Site Visitors, 50 GB SSD Storage. 1TB Bandwidth, Built-in Autoscaling, and Free Cloudflare CDN that costs about $150 per month.
Concluding
I have been using Liquid Web since 2015, and I can't recommend any other host ahead of them considering the fact, Liquid Web is the only company to offers 100% uptime SLA, DDoS protection, and a faster web hosting experience. Have you used Liquid Web? Do you believe our reviews are authenticated? Drop your comments to share your views on Liquid Web