Liquid Web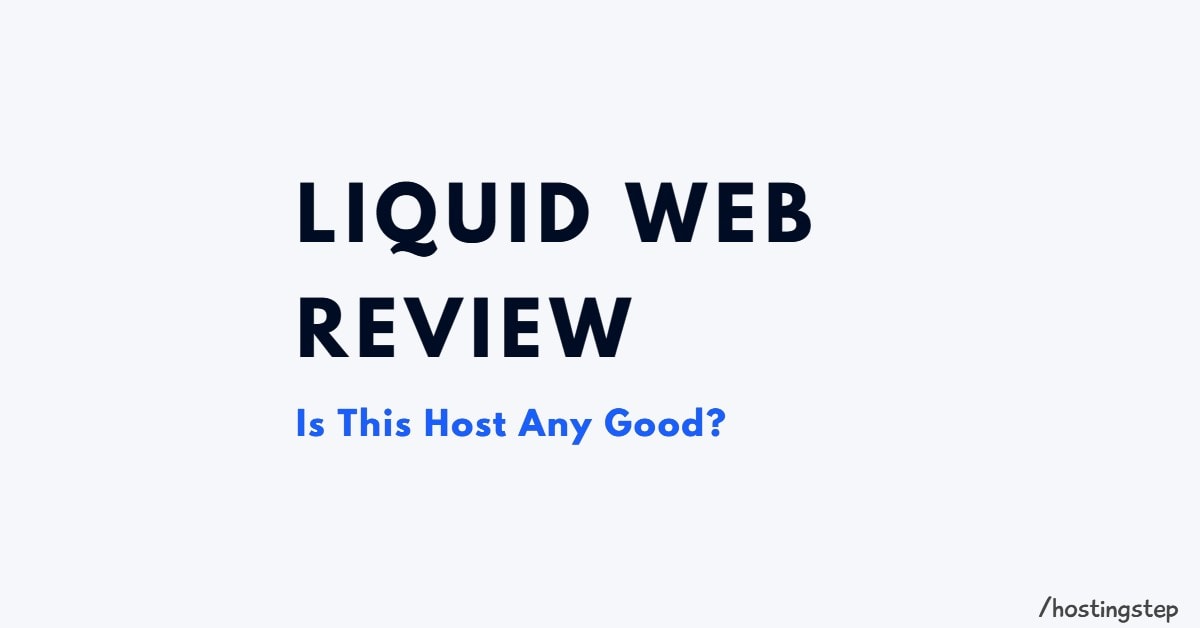 60-seconds Customer support
Customized Hosting packages
Summary
Liquid Web is a Web hosting company that offers managed VPS and dedicated hosting focusing on performance and reliability. Liquid Web provides 100% network uptime, faster performance compared to leading cloud providers, 24/7/356 Support with quick response times, professional site migration, and a special discount on the Cloudflare Pro plan. The managed WordPress hosting plans offer unlimited image compression, server-side caching, and fully automatic backups for a low monthly cost.
Pros of Using Liquid Web
1. Liquid Web Offers a 100% Uptime Guarantee
Liquid Web promises 100% network uptime. This is the best-in-class SLA; even the popular cloud providers don't match Liquid Web's guarantee.
2. Faster Performance than AWS, Digital Ocean & RackSpace
Cloud Spectator is an independent cloud benchmarking company that has been operating since 2011 and is known for its transparent, reliable, and repetitive tests. The report concludes:
Liquid Web VPS handled queries 1.5x faster than Digital Ocean and 2x faster than AWS and Rackspace.
Liquid Web sustained the highest number of requests in the Apache Web server.
The single-core vCPU offers the fastest PHP processing than others.
Check out the report and learn more about how the test is done, the tech stacks chosen, server location. Everything was done transparently and revealed how fast Liquid Web VPS was compared to others.
3. Liquid Web comes with 24/7/365 Support.
Liquid Web offers a 59-second guaranteed initial response to your chat requests. That means, within a minute, a Linux support technician will connect to you.
Support is another significant thing why I stay with them because Liquid Web is the only company offering support SLA of
Phone & Live Chat: 59 seconds of initial response guarantee
Help Desk: 59 minutes initial response guarantee.
But in most cases, you will be connected with an agent in less than 10 seconds, and most issues will be sorted in a few minutes.
Within Support, I love their Proactive monitoring. A few months back, the hosting account got some SSH issues automatically reported to the support agent.
The Liquid Web team fixed the issue and sent me an email. I didn't know such a problem existed and never raised a ticket!
4. White-Glove Site Migration
Consider any of the hosts who did site migration for you earlier.
The new hosts ask for old host login details. The process will be as follows:
Details of FTP access
Site Transfer will be made using any plugins.
Here is how the professional site transfer takes place at Liquid Web. Once you raised a request, the site migration request will do the following:
Identify the software versions like PHP and the CMS version of your old host and sync the same with the new Liquid Web server to check compatibility.
Once the full account backup is done, the specialist will ask you to check whether the site is functioning well without any issues.
Once you confirm things, Liquid Web will ask you to change the nameservers pointing toward their servers.
Here is more technical info on how site migrations are done:
5. Free Cloudflare CDN & Special Paid Plans.
Cloudflare is deeply integrated with Liquid Web, as you don't need the Cloudflare dashboard to perform the most common settings. The best thing is the special Cloudflare Pro plan. You can enable/disable Cloudflare and manage the Minify process with a simple click.
While the Pro plan costs $20/month on the official Cloudflare site, Liquid Web offers a special $10/month, including all the Pro plan features. By hosting your site with Liquid Web, you can save a minimum of $120 annually. This benefit can't be available with other hosts.
5. Comes Bundled With Advanced Features
Unlike most hosting providers, Liquid Web doesn't upsell the following things and comes included with any plans.
All Liquid Web plans come with free Standard DDoS Protection until 2 Gbps on Layer 4 attacks.
Acronis Cyber Backups with 250GB storage are included for free on all Dedicated Server plans.
ServerSecure Advanced Security is added on all plans by default, with an optimized security setup on all Windows and Linux servers. Apart from these significant products, Liquid Web offers private Cloud services, HIPAA-compliant servers, VMware private load, and Server clusters for custom needs.
Cons of Liquid Web
Liquid Web is clear on its offerings. The cheapest way to get started with Liquid Web is their Managed WordPress/WooCommerce plans for $19/monthly billing, or Choose long-term VPS plans to get started at around $15/month.
Liquid Web stopped its shared hosting offerings in 2015 to focus on VPS and Dedicated Servers.
Concluding
In conclusion, Liquid Web is a top-notch hosting company that offers 100% network uptime, faster performance compared to leading cloud providers, 24/7/356 Support with a quick response time, professional site migration, fully loaded managed hosting, and free Cloudflare CDN with special paid plans at a reduced cost.
Its managed WordPress hosting has features and offers excellent value for money. The company's proactive monitoring and commitment to customer satisfaction make it a top choice for web hosting needs.