This is my solid list of alternatives to the popular hosting service, Kinsta.
In this Kinsta alternatives post, I'll share
my tried and tested alternatives to Kinsta
Comparing the alternative hosting services to Kinsta
Pros and Cons of each services listed below.
Let's get started.
1. Templ – The Best Kinsta Alternative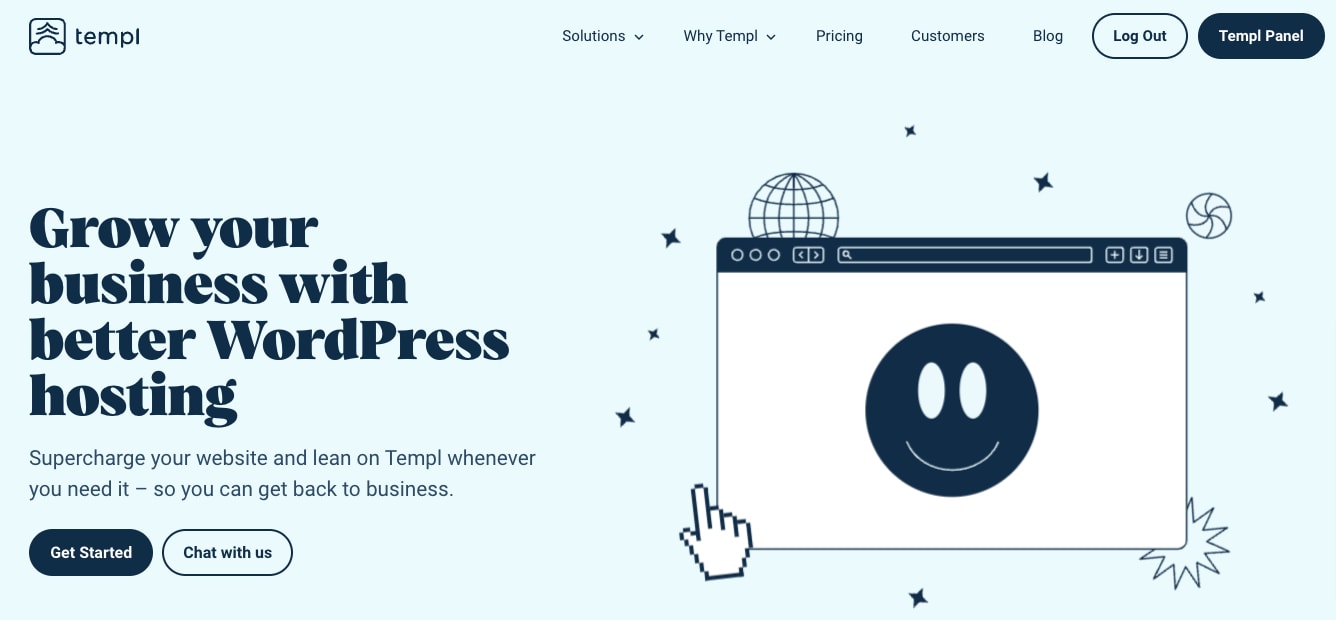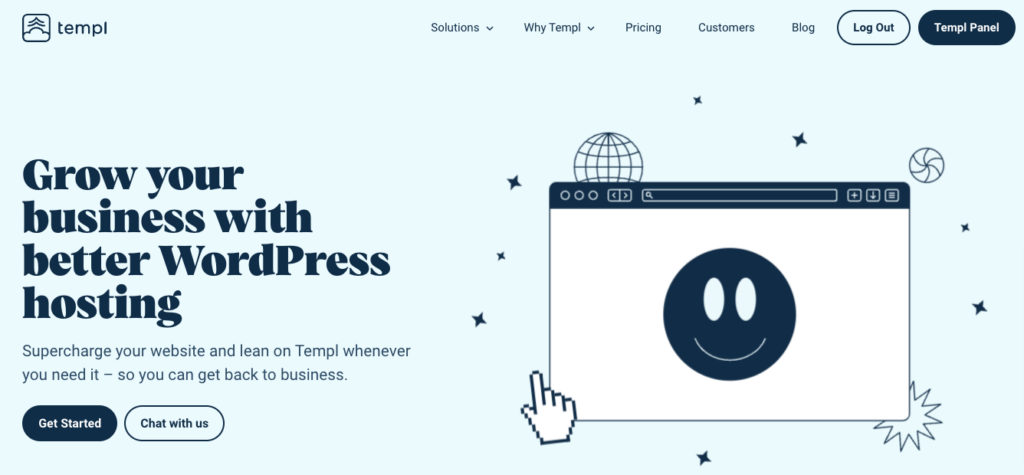 In my personal experience, Templ stands out as the hosting service that most closely rivals Kinsta in terms of features and performance.
The Templ hosting is my most recommended alternative to Kinsta Hosting.
Templ offers everything what Kinsta offers at an affordable price.
Much like Kinsta, Templ harnesses the power of the Google Cloud platform and allows you to choose from 35 global data center locations.
Notably, Templ and Kinsta are the only hosting providers that offer access to all Google Cloud locations.
However, the significant difference lies in pricing, as Templ's plans start at just $15 per month, making it a highly affordable option.
Kinsta and Templ – Similar Features
The custom control panel is easy to use.
35 Google Cloud server locations.
Same Technology stacks like Nginx, MariaDB, Server-side caching, etc.
Automatic and daily backups.
Both provide 24/7 WordPress Expert support.
Auto-scaling when needed.
Hack fix guarantee and proactive monitoring.
Unlimited free site migrations.
Based on the features mentioned above, it's clear that Kinsta and Templ share many similarities as hosting providers.
However, there are areas where Templ outshines Kinsta in terms of performance and affordability.
Why Templ Hosting as an Kinsta alternative?
In a recent study conducted by our team on Fastest WordPress Hosting, we tested multiple hosting providers and compared their performance.
Templ emerged as a top performer, recording a faster server response time than Kinsta, with an average of 305ms compared to Kinsta's 492ms over a period of 365 days.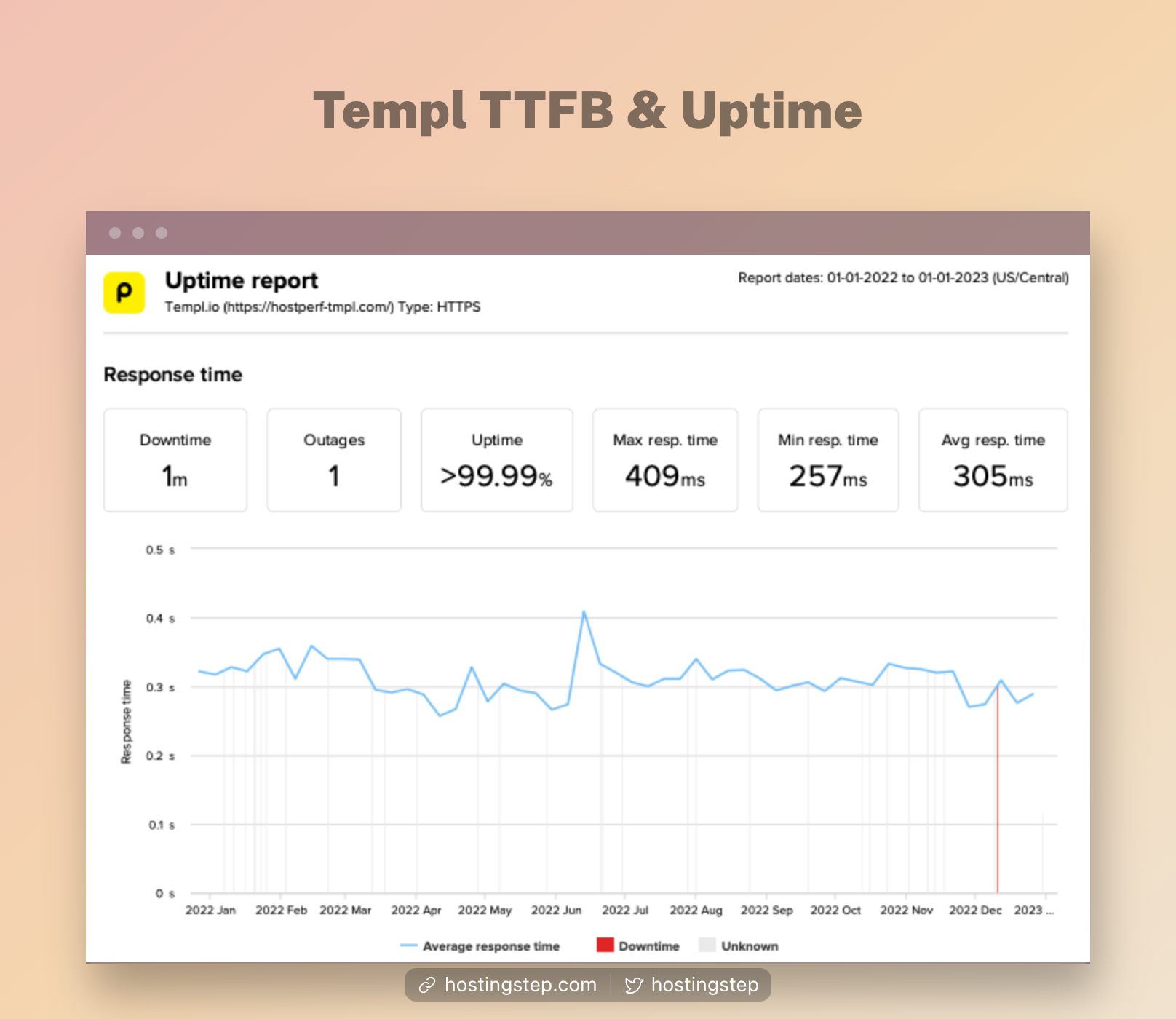 Templ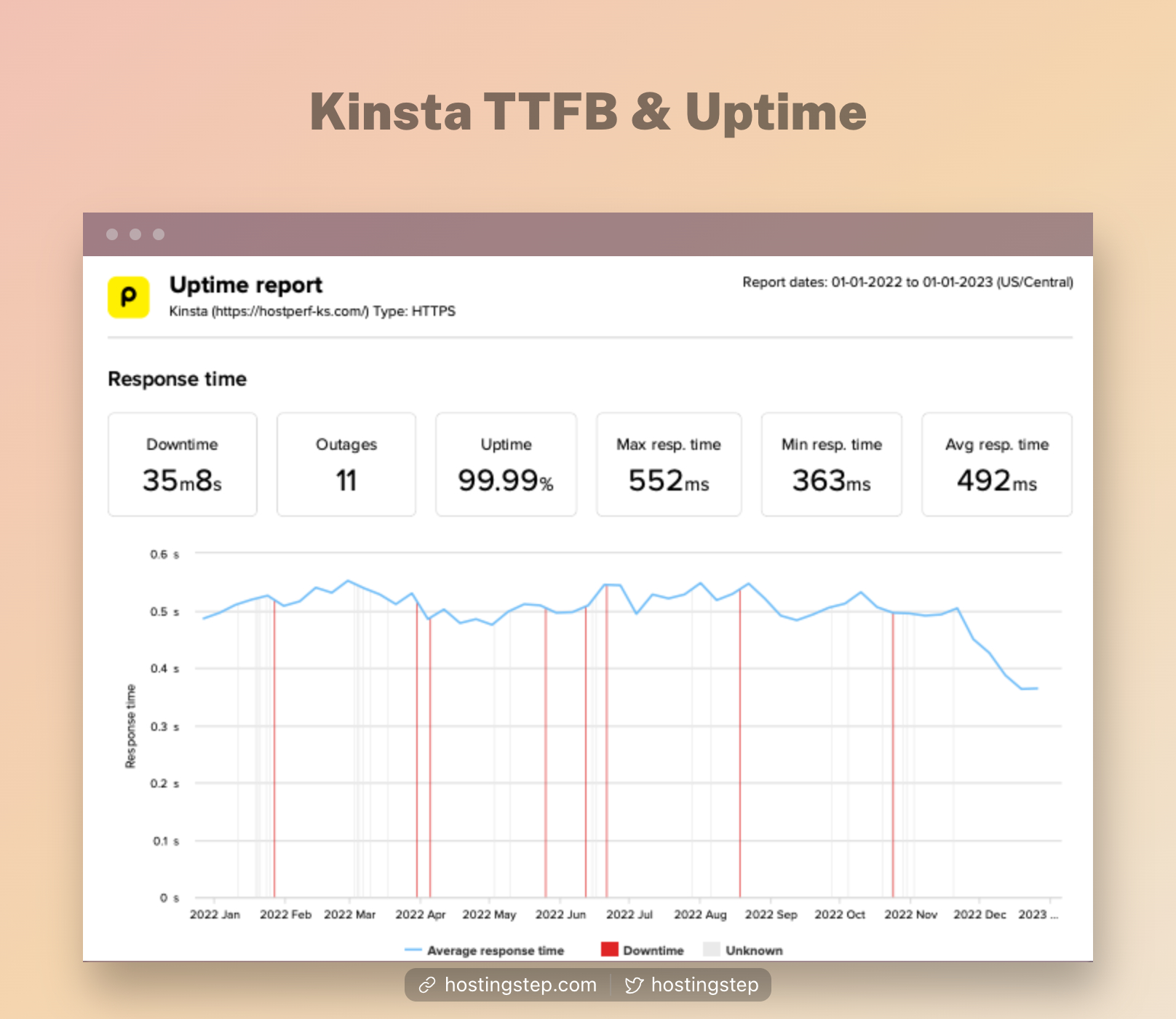 Kinsta
Additionally, when we subjected both hosting providers to a load test, where we sent 500 virtual users to our test site, they both recorded similar scores.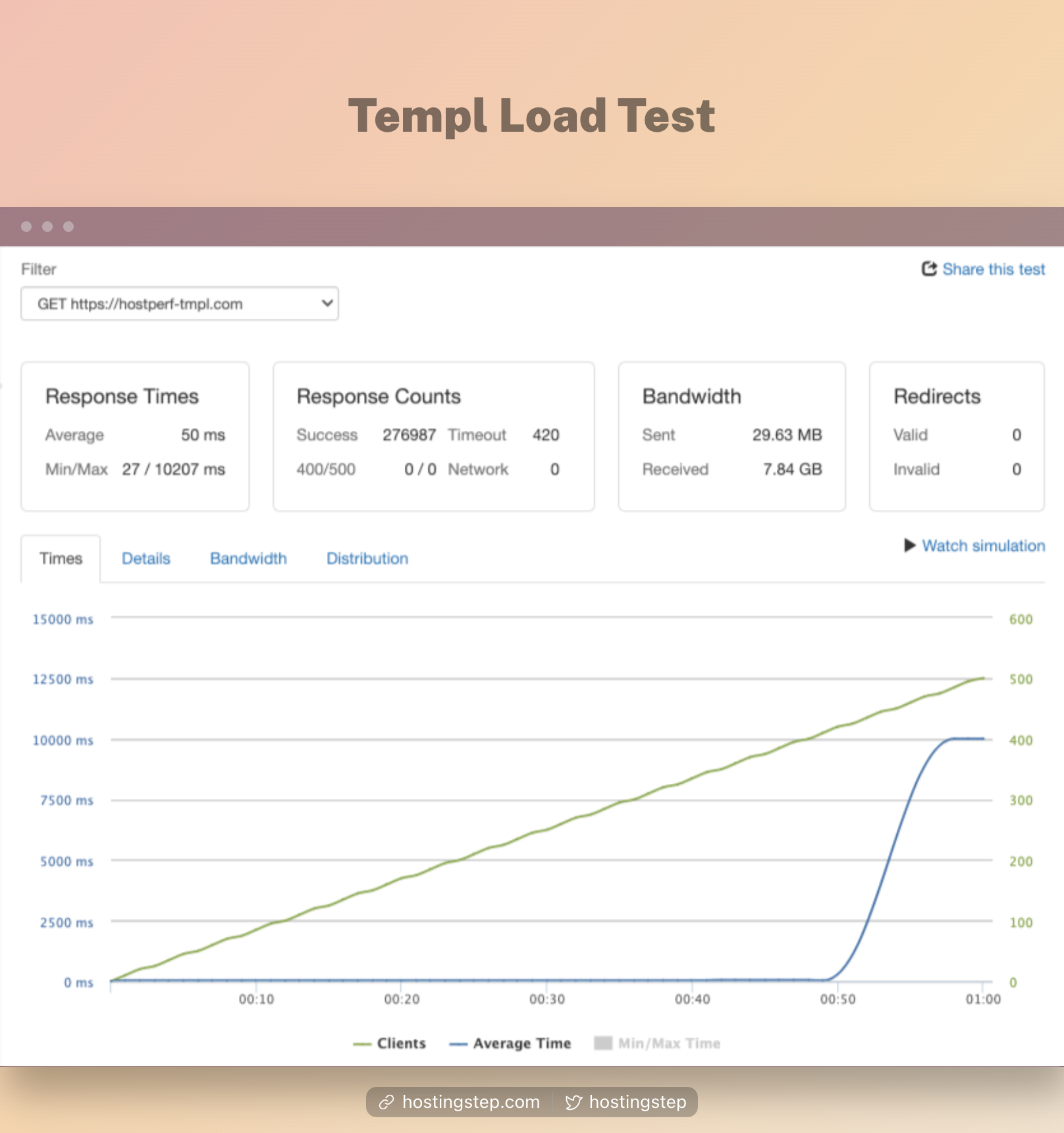 Templ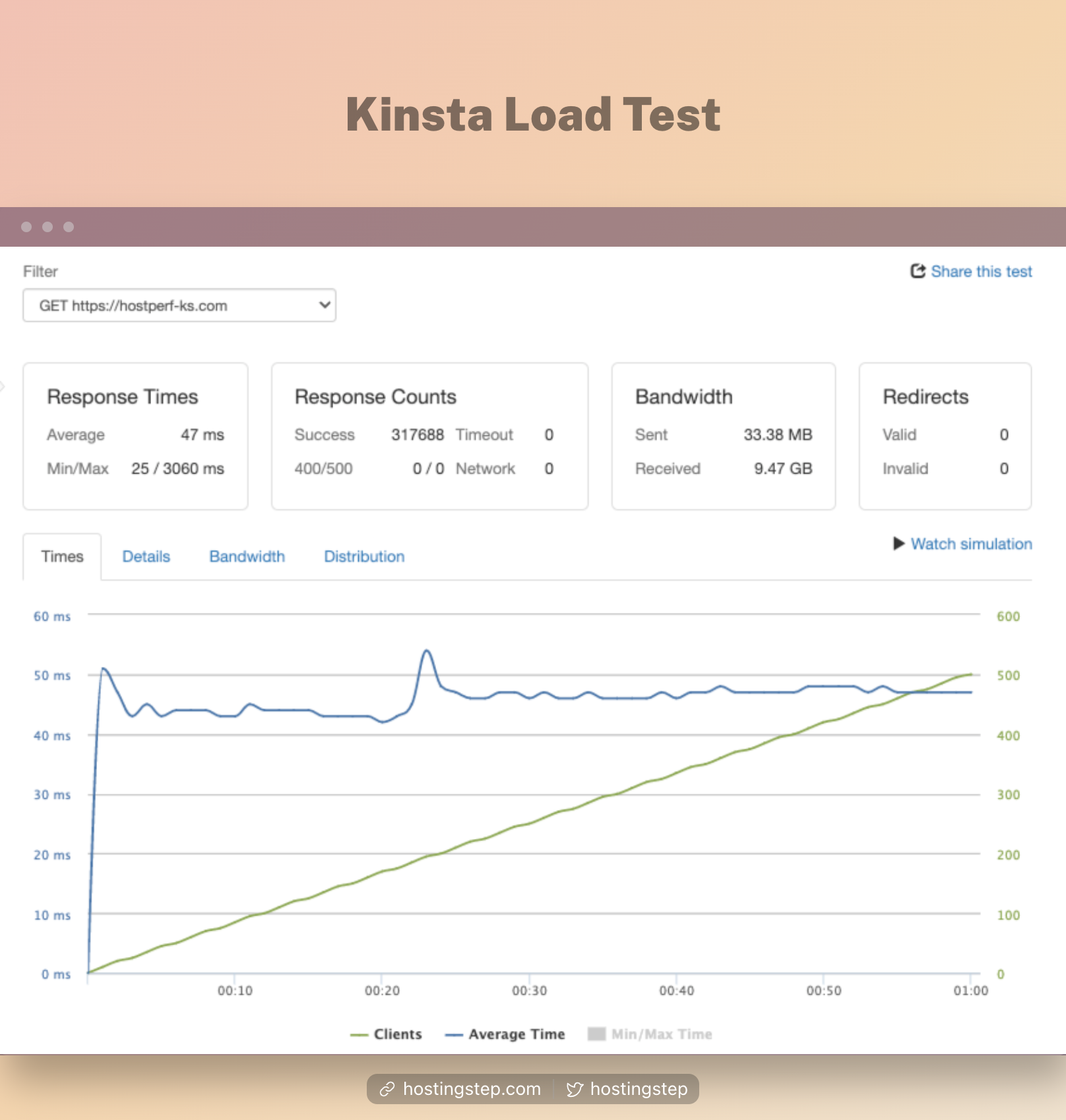 Kinsta
What's particularly interesting is that we tested Kinsta's $30 plan against Templ's $15 plan, yet the performances were comparable.
This solidifies Templ's position as a top Kinsta alternative, offering impressive performance at a more affordable price point.
Templ CDN is faster than Kinsta CDN
In addition to offering impressive performance at an affordable price point, Templ also has an edge over Kinsta when it comes to their respective CDN solutions.
Templ provides users with access to Google CDN, which is known to be the fastest CDN available globally. On the other hand, Kinsta relies on Cloudflare as its CDN provider.
It's worth noting that while Google's CDN is highly effective, it's also relatively expensive. As a result, many hosting providers opt for more affordable CDN solutions.
Google boasts that their CDN locations are the same ones used to host their own web properties such as YouTube and Gmail, which lends credibility to their speed claims.

Templ is affordable than Kinsta
Templ stands out as a highly affordable alternative to Kinsta, with plans starting at just $15 per month.
In comparison, Kinsta's plans start at $35 per month, making Templ the more budget-friendly option.
When you host more sites with Templ, the pricing becomes increasingly affordable, and you gain greater control over costs.
When comparing the plans of both hosting providers, Kinsta's Pro plan costs $70 per month and allows for two WordPress installs, while their Business 1 plan, priced at $115 per month, allows for five WordPress installs.
In contrast, Templ's pricing model allows for hosting two sites at just $30 per month, and just $75 per month to host five sites.
Templ also offers free speed optimization services when migrating from any other hosting provider.
They will conduct a comprehensive audit of your site, optimizing WordPress configurations, plugins, databases, and images to improve your site's overall performance. You will receive a detailed report of your site's performance score before and after optimization.
Given all these compelling factors, I made the decision to move my site, Hostingstep.com, to Templ hosting and have been enjoying the best value for my money.
If you're interested in testing Templ's service, you can sign up through this link and receive $30 in free credits, equivalent to two months of free hosting.
2. WP Engine – Similar to Kinsta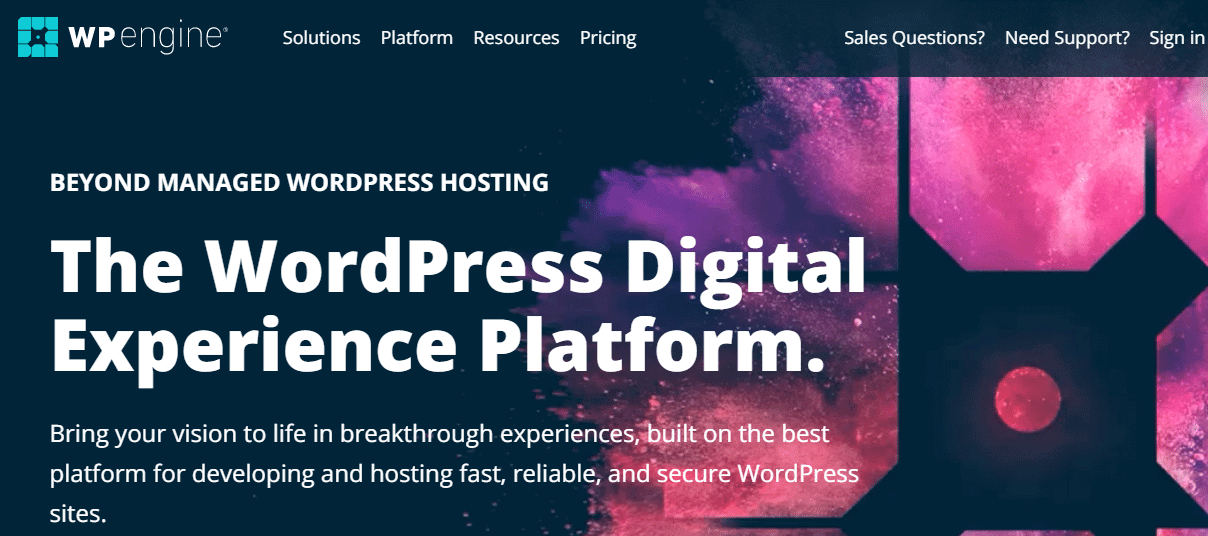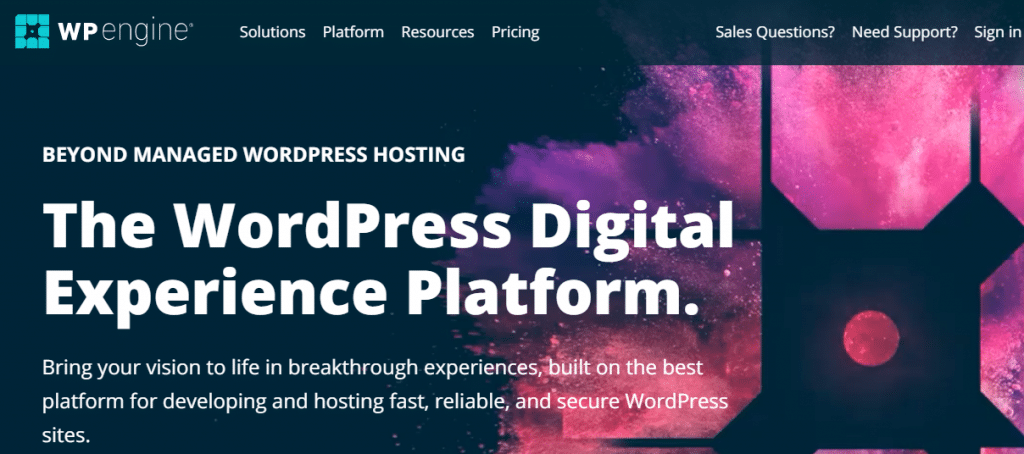 WP Engine is recognized as the industry's leading Managed WordPress hosting provider. Like Kinsta, WP Engine's hosting services rely on the Google Cloud platform.
Regarding performance, pricing, support, and features, WP Engine and Kinsta operate similarly.
Kinsta and WP Engine – Similar Features
Powerful tech stacks
Server-side caching
WordPress 24/7 support
Free site migrations
Automatic backups & restore
Staging and development sites
If you are considering moving from Kinsta to WP Engine, you are unlikely to find significant differences in features and overall user experience.
Both hosting providers offer similar control panels and access to top-notch customer support. Therefore, if you are accustomed to Kinsta's platform, transitioning to WP Engine should be a smooth process.
Why WP Engine an alternative to Kinsta?
Upon reviewing our data, it appears that both Kinsta and WP Engine offer similar performance in most tests, with WP Engine slightly lagging behind Kinsta by around 10-15 ms.
For instance, when Kinsta recorded an average response time of 360ms, WP Engine scored 374 ms. However, the difference in performance between the two is negligible and unlikely to impact the user experience significantly.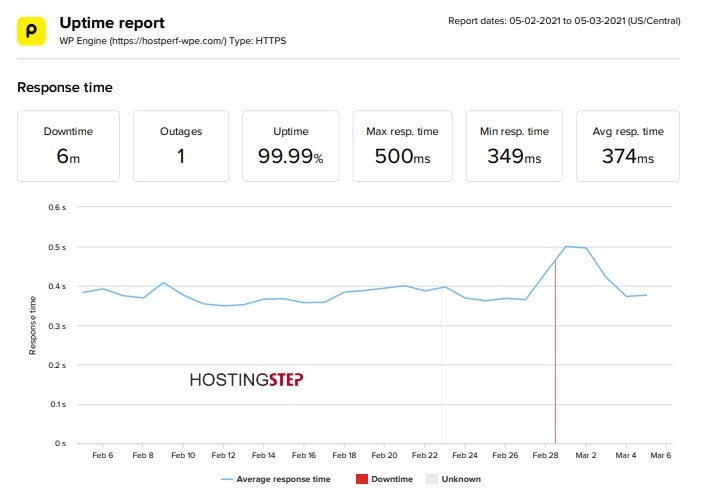 In terms of load testing, Kinsta took 33ms to handle 1000 requests, while WP Engine took 40ms. So, there is no big difference in performance, at least in our testing.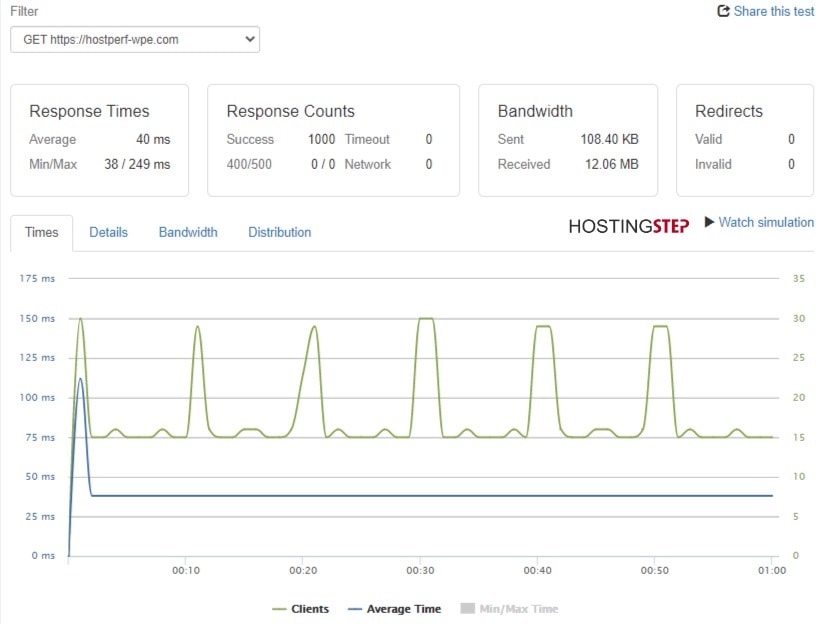 WP Engine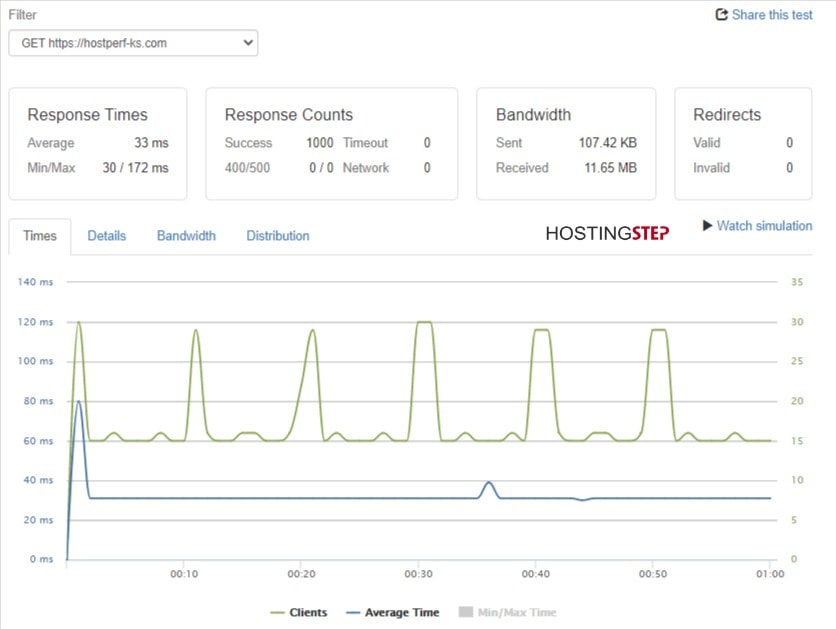 Kinsta
Kinsta has an advantage over WP Engine when it comes to CDN, thanks to its Edge Caching feature. This feature is proven to improve the Time To First Byte (TTFB) by up to 50%.
In comparison, WP Engine offers Edge Caching as an add-on feature rather than a standard feature, which may be less appealing for users who prioritize a robust CDN solution.
Overall, if CDN is a critical factor in your decision-making process, Kinsta's Edge Caching feature may make it the better choice over WP Engine.
WP Engine is cheaper than Kinsta
WP Engine may be a more cost-effective alternative to Kinsta for users who need to host multiple sites. While both Kinsta and WP Engine plans start at $35 and $30 per month, WP Engine's Growth plan, which costs $115/month, allows for up to 10 WordPress sites, making it a more affordable option for agencies or small business owners.
Additionally, WP Engine offers significant discounts for users who sign up for annual plans, which can result in even greater cost savings. By signing up through your link, users can receive three months of free hosting on any annual plan.
Overall, if cost is a critical factor in your decision-making process, WP Engine's pricing model may make it the more attractive option over Kinsta.
3. Cloudways – Unlimited WebSite Hosting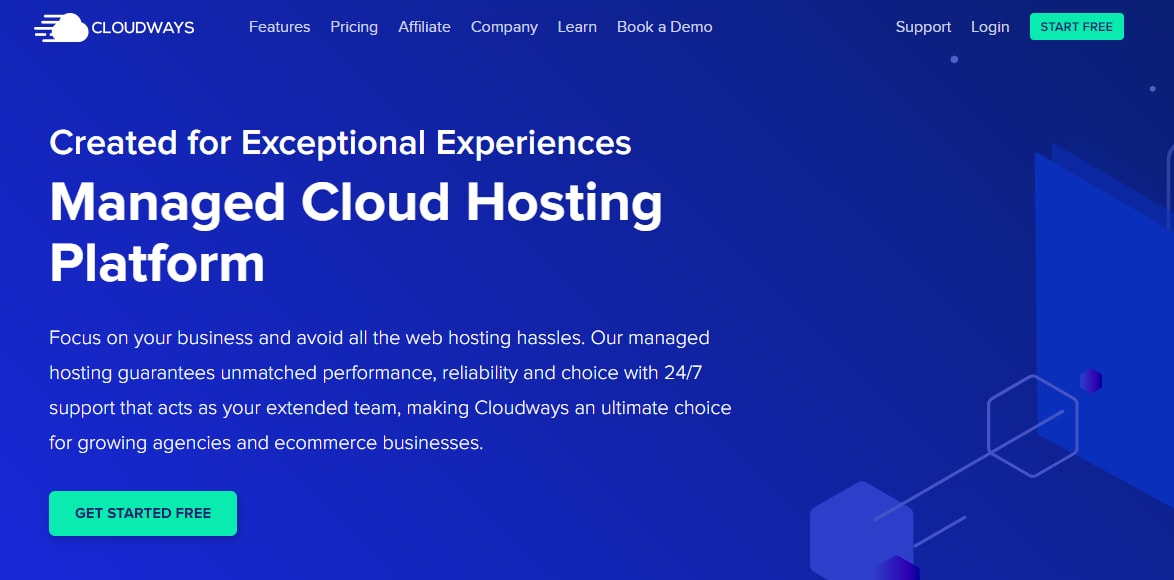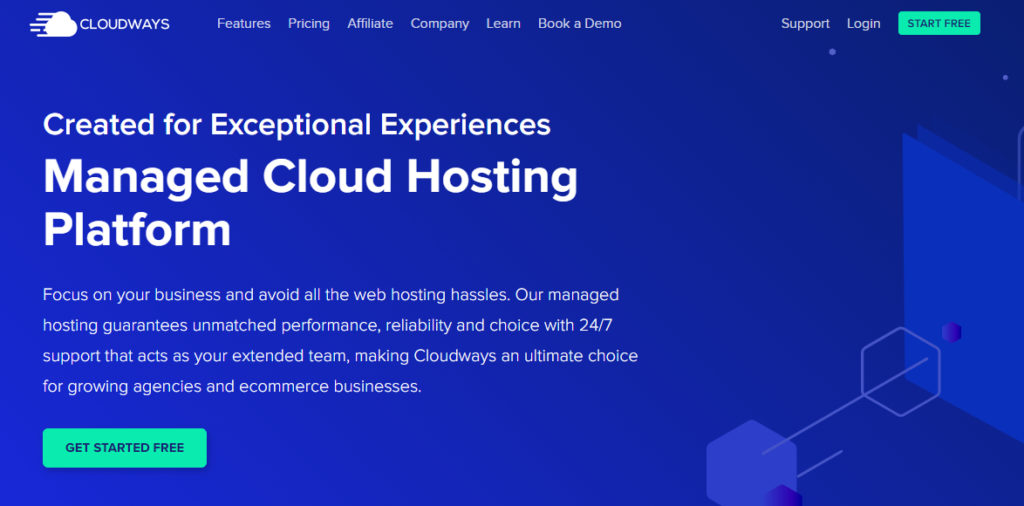 Cloudways is another solid host you can try instead of Kinsta. Unlike other managed hosting providers, Cloudways employs a unique architecture that involves a control panel that has partnered with five leading cloud hosting providers, including Digital Ocean, Linode, Vultr, Amazon Web Services, and Google Cloud.
This enables Cloudways to offer an exceptional managed WordPress hosting service that is adaptable to the specific needs of each user.
Kinsta and Cloudways – Similar Features
Custom control panel for easy site management
Servers-side caching for faster page loading time
Power tech stacks of Nginx and MariaDB
Free site migrations
Developer features like Git, Staging sites, SSH access, etc.
Cloudways can be a perfect alternative to Kinsta, where they have similar features, and below are some facts you need to know before choosing Cloudways. Based on our data, Cloudways (309 ms) has got faster server response times (TTFB) than Kinsta (374 ms).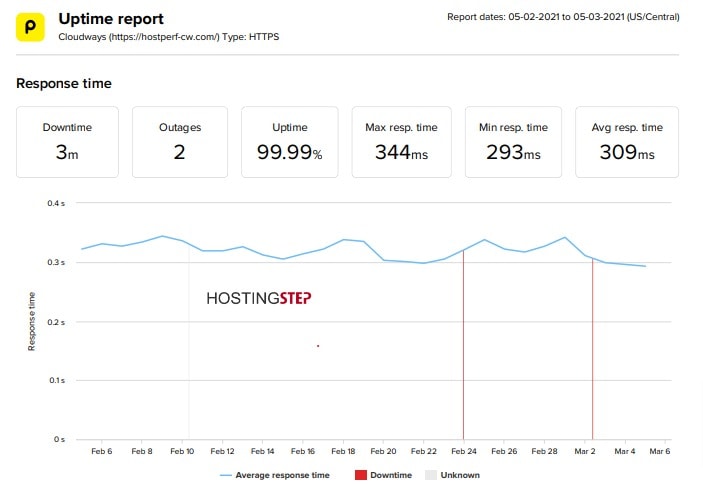 I also did a load test, and Cloudways did comparatively better where it took just 10 ms to handle 1000 client requests while it took 32 ms on Kinsta.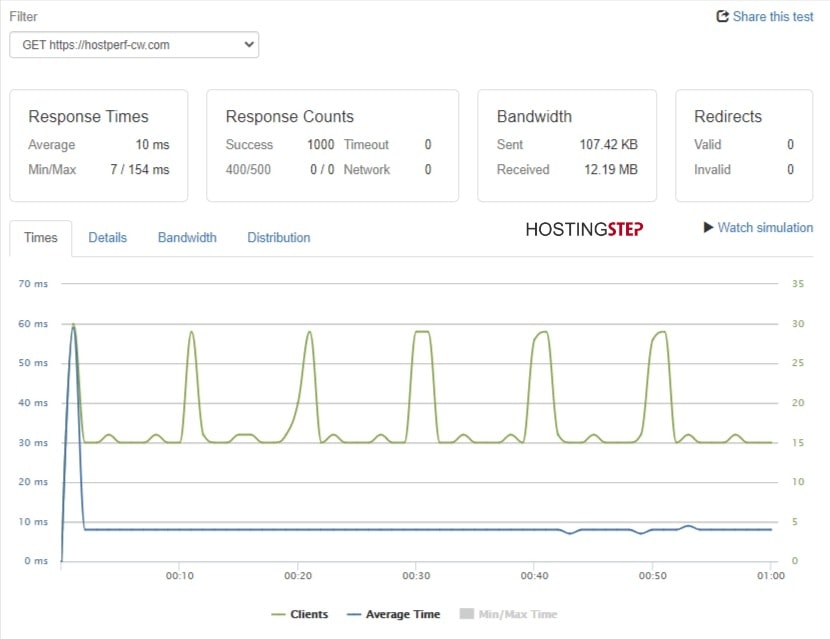 Cloudways is affordable than Kinsta
Cloudways offers an affordable plan compared to Kinsta starting as low as $11/month on the Digital Ocean plan.
However, it's important to consider the level of support offered by Cloudways, which may not be as robust as Kinsta's. While Cloudways has made significant improvements to their support system, they still have a long way to go to match the quality of Kinsta's support.
On the plus side, Cloudways provides a CDN as an add-on that costs $4.99 per site, which can help to enhance website performance. Ultimately, the key advantages of choosing Cloudways over Kinsta are affordability and faster performance.
4. Nexcess – Kinsta Alternative for Agencies
For agencies seeking an affordable alternative to Kinsta, Nexcess is a viable option worth considering. As a part of Liquid Web, Nexcess offers managed WordPress hosting services that come with many exclusive features not found elsewhere.
Nexcess stands out for its affordable pricing, making it a popular choice for agencies seeking to minimize costs without sacrificing performance or features.
In addition to its affordability, Nexcess offers exceptional customer support and a wide range of hosting plans to meet the specific needs of each user.
Kinsta and Nexcess – Similar Features
Free auto-scaling architecture
Automatic WordPress updates
Proactive security
24/7/365 customer support
Inbuilt CDN
Staging sites, developer tools, etc.
How good is Nexcess as an alternative?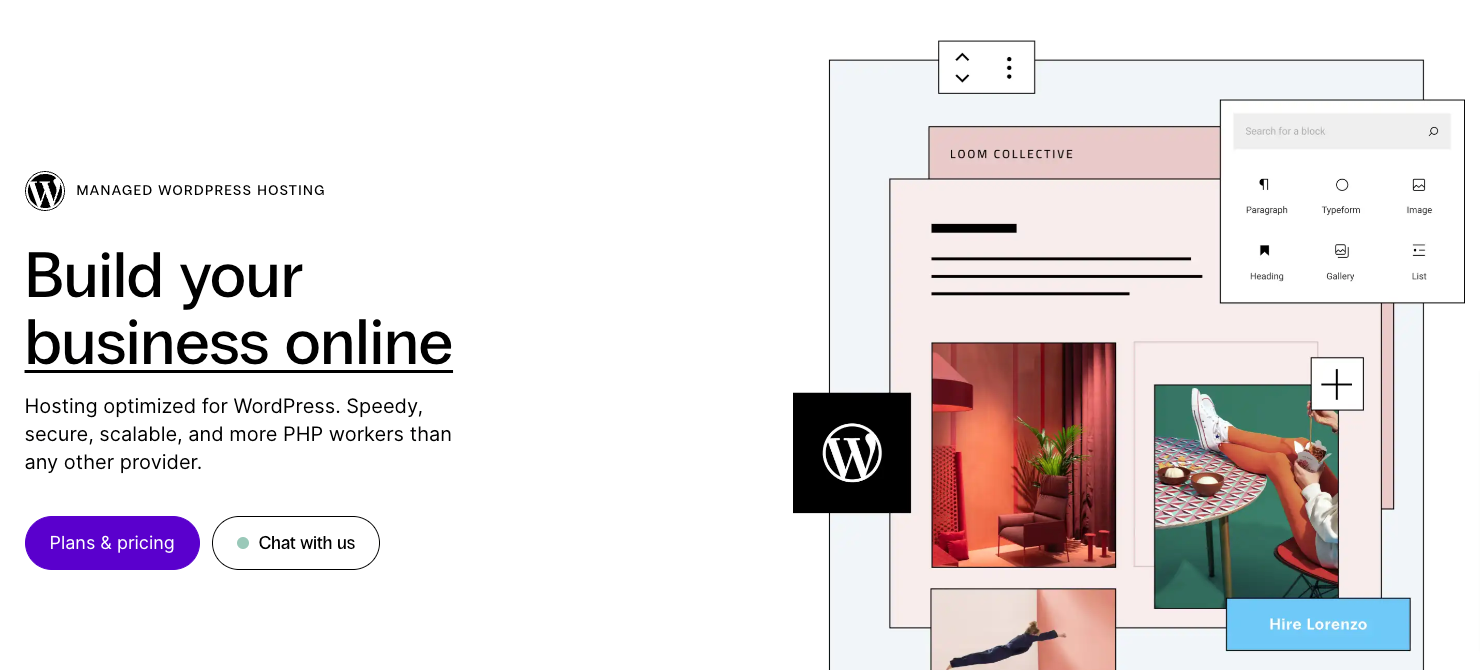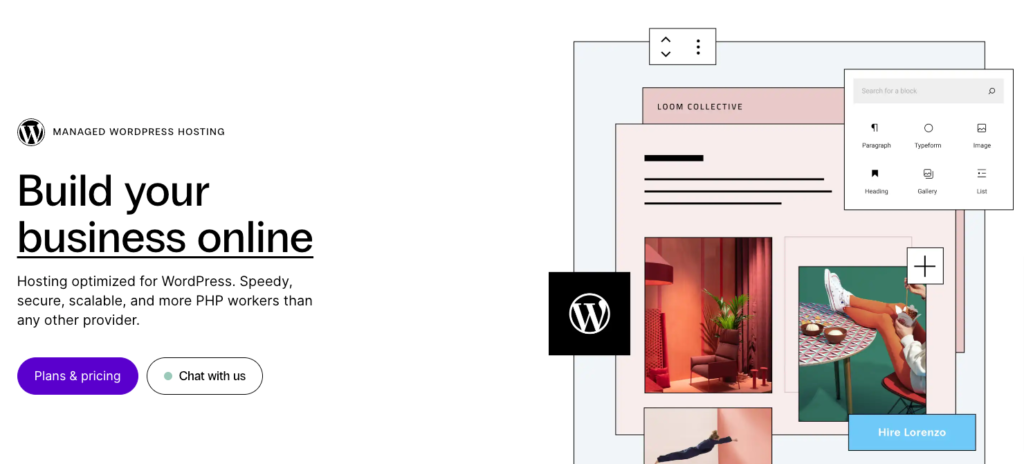 Nexcess offers an attractive alternative to Kinsta, particularly for agencies looking to save on costs. At just $149/month for their 25-site plan, Nexcess is considerably more affordable than Kinsta's Business 3 plan, which costs $300/month but only allows for 20 sites.
While Nexcess may not be as powerful as Kinsta in terms of performance, the difference is relatively small. Kinsta's average server response time is 360ms, while Nexcess recorded 374ms, which is still quite respectable. However, in load testing, Kinsta significantly outperformed Nexcess, with Kinsta taking 32ms to process 1000 requests per minute, while Nexcess took 66ms. Nonetheless, given the considerable price difference, Nexcess remains an excellent alternative to Kinsta.
One standout feature of Nexcess is its unique auto-update system for WordPress, which uses a visual comparison tool. Before updating a plugin or theme, Nexcess screenshots the site to compare visual changes post-update. If the update causes any visual issues, it reverts to the original version. However, if no issues arise, the update is pushed to the production site.


This is one of the unique features which is really useful. Although my host provides auto-updates, I turn them OFF to avoid such issues, but with Nexcess, you can enable this option without any fear. This feature will be a great time saver for agencies that handle a large number of sites.
Nexcess provides an unlimited email accounts and free auto-scaling for 24 hours. These 24 hours can happen at any time of the month and need not appear continuously. Nexcess also provides bandwidth-based calculation, so your plan pricing will remain the same, whereas it is an issue with Kinsta as it adds overage charges once the traffic limits are ended.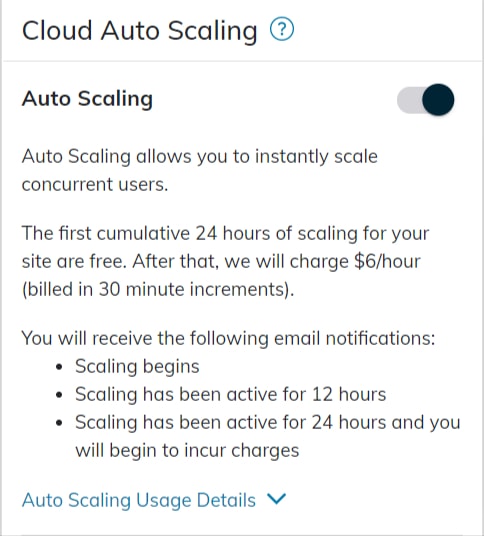 Nexcess also provides enormous discounts where you can get up to a 40% discount on their plans to get started for just $13/month.
5. Rocket – Fastest Kinsta Alternative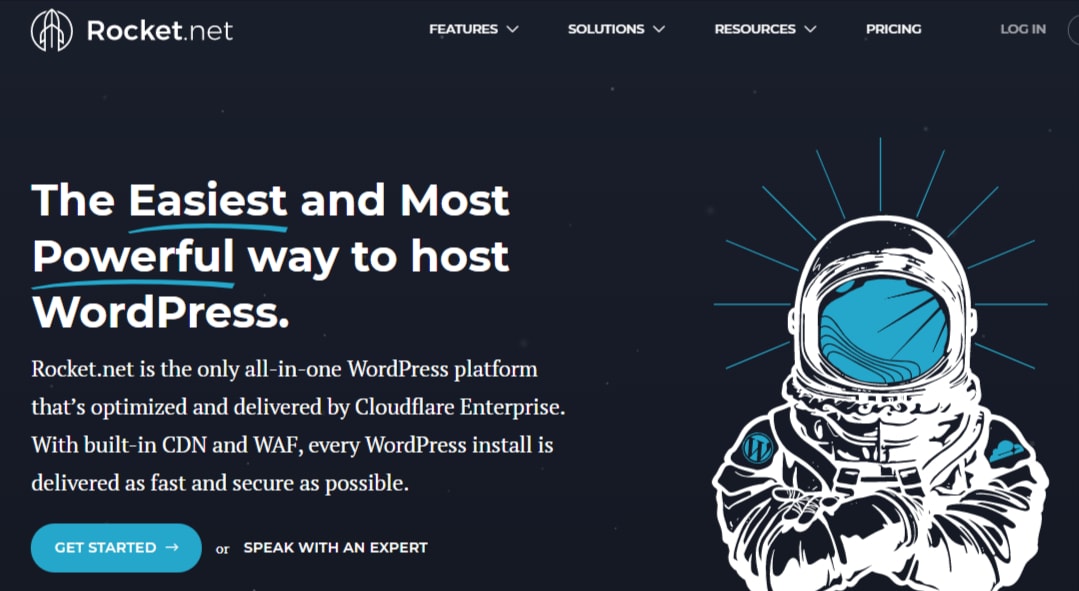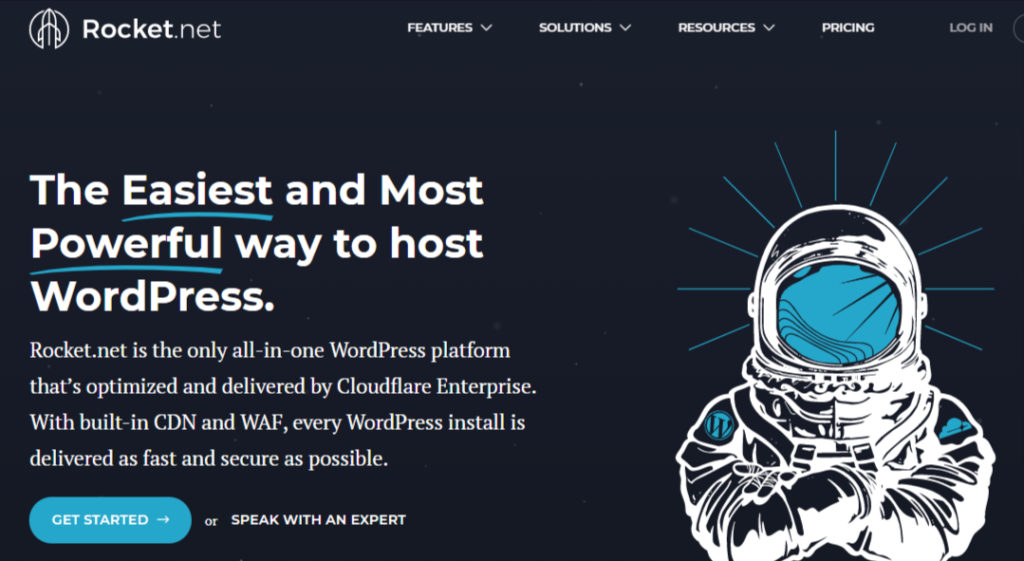 Rocket.net is a unique hosting approach to the WordPress industry. Powered by Cloudflare Enterprise network, Rocket hosting comes with CDN and security enabled by default.
One of the best features of Rocket hosting is
Cloudflare Enterprise network
Full Page Caching enabled on 200+ CDN locations
20+ Global datacenter locations
Powerful control panel
Expert WordPress security suite
Free WordPress migrations.
The great advantage of Rocket over Kinsta is the performance, pricing, and features. Since Rocket host comes with CDN enabled, Rocket server response time (286 ms) is faster than Kinsta (360 ms).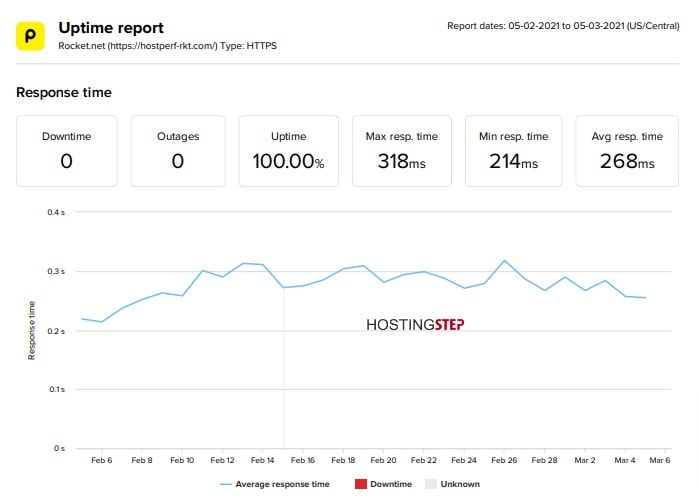 Rocket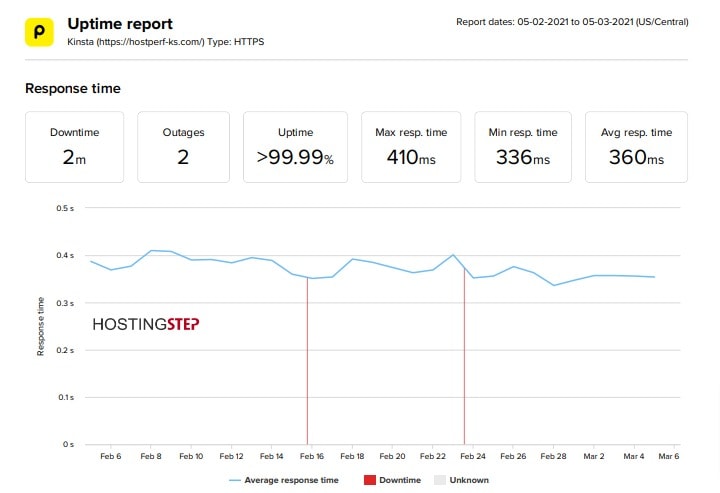 Kinsta
Although Kinsta is tested without CDN, Rocket provides a no-configuration hosting setup, and the Global CDN network makes them an interesting alternative.
In load testing, Kinsta took 32 ms to handle 1000 requests, where Rocket took just 16 ms. CDN played a vital role here. But, we need to give credit to Rocket as they include CDN by default that gives an edge over Kinsta.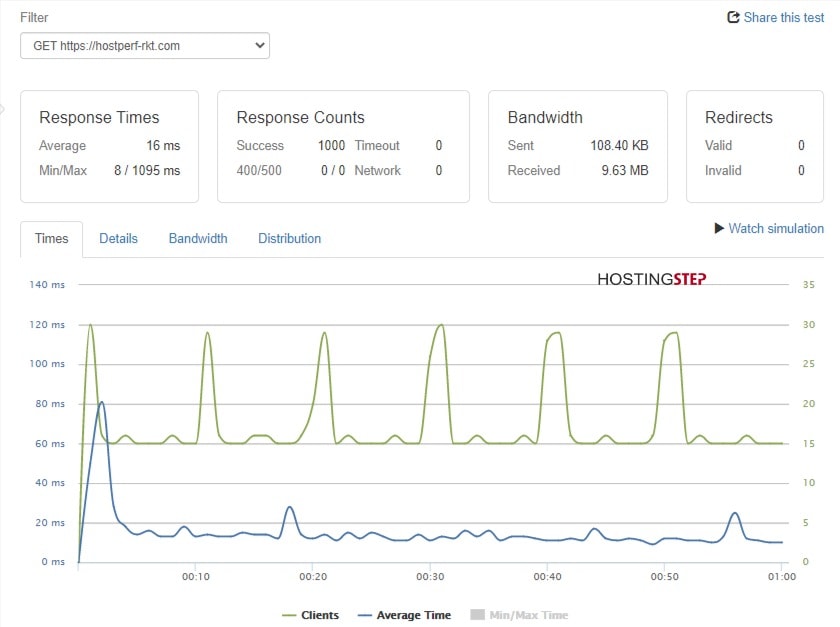 Rocket.net is affordable than Kinsta
As you host more sites, Rocket plans will be much cheaper. Their Agency plan costs $200/month allows 25 WordPress installs, where the Business 3 plan of Kinsta allows 20 WordPress install but priced at $300/month. I've also got you an exclusive Rocket.net discount with Rocket to enjoy 50% OFF on the first three months and 25% OFF on any annual plans.
Rocket hosting offers enormous server resources. While the Kinsta starter plan allows 25,000 visits per month, the Rocket starter plan provides 250,000 visits. Likewise, every plan of Rocket comes with nearly 10x more resources when compared to Kinsta.
Rocket.net was founded by Ben Gabler, who has 17 years of experience working on some popular companies like HostGator, GoDaddy, StackPath, and Sectigo.