5 Best Kinsta Alternatives (Fast Yet Cheaper Hosting) 2022
This is a list of alternatives to Kinsta hosting services based on the performance, features, pricing, and support.
In this post, I've listed 7 alternatives hosting services that you can use instead of Kinsta. You might be searching for alternatives either due to pricing or features or better performance. I've got you covered.
Why Do You Need Kinsta Alternatives? Let's admit the fact, Kinsta is the fastest WordPress hosting in terms of server execution time. They use the Google Cloud C2 platform, which operates up to 3.8GHZ speed suits for high traffic and sites which require resource-intensive workloads. They also include Amazon s53 for DNS and Google's premium network tier for data transfer.
Considering all these aspects, Kinsta pricing is premium and not affordable for all. This post discusses various aspects and helps you to find a host that is as good as Kinsta.
7 Best Kinsta Alternatives
1. Templ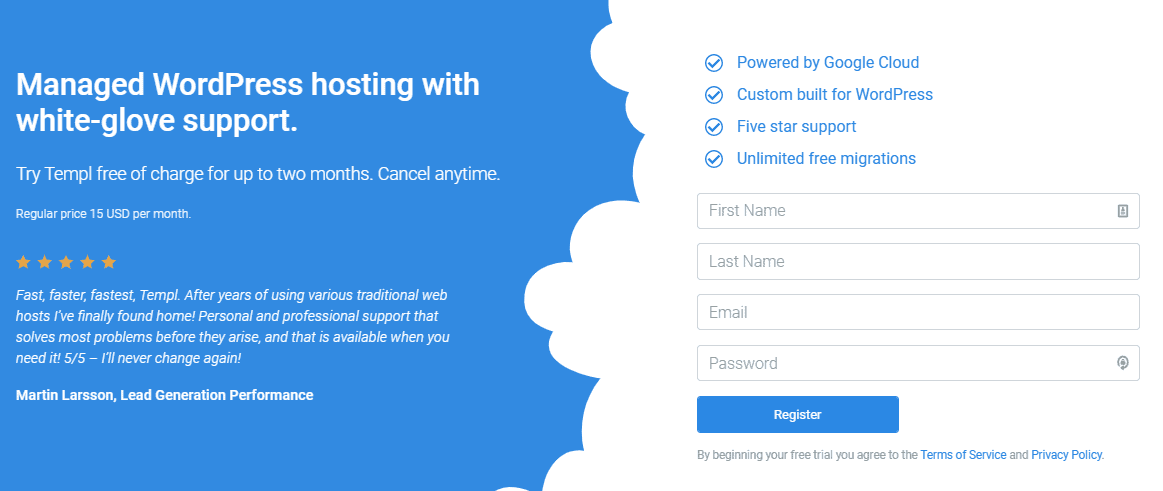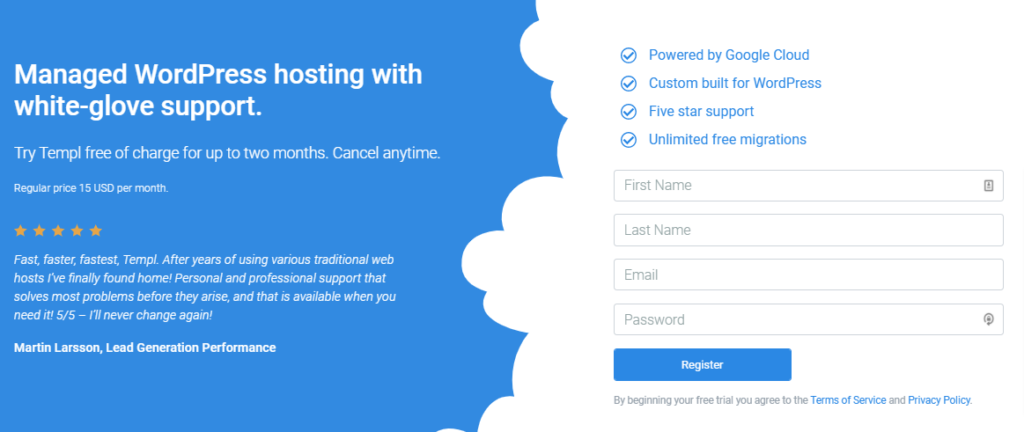 In my opinion, Templ is the closest Kinsta alternative hosting service. Like Kinsta, Templ is powered by the Google Cloud platform, and you can choose from 24 global data center locations. In fact, Templ and Kinsta are the only two hosts that provide access to all Google Cloud locations, but the Templ plan starts at just $15/month.
There are also a lot more similarities, and some of them are
The custom control panel is easy to use.
Users can select from all 24 Google Cloud server locations.
Same Technology stacks like Nginx, MariaDB, Server-side caching, etc.
Automatic and daily backups.
Both provide 24/7 WordPress Expert support.
Auto-scaling when needed.
Hack fix guarantee and proactive monitoring.
Unlimited free site migrations.
From the above features, one can understand both hosts are very similar to each other, and there are some areas where Templ scores better than Kinsta.
Why Templ Hosting as an alternative?
I recently published our Fastest WordPress hosting guide, where I buy hosting from multiple companies and conduct performance tests.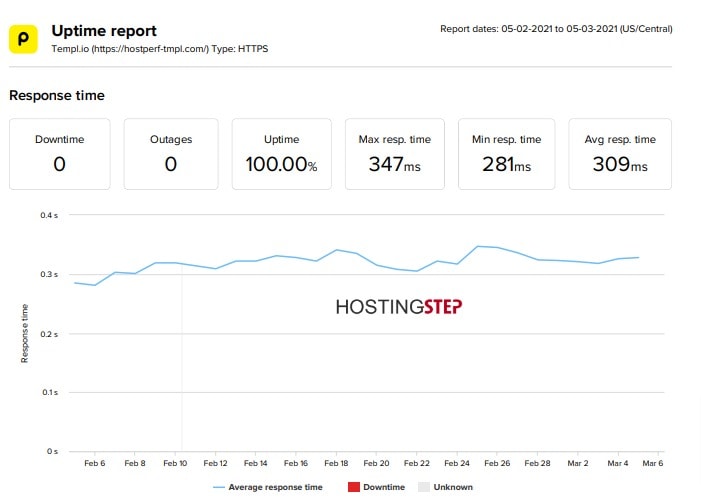 Templ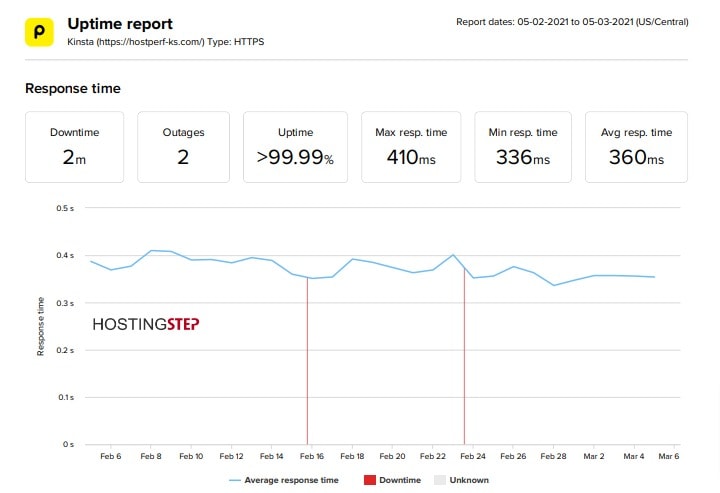 Kinsta
Comparing the data of both hosts, Templ offers a faster server response time than Kinsta where Templ recorded 309 ms on an 30 days average where Kinsta recorded 360 ms in the same period.
We also did a load test by sending 1000 virtual users to the site for 2-minutes, and both the hosts recorded similar scores.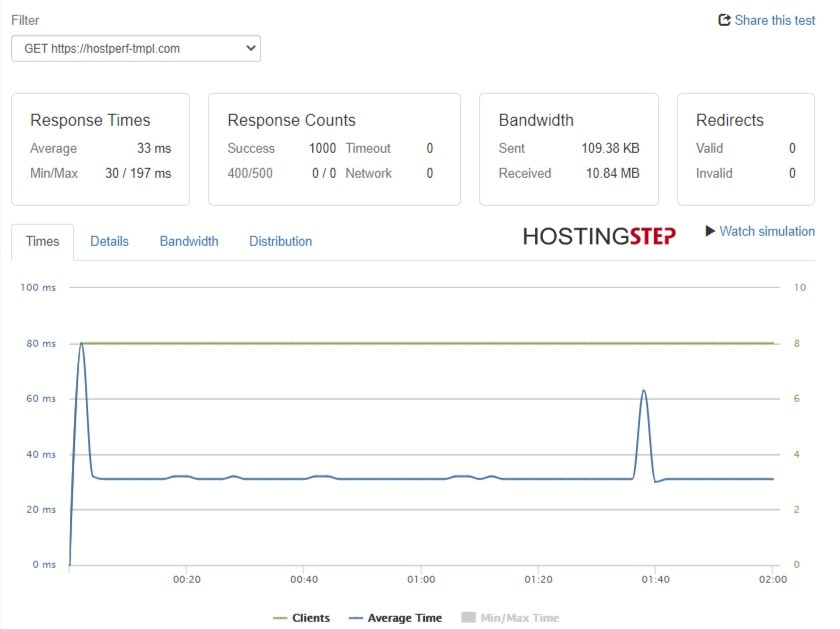 Templ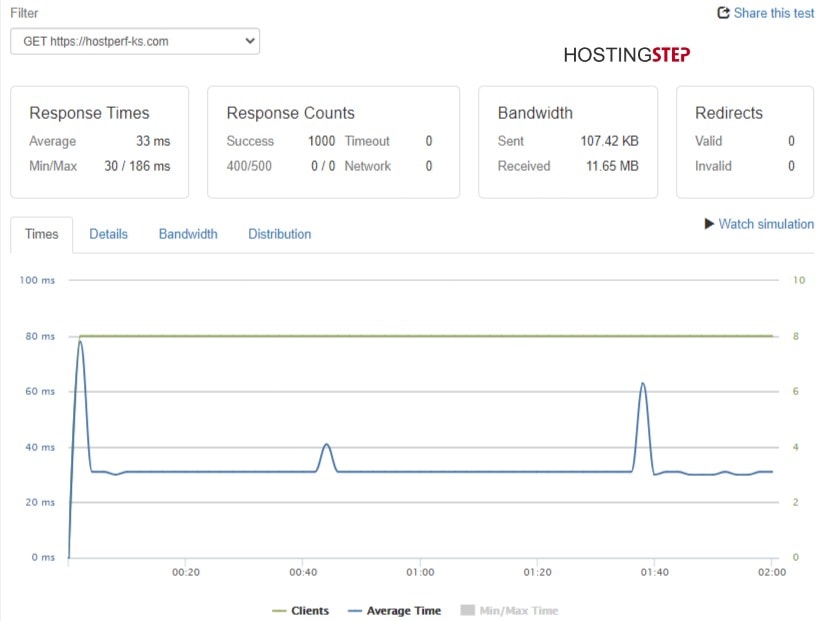 Kinsta
The interesting fact is that I tested Kinsta's $30 plan vs Templ's $15 plan, yet the performances are the same. This proves, their performance is as reliable compared to the Kinsta.
Templ provides you with a Google CDN where Kinsta uses KeyCDN. If you are not aware, Google CDN is the fastest CDN globally, but it is also expensive. So, most hosts go for affordable CDN solutions. Google claims their CDN locations are the same they use to host their web properties like Youtube, Gmail, etc.

Templ doesn't have a PHP workers limit. I asked this question to the Templ support team, and they've mentioned that Templ will adjust PHP workers based on the need for the site.
Templ plan starts at $15/month, where Kinsta starts at $30/month. Templ also offers $30 free credits to test their service if you sign up through our exclusive link. As you host more sites, Templ pricing will be affordable and gives more control over the cost.
Kinsta's Pro costs $60/month allows 2 WordPress installs, where Kinsta's Business 1 plan at $100/month allows 5 WordPress installs. Comparing this to Templ pricing, it costs $30/month to host two sites and just $75 to host five sites. For $105/month, you can host up to 7 sites on Templ if you choose their Micro Plan.
Templ offers free speed optimization when migrating from any host. They will do things like WordPress configuration, Plugins audit, Database optimization, image optimization, etc. In the end, they will share with you before and after a report of your site's performance score.
After considering all these facts only, I moved this site Hostingstep.com to Templ hosting and enjoying the best value for money spent. If you're interested in testing, sign up with this link and enjoy $30 free credits. That means you can get up to two months of free hosting.
2. WP Engine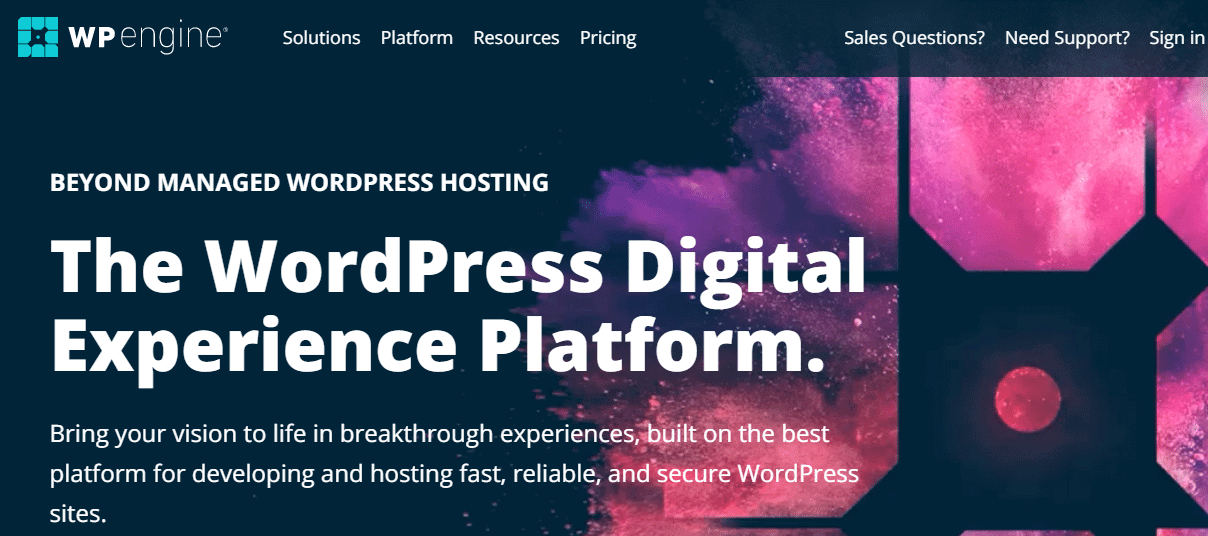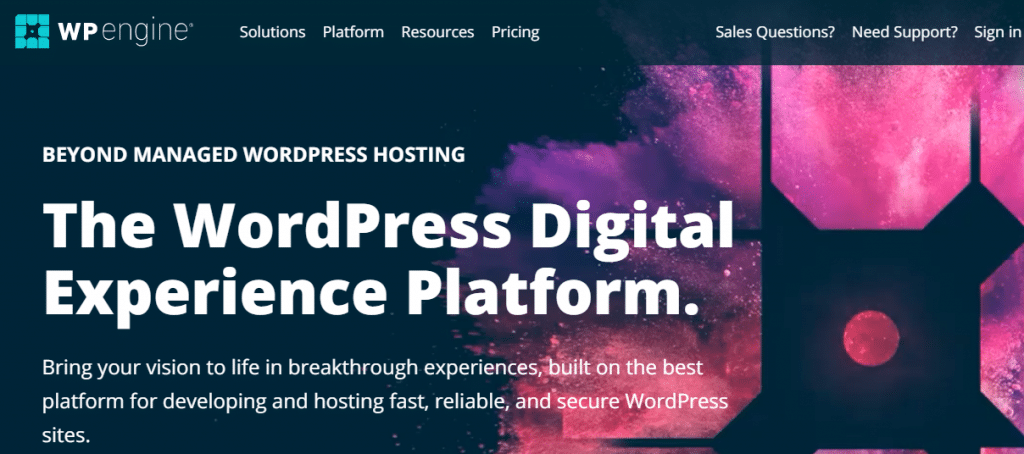 WP Engine is the industry leader in the Managed WordPress hosting segment. Like Kinsta, WP Engine uses the Google Cloud platform, but they provide a limited number of data center options. Both WP Engine and Kinsta operate very similarly in terms of performance, pricing, support, and features.
Below are some of the common features between both platforms.
Powerful tech stacks
Server-side caching
WordPress 24/7 support
Free site migrations
Automatic backups & restore
Staging and development sites
If you're moving from Kinsta to WP Engine, then you don't find much difference in their features, including the use of control panels, contacting customer support, etc.
Why WP Engine an alternative to Kinsta?
If you look into our data, both the hosts performance are similar in most tests, and to be specific, WP Engine lags at 10 – 15 ms. When Kinsta recorded 360 ms as average response time, WP Engine scored 374 ms.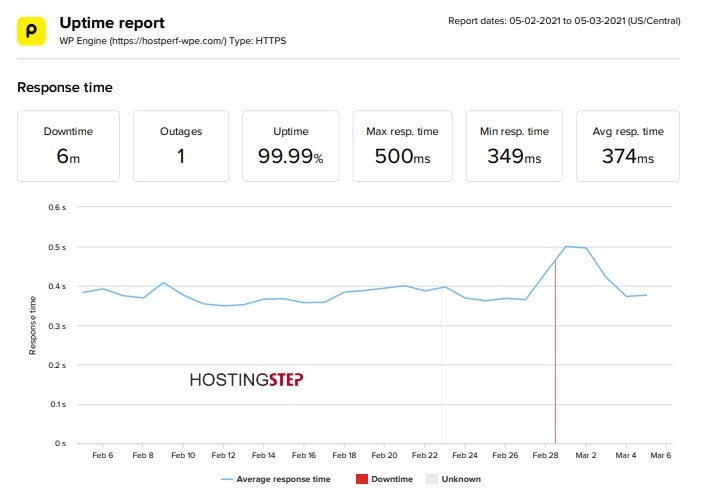 In terms of load testing, Kinsta took 33 ms to handle 1000 requests, while WP Engine took 40 ms. So, there is no big difference in performance, at least in our testing.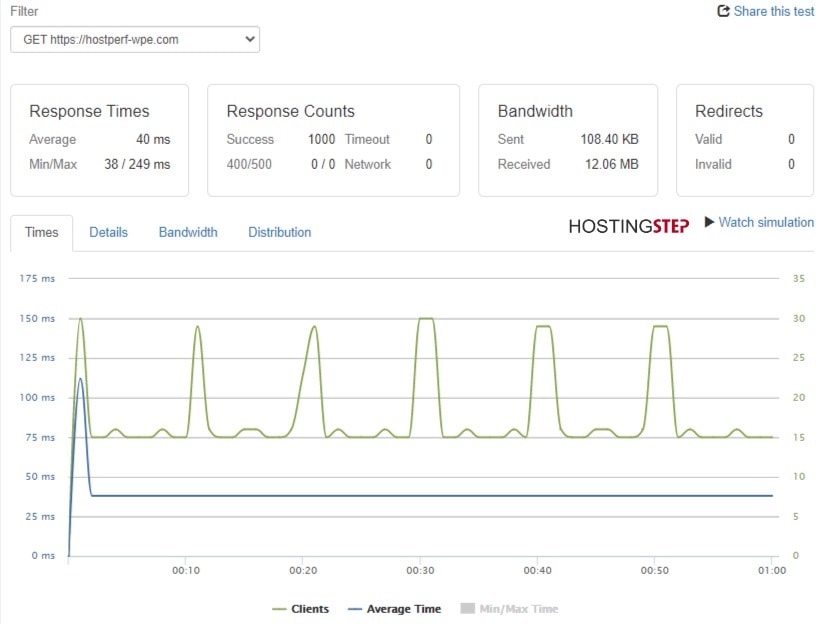 WP Engine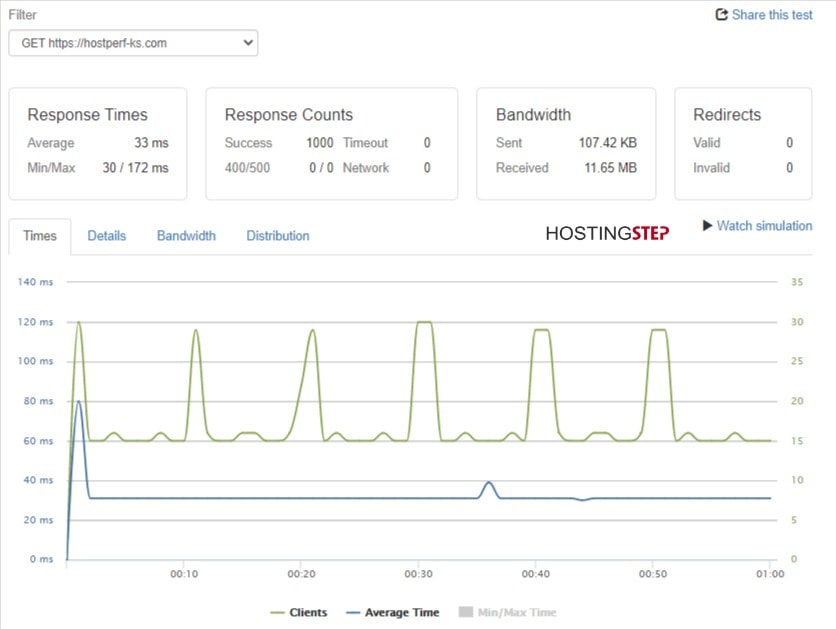 Kinsta
WP Engine CDN is more powerful than Kinsta. WP Engine uses StackPath CDN, which has 50+ global locations and one of the world's fastest CDN. Kinsta uses KeyCDN, which is great but not as powerful when compared to StackPath. The below image shows the performance difference of these two CDNs.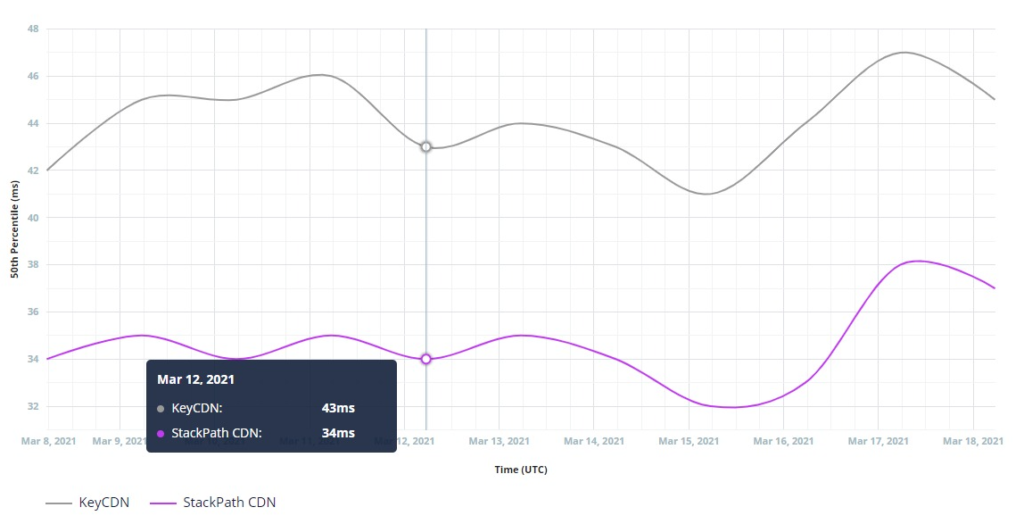 Since the performance is similar, let's move to the pricing details of WP Engine. Both Kinsta and WP Engine plans start at $30/month, but WP Engine will be cheaper as you host more sites.
Kinsta Business 1 plan of $100/month can host 5 WordPress, whereas the WP Engine Growth plan costs $115/month but allows 10 WordPress sites. If you're an agency or small business owner, you can save a lot with WP Engine. WP Engine also offers a greater discount when you sign up annually. This link of ours will fetch you three months of free hosting on all annual plans.
3. Cloudways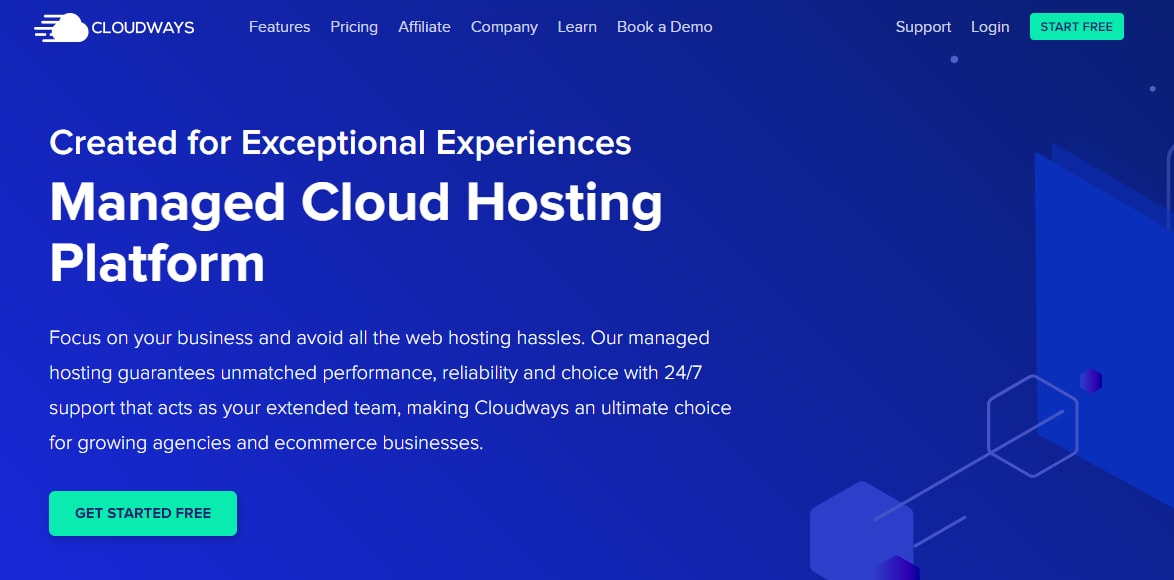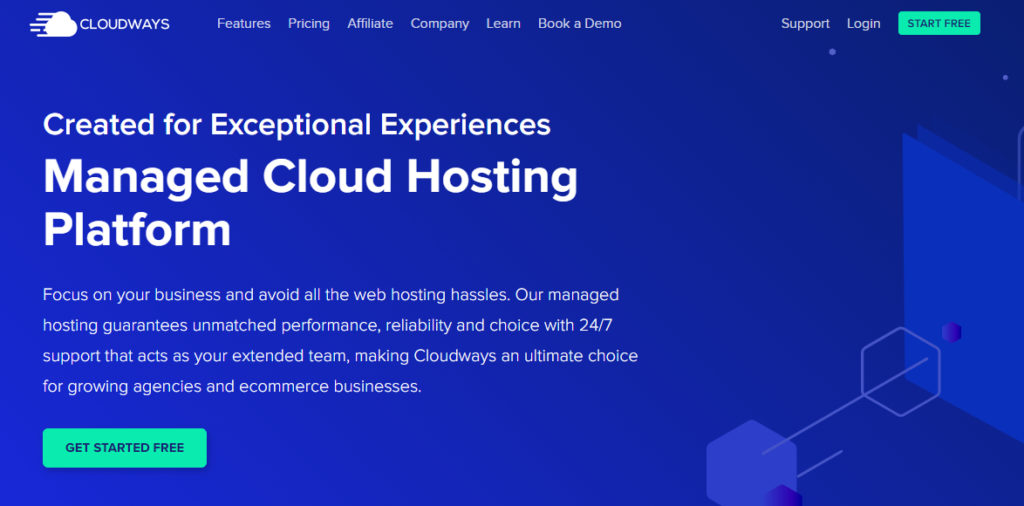 Cloudways is another solid host you can try instead of Kinsta. Although not a WordPress-specific host, they're popular among site owners, thanks to their affordable pricing. Cloudways architecture differs from other managed hosting.
Basically, Cloudways is a control panel that partnered with five cloud hosting providers like Digital Ocean, Linode, Vultr, Amazon Web Services, and Google Cloud to offer managed WordPress hosting services.
Some of the most common features between the two hosting providers are
Custom control panel for easy site management
Servers-side caching for faster page loading time
Power tech stacks of Nginx and MariaDB
Free site migrations
Developer features like Git, Staging sites, SSH access, etc.
Cloudways can be a perfect alternative to Kinsta, where they have similar features, and below are some facts you need to know before choosing Cloudways. Based on our data, Cloudways (309 ms) has got faster server response times (TTFB) than Kinsta (374 ms).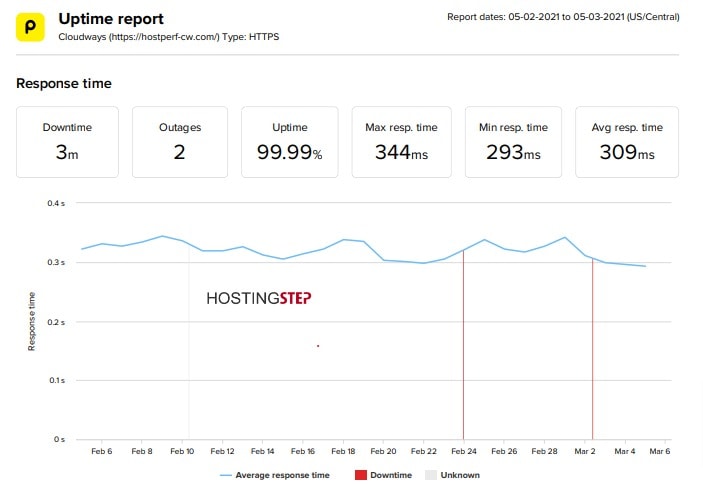 I also did a load test, and Cloudways did comparatively better where it took just 10 ms to handle 1000 client requests while it took 32 ms on Kinsta.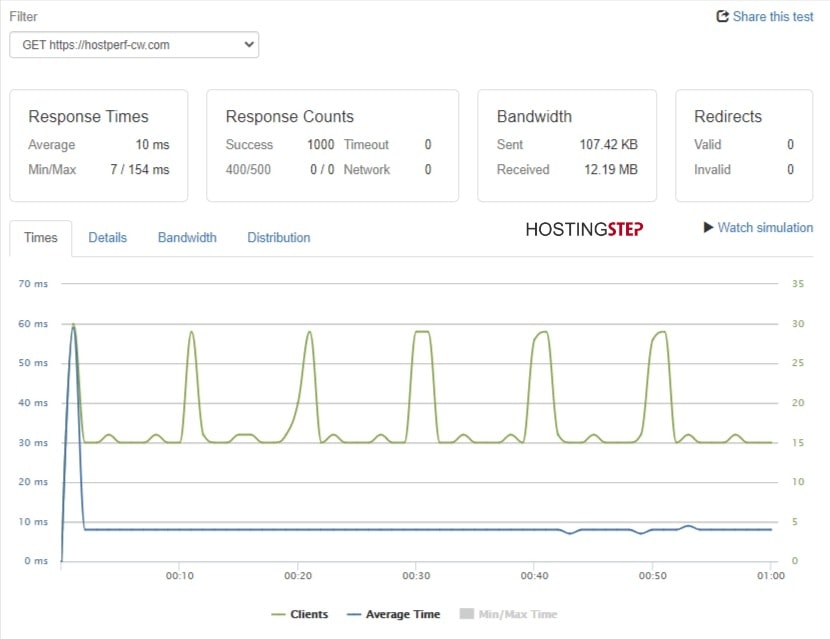 Cloudways is affordable to get started. You can get started for $10/month on the Digital Ocean plan and the price changes based on the other cloud providers. However, Cloudways recommends a $22/month plan for production sites as it offers the right mix of server resources.
The thing to consider before choosing Cloudways is the support. Cloudways support is not as great compared to Kinsta. Being a customer, I can see the improvements in their support system, but there is a long way ahead of them to compete with Kinsta. Cloudways provides CDN, which is an add-on that costs $1 per site. Thus the advantage of Cloudways over Kinsta are affordability and faster performance.
4. Nexcess


Nexcess should be the cheapest alternative to Kinsta, especially for agencies. Nexcess, a part of Liquid Web, offers managed WordPress hosting with many exclusive features that you can't find anywhere else.
Some of the features of Nexcess and Kinsta are
Free auto-scaling architecture
Automatic WordPress updates
Proactive security
24/7/365 customer support
Inbuilt CDN
Staging sites, developer tools, etc.
In the introduction section of Nexcess, I've mentioned they're great for agencies. How good is Nexcess as an alternative?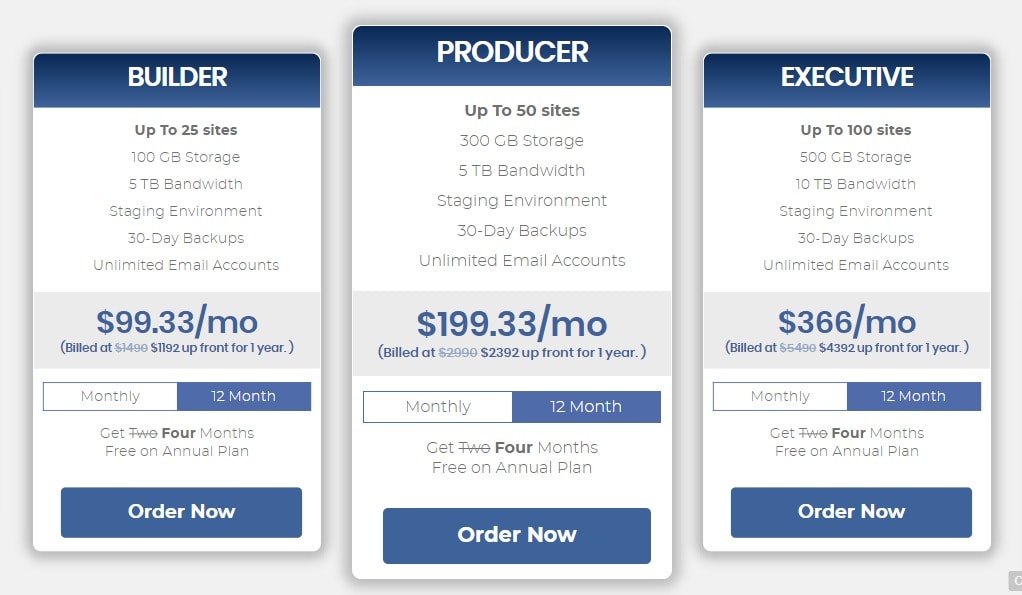 Nexcess 25-site plan costs just $149/month compared to $300/month Business 3 plan of Kinsta that allows 20-sites. Even better, if you need to host more sites, Nexcess plans will go super-cheap yet comes with powerful control panel.
Ok. Nexcess pricing is great; how good is their performance? Based on our data, Nexcess is not as powerful as Kinsta, although the margin is lesser. The average server response time of Kinsta is 360 ms, while Nexcess got 374 ms. The difference is not big here.
However, in load testing of 1000 clients per minute, Kinsta took 32 ms, where Nexcess took 66 ms to process the same number of requests. Thus, Nexcess can't be a perfect alternative, but with a little compromise on performance and considering the price, Nexcess holds good.
Nexcess provides unique auto-updates for WordPress using a visual comparison. Nexcess screenshots the site before and after updating a plugin or theme and checks whether the visuals are broken or remains the same. If broken, the updates will revert to the original, and if no issues on visual, the update will be passed to the production site.


This is one of the unique features which is really useful. Although my host provides auto-updates, I turn them OFF to avoid such issues, but with Nexcess, you can enable this option without any fear. This feature will be a great time saver for agencies that handle a large number of sites.
Nexcess provides an unlimited email accounts and free auto-scaling for 24 hours. These 24 hours can happen at any time of the month and need not appear continuously. Nexcess also provides bandwidth-based calculation, so your plan pricing will remain the same, whereas it is an issue with Kinsta as it adds overage charges once the traffic limits are ended.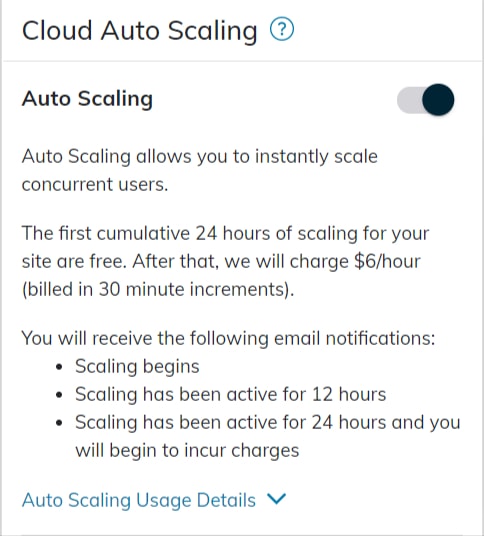 Nexcess also provides enormous discounts where you can get up to a 40% discount on their plans to get started for just $13/month.
5. Rocket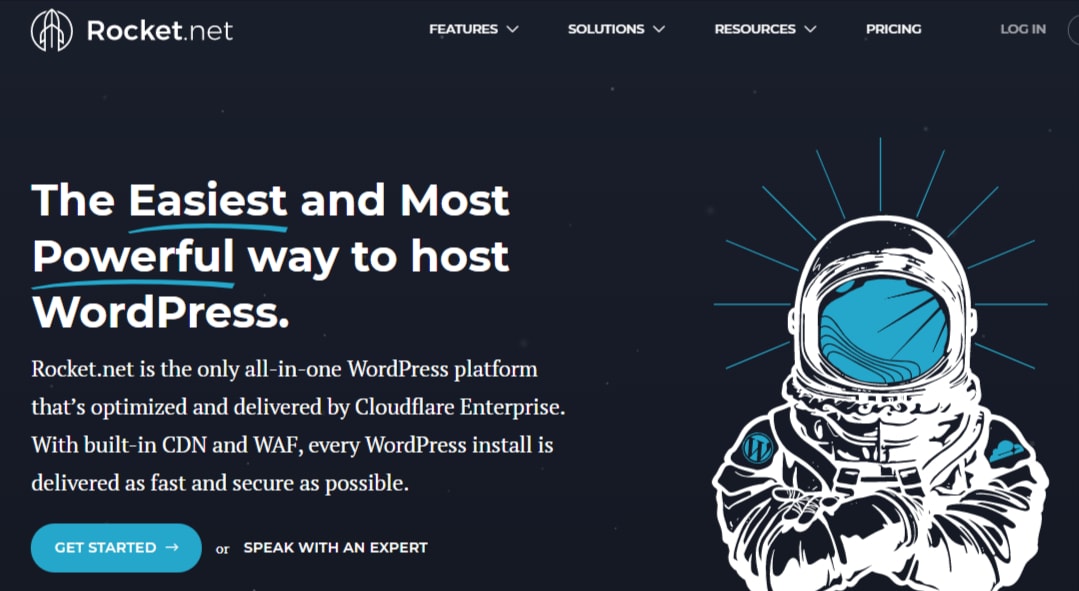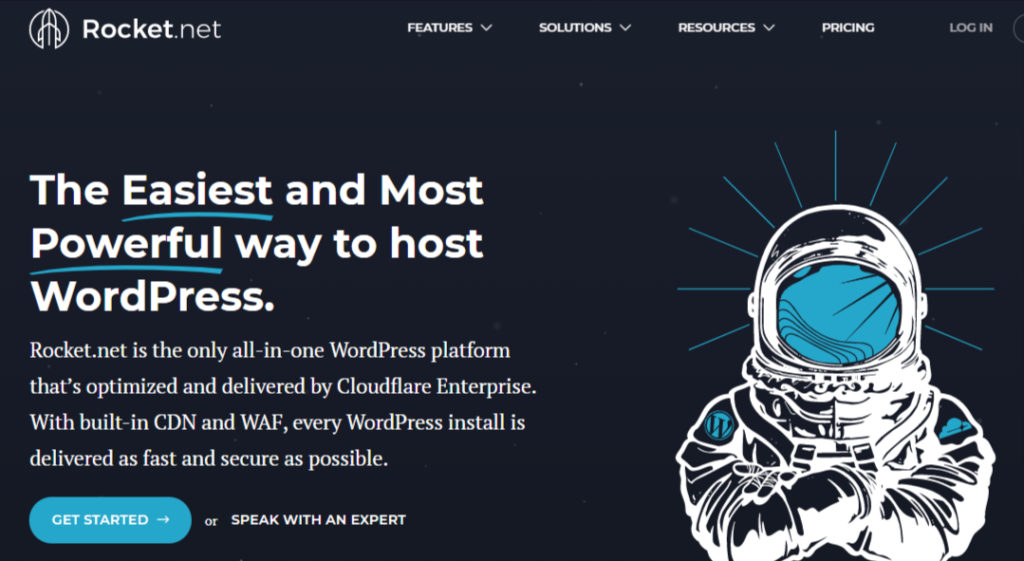 Rocket.net is a unique hosting approach to the WordPress industry. Powered by Cloudflare Enterprise network, Rocket hosting comes with CDN and security enabled by default. One of the best features of Rocket hosting is
Cloudflare Enterprise network
Full Page Caching enabled on 200+ CDN locations
20+ Global datacenter locations
Powerful control panel
Expert WordPress security suite
Free WordPress migrations.
The great advantage of Rocket over Kinsta is the performance, pricing, and features. Since Rocket host comes with CDN enabled, Rocket server response time (286 ms) is faster than Kinsta (360 ms).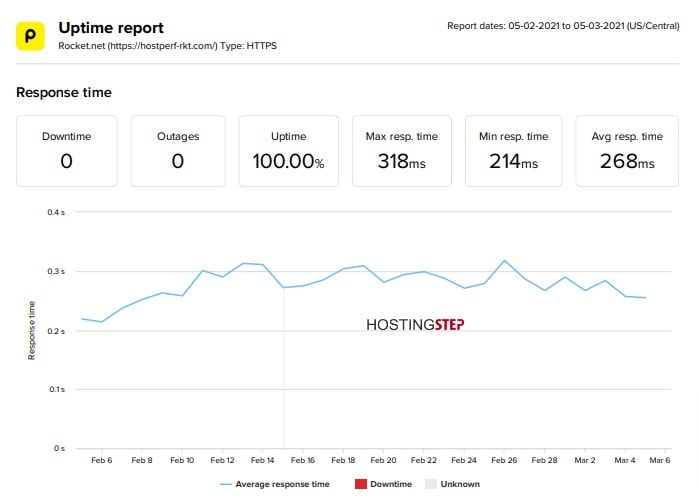 Rocket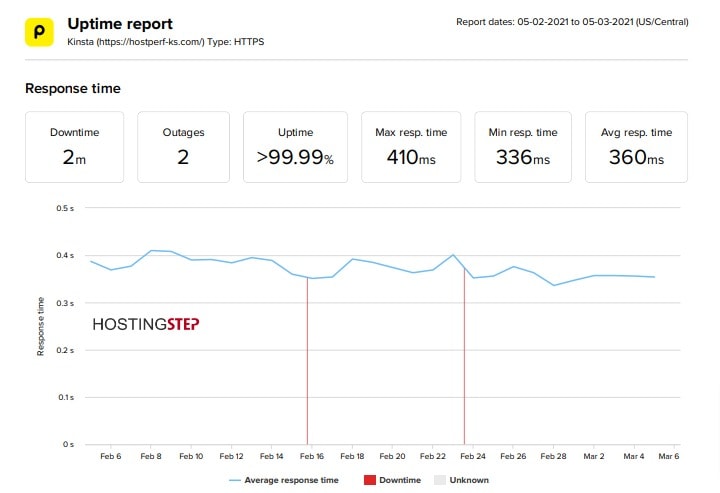 Kinsta
Although Kinsta is tested without CDN, Rocket provides a no-configuration hosting setup, and the Global CDN network makes them an interesting alternative.
In load testing, Kinsta took 32 ms to handle 1000 requests, where Rocket took just 16 ms. CDN played a vital role here. But, we need to give credit to Rocket as they include CDN by default that gives an edge over Kinsta.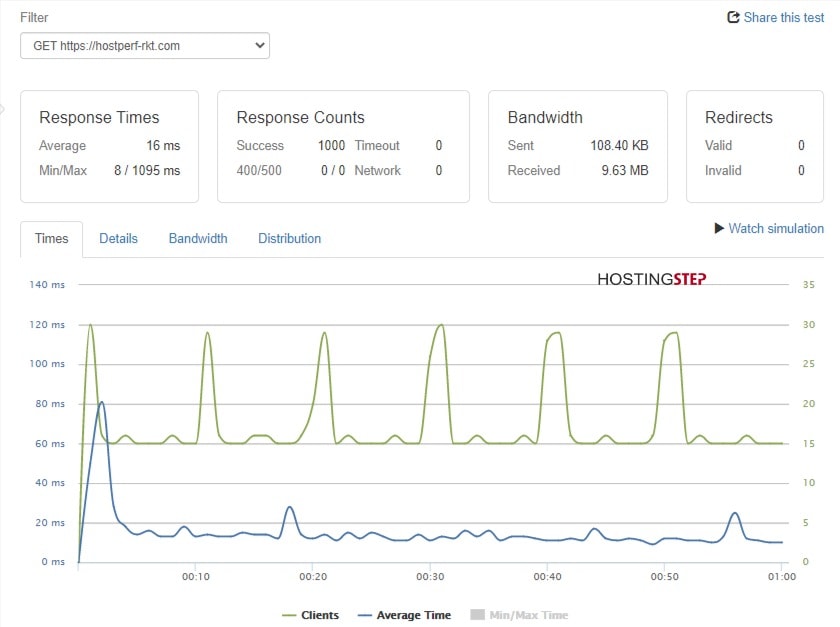 As you host more sites, Rocket plans will be much cheaper. Their Agency plan costs $200/month allows 25 WordPress installs, where the Business 3 plan of Kinsta allows 20 WordPress install but priced at $300/month. I've also got you an exclusive Rocket.net discount with Rocket to enjoy 50% OFF on the first three months and 25% OFF on any annual plans.
Rocket hosting offers enormous server resources. While the Kinsta starter plan allows 25,000 visits per month, the Rocket starter plan provides 250,000 visits. Likewise, every plan of Rocket comes with nearly 10x more resources when compared to Kinsta. Rocket.net was founded by Ben Gabler, who has 17 years of experience working on some popular companies like HostGator, GoDaddy, StackPath, and Sectigo.
Which Host is the Best alternative to Kinsta?