Kinsta Vs WP Engine – Introduction
Kinsta stands out with its premium hosting solutions that the reliable Google Cloud Platform backs. Their plans start from $35 per month and include a comprehensive Kinsta CDN with Edge Caching.
Customer can select from over 35 global data center locations to host their sites. To manage your WordPress sites, Kinsta provides a user-friendly MyKinsta Dashboard that is well-organized and easy to use.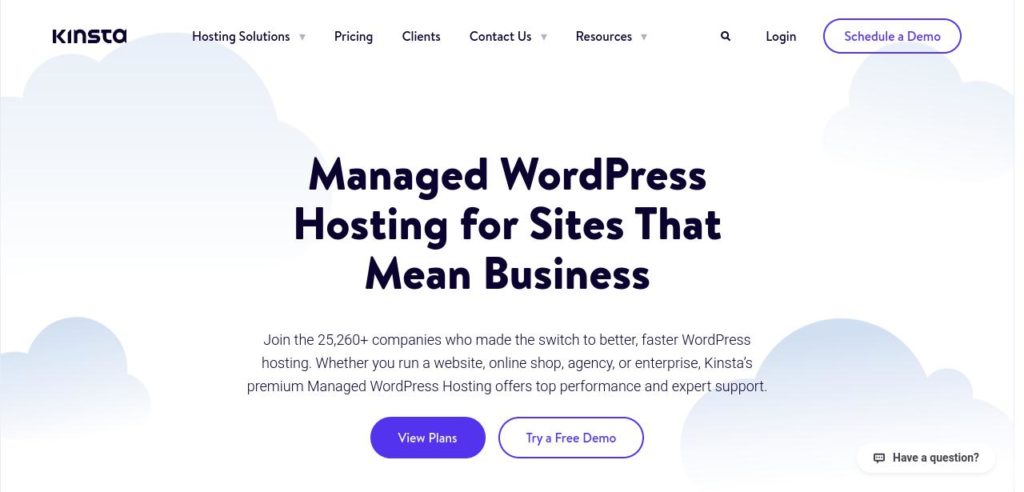 WP Engine is the industy leader in Managed WordPress hosting. The WP Engine Digital Experience platform is powered by Google Cloud, Azure and Amazon Web Services. WP Engine Pricing starts at $30/month and great discounts on annaul plans with up to 4 Months of free hosting services.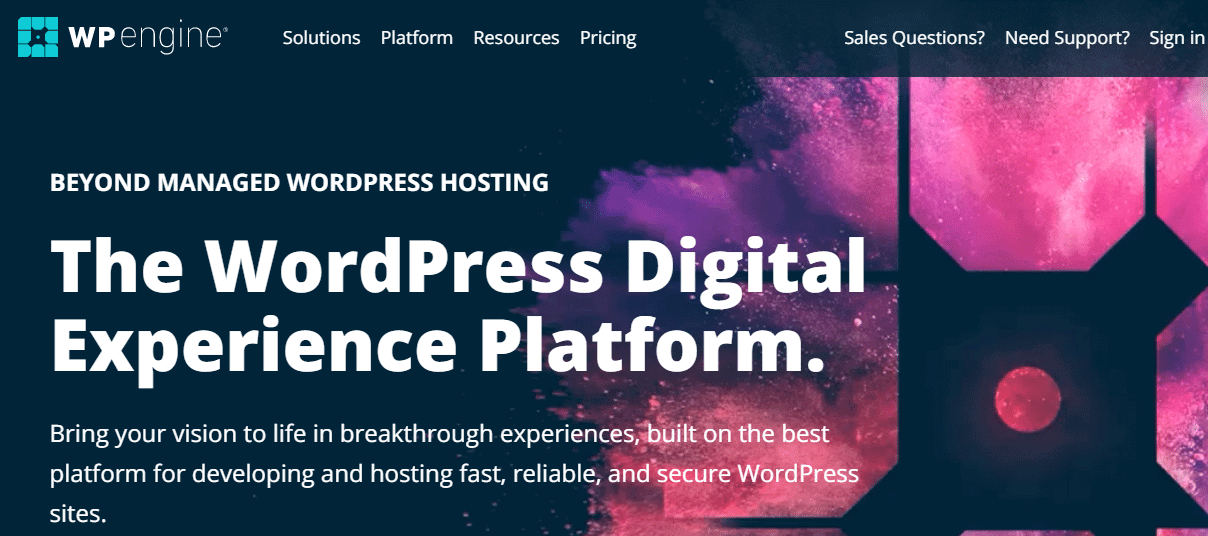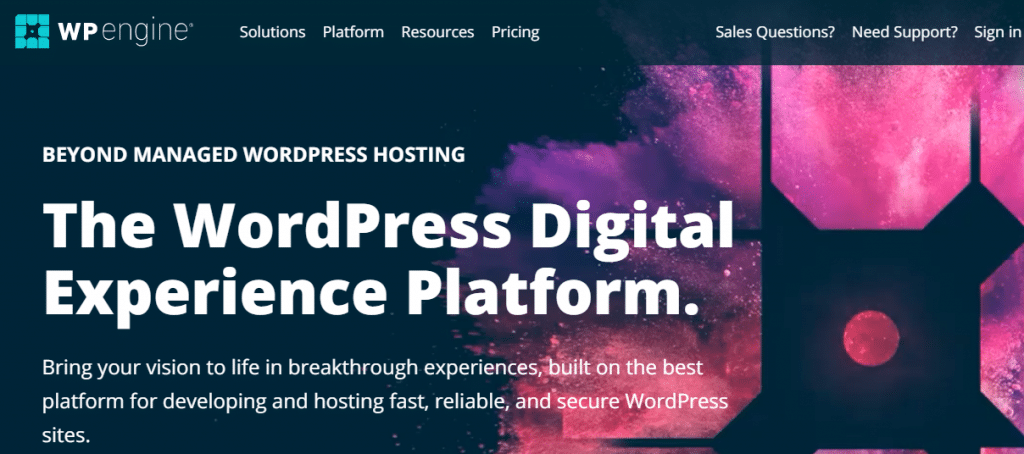 Kinsta Vs WP Engine: Performance
1. Server Response Time
To determine which hosting platform offers faster server response times, I conducted a test by deploying a test site on both Kinsta and WP Engine.
The test results revealed that the average server response time for Kinsta was 492ms, whereas WP Engine recorded an average server response time of 380ms.
This indicates that WP Engine offers faster server response times compared to Kinsta.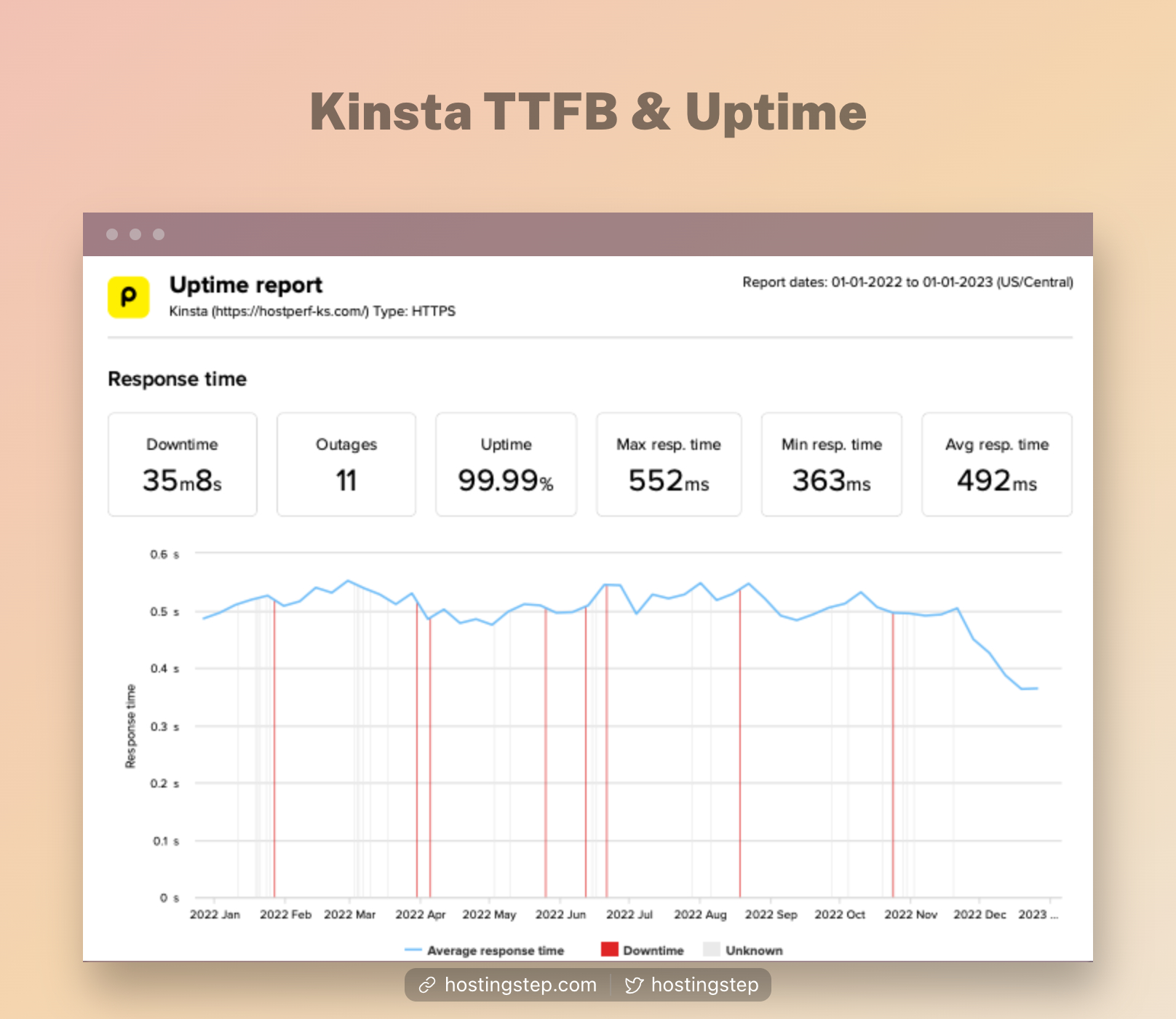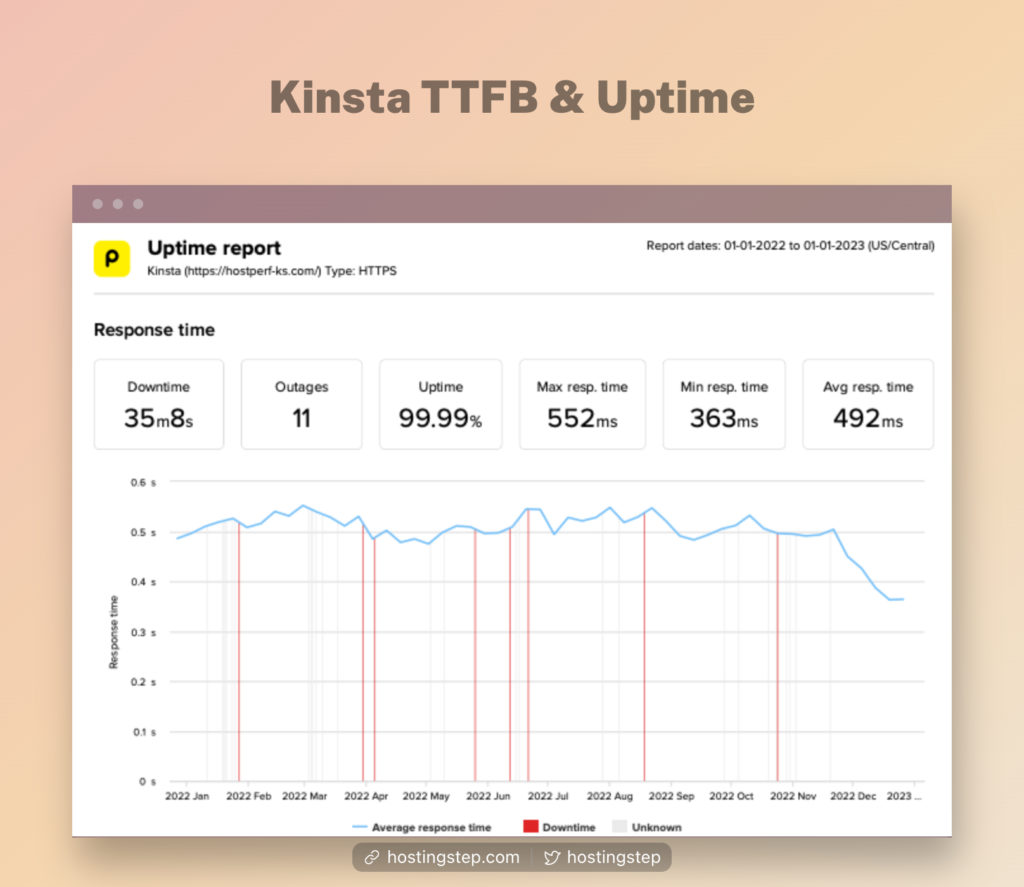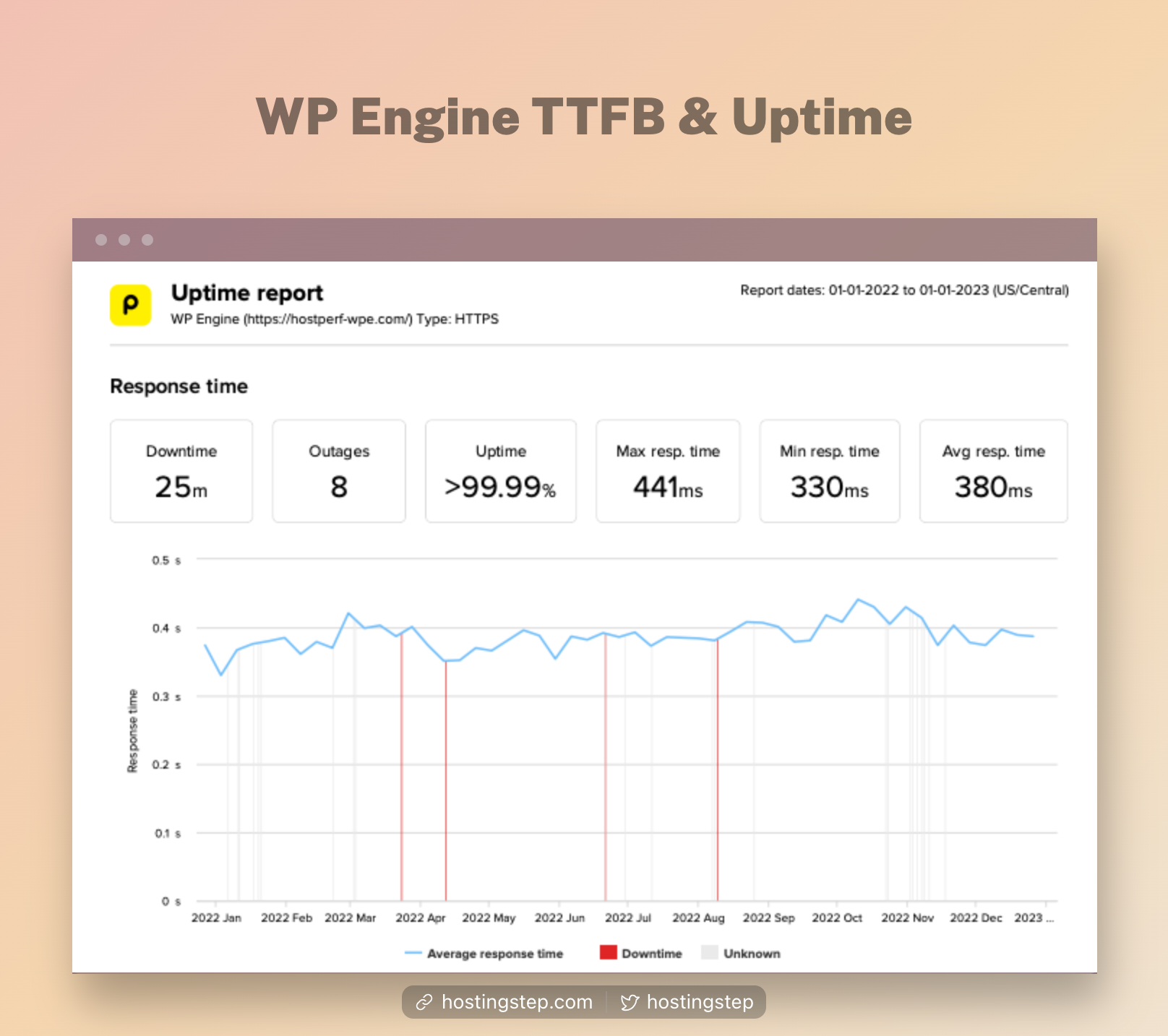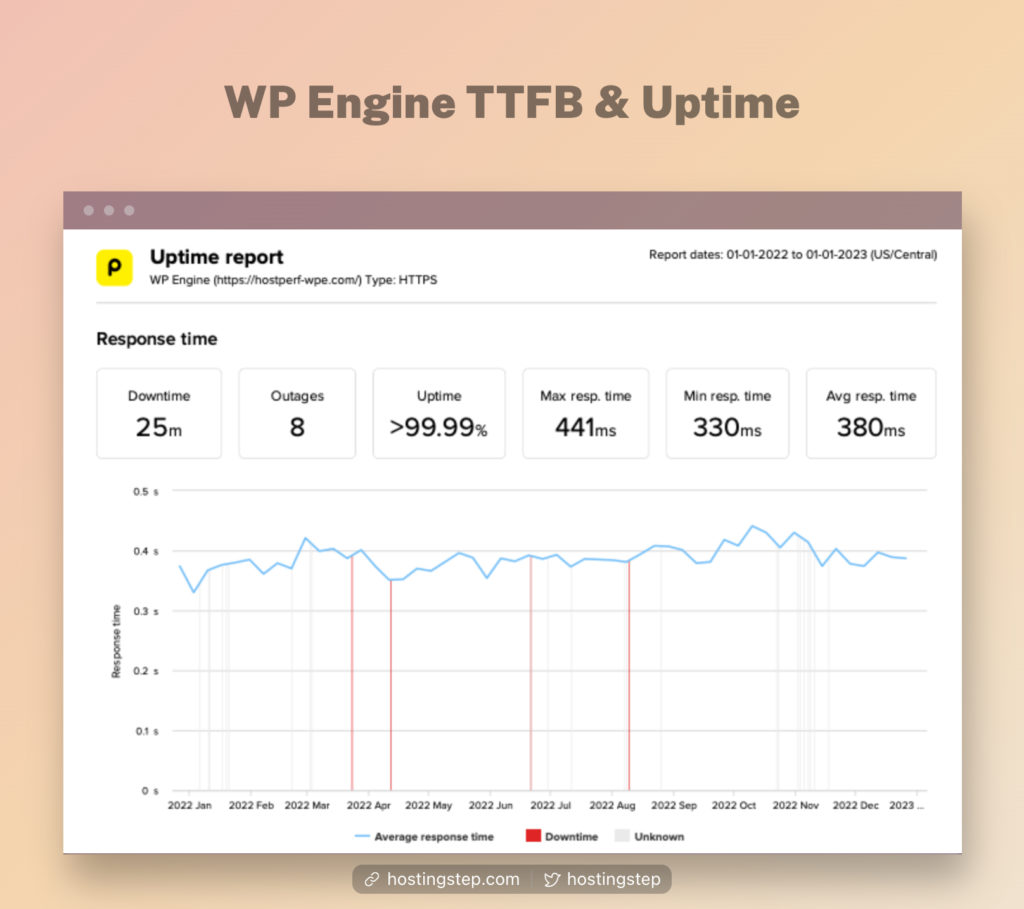 2. Uptime
During the past 12 months, both WP Engine and Kinsta experienced minimal downtime and recorded an impressive uptime of 99.99%.
This suggests that both hosting platforms are highly reliable for your WordPress sites.
3. Load Testing
To evaluate the performance of Kinsta and WP Engine under high traffic conditions, I conducted a load testing experiment. I sent 1000 visitors to each site and measured their response times.
Based on the results, Kinsta site recorded an impressive response time of 33ms, while WP Engine site reflected a response time of 40ms.
While the difference between the two platforms may be slight, Kinsta has performed slightly better than WP Engine in this test.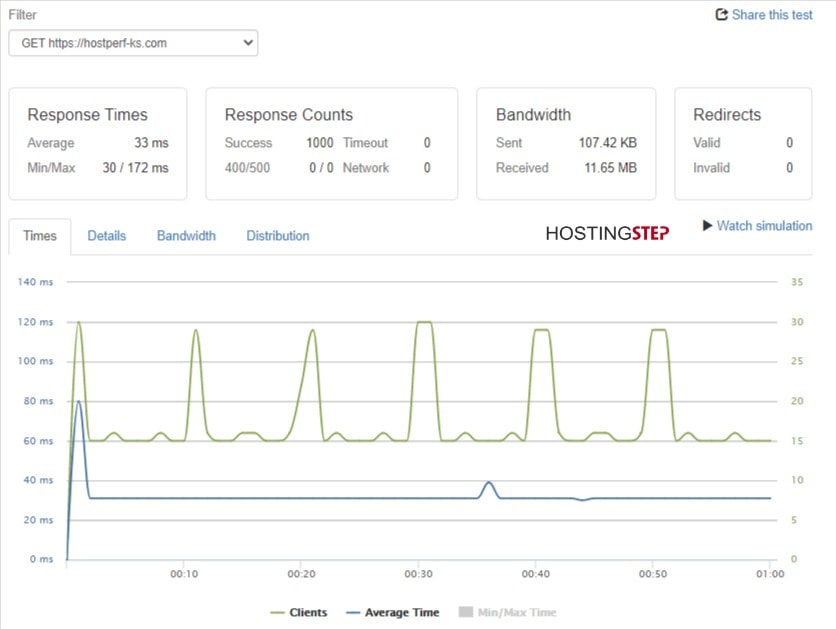 Modified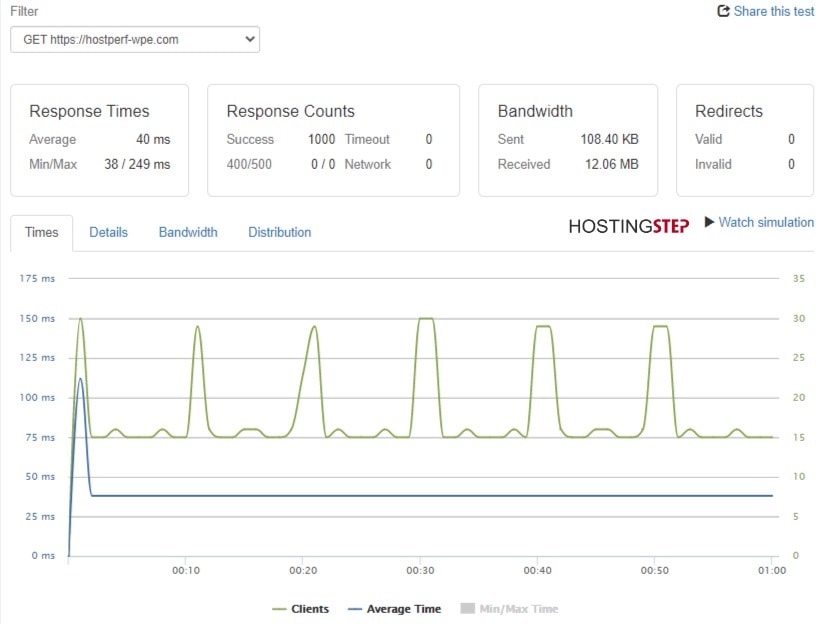 Original
4. Global TTFB
In addition to load testing, another way to measure the performance of hosting platforms is by testing the global TTFB (Time to First Byte). This involves pinging a site from 35 different global locations and recording its TTFB.
Based on my testing, my Kinsta site had an average TTFB of 449ms, while my WP Engine site had a respectable TTFB in all global locations with an average of 633ms.
However, Kinsta had the edge over WP Engine due to its Kinsta Edge Caching technology, which likely contributed to its faster TTFB.

Modified

Original
5. Core Web Vitals
Core Web Vitals measures how well a site provides a good user experience to visitors.
After testing both hosting platforms, I found that my Kinsta site had a Largest Contentful Paint (LCP) of 677ms, Total Blocking Time (TBT) of 0ms, and Cumulative Layout Shift (CLS) of 0.
Similarly, my WP Engine site had an LCP of 635ms, TBT of 0ms, and CLS of 0.
Both platforms performed well in the Core Web Vitals test, with no significant difference.

Modified

Original
Performance conclusion:
Based on the performance tests conducted, both Kinsta and WP Engine are high-performing managed WordPress hosting platforms. While WP Engine had slightly faster server response times and performed well in load testing, Kinsta had better global TTFB and offered an impressive user experience with Kinsta Edge Caching.
Overall, both hosting platforms are excellent options for hosting your WordPress site, and it ultimately comes down to your specific needs and preferences. While I would not necessarily label WP Engine as the best Kinsta alternative, it is a worthy competitor with similar performance capabilities.
Kinsta Vs WP Engine: Features
Data Center Locations
Both Kinsta and WP Engine offer a large number of data center locations to choose from. Kinsta has an impressive 35 Google Cloud Platform data center locations, while WP Engine provides access to up to 20 data center locations across Google Cloud Platform, Azure, and Amazon Web Services.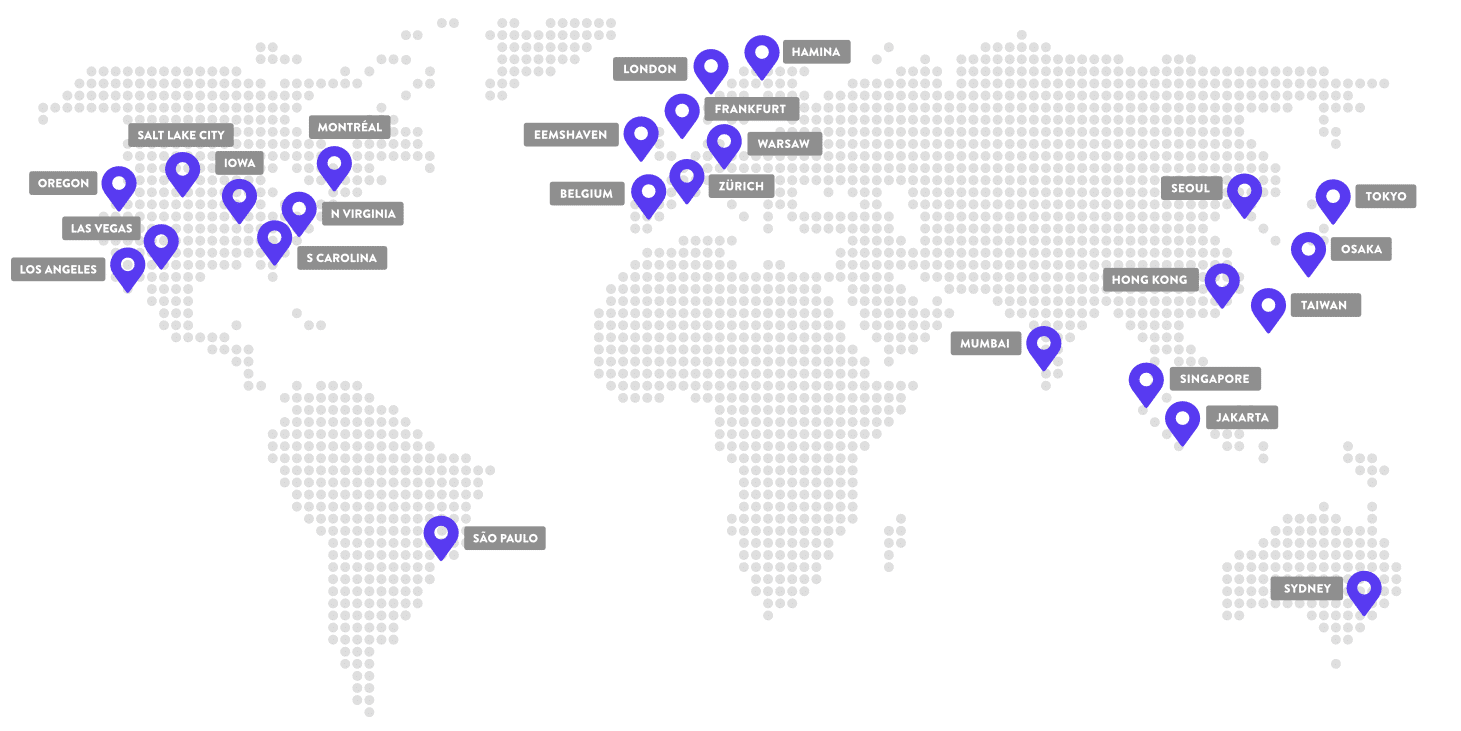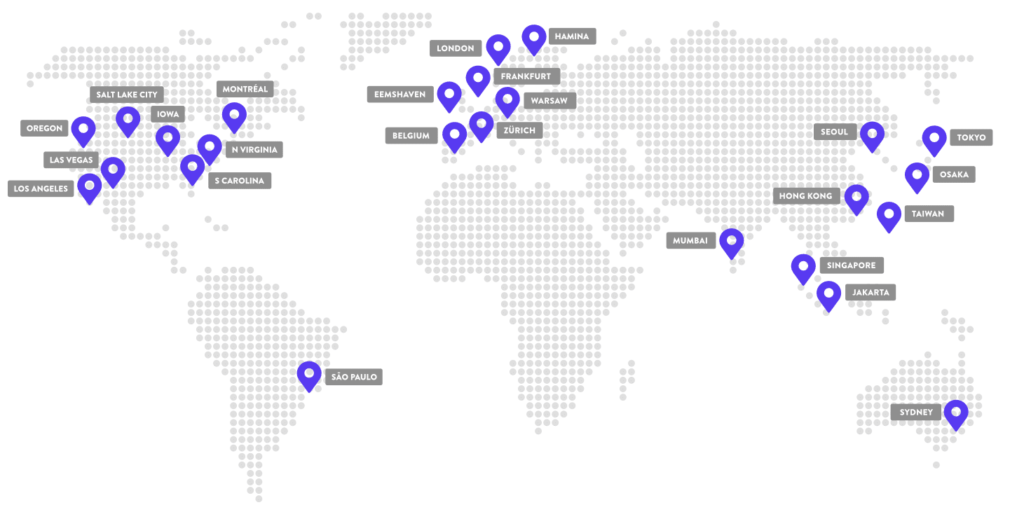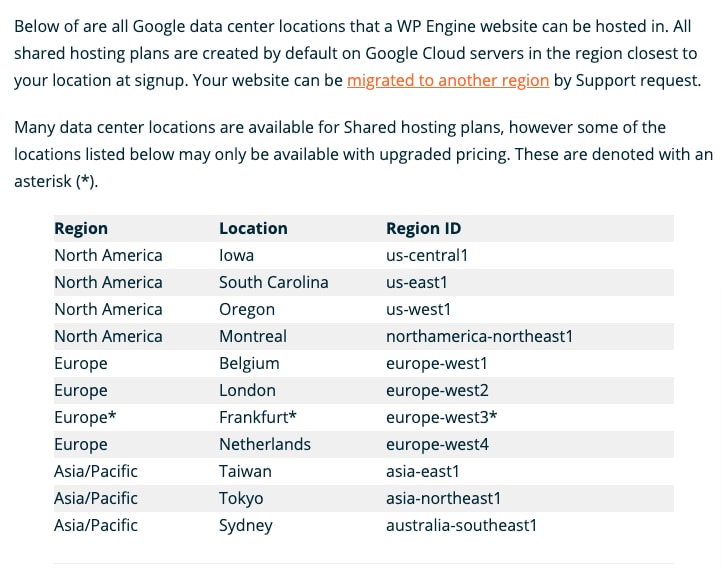 Having a variety of data center locations allows customers to select the closest location to their target audience, resulting in faster content delivery and improved website performance. Therefore, both hosting platforms excel, providing customers with ample options to optimize their WordPress site's speed and performance.
Control Panel
Kinsta provides customers with an intuitive custom control panel that offers simplified site management and a wide range of valuable tools such as phpMyAdmin, redirects, logs, SFTP, backups, and more to manage their accounts. The Kinsta dashboard also provides detailed site analytics to help users monitor their site's performance.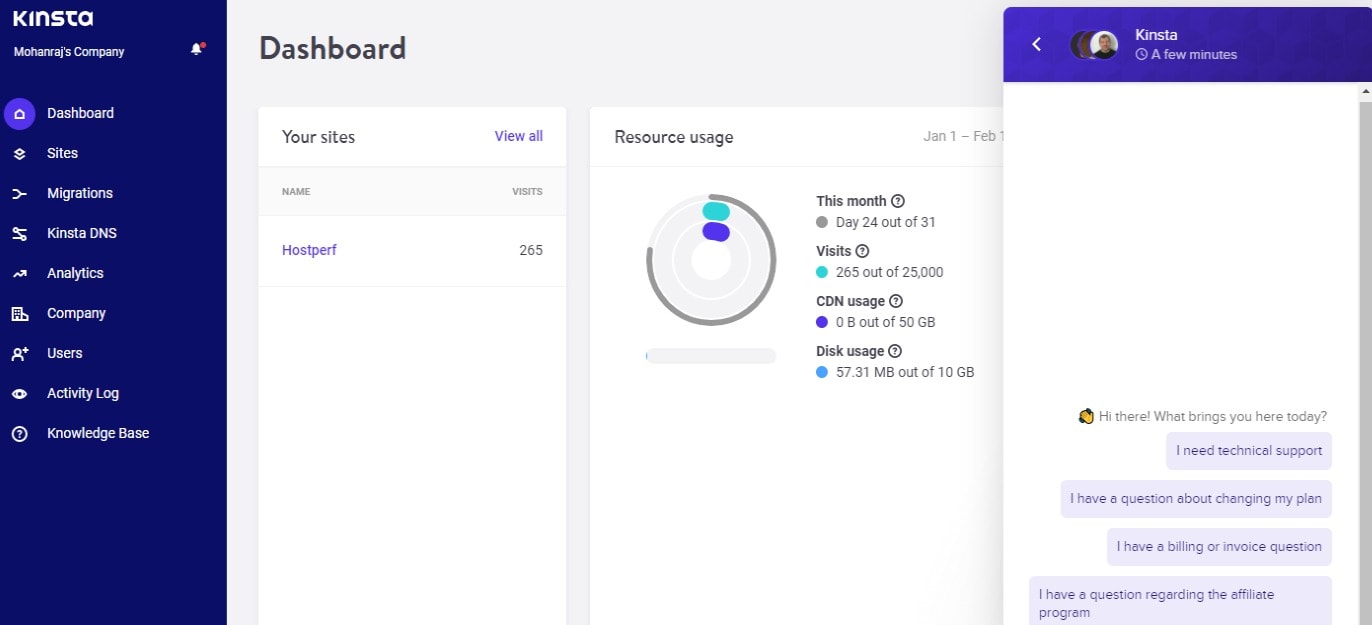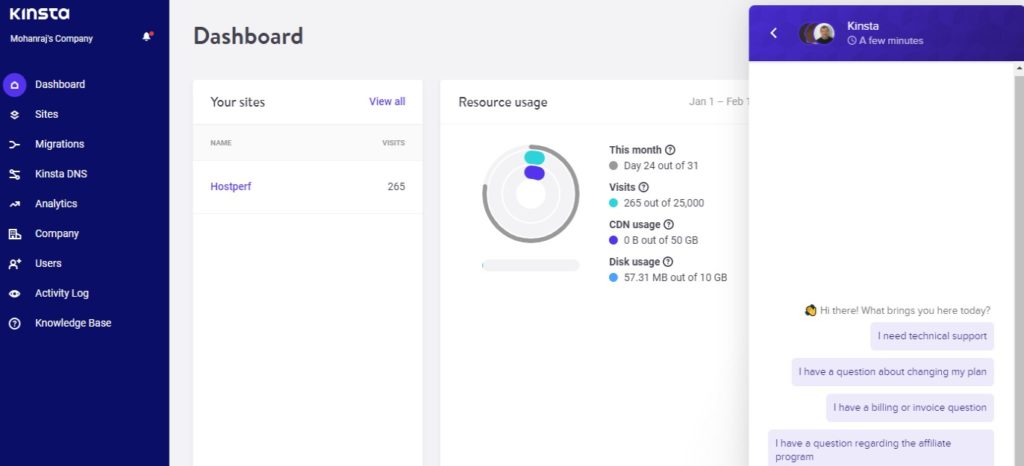 In comparison, WP Engine offers a custom control panel known as the User Portal. This control panel gives customers a centralized point to manage their websites, including access to SFTP login details, databases, site and environment creation, CDN, Git push, site migration, and billing details.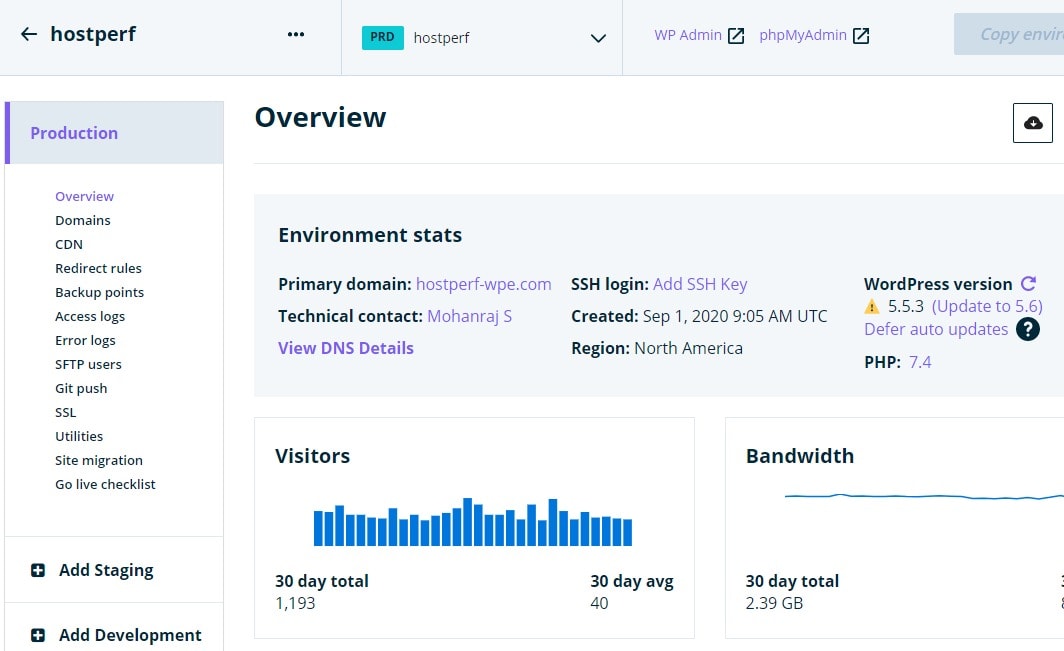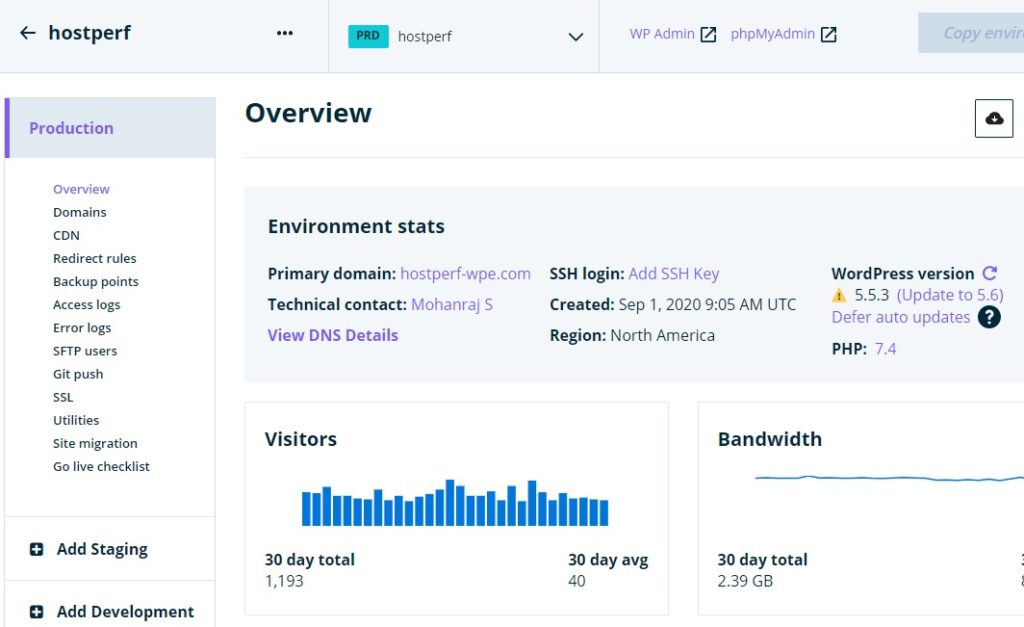 Both hosting platforms offer user-friendly and feature-rich control panels to manage websites, and users can choose the one that best suits their needs and preferences.
CDN
Kinsta provides Cloudflare CDN for free on all plans, with access to 275 global locations and Edge Caching capabilities. This feature significantly improves website performance and page speed.
On the other hand, WP Engine does not offer Edge Caching, although their latest "WP Engine Advanced Network" has improved page speed to some extent.
Therefore, Kinsta is the clear winner in this category, offering a powerful CDN solution with Edge Caching that can significantly enhance website performance and speed.
Staging
Both Kinsta and WP Engine offer a Staging feature that allows customers to test changes on a copy of their live site before making them live.
Kinsta provides Staging on all plans, and users can easily access the feature from their Kinsta dashboard. The Kinsta Staging sites feature allows users to create a copy of their live site for testing purposes and seamlessly push any changes made in the staging site to the live site.
Similarly, WP Engine provides free staging for all plans, and users can create a staging site directly from their WordPress dashboard. After testing, users can quickly deploy any modifications made to the live site with just a few clicks.
Both hosting platforms offer robust Staging features to help users quickly test and deploy changes.
Backups
Both Kinsta and WP Engine provide reliable backup systems, and importantly, both offer this feature for free on all their plans.
Kinsta offers automated daily backups for free on all plans, and users can easily restore a backup at any time using a straightforward process.
WP Engine provides automated daily backups for all plans and environments and stores all backups offsite on Amazon S3. Additionally, WP Engine encrypts backups during transit to ensure maximum security.
Overall, both hosting platforms offer dependable backup systems, ensuring that users can easily restore their websites if any issues arise.
Security
Kinsta and WP Engine prioritize security and provide robust security features to protect customer websites from cyber threats.
Kinsta's security features include resource isolation, DDoS protection, and hardware firewalls, ensuring a secure environment for customers' websites.
WP Engine, on the other hand, offers an exceptionally tight security system that includes code reviews, managed core updates, and patches, Multi-Factor Authentication (MFA), traffic encryption with SSL, threat detection and blocking, and disaster recovery.
Both hosting platforms prioritize security and offer robust features to ensure that customer websites are safe and secure.
Support
Both Kinsta and WP Engine offer reliable and timely customer support to assist customers with any technical issues they may encounter.
Kinsta provides 24/7 support from a team of WordPress experts via live chat and email. Customers can access Kinsta support directly from the MyKinsta dashboard.
WP Engine has a US-based support team well-versed in WordPress and other hosting technicalities. The support team is available 24/7 and can assist customers via live chat and phone.
Both hosting platforms offer reliable customer support, and customers can choose the option that best suits their needs and preferences.
Discount
Kinsta doesn't provide any coupons or discounts. However, if you buy an annual plan, there will be two months of free hosting. On the other hand, WP Engine generously offers up to four months of free hosting on yearly plans.
Conclusion
In conclusion, WP Engine and Kinsta are reliable and high-performing managed WordPress hosting platforms that provide customers with a wide range of features to manage their WordPress sites.
Kinsta has a transparent edge when it comes to speed and performance, thanks to its Edge Caching technology. WP Engine also offers Edge Caching with its "Global Edge Security" add-on, which comes at an additional cost.
WP Engine is the clear winner in terms of pricing, offering excellent value for money. WP Engine allows customers to host up to 10 WordPress sites for around $110/month, while Kinsta only allows for 5 sites at a similar price point.
Ultimately, the choice between Kinsta and WP Engine depends on your specific needs and preferences. If speed and performance are your top priorities, Kinsta may be the better option. However, if affordability and value for money are more critical, WP Engine may be your best choice.