If you're running a WordPress agency, you need a reliable hosting solution to meet your client's demands.
This article will look at the best WordPress hosting for agencies. We'll compare and contrast different hosting providers, so you can decide which one is right for your business.
Kinsta – Overall Best WordPress Hosting For Agencies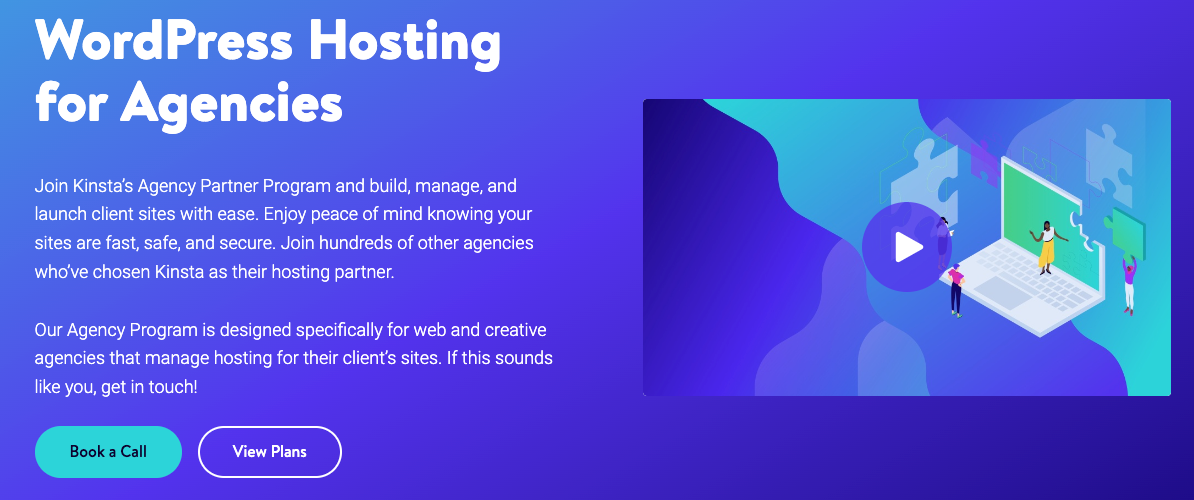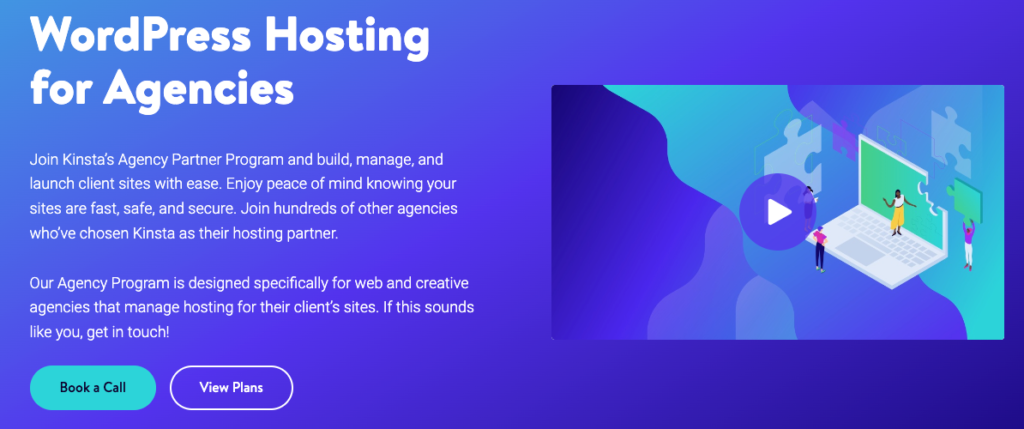 In my opinion, Kinsta is the overall best WordPress hosting for agencies. Kinsta's Agency Partner Program is a powerful WordPress Hosting service for Agencies that allows agencies to build, manage, and launch client sites efficiently. Kinsta sites are exceptionally fast, safe and secure. Most importantly, Kinsta Agency Program is mainly designed for web and creative agencies.
Kinsta Agency Partner Program offers opportunities for upsells and recurring revenue for agencies. WordPress hosting for agencies has become an integral service offering, and clients would naturally turn to agencies for hosting their sites. Agencies can capitalize on these opportunities to generate more income.
With the Kinsta Agency Partner Program, you don't have to worry about maintenance. Kinsta takes care of all the site maintenance. The platform runs on the Google Cloud Platform, and this gives sites the benefit of Google's scalability, state-of-the-art security, multi-regional deployment, and high performance. Besides, the service itself takes care of time-consuming server maintenance tasks so that agencies can focus on their core business.
Kinsta is an innovative WordPress hosting platform with many innovative technologies, including many innovative ways to gear up the speed for agency sites. Some of the innovative features that Kisnta already has a Faster server-level caching, Scalable infrastructure, Continuous malware scans, and Six types of backup.
The service comes with many advanced tools for developers, such as DevKinsta, Redis, Bedrock and Trellis, Sage, PHP, Application Performance Monitoring, Disk space add-on, and One-click cloning. Developers can get their work done faster and better through these tools.
Kinsta is one of the best hosting services in server response time and uptime. The service comes with excellent performance-related features such as Uptime monitoring, Database optimizations, and Self-healing PHP.
Security in Kinsta is rock-solid with Cloudflare firewall in conjunction with DDoS protection. Besides, the service has many active and passive security measures to prevent unauthorized data access. Most importantly, the service runs on the WordPress Google Cloud Platform, which gives it the benefit of Google's high-security network.
The service also comes with a top-class support service with the most knowledgeable WordPress experts to assist customers 24/7 through live chat and tickets.
Cloudways – Unlimited sites wordpress hosting for agencies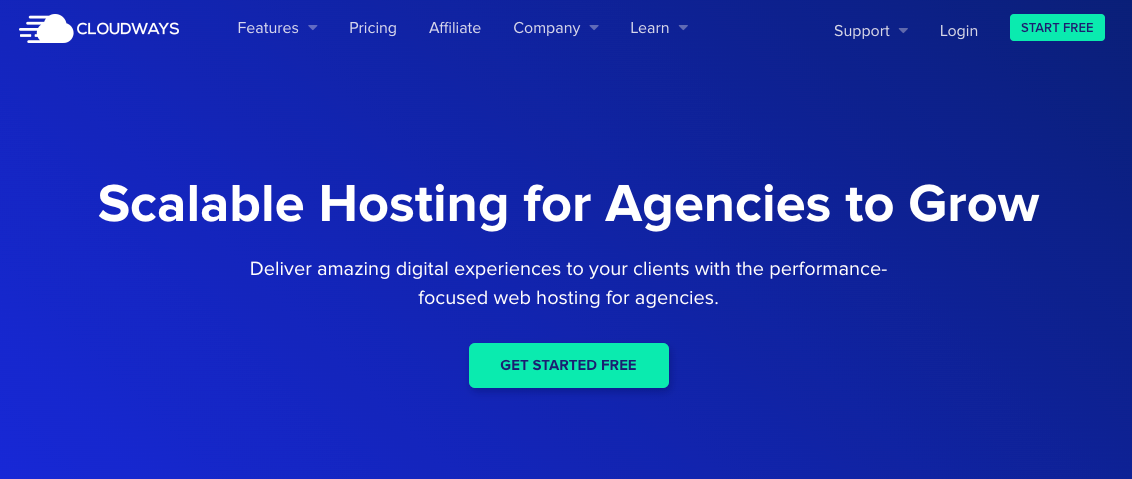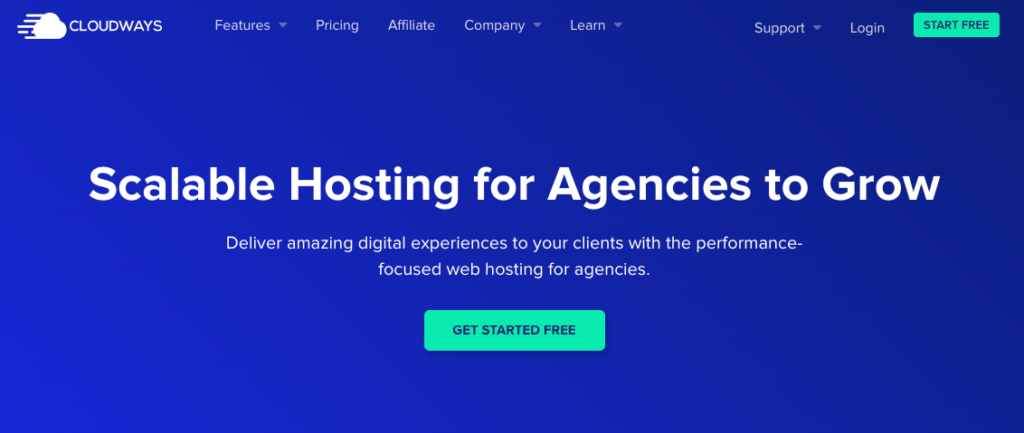 Cloudways is a performance-focused service that offers scalable hosting for growing agencies and helps them deliver the best digital experiences to their clients.
If you're looking for a way to save money on your next project, consider using Cloudways. The service offers agencies five world-class cloud infrastructures to choose from. The options include Linode, Vultr, DigitalOcean, Google Cloud Platform, and Amazon Web Services. Besides, the service offers a straightforward setup. With Cloudways free trial and high discount coupon code, you can get started without spending much money.
Launching a site takes just about a few minutes. The service comes with many PHP applications, such as WordPress, Magento, and Laravel. Users can choose their desired Cloud provider, select WordPress and launch their sites. That's how simple it is.
Cloudways allows agencies to install and manage unlimited sites on a dedicated cloud server. Besides, the service has a straightforward staging for testing different modifications before deploying them on the live site. Users can create staging sites in just a few clicks. Further, the service allows users to clone an entire server or website with a click.
Cloudways WordPress Hosting for agencies is fully optimized, backed by performance-focused features such as caching plugin, Breeze, and CloudwaysCDN.
Cloudways provides agencies with transparent pricing. Cloudways has a wide variety of plans under different cloud providers. After choosing a plan, agencies can scale up or down per their requirements to optimize operational costs.
The service comes with a robust security setup that comprises Free SSL Certificates, Dedicated Firewalls, 24/7 Real-time Monitoring, Automated Backups, and Regular Security Patching.
Cloudways comes with a dedicated support team to assist customers with their technical queries and issues through 24/7 live chat, phone, and tickets. Besides, the service has good documentation for quick reference.
Nexcess – Bundled hosting packages for agencies


Nexcess is a fully managed WordPress hosting service for faster, more secure, and scalable websites. The service comes with many smart built-in monitoring tools.
Nexcess comes with dedicated WordPress features to help agencies speed up their workflow. The service comes with WordPress Core Updates and WordPress Plugin Updates. Besides, Nexcess comes with Visual Regression Testing and a One-Click Staging site.
Nexcess offers excellent performance, and Nexcess sites are lightning-fast. The service makes it possible through advanced performance features such as Multi-Layered Caching, PHP 7 & 8 compatibilities, Nexcess CDN, Image Compression, and Image Lazy Loading. Besides, Nexcess also has its Performance Monitor Plugin.
Nexcess also has better scalability, and agencies can scale up their resources per their growing needs. Besides, the auto-scaling feature helps users quickly meet increased demand, bypassing the PHP capacity limit for short durations.
Security is exceptionally tight in Nexcess. If we look into the security features of Nexcess, it includes Free SSL Certificates, Daily Backups, and iThemes Security Pro. All these features make Nexcess sites highly secure.
Some other features that can be pretty handy for agencies are Full Server Access, Developer Tools, Email Hosting, Staging & Production Sync, and Stencils for Rapid Site Creation.
Nexcess also has a highly reliable and dedicated support team that works round the clock to assist users with their technical queries and issues through live chat and tickets.
Flywheel – All-in-one solution hosting for Agencies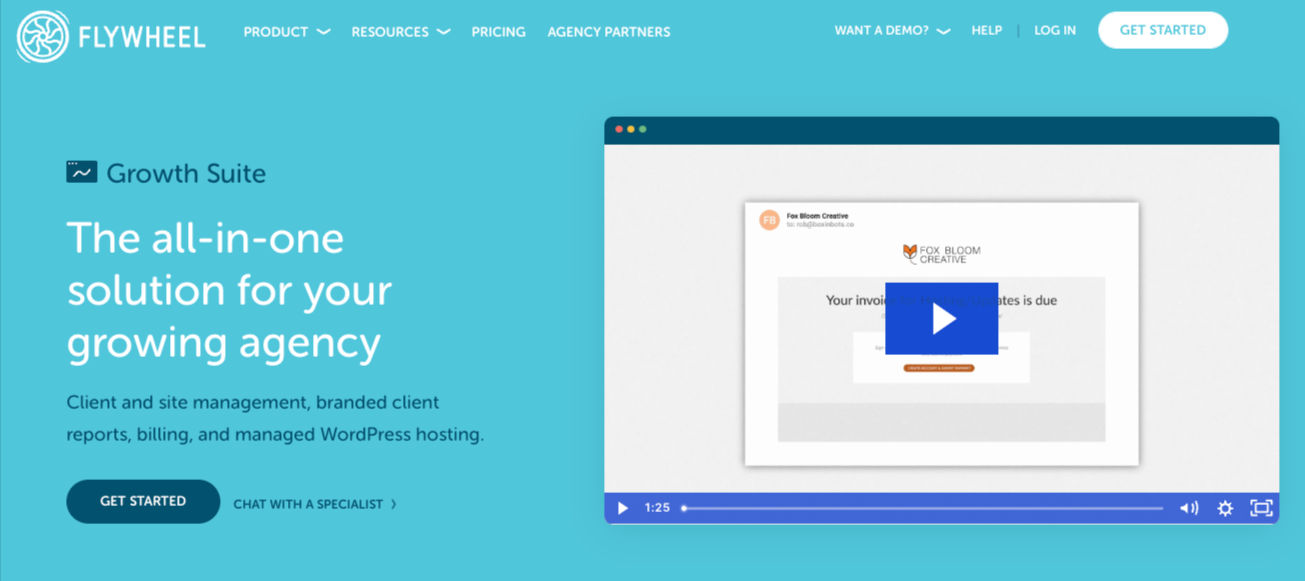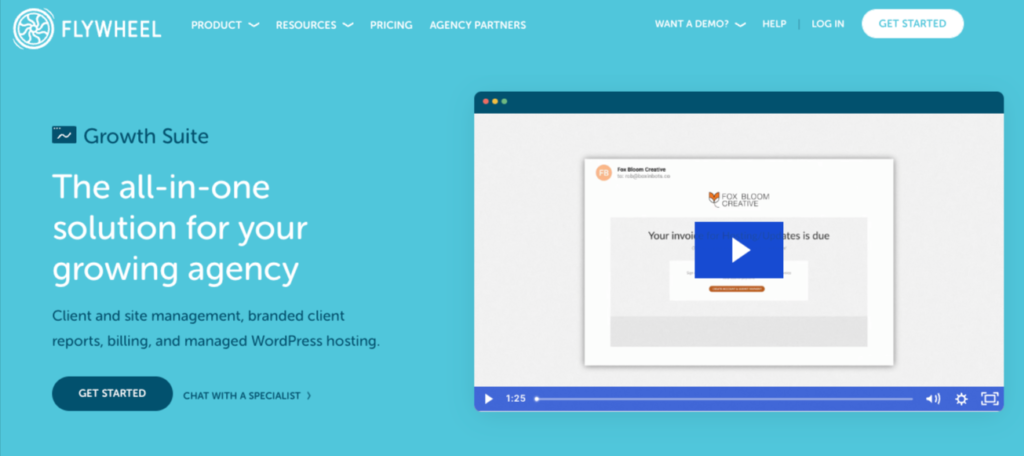 Flywheel's Growth Suite is an excellent managed WordPress hosting solution for any growing agency. The service provides customers with straightforward client and site management. Besides, it comes with branded client reports and billing.
Flywheel Growth Suite comes with an unimaginably intuitive dashboard. The dashboard is personalized and comes with easy-to-digest data that can largely help agencies grow more quickly and predictably. Most importantly, the dashboard focuses on replacing all unorganized spreadsheets and extra costs to offer you the correct information and more confidence to earn more monthly recurring revenue and scale up your agency.
Client management is a breeze with Flywheel Growth Suite. Growth Suite addresses the issue that most growing agencies face with client management. The service provides users with powerful client management tools such as the client portal and agency-branded client reports integrated with Google Analytics, CRM, and email communication. These tools will always help your agency look professional whenever you have new clients.
Growth Suite helps you in proving your value to clients using branded reports. If you wonder what branded reports are, these are automated reports that come with integrated Google Analytics, site performance updates, and any recent work done on the site. Besides, you can schedule the reports, and that way, you can always catch the attention of your clients.
Flywheel Growth Suite also helps you get paid on time through its subscription billing option. The option allows you to bill your clients for recurring or one-time services. Besides, you can apply discounts, add invoice notes, and bill your clients in multiple currencies using the subscription billing option.
The service also helps you make data-informed decisions, and it does it through its personalized dashboard. The dashboard offers users intuitive insights about revenue, billing, and services. Agencies can use the data to make excellent business strategies for recurring revenue.
Most importantly, the service is built on Flywheel's reliable hosting platform. Flywheel's managed WordPress hosting has blazing-fast site speeds, exceptionally secure infrastructure, collaborative workflows tools, and 24/7 support.
WP Engine – Industry leader in WordPress hosting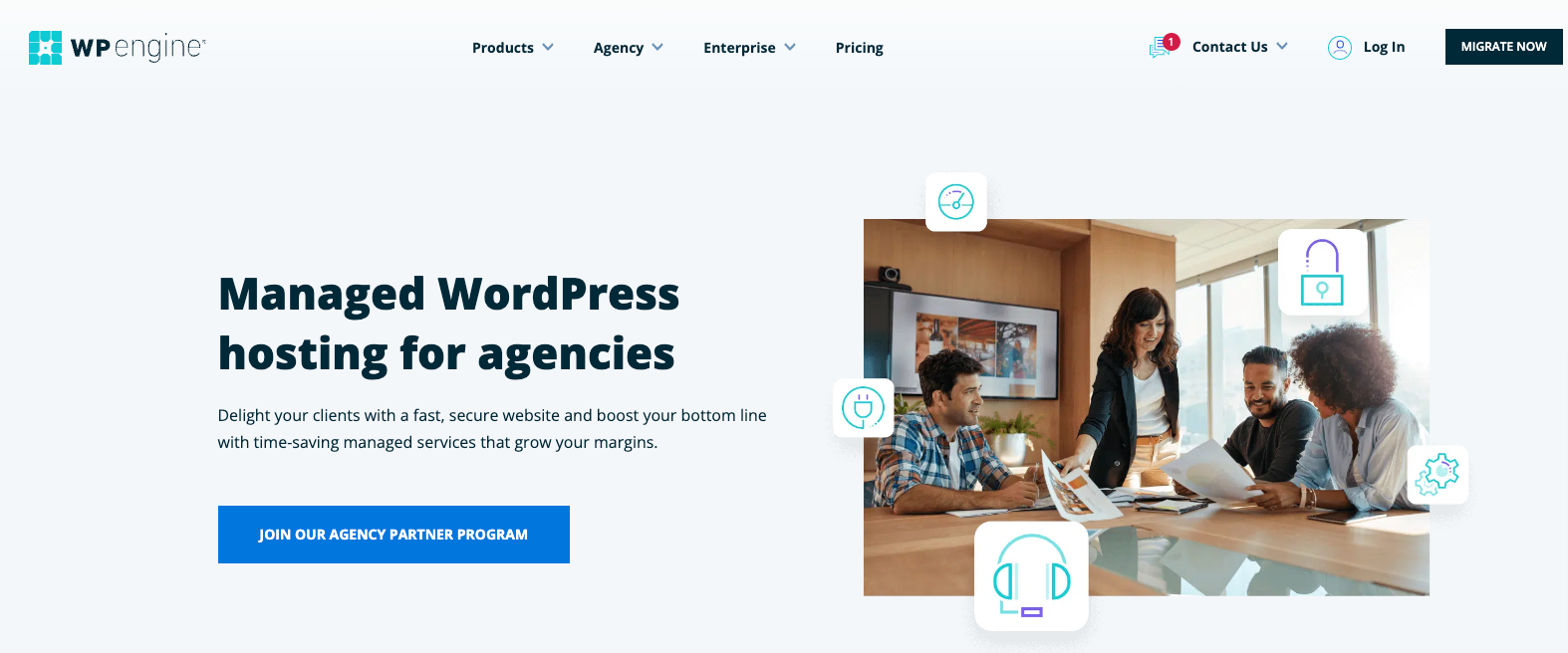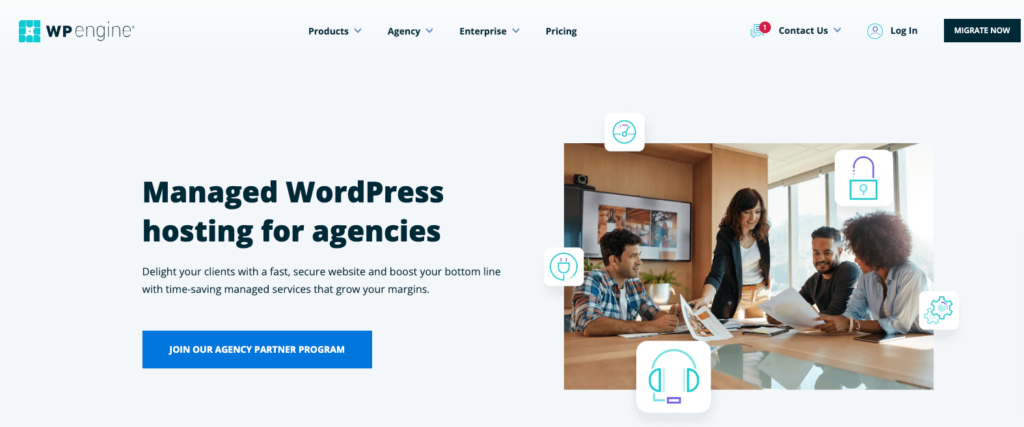 WP Engine Managed WordPress hosting for agencies is a scalable platform with features built explicitly with agencies in mind. The platform allows agencies to host fast and secure websites to delight clients. Besides, the service helps agencies boost their margins with time-saving managed services.
WP Engine helps agencies build websites faster with modern WordPress. Agencies can use the various tools that WP Engine provides them with to speed up work. Agencies can use beautiful templates, powerful custom building blocks, and performance-optimized themes to create stunning client websites. WP Engine Genesis plugins and themes can drastically speed up work and help agencies build better sites for their clients in the quickest time.
With WP Engine, you hardly have to spend any thought on maintenance since everything is always configured correctly. Besides, WP Engine comes with real-time security threat detection, free SSL Certificates, and EverCache. Further, the service comes with managed WordPress patches and updates.
WP Engine offers World-class hosting infrastructure and performance. The platform allows users to choose from over 20 data centers through its scalable global CDN, which will help sites deliver content faster to their target audience.
Reselling WP Engine hosting to clients is another excellent feature for agencies. Reselling helps you enjoy volume-based discounts and time-saving managed services. At the same time, reselling WP Engine can help agencies keep their clients happy.
WP Engine comes with an expert client support team, and agencies can reach out to the support team whenever they encounter technical issues. The WP Engine experts will be there 24×7 to help users.
Templ – Google Cloud based hosting for agencies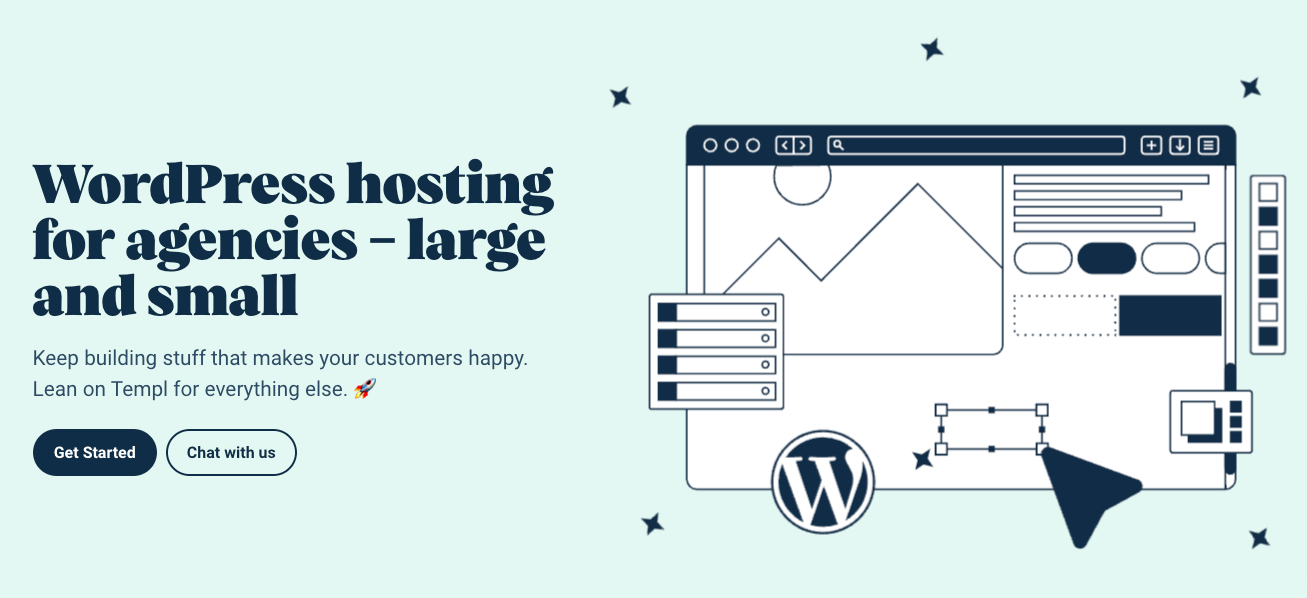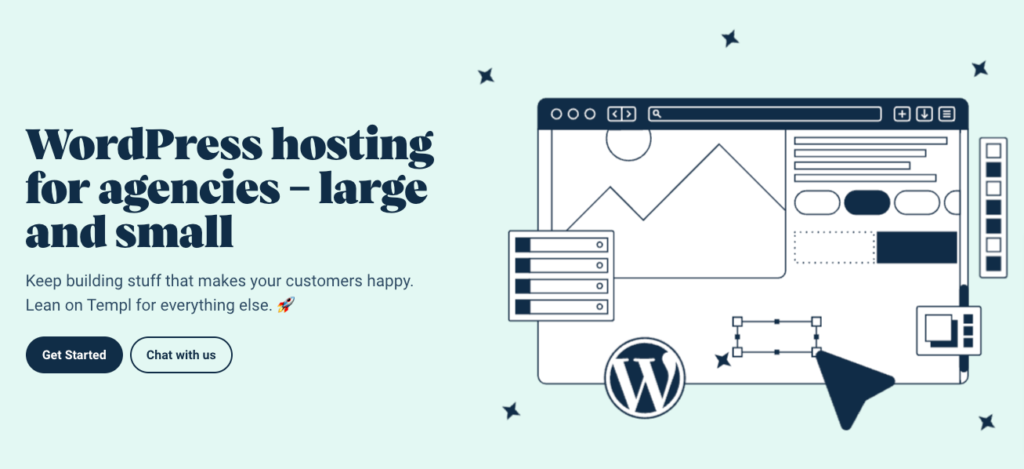 Templ is another reliable WordPress Hosting service for small and large agencies. The platform has the advantage of running on the Google Cloud Platform. The most commendable thing about Templ is that it offers free Google CDN, which is one of the most potent CDNs.
Templ offers agencies a super flexible setup, and agencies are free to choose a setup that works best for them, be it reselling, earning commissions by referral, or both.
By being a Templ partner, agencies can get exclusive features such as free development sites, team support in Slack, and a control panel with the agency logo.
Templ offers a smarter workflow for agencies with its hosting, especially for WordPress. This ensures that agencies can launch and manage their sites with much ease. Besides, it's pretty easy to migrate websites from other hosting platforms to Templ.
Templ does a brilliant job of protecting its sites against hackers. Templ websites are highly secure, backed by 24/7 tight monitoring, regular software updates, and free SSL. Besides, Templ has the advantage of Google's advanced security.
Templ has many handy developer tools for a faster and smoother development process. These tools comprise git, Staging Environment, WP-CLI, Composer, Node.js, Bedrock, and more.
The Development Sites feature is also an excellent option for agencies. It allows agencies to create sites for free with Templ's Dev-plans and convert them into recurring affiliate revenue as they are ready to launch.
The service comes with unlimited free site migrations. Agencies can have as many sites migrated to Templ with the help of Templ's experts for free.
The service comes with high performance. The host fixes all issues that cause load times lagging and gives sites the advantage of complete speed optimization. Further, the service runs on the Google Cloud Platform, making it insanely fast and stable.
Templ has a highly reliable backup system. The service offers daily backup and stores every backup point for a month. Besides, it's straightforward to restore a backup point.
Rocket – Cloudflare Enterprise hosting for agencies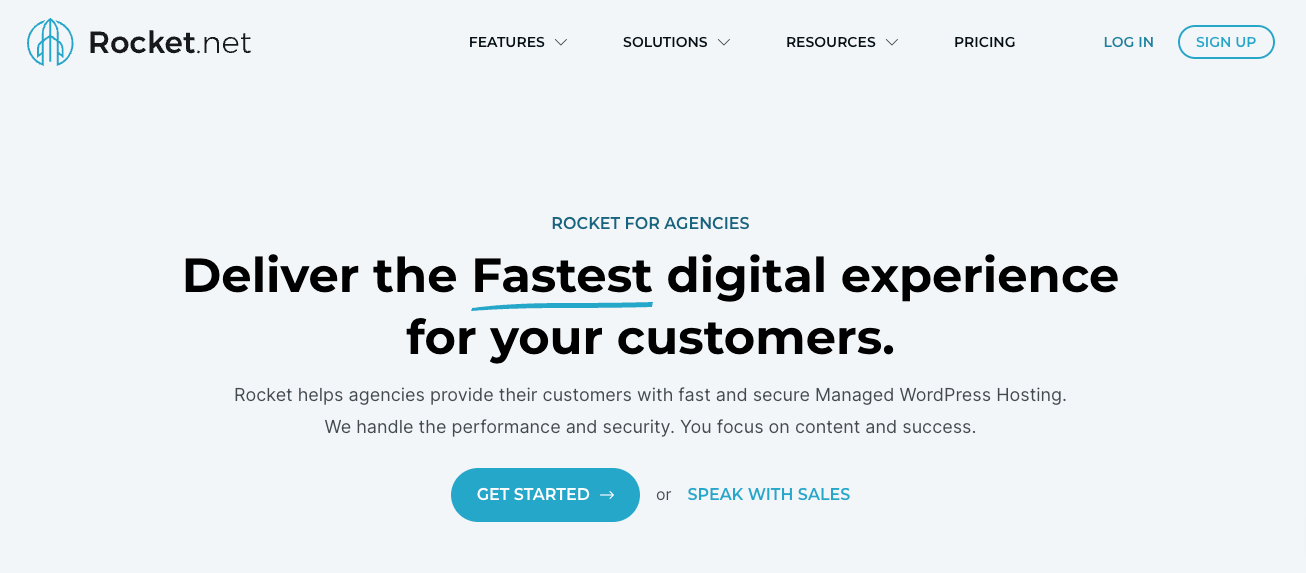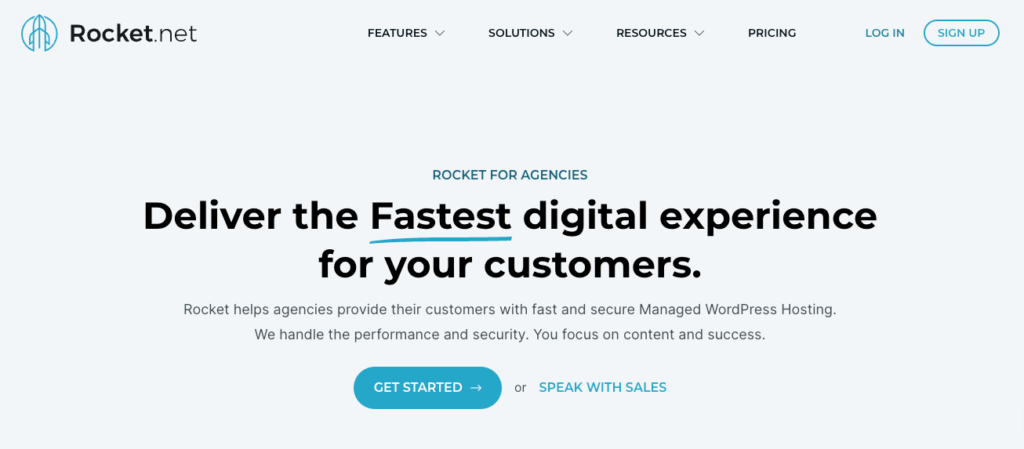 Rocket is another great option for agencies. Rocket is a fast and secure Managed WordPress Hosting service. The service comes optimized with performance and security, and there are hardly any configurations required on the customers' end.
Rocket comes with an easy-to-use Control Panel for the development, staging, launching, and boosting of the performance of WordPress sites. The platform allows customers to easily manage backups, create free staging sites, and change PHP versions from the control panel. Further, the control panel comes with SSH Access and SFTP Account Management.
The platform is built for speed, and Rocket sites are blazing fast, backed by powerful speed optimization features such as built-in full-page caching and CDN. The service performs well and helps sites maximize their SEO and conversion rates.
Rocket comes with built-in and always-on Enterprise Security. An Enterprise Website Firewall protects every Rocket site. Besides, the service offers real-time malware scanning and brute-force prevention. Other security features include Automated Bot Protection, Malware Patching, and Weak Password Prevention.
Site Migration is pretty hassle-free in Rocket since the service has a dedicated team of experts to migrate sites for free within 60 minutes of signing up. Besides, customers can also preview them on a temporary domain before making any changes.
A2 Hosting – Affordably priced plans for agencies


A2 Hosting Managed WordPress is a high-performance, secure, WordPress-focused service that helps agencies build fully featured WordPress websites. The host takes care of all the upgrades, patches, and maintenance.
A2 Hosting Managed WordPress comes with the advantage of turbo servers that offer up to 20X faster speeds. Besides, A2 has its A2 Optimized plugin that comes pre-configured with the best speed and security settings.
The service comes with many managed WordPress Security features, including JetPack Security, cPanel Security, A2 Optimized alongside KernelCare, HackScan Protection, and Reinforced DDoS Protection. Hence, A2 sites are highly secure.
The A2 WordPress hosting package is compatible with popular page builders such as Elementor, Divi Builder, Beaver Builder, SiteOrigin, and Bold Grid.
The service has one of the finest support teams in the industry. A2's support team, the Guru Crew, has the most experienced executives. The team does a commendable job assisting the customers in breaking out of their technical difficulties 24/7 through live chat, tickets, and phone.
Pressable – Scalable WordPress hosting for agencies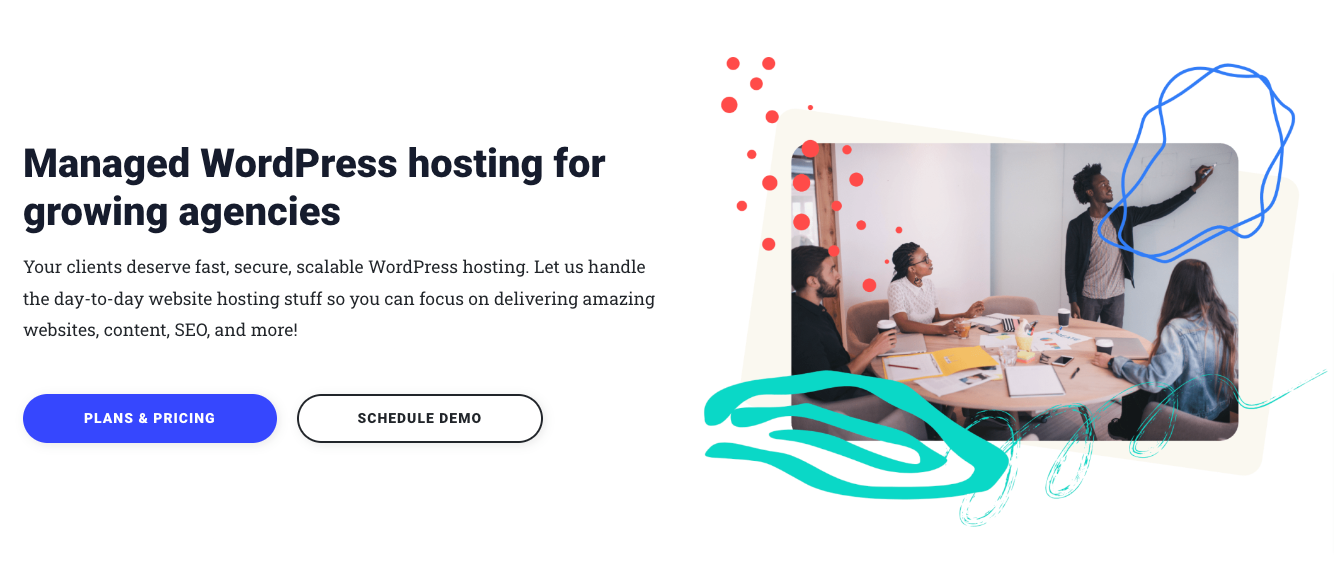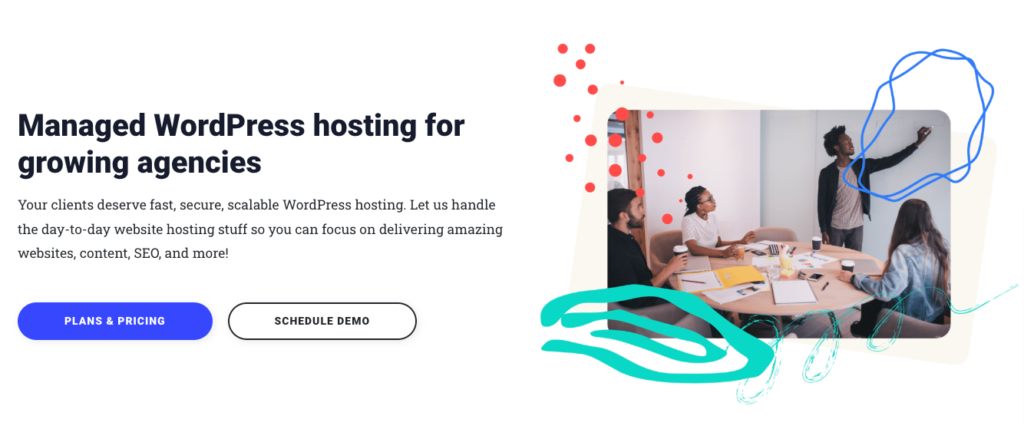 Pressable offers Managed WordPress Hosting for growing agencies, fast, secure, and scalable. Agencies can deliver significant value to their clients through the Pressable Managed WordPress Hosting service.
Agencies can constantly increase their revenue through this service. Most importantly, Pressable has many developer-friendly features essential to ease building, launching, and managing multiple sites.
Pressable Managed WordPress Hosting lets agencies earn more from hosting while managing and maintaining client websites. The service ensures it by reducing agencies' workload and overhead.
As far as performance goes, Pressable does a commendable job of offering excellent speed, which is done through its speed-optimized cloud-based architecture. The enterprise-level speed also impacts the SEO and click-through rates for sites. Apart from speed, Pressable also ensures an exceptionally stable uptime, and Pressable comes with a 100% network uptime guarantee backed by its advanced network architecture.
The service comes with airtight security to protect sites against malware attacks and hackers. The platform has robust server-side security in conjunction with SSL certificates and Jetpack.
Pressable comes with an unimaginably intuitive control panel, which helps agencies manage multiple sites efficiently. On top of that, the host focuses on minimizing tasks for the users. For example, the host updates the WordPress core and takes care of the other site maintenance tasks so that agencies can only focus on making their clients happy.
Pressable offers transparent and straightforward pricing. Customers can choose plans based on the number of sites and monthly visits they need, from 10 websites to 150 websites and more. The lowest tier plan starts at $75 and comes with two additional free months.
It's time to look at the support service, and Pressable has an excellent support In-House team with real-world WordPress developers and engineers. Over the years, the support team has done a brilliant job addressing customer technical issues 24/7 through live chat, tickets, and phone.
Besides, the support team does proactive performance monitoring sites to identify and fix every issue. Further, the support team also offers managed migrations.
Pagely – Premium WP Hosting for agencies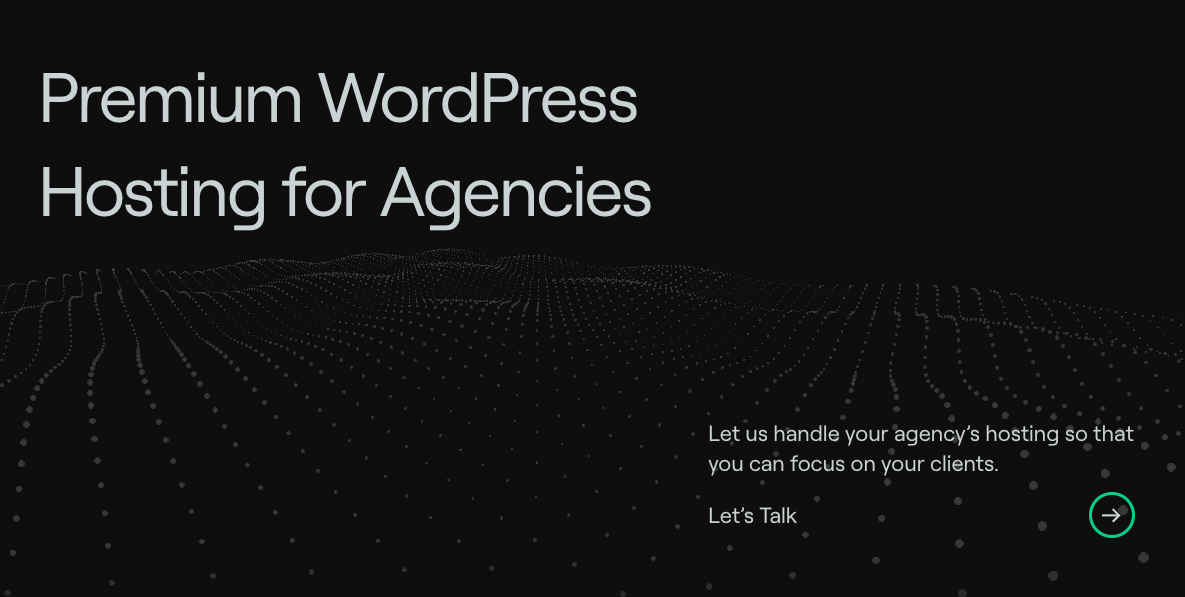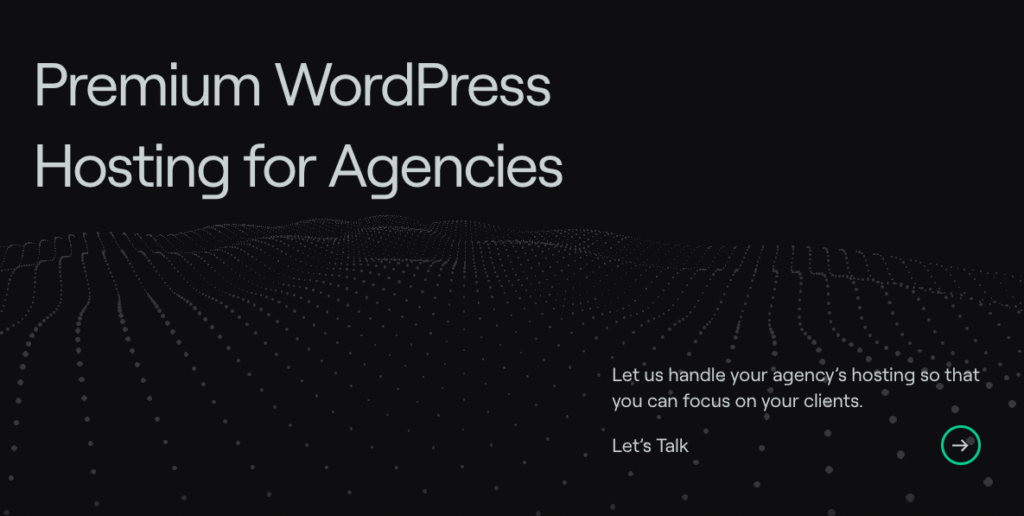 Pagely offers premium WordPress Hosting for agencies. The service is scalable, reliable, fast, and secure. The host manages a lot of tasks, and that way, agencies can focus better on fulfilling their client's requirements.
Pagely takes good care of site's performance and security. This includes performance optimization, code reviews, security updates, server management, WordPress, and plugin updates.
Pagely has been around for ten years and has earned the reputation of being the Premier Managed WordPress Hosting solution out of its outstanding service so far.
The service is highly flexible and customizable. Since every project differs, agencies can adjust the service per their unique needs.
Agencies get a lot of benefits once they partner with Pagely. This includes direct access to the Pagely team via Slack, Listing in Pagely's Agency directory, Referrals and recommendations by Pagely, Collaboration on content, and other co-marketing.
Pagely has an excellent support team with the industry's experts and experienced engineers. The support team does its best to help the agencies keep their clients happy. Most importantly, every issue is resolved without escalating, making the process fast. Agencies will have direct access to the support team through Slack.
Wrapping Up
Agencies need to manage multiple clients and websites, which is not easy unless one uses the best WordPress Hosting service. Choosing a reliable WordPress hosting can reduce a lot of workload and overhead. On the contrary, lousy hosting will only slow down the work process.
I have shared the ten most reliable WordPress Hosting for Agencies in this post, and I am sure you will find the best WordPress Hosting for your agency from these ten services.