Cloudflare is a popular content delivery network (CDN) and distributed domain name server(DNS) service, provider. It was created to speed up the loading of websites and to protect against attacks.
The Cloudflare Enterprise WordPress Hosting is a new service that combines the power of the Cloudflare CDN with the stability of WordPress hosting. This service is designed for businesses that want the best of both worlds: fast loading times and security.
This post will cover the best six Cloudflare Enterprise WordPress Hosting services, pricing, and features.
Best Cloudflare Enterprise WordPress Hosting Services
Rocket.net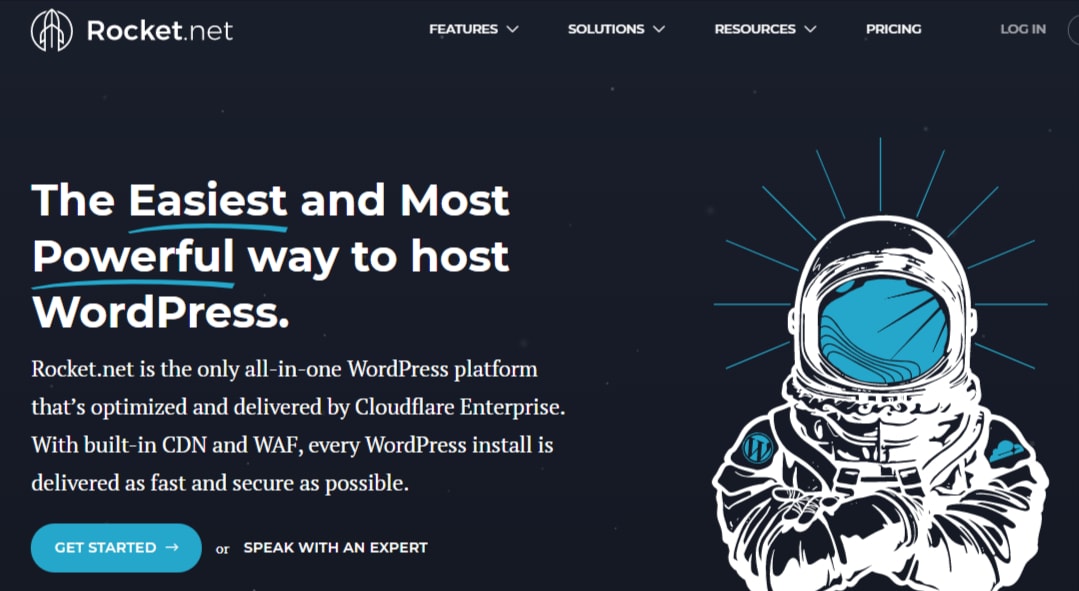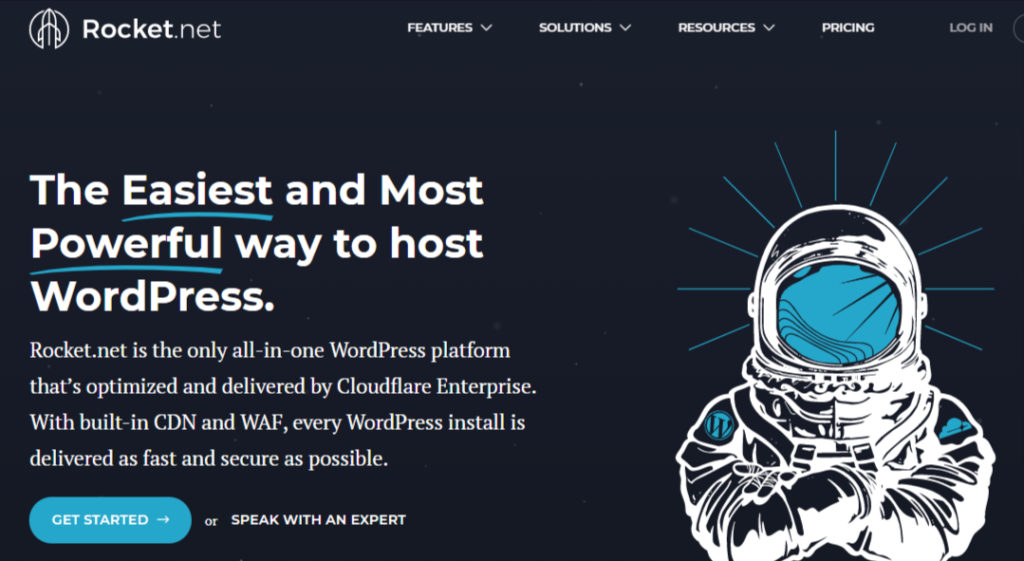 Rocket.net is a simple, fast, and secure WordPress hosting with free Cloudflare Enterprise. The service is fully managed and exceptionally easy to set up and manage.
Besides, the service comes with many advanced features, and there is hardly any critical feature missing in Rocket.
Rocket has four different pricing based on the number of WordPress Installs, Visits, and Storage. You can start for as low as $30 per month with Rocket, and the Enterprise plan is the highest tier plan and comes with the maximum resources of $200 per month.
All plans are offered at monthly and yearly billing. However, with annual billing, you have the advantage of 2 months off. Further, Rocket provides a 30 days money guarantee on all plans.
Further, all Rocket plans come with a launch special of $1 for the first month, which means Rocket will charge you only $1 for the first month, irrespective of the plan you choose.
All plans come with the following features:
99.99% Uptime Guarantee
Free SSL Certificates
CDN
Web Application Firewall
20+ Global Server Locations
Automatic Daily Backups
Hands-free Migrations
It's time to look at the features of this service. Rocket comes with an excellent dashboard. The dashboard is easy to use and allows you to manage the different aspects of your account from a single point. Using the dashboard, you can deploy WordPress in seconds, use One-click Staging, manage backups, add unlimited users to your account, SSO to WP Admin, and 2FA.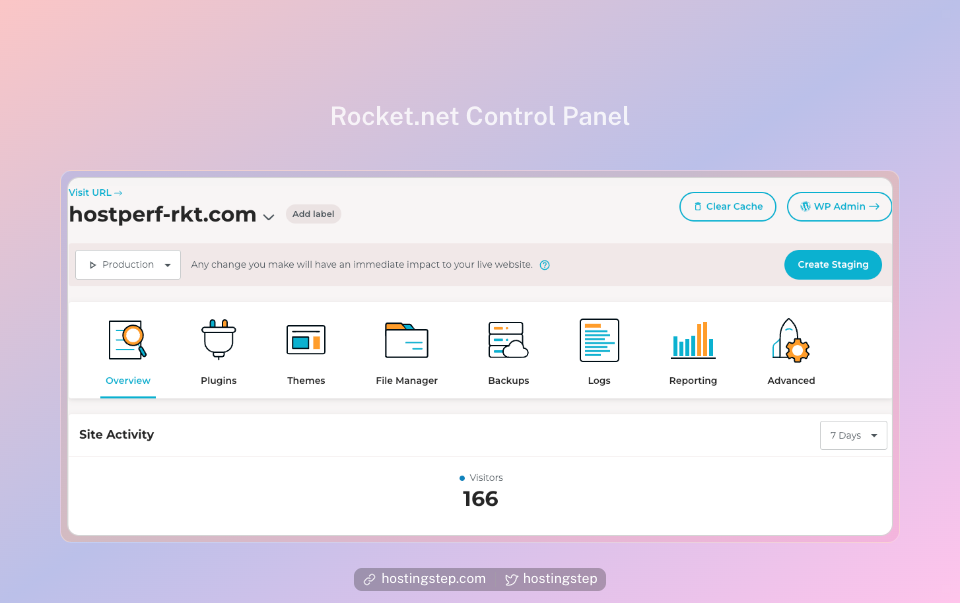 Rocket offers lightning-fast speed. Whenever you host a WordPress website on the Rocket platform, it's automatically configured for maximum speed, which will eventually help you with higher conversions and SEO scores.
Let's look into features that are helping the performance. Rocket has its always-on Enterprise CDN, which gives you the advantage of 200+ global locations, full-page caching, image optimization, and automatic Webp Conversion.
Rocket has over 20 data centers across the globe, which is a decent number for anyone to select one's desired server location to host one's website from the closest server to one's target audience.
The service comes with always-on full-stack WordPress security. Rocket combines Cloudflare Enterprise WAF with secured by Imunify360 to provide users with a rock-solid security system for their websites.
While Cloudflare WAF comes with Brute Force Protection, Cross-Site Scripting (XSS), and SQL Injection Prevention, Secured by Imunify360 provides you with Proactive Protection, Real-time Malware Scanning & Removal, and Unlimited Free SSL Certificates.
Further, Rocket offers automatic updates for WordPress Core, Plugins, and Themes to ensure that your website is always running on the latest WordPress and your website has zero vulnerabilities.
As far as Rocket's backup policy goes, the service has a decent backup policy with automatic daily backups with a 14 days backup retention as a part of its disaster recovery plus on-demand backups. Most importantly, Rocket allows customers to access their backup points and restore any point whenever needed without any additional charge.
It's time to look at Rocket's Support, and it wouldn't be wrong to say that the service has an excellent support team to help the customers 24/7 with their technical issues through live chat, phone, and email.
Kinsta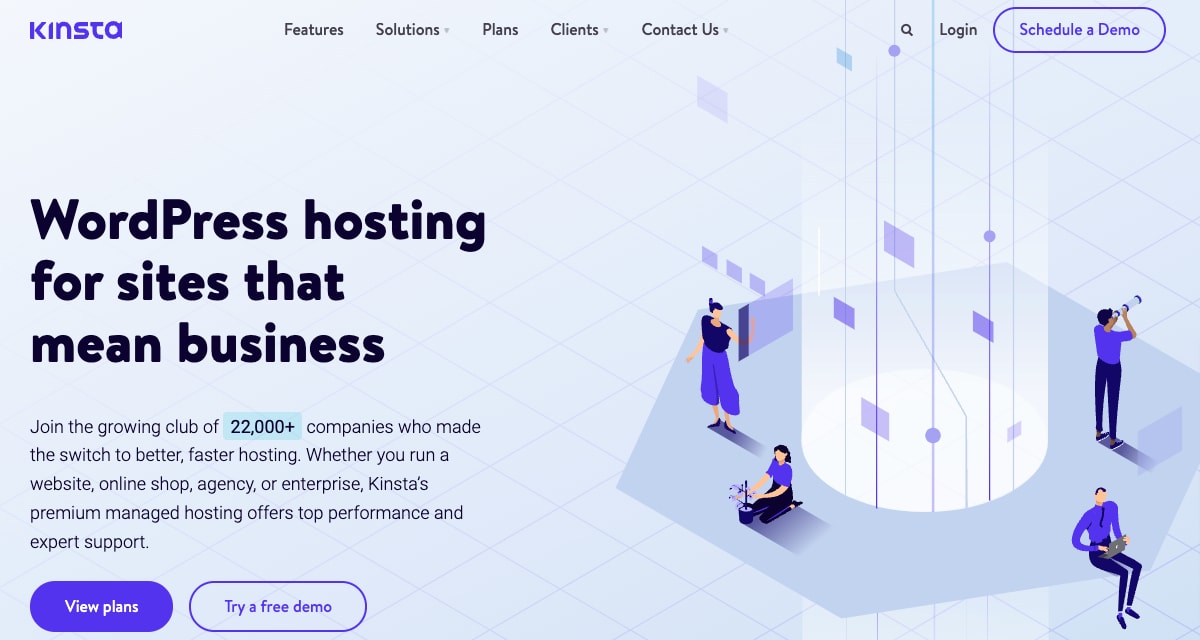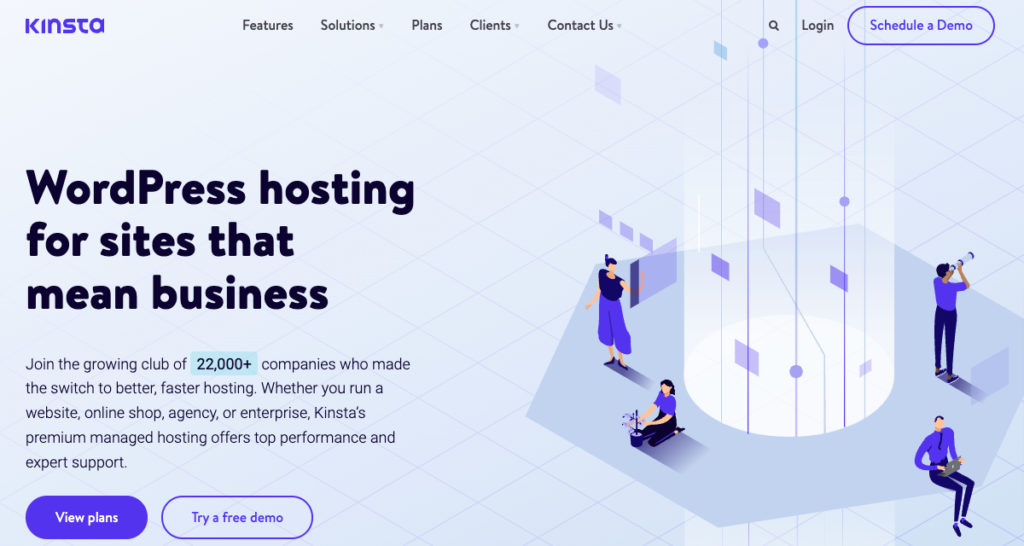 Kinsta is another reliable Cloudflare Enterprise WordPress Hosting service that has been around since 2013. The service uses cutting-edge technology and runs on the Google Cloud Platform, which makes it very reliable in the first place.
Even since Kisnta tied up with Cloudflare, websites have gotten even faster and more secure. Besides, Kinsta comes with many premium features and exceptionally reliable Support.
Kinsta Cloudflare Enterprise WordPress Hosting is available at eleven different pricing based on the number of WordPress installs, visits, and disk space. The lowest tier Kinsta plan starts at $35 per month and comes with 1 WordPress, 25,000 visits, and 10 GB disk space. All plans come with a 30-day money-back guarantee. Besides, Kinsta offers two free months when you choose yearly billing.
All Kinsta plans come with the following features in common:
30-day money-back guarantee
24/7 expert support
Automatic daily backups
Self-healing technology
Hack and malware removal
Enterprise-level Cloudflare integration
34 global data center locations
Automatic database optimization
It's time to walk you through the Kinsta features. Kinsta offers fast performance backed by Google Cloud Platform's premium tier network, fastest C2 virtual machines, HTTP/3 enabled CDN, most rapid server-level caching, and automatic database optimization. In addition, Kinsta has its state-of-the-art technology comprising Nginx, PHP 8.1, LXD, complete software container isolation, MariaDB, and Amazon Route 53 premium DNS, which improves the performance even more.
Kinsta comes with a great control panel called the MyKinsta dashboard. The MyKinsta dashboard is easy to use, and you can manage every aspect of your hosting account. You can work on the MyKinsta dashboard: staging, redirects, debugging, migration, user roles, PHP versions, granular control, and while-labeling. Besides, the MyKinsta dashboard allows you to use developer features such as WP-CLI, SSH, Git, ionCube Loader, and one-click cloning.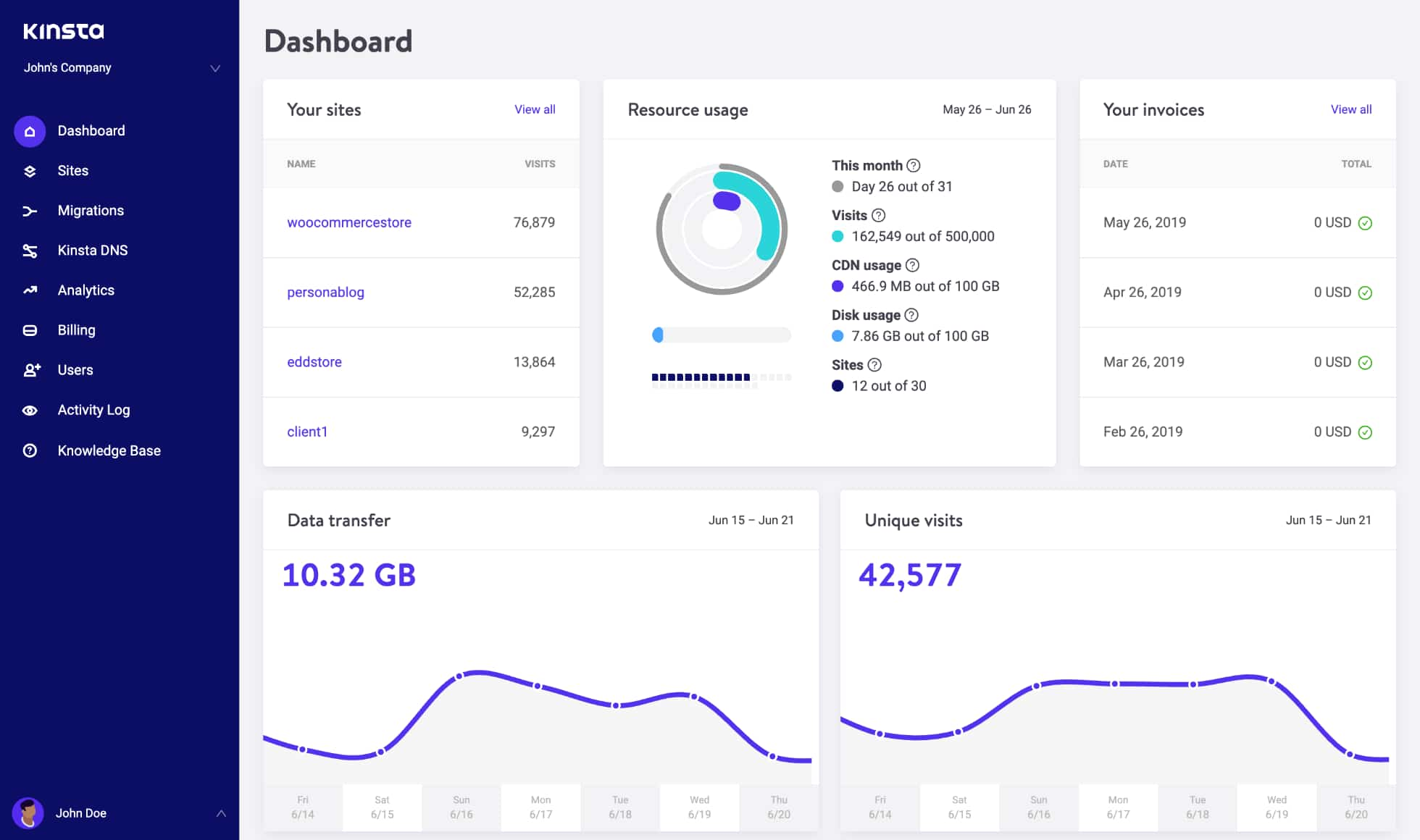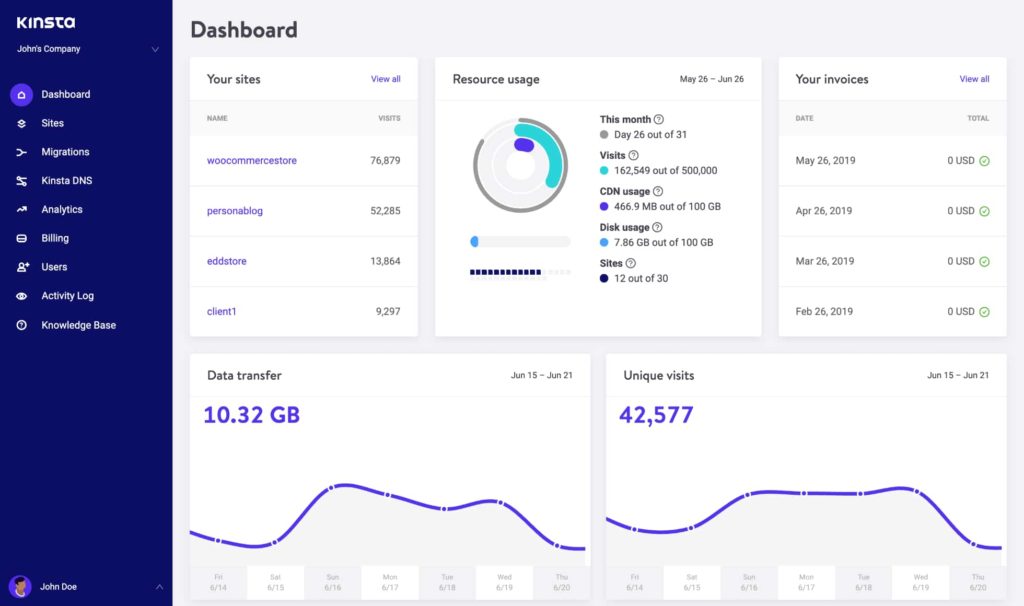 Kinsta also has an excellent security system backed by a 99.99% uptime and hack-free guarantee. The service comes with automatic backups with hourly and external backup add-on options. Next, Kinsta has Cloudflare DDoS protection and free SSL. The service allows you to enable two-factor authentication in MyKinsta for extra security. The service provides secure protocols such as SFTP and SSH to secure your data.
The Kinsta support team has done a commendable job and has a good track record. Considering the Kinsta support, it's highly reliable, with 24/7/365 real-human chat in five languages and documentation in 10 different languages. Customers can connect to the Kinsta live chat in just 30 seconds, which is how fast Kinsta support is. Further, the Kinsta support team is backed by experienced executives to resolve your technical issues in no time.
Checkout Kinsta.com for more details.
Cloudways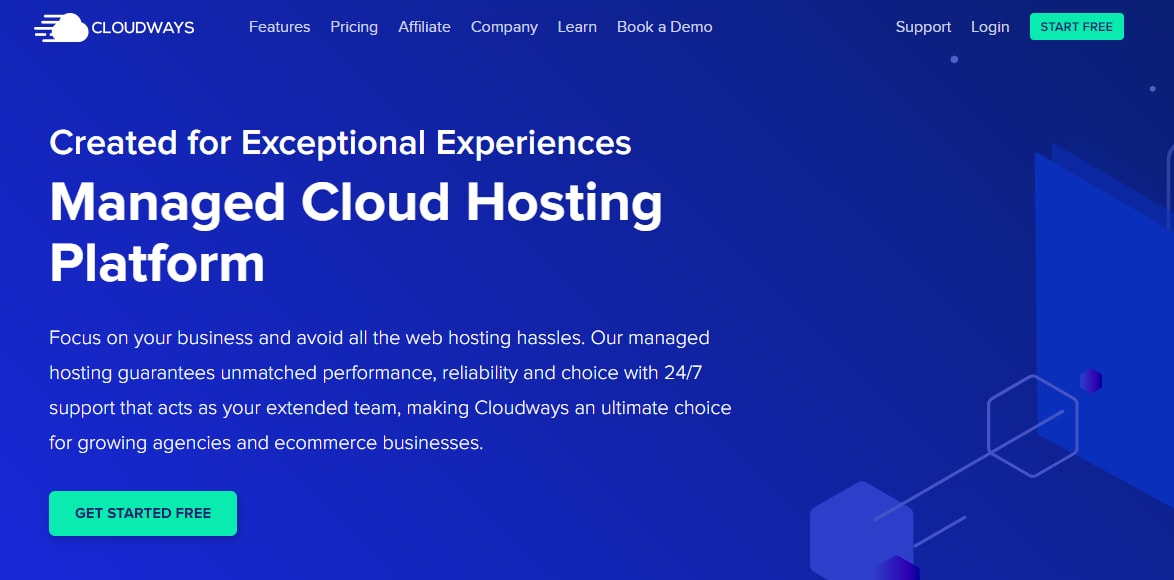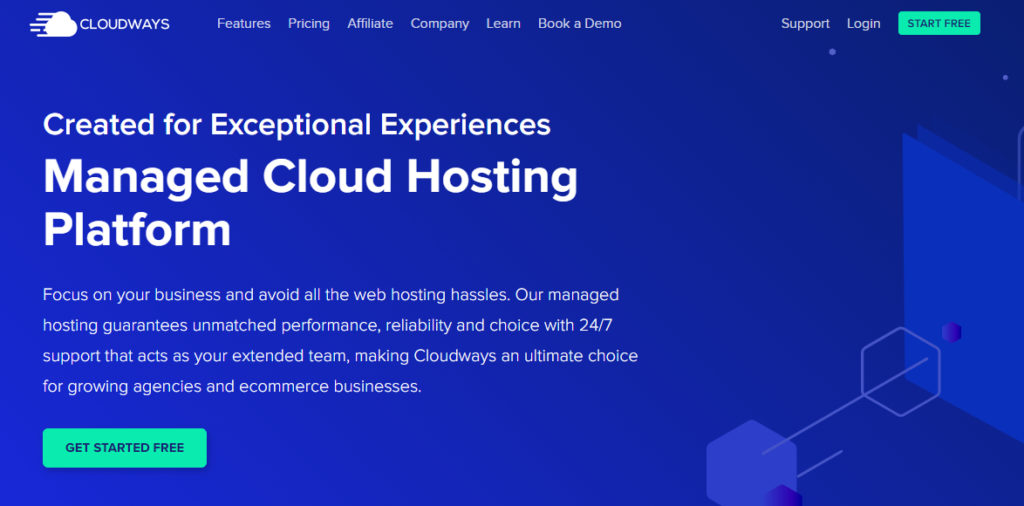 Cloudways is a managed cloud hosting platform with a Cloudflare Enterprise solution. The service offers an excellent blend of performance, reliability, and choice. Further, Cloudways has a highly dedicated 24/7 support team.
Cloudways has excellent pricing, which is based on the pay-as-you-go model. The provider has a wide range of plans under five cloud providers: DigitalOcean, Vultr, Linode, AWS, and Google Cloud. DigitalOcean has the lowest tier plan, starting at $10 per month. The plan comes with 1GB RAM, 1 Core Processor, 25GB Storage, and 1TB Bandwidth. Looking for a coupon code for Cloudways hosting? Check out our exclusive deals and discounts on Cloudways hosting plans.
If we compare Cloudways' pricing with Kinsta and WP Engine, Cloudways is comparatively more affordable.
All plans come with the following features:
Cloudflare Add-on NEW
24/7/365 Support
Free SSL
Free Migration
Unlimited Application Installation
Dedicated Firewalls
24/7 Real-time Monitoring
Automated Backups
Staging Environment
Optimized With Advanced Caches
Auto Healing
Regular Security Patching
HTTP/2 Enabled Servers
Cloudways comes with excellent features. The service offers a straightforward way to launch websites. Cloudways has a clean and intuitive interface, and you can launch cloud servers through the 1-click settings without any command line or cPanel. Everything is straightforward and fine-tuned in Cloudways, and it hardly has space for confusion.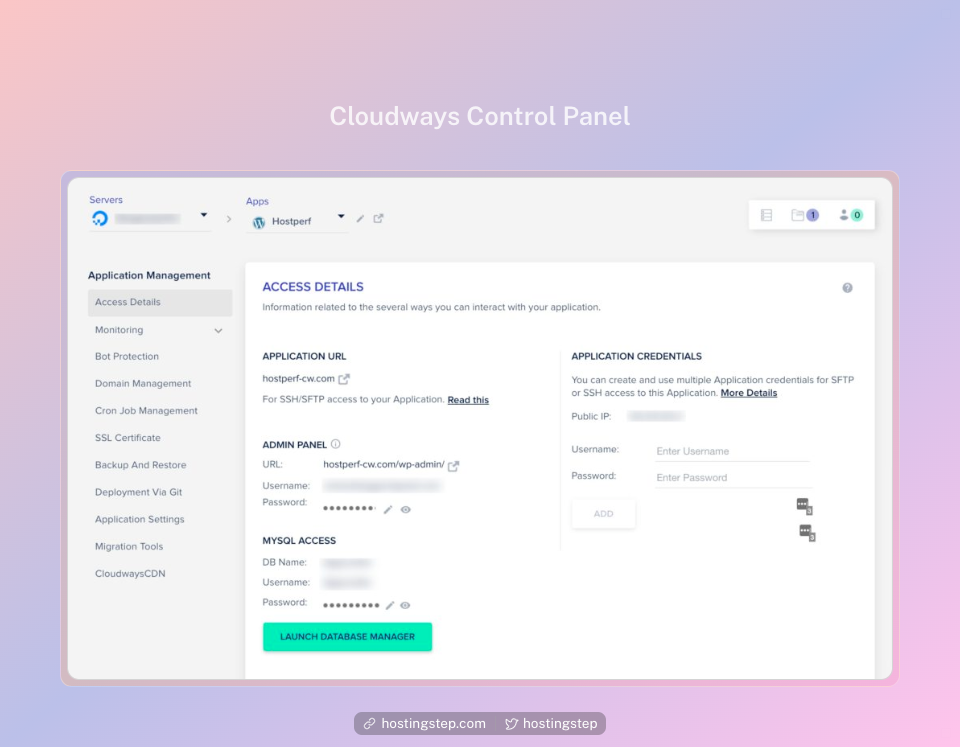 The service gives you an excellent control point for managing everything. It includes replicating an install, migrating WordPress sites flawlessly, adding more websites to the same server, adding team members and collaborating in real-time, changing data centers, managing cron jobs, changing cloud infrastructure, monitoring and adjusting multiple servers and apps, and staging.
The service comes with faster page loads and 99% uptime. Cloudways achieves it through its Blazing-Fast Thunderstack consisting of Nginx, Apache, Memcached, MySQL/MariaDB, Varnish Cache, PHP-FPM, Redis, and PHP 8. Apart from this, Cloudways comes with its Cloudflare Enterprise add-on. The company provides websites with extra enterprise-grade performance features: priority CDN, tiered cache, advanced image, mobile optimization, and the fastest possible content delivery. Further, Cloudways uses auto-healing servers, built-in advanced caches, SSD drives Dedicated Environment, HTTP/3 Support, and PHP 7.3-ready servers.
Cloudways comes with comprehensive security features, and websites hosted on this platform always have robust security. Cloudways' security features include firewalls, Login Security, Bot Protection, Regular Security Patching, Database Security, Application Isolation, SSL Certificates, Operating System Security, Suspicious Device Login Control, Two-Factor Authentication, and End-to-End Encryption. Further, Cloudways customers will have enterprise-grade security with the Cloudflare Enterprise add-on, which comprises advanced DDoS protection and a Web Application Firewall. Cloudways also offers automated and on-demand backups with a 1-click restore.
It's time to look at Cloudways support; the service has a brilliant support team. The Cloudways support team assists the customers through 24/7365 live chat, online ticketing, phone, and private Slack channel. The ticket response is usually pretty fast. Furthermore, Cloudways has a decent amount of online resources for customers to quickly refer to anytime, comprising knowledgebases, blogs, and case studies.
Checkout Cloudways.com for the latest info.
ServeBolt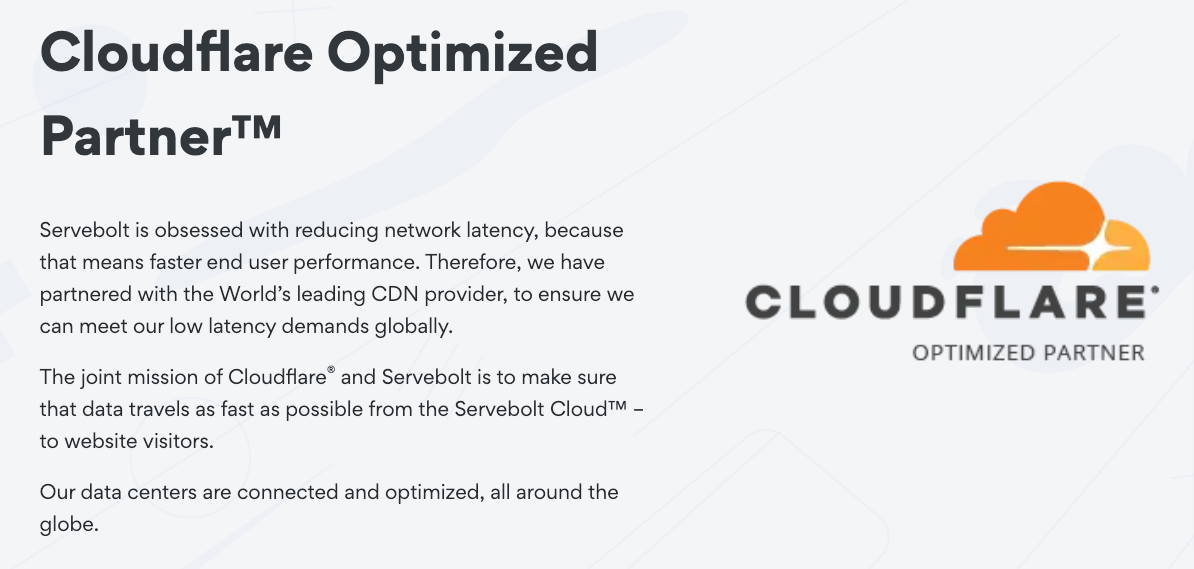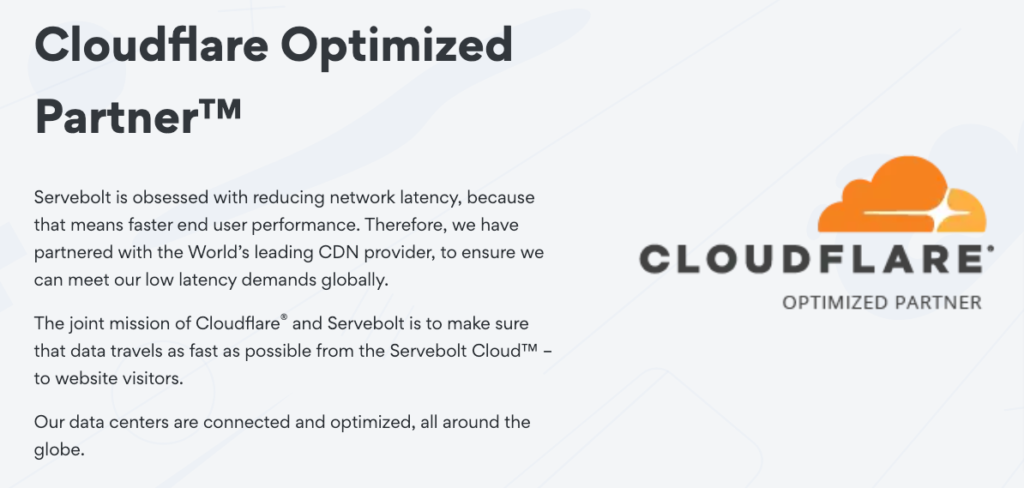 ServeBolt is another excellent Cloudflare Enterprise WordPress Hosting service and a certified partner and reseller. The Serverbold and Cloudflare combination offers world-class web performance and security.
ServeBolt offers customers six high-performance plans to choose from regarding pricing. The lowest tier plan costs $99 monthly for 4 GB storage and three sites. The Business Pro plan comes with the maximum resources. Apart from these, ServeBolt has two Enterprise plans, and customers can start for as low as $649 per month.
ServeBolt offers managed servers with an optimized stack built for performance and a server cache powered by Nginx to reduce server load time.
Besides, the service leverages the World's fastest CDN, Cloudflare, to offer lightning-fast performance and efficiently handle network strikes backed by Cloudflare's 180 PoPs Worldwide and its fully managed enterprise service. Further, the service reduces operational risk and offers good monitoring and disruption management.
The service has a decent security system, combining it with Cloudflare's Enterprise-Grade security features like Web Application Firewall to protect websites hosted on it from malware attacks and DDoS. Besides, ServeBolt comes with disaster recovery backups with a 14- 30 days retention period. Websites are automatically backed up without configuration on the users' end.
ServeBolt has a dedicated Expert support team that does a tremendous job of helping customers break out of their technical difficulties through live chat and tickets.
Convesio

Convesio is a scalable and container-based Cloudflare Enterprise WordPress Hosting service, which is less complex and cost-effective. Besides, the service comes with high performance and scalability. Further, Convesio integrates Cloudflare's Enterprise features to boost performance and security.
The service has three plans: Starter, Business, and Enterprise. The Starter plan is the lowest tier and costs $50 per month for one install, 5GB Disk Space, two vCPU, and 512 MB of Memory. Enterprise Level 7 is the highest tier plan with the maximum resources.
Some features that are included in all plans are:
Free SSL Certificates
Automated Backups
Built-in Caching
Enterprise DDoS Mitigation
24/7 Expert Support
Proactive Monitoring
Malware Cleanup
Now, let me walk you through the features of Convesio. The service offers exceptionally reliable performance backed by its custom-built caching combined with a Node.JS Load Balancer. In addition, the service is integrated with Cloudflare Enterprise for enterprise-grade performance.
The service also comes with a friendly dashboard for simplified WordPress Management, allowing customers to add domains, add SSL, automatically deploy WordPress to a Docker container, and select PHP, WordPress versions, server, and database types. Besides, it comes with decent insights into disk usage, performance, metrics, and errors. Again, scaling is automatically triggered whenever there is a traffic surge.
Convesio comes with robust security, characterized by isolated containers combined with Patchman & Human Presence for malware prevention. Besides, it uses Free SSL Certificates, Free Daily Backups, Two Factor Authentication, WAF access rules, HTTP/HTTPS enforcement tool, configurable backup schedules, and a wide range of security protocols and policies. Further, Convesio is built on Google Cloud and AWS, making it more secure.
Convesio comes with a great backup and retention policy. Customers can easily back up their sites and choose backup retention from 24 hours to forever. Besides, the service allows you to create a staging site from a backup.
Convesio has a dedicated customer support team to assist customers 24/7 through tickets. Besides, the service has good documentation for quick reference.
BigScoots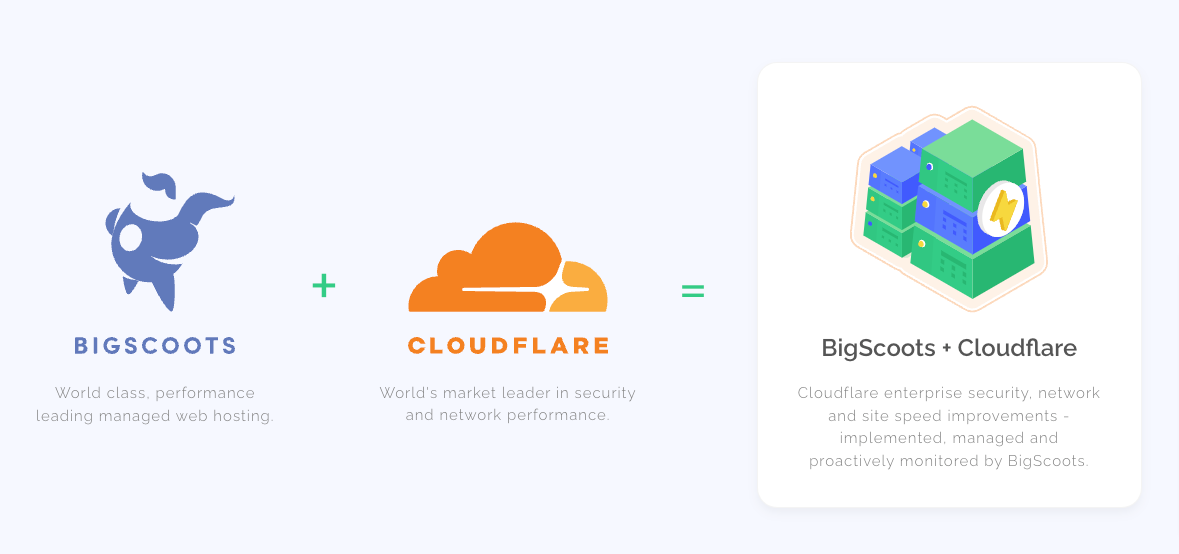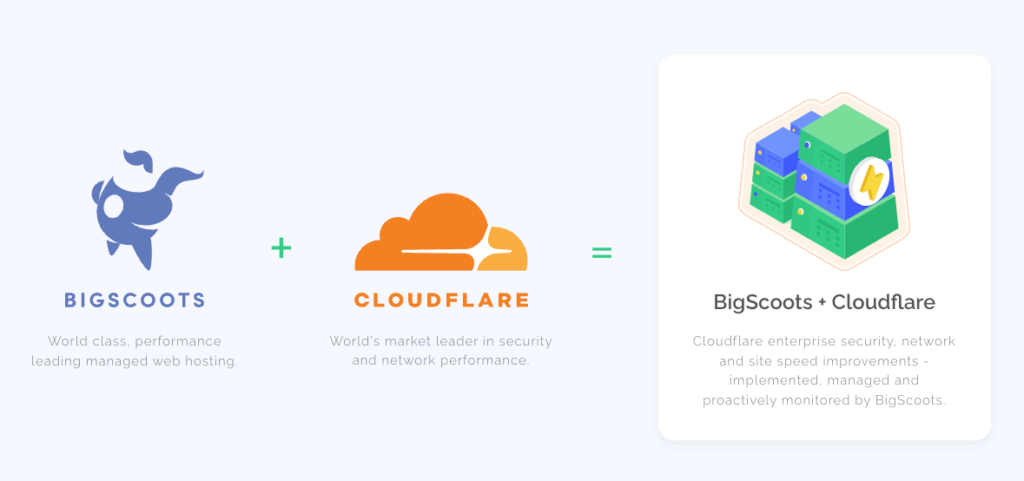 BigScoots is a certified Cloudflare Enterprise partner with world-class management, network, and performance. The service is fully managed and can efficiently handle traffic surges. Besides, it comes with enhanced security.
BigScoots is available in three pricing alongside the Basic plan. The lowest tier plan starts at $17 per month. Tier 3 is the highest tier plan with the maximum resources.
It's time to look at the features of BigScoots. The service has enhanced performance backed by BigScoots' custom caching, intelligent routing algorithms, and real-world network intelligence. Besides, BigScoots leverages Cloudflare's optimization techniques comprising Cloudflare's Argo Smart Tiered Cache, image optimization, and webp image delivery.
BigScoots does a great job when it comes to securing your website. The service comes with hardware network and server firewalls at every level. Besides, it proactively monitors for exploits and security concerns. Further, BigScoots provides you with the Cloudflare Enterprise Partnership add-on, which gives you the advantage of Cloudflare's WAF.
The service comes with a reliable support team comprising experienced executives to assist customers with their queries and issues through 24/7 live chat, email, and phone.
What is Cloudflare Enterprise?
Cloudflare's Enterprise plan is a solution tailored for companies and websites that need the best performance and security. Cloudflare Enterprise comes with advanced tools, reporting, and Support.
The service comes with guaranteed reliability and uptime. Further, the service offers users enterprise-grade security and performance for all applications and networks. Most importantly, Cloudflare Enterprise emphasizes a lower total cost of ownership at every stage, backed by its simple and predictable pricing.
Here are some of the salient features of Cloudflare Enterprise:
Network Prioritization
Secondary DNS
Tiered Caching
Custom Upload Size and Cache Object Size
Real-time HTTP logs
Analytics
Unmetered Enterprise DDoS Mitigation
Role-Based Account Control
Single-Sign-On Support
24x7x365 customer support.
Conclusion
Using Cloudflare Enterprise can create a difference for your site in performance and security. There is no better way to use Cloudflare Enterprise than choosing one of the best Cloudflare Enterprise WordPress Hosting services.
I have mentioned the six best Cloudflare Enterprise WordPress hosting services and their pricing and features in this post. You can choose any of the six services depending on your requirements.