Cloudways vs SiteGround 2022- Who Won The Battle?
This post compares Cloudways Vs SiteGround in terms of performance, support, pricing, and features. If you are looking to compare Cloudways and SiteGround, then you're at the right place.
Cloudways vs SiteGround
Cloudways is a managed cloud hosting platform that has provided businesses of all sizes with unbeatable performance backed by the best technologies and innovation. Cloudways offers you excellent choice and reliability to help you focus better on your core business.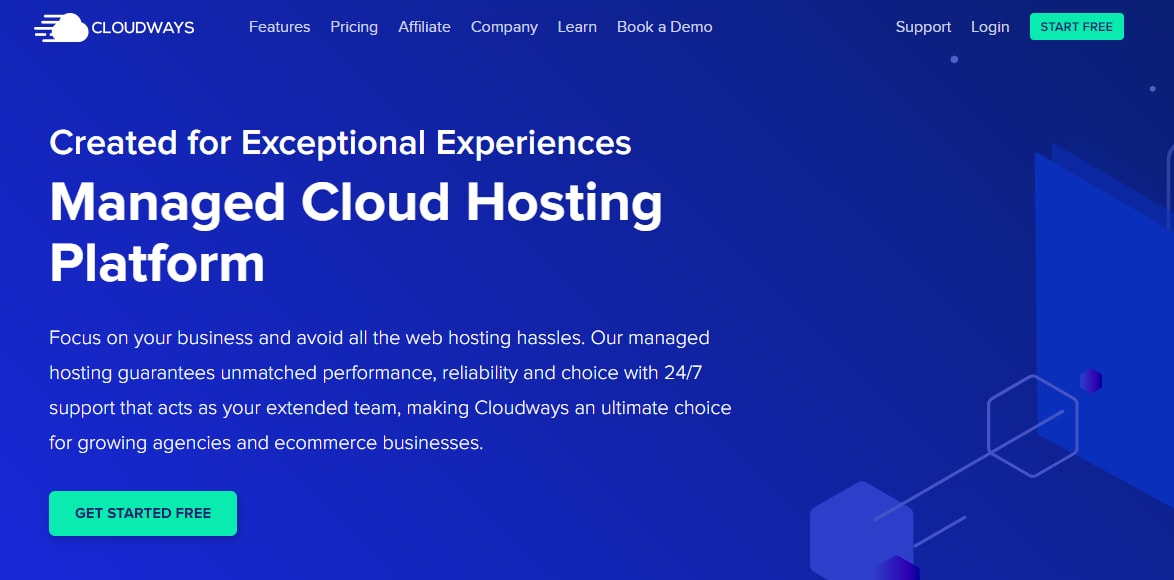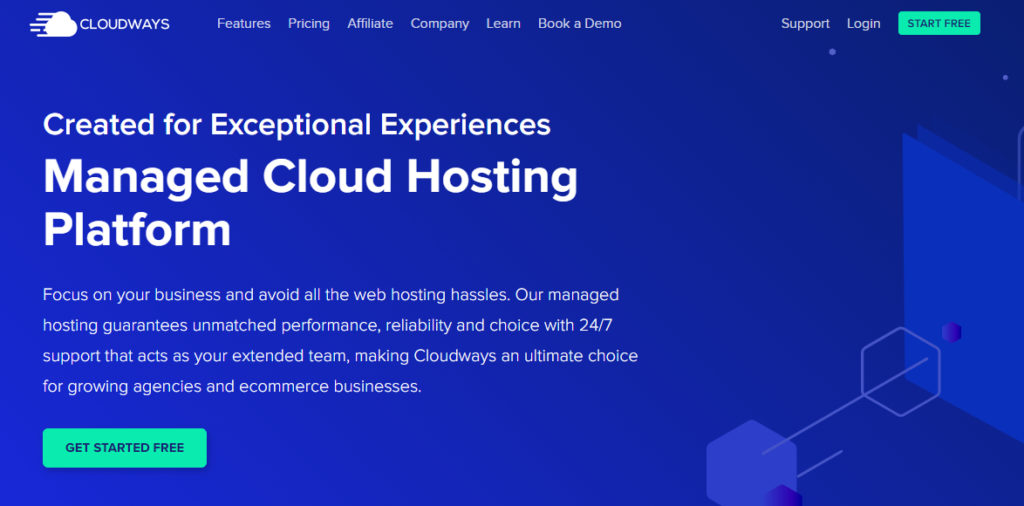 SiteGround has been active since 2004 and is one of the reliable names in the industry. The web hosting platform is specially built for easy management. SiteGround web hosting plans are ideal for small and medium sites. Most importantly, SiteGround comes with brilliant web hosting tools and features.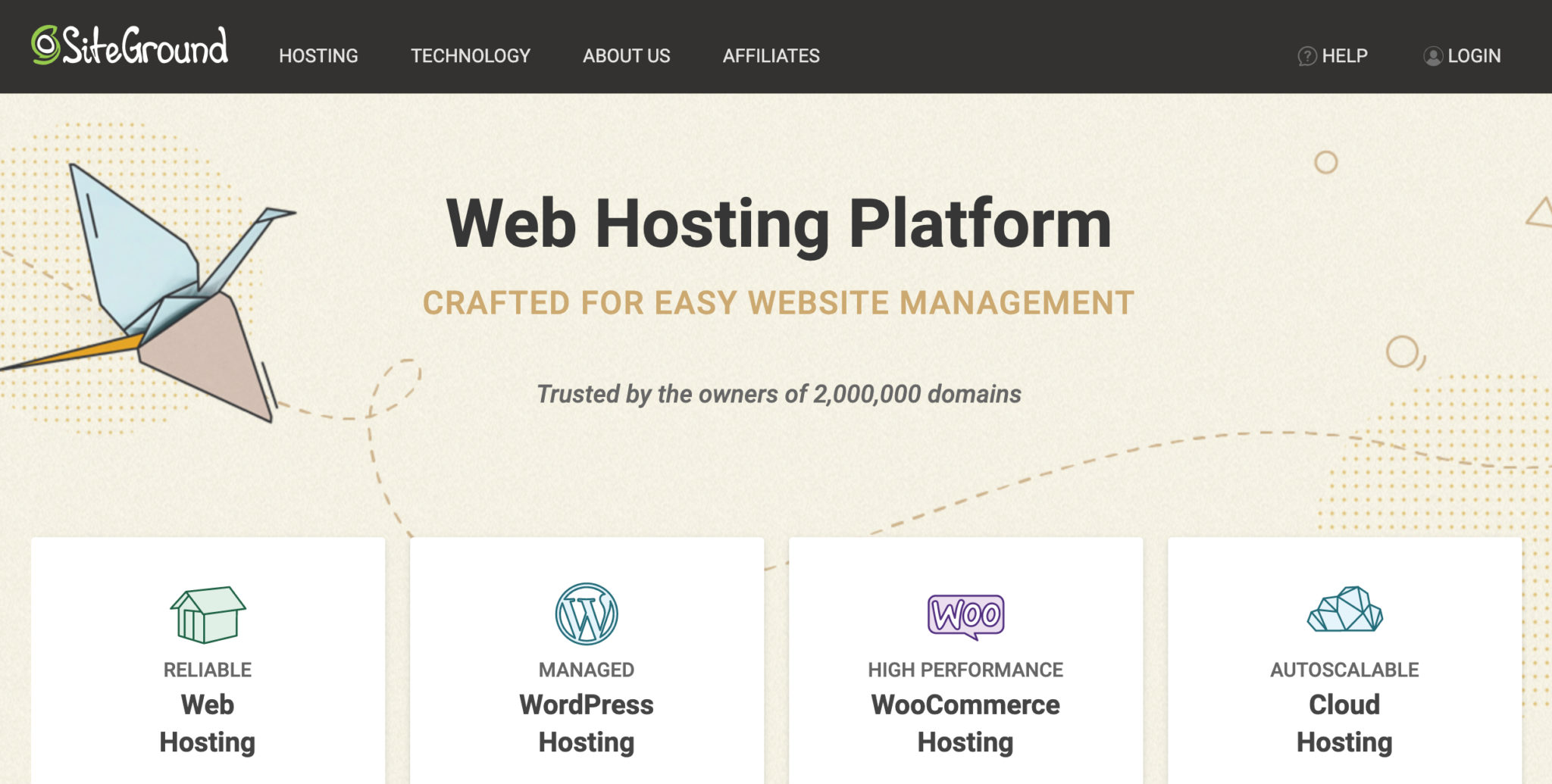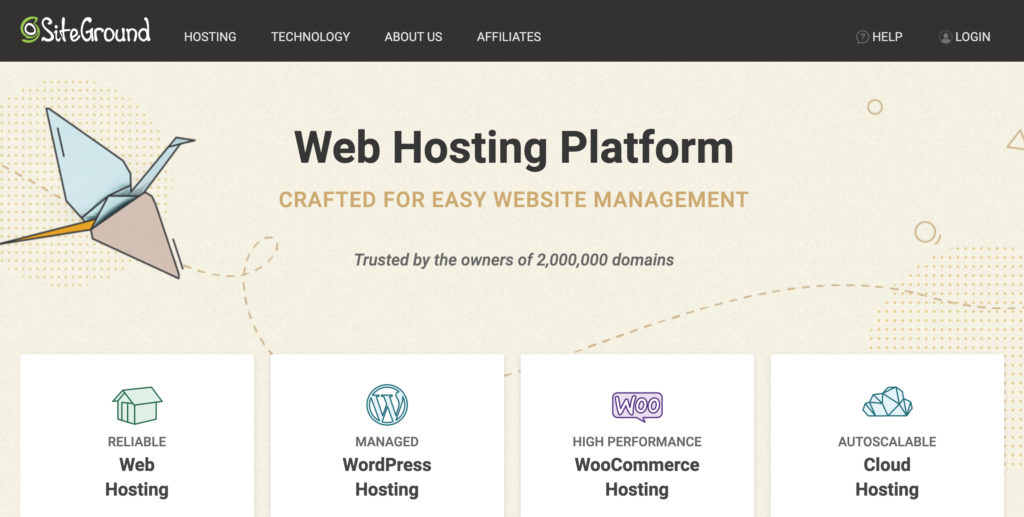 I have carefully compared the features of both the services and reached interesting conclusions, which I would like to share with you in this post. By the end of this post, you will have an obvious understanding of the two services, and it should not be difficult for you to choose between the two.
Cloudways vs SiteGround: Pricing
It's important to understand the pricing model of the two services first, and Cloudways has a pay-as-you-go model. The provider offers customers great flexibility and choice with eleven different plans. The plans differ in terms of RAM, Core, Storage, and Bandwidth. You can easily find the plan that can suffice your requirements with so much to choose from. Here are some of the plans:
DO1GB: $10 per month, 1GB RAM, 1Core, 25GB Storage, 1TB Bandwidth
DO2GB: $22 per month, 2GB RAM, 1Core, 50GB Storage, 2TB Bandwidth
DO4GB: $42 per month, 4GB RAM, 2Core, 80GB Storage, 4TB Bandwidth
DO8GB: $80 per month, 8GB RAM, 4Core, 160GB Storage, 5TB Bandwidth
DO16GB: $135 per month, 8GB RAM, 6Core, 320GB Storage, 6TB Bandwidth
The plans have some features in common, and they are:
24/7/365 Support
Free SSL
CDN Add-on
Free Migration
Unlimited Application Installation
Dedicated Firewalls
24/7 Real-time Monitoring
Automated Backups
Staging Environment
Optimized With Advanced Caches
Auto Healing
Regular Security Patching
HTTP/2 Enabled Servers
SSH and SFTP Access
Team Management
SiteGround provides customers with 3 different plans to choose from. All three plans are available at a promotional price. The plans are based on the number of websites, web space, and monthly visits. Here are the plan details:
StartUp: $6.99 per month, 1 website, 10GB webspace, and 10,000 visits monthly
GrowBig: $9.99 per month, unlimited websites, 20GB web space, 25000 visits monthly
GoGeek: $14.99 per month, unlimited websites, 40GB web space, 100,000 visits monthly
I suggest you select the GrowBig plan at least if you can afford it and choose to go with SiteGround since the StartUp plan allows you to host just 1 website. Besides, if you are looking for features such as staging, on-demand backup copies, and ultrafast PHP, you won't find them in the StartUp plan. However, you don't have such limitations with Cloudways.
The SiteGround plans have some features in common, and they are:
Unmetered Traffic
Free SSL
Daily Backup
Free CDN
Free Email
Managed WordPress
Out-of-the-box Caching
Unlimited Databases
100% renewable energy match
30-Days Money-Back
What is important to understand here is the SiteGround plans are available at a discounted price, but when it comes to renewals, they are a bit pricey than those of Cloudways. For example, if you consider the lowest tier plan, it is $14.99 per month in SiteGround, while you can start for as low as $10 per month with Cloudways.
Cloudways vs SiteGround: Data Center Locations
Cloudways has the advantage of its tie-ups with 5 Cloud providers that include DigitalOcean, AWS, Google Cloud, Vultr, and Linode, which eventually provides customers with a wide range of data center locations to choose from across the globe. That way, you can easily find the closest server location to your target audience, which will help your audience with faster access to your website.
SiteGround has 6 server locations, and besides, it has the Google cloud data center locations as well since it runs on the Google Cloud Platform. Hence, customers shouldn't have any problem finding the closest server location to their global audience in SiteGround.
Cloudways vs. SiteGround: Performance
1. Server Response Time
Moving on to performance, I have carefully tested the average server response time of both services. My site hosted on the Cloudways platform recorded an average response time of 309 ms. In comparison, my SiteGound site had an average server response time of 660 ms, which is more than double the Cloudways average server response time. Cloudways is the obvious winner.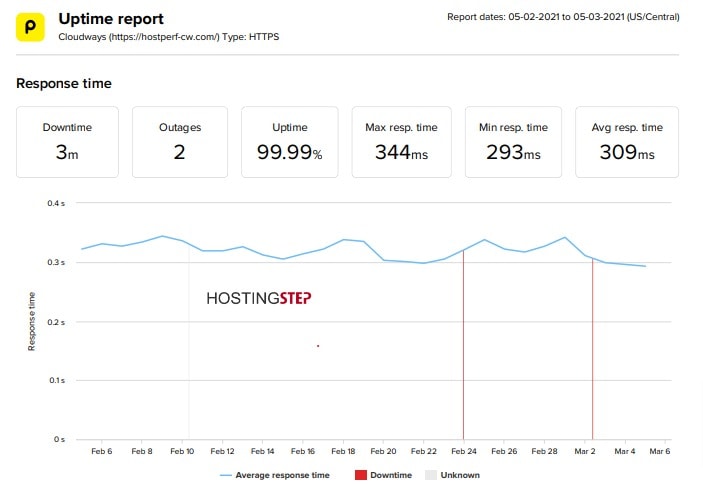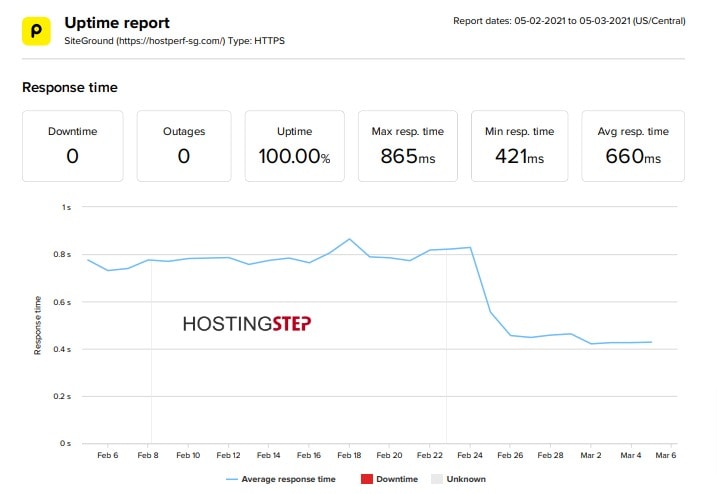 However, it is also essential to look into the factors and technologies that these services use. As far as the Cloudways speed optimization technologies go, it is pretty innovative and advanced with optimized Stack, Built-in CDN, Auto-Healing Servers, and PHP 7.3 Ready Servers. At the same time, SiteGround uses SSD persistent the storage, latest PHP versions, static caching, and Google's ultra-fast network.
2. Uptime
A reliable and stable uptime is an important criterion for any good hosting service these days, and I checked the uptime of both the hosting services for months. Interestingly both the services have been very consistent with the uptime, where SiteGround recorded 100% and Cloudways got 99.99% uptime.
3. Load Testing
Load testing is another crucial test of performance, and I decided to conduct 3 kinds of load testing:
Clients per test (1000 clients in 1 minute)
Maintain Client Load (50 clients in 1 minute)
Maintain Client Load (1000 clients in 1 minute)
Cloudways recorded a response time of 10 ms in 1000 Clients Per Test, 16 ms in 50 Maintain Client Load Test, and 268 ms in 1000 Maintain Client Load test. SiteGround reflected a response time of 45 ms in Clients Per Test, 43 ms in 50 Maintain Client Load Test, and 2929 ms in 1000 Maintain Client Load Test. Hence, Cloudways results are obviously by far better than SiteGround.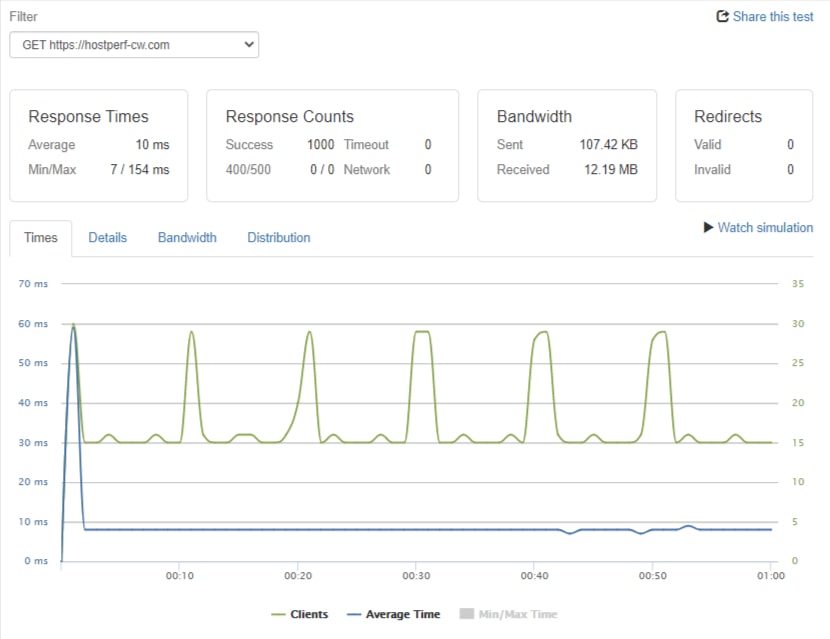 Modified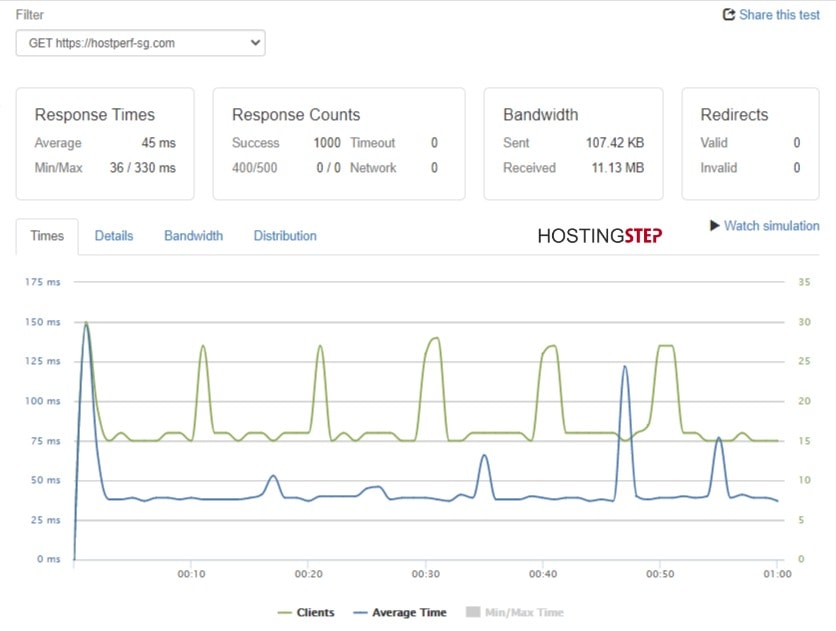 Original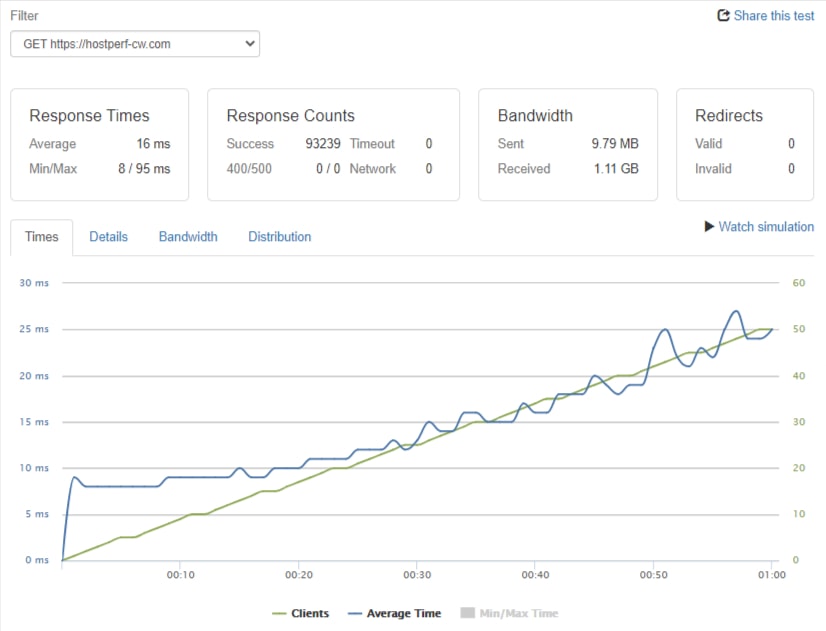 Modified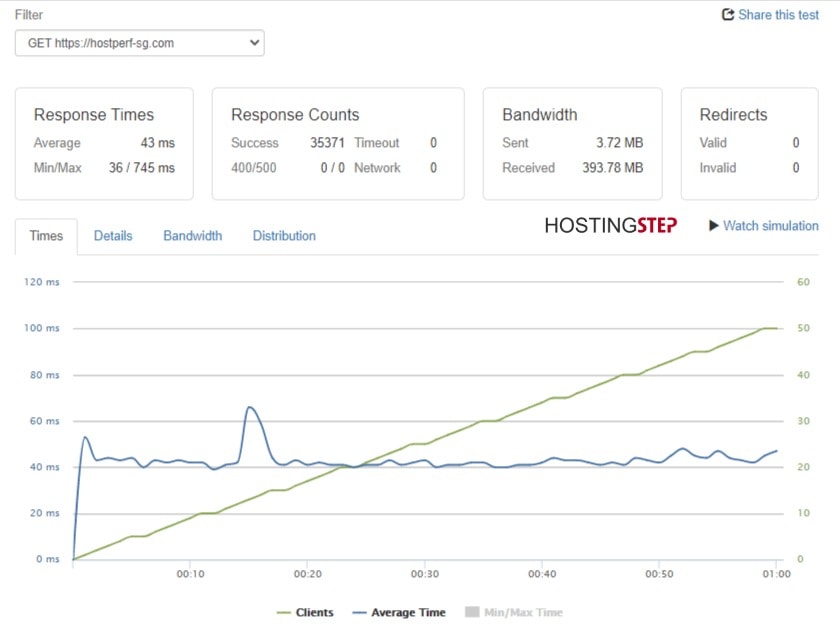 Original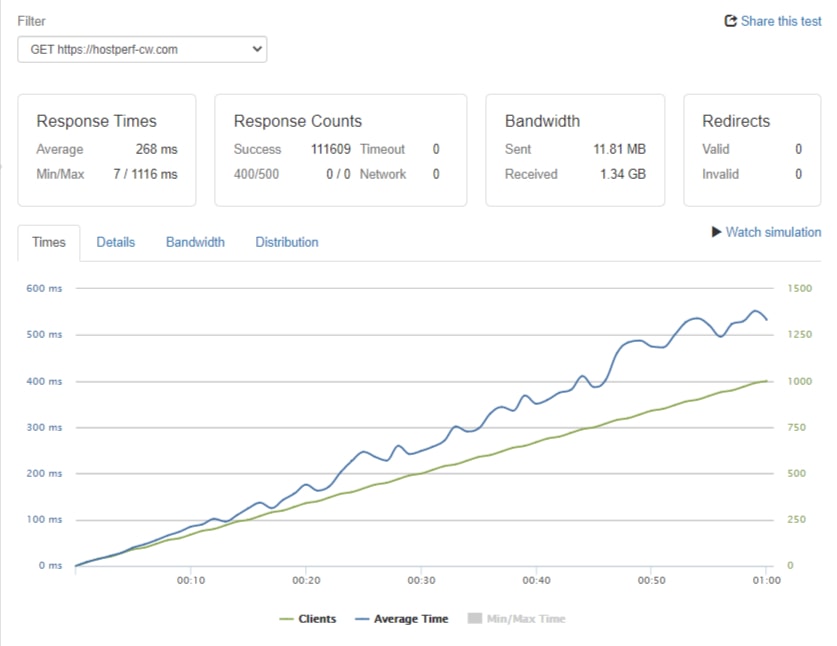 Modified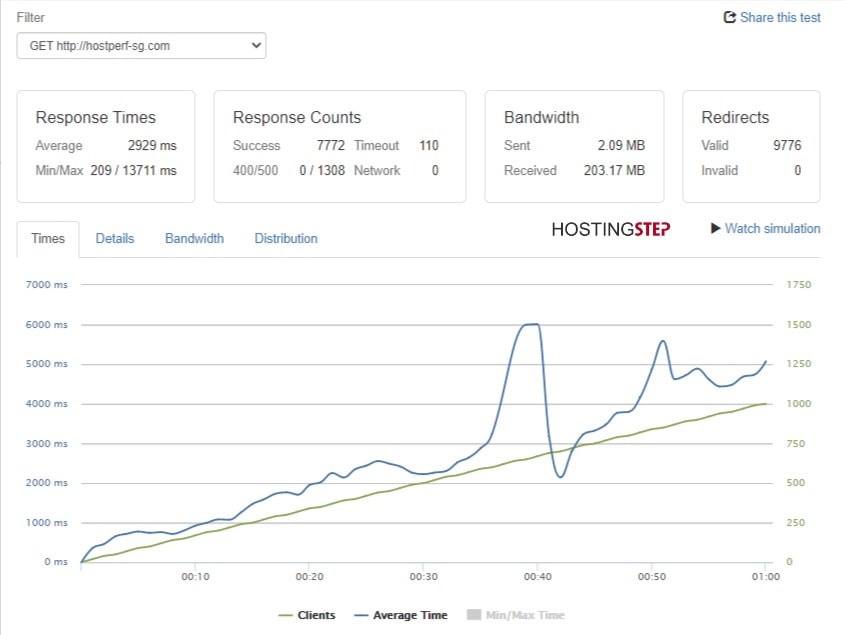 Original
4. Core Web Vitals
Core Web Vitals is going to be an essential ranking factor from May 2021 onward. I checked it for both the services and found them to be equally good based on the three important metrics, Largest Contentful Paint, Total BLocking time, and Cumulative layout shift.
While Cloudways had a Largest Contentful Paint of 0.583 s, a Total Blocking Time of 0 s, and a Cumulative Layout Shift of 0, SiteGround recorded a Largest Contentful Paint 0.876 s, a Total Blocking Time of 0 s, and a Cumulative Layout Shift of 0. Hence, we can see that Cloudways has better scores than SiteGround.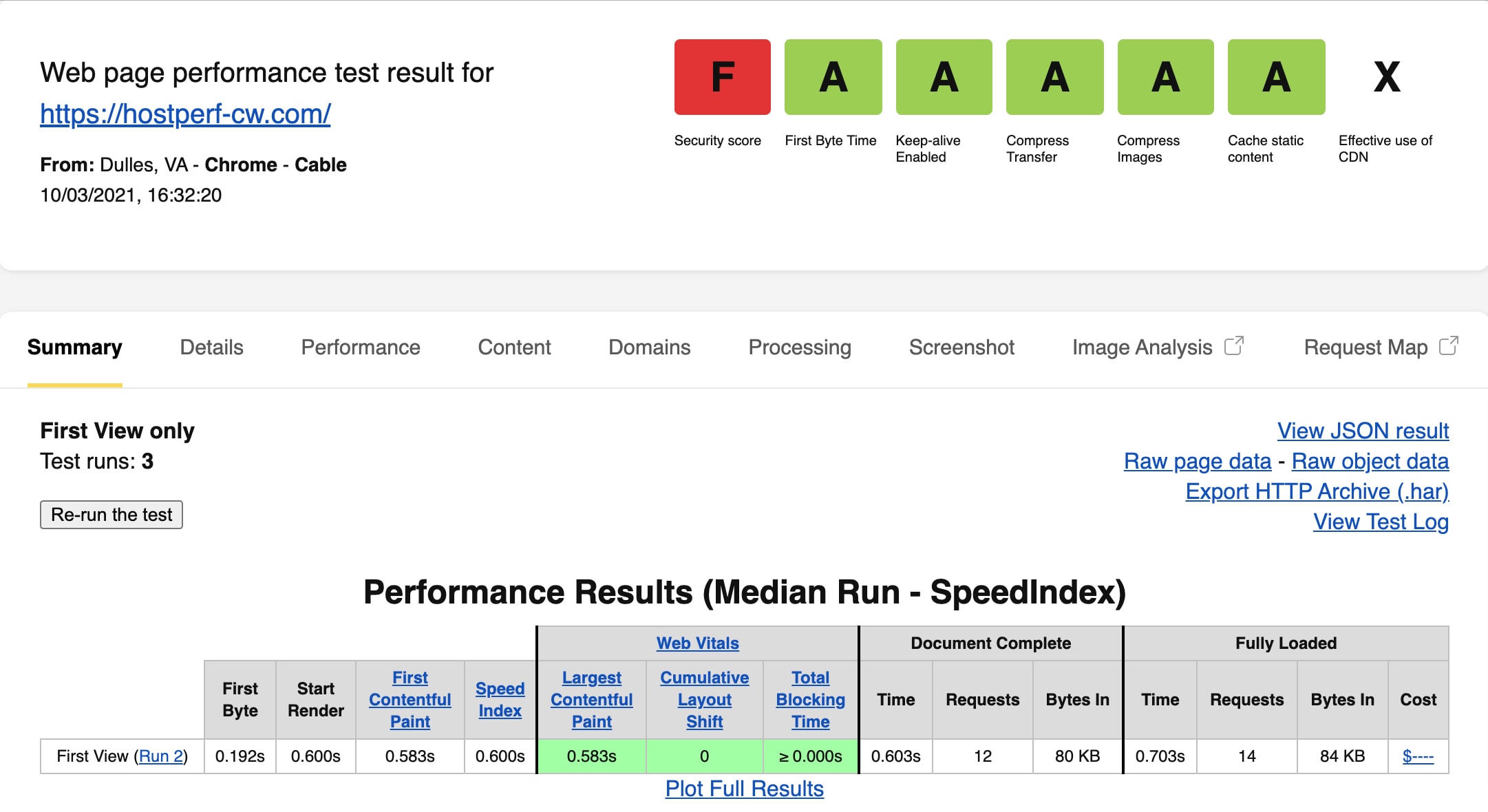 Modified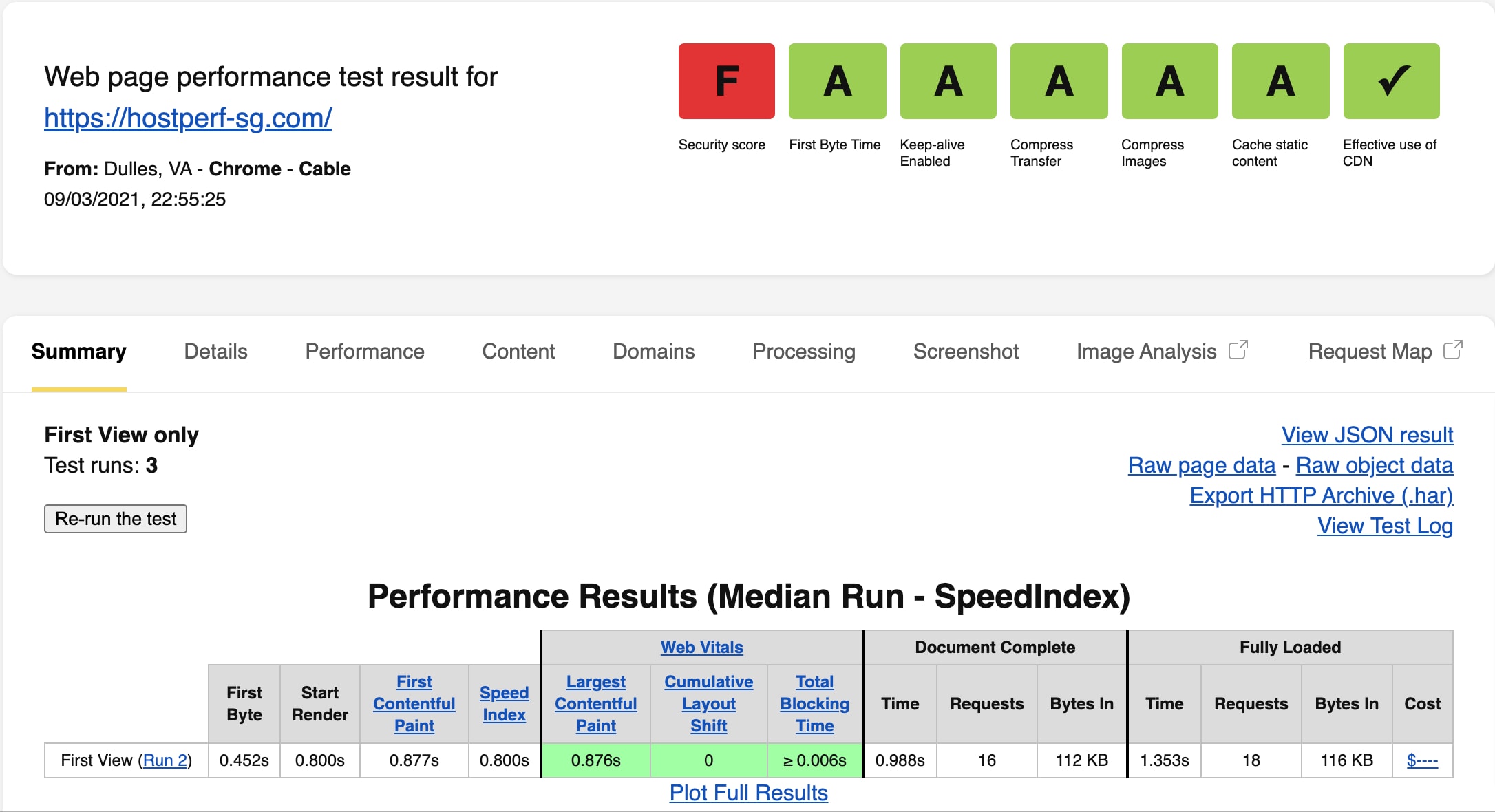 Original
Global TTFB
Global TTFB is an essential parameter to measure the response time across multiple global locations. It is important to check it, especially if your site is receiving traffic from multiple global locations. I tested the Global TTFB by pinging a site from 10 different locations.
As I tested the Global TTFB for the two services, I found Cloudways to have excellent response times for Frankfurt, New York, Dallas, and Amsterdam. However, SiteGround recorded a TTFB of more than 1 second for Frankfurt, Singapore, Sydney, and Bangalore, which is not a good sign for sure.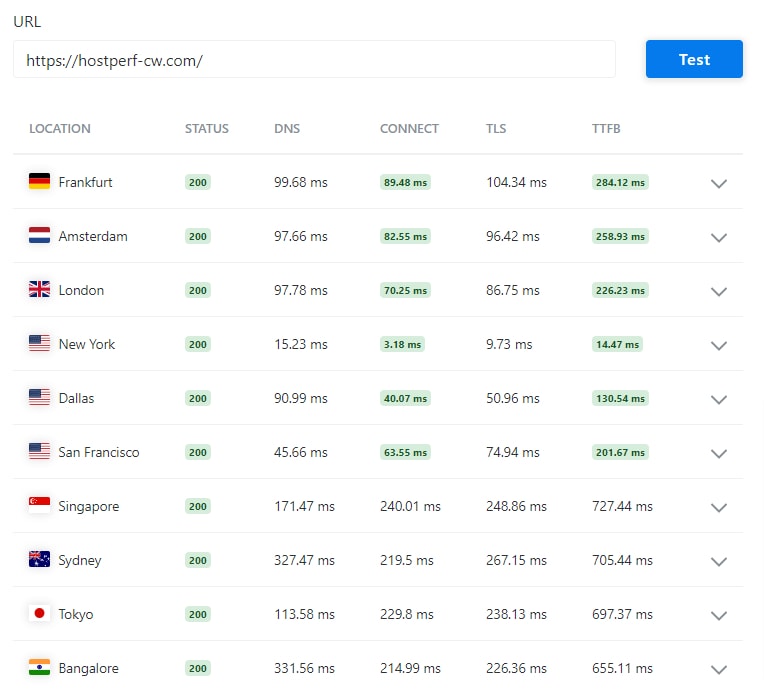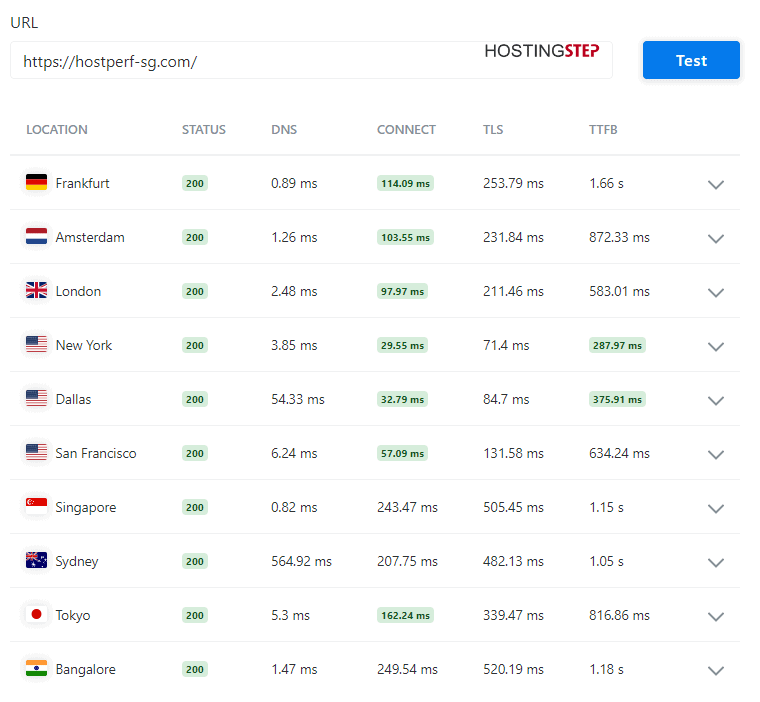 Cloudways vs SiteGround: Features
1. Control Panel
Cloudways uses a custom control panel which is much more advanced than cPanel or Plesk. Besides, it is less cluttered and pretty easy to use. Even an absolute beginner can get the hang of it in just about 10 minutes. The Cloudways control panel has all the features that are present in cPanel and Plesk. Further, it has several additional advanced features such as server monitoring, a Free built-in cache plugin, 1-Click CDN, server cloning, staging URL, and team collaboration.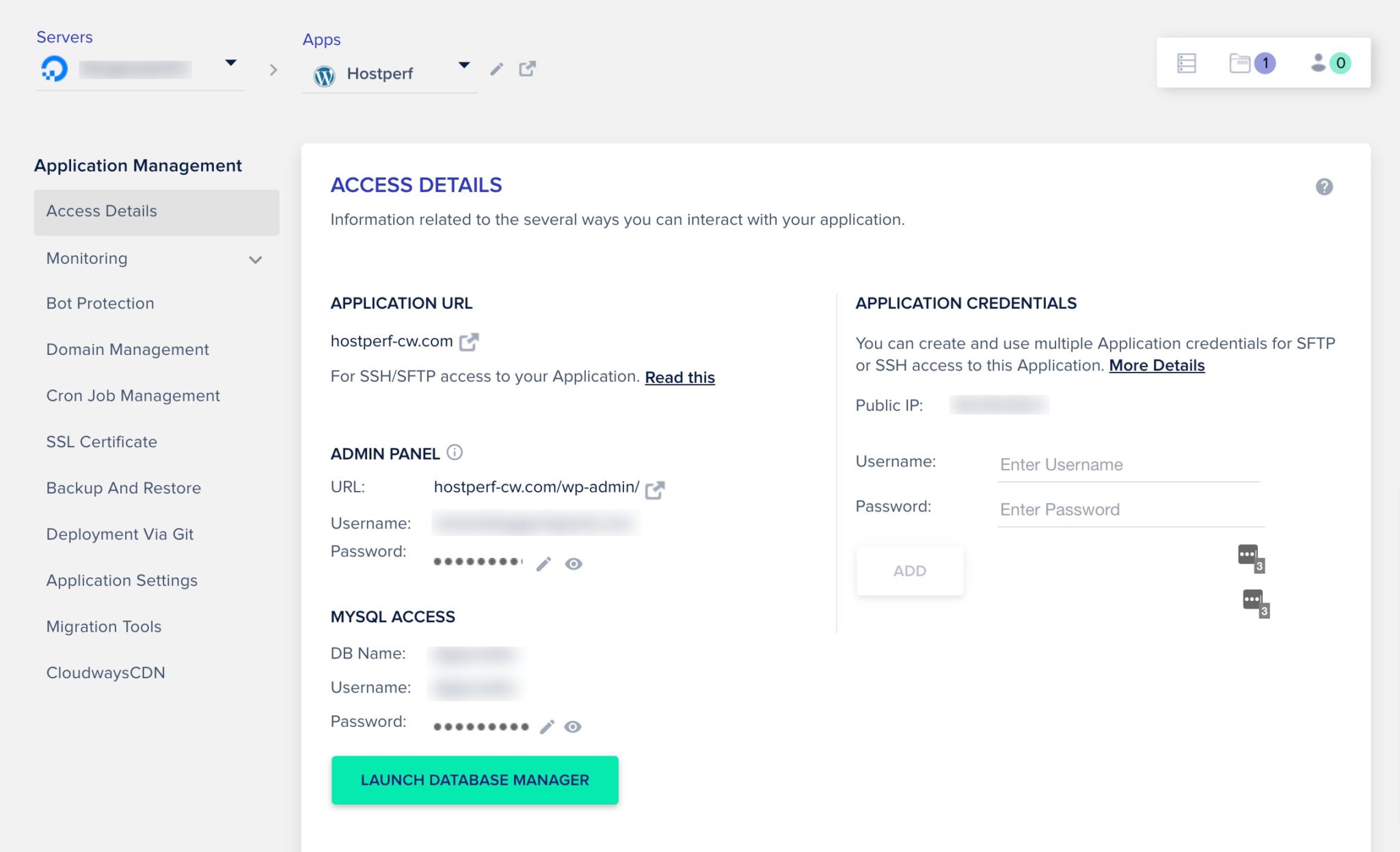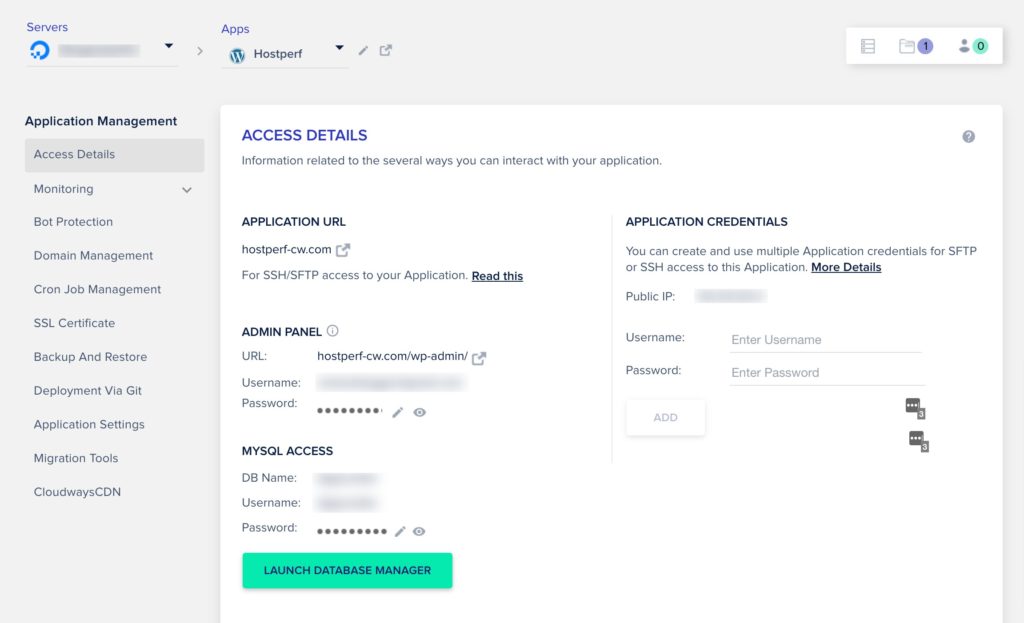 SiteGround, on the other hand, has its own control panel, name Site Tools. The control panel has advanced analytical tools for website performance monitoring, including detailed Inode, Processes Running, CPU, Executions, and HDD usage statistics. Besides, the control panel offers you direct account management with a quick support section, direct SiteBuilder link, and hosting account upgrades.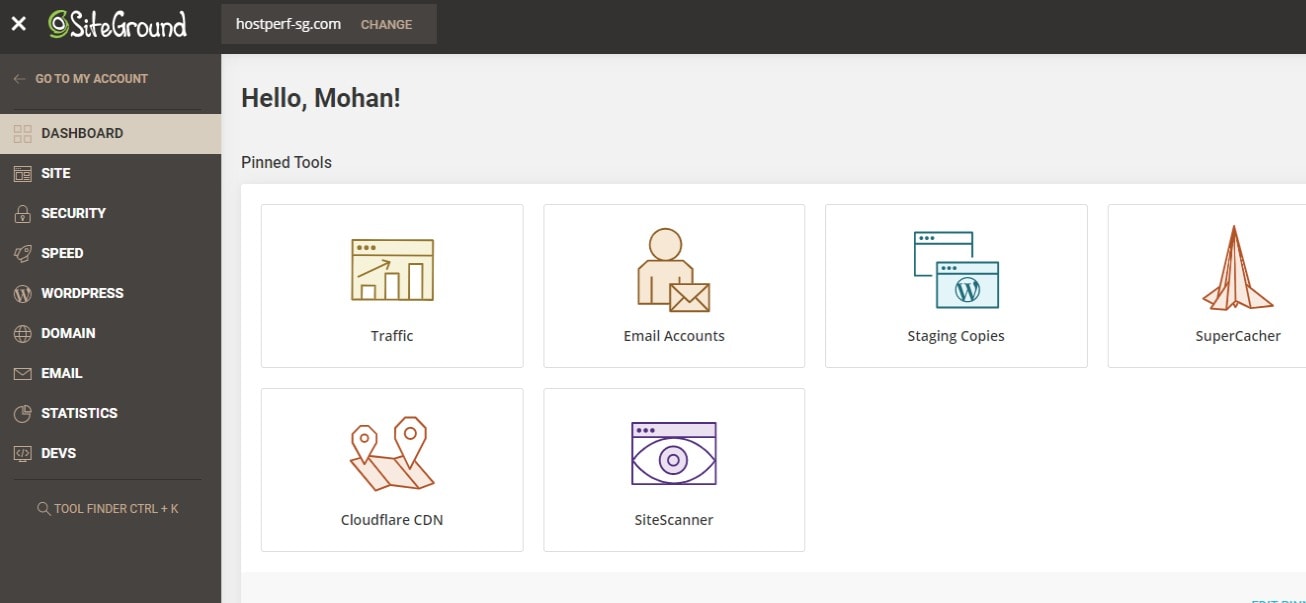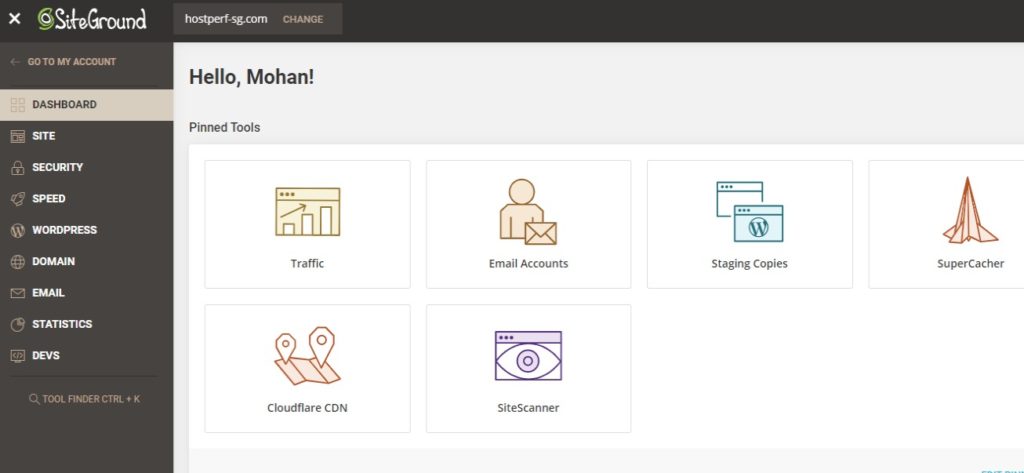 2. CDN
Cloudways comes with an in-built CDN for faster content delivery, and the CDN comes with a straightforward setup. Cloudways has partnered with StackPath, and it is based on the pay-as-you-go model. If you need it for a single website, you can have it for $1 per 25GB of bandwidth.
SiteGround offers customers Free Cloudflare CDN on all plans to improve the content delivery speed by auto minifying scripts and images, serving the content from the closest location to your audience from over 152 global locations.
3. Backups
Backups aren't free in Cloudways, and the provider charges $0.33 per GB for backups. However, it has an automatic backup system wherein the site is automatically backed up to an external storage network. Further, you can always increase your backup storage for an additional price as per your requirements.
SiteGround has a very reliable and easy backup system in place. The service comes with an automatic daily backup, which means you don't have to worry about your site's backup manually. SiteGround allows you to access 30 recent backups of your site, and restoring a backup is also free on all the plans.
4. Staging sites
Cloudways has the Staging feature on all plans, and the feature allows you to create a clone of the live site to test various modifications on the staging site and push it to live. The process of doing this is pretty straightforward in Cloudways, and you can get the hang of it in just a few minutes.
SiteGround doesn't have the Staging feature on its StartUp plan. It has the feature for free on the higher plans, i.e., GrowBig, and GoGeek. However, the staging in GoGeek also comes with Git integration. With SiteGround Staging, you can create a copy of your live site and test various changes on it. After you finish making the changes, you can push the staging site to live with just a single click.
5. Security
Cloudways security is rock-solid with some of the best security features in place, such as dedicated firewalls, Let's Encrypt SSL, IP Whitelisting, Regular Security Patching, Two-Factor Authentication, Bot Protection against DDoS, and brute force.
SiteGround security has been pretty reliable over the years as well. SiteGround security comprises Custom a web application firewall to stop various identified vulnerabilities, AI Anti-Bot System to block brute-force attacks, and traffic encryption with Let's Encrypt SSL. Besides, the host also uses account isolation with Linux containers.
Cloudways vs SiteGround: Support
Cloudways undoubtedly has one of the finest support teams with the most knowledgeable executives in the industry, and over the years, it has largely proved it. The support team does a brilliant job of assisting the customers through 24×7 live chat and ticketing.
Further, the host also provides customers with advanced and premium support add-ons for an additional charge, and you can go for it if you want faster assistance. The Premium add-on comes with the phone and private Slack channel support in addition to live chat and tickets.
SiteGround support has been pretty reliable over the years, with the most efficient, multi-skilled, and helpful executives at your service to assist you 24×7 through live chat, phone, and tickets. However, you want the assistance to be even faster; you can opt for the GoGeek plan since it comes with Priority Support.
Conclusion
I have explained all the aspects of Cloudways and SiteGround the best I could in this post, and I am sure you have clearly understood the features that both services offer. Both Cloudways and SiteGround have their pros and cons at some places.
However, a lot depends on your exact requirement. For example, if you are under a tight budget but can't wait to start with a web hosting service, you can go ahead with a SiteGround plan as they are available at a promotional price. However, you must bear in mind that the renewal prices can be pretty high in SiteGround.
If you need a good free automatic daily backup system, Cloudways is surely not the right option for you since it doesn't have backups for free. However, Cloudways has a leading edge over SiteGround when it comes to performance, and if you are looking for the best performance, you can certainly choose Cloudways over SiteGround.