DreamHost is a fast and secure web hosting service that has been around since 1996. DreamHost has hosting products comprising Shared Hosting, WordPress Hosting, VPS Hosting, and Dedicated Hosting.
Besides, the service comes with an easy setup and 24/7 expert support. In this post, I will share the pros and cons of DreamHost. After you read this post till the end, you should gain good clarity about the service.
DreamHost Pros
Affordable price to begin
DreamHost allows customers to start for $2.59 per month, making DreamHost one of the hosting services with the most affordable entry pricing. The plan is available at a discount of 63% on its actual price and comes with one website support and a free domain.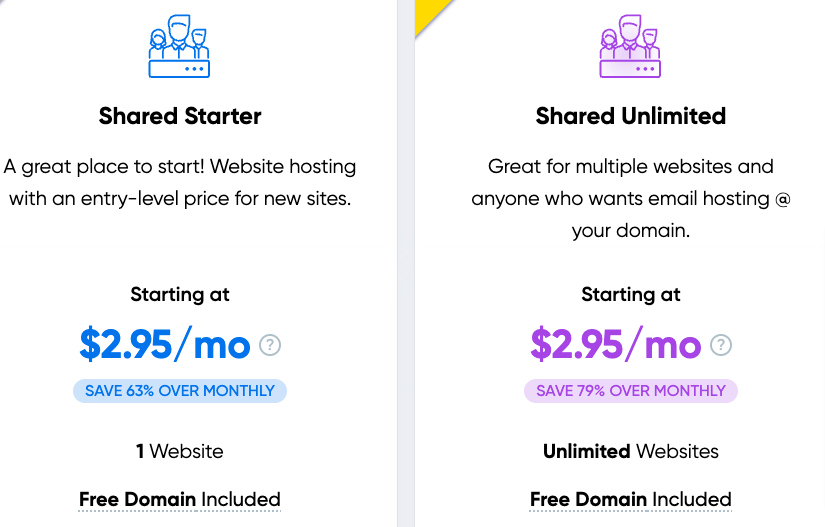 However, you must choose one-year billing or above to get the free domain. The plan, along with the free domain, gets exceptionally affordable for anyone who wants to start a website with a tight budget.
Free SSL and Free Automated WordPress Migrations
DreamHost offers free SSL and Free Automated WordPress Migrations on all plans. DreamHost provides customers with its Free Automated WordPress migrations plugin to transfer as many websites as they want to the DreamPress platform for free.
It is a generous feature since many hosting services charge an additional cost for website migrations. Hence, Free SSL and Free WordPress Migrations reduce your cost of website management to some extent since you don't have to spend additional charges on these aspects.
Easy-to-use control panel
DreamHost comes with a custom control panel, which is exceptionally easy to use. The control panel allows you to easily update domain information, add users, and tweak email settings. The interface is clutter-free and gives you an excellent single point of control for managing various aspects of your hosting account.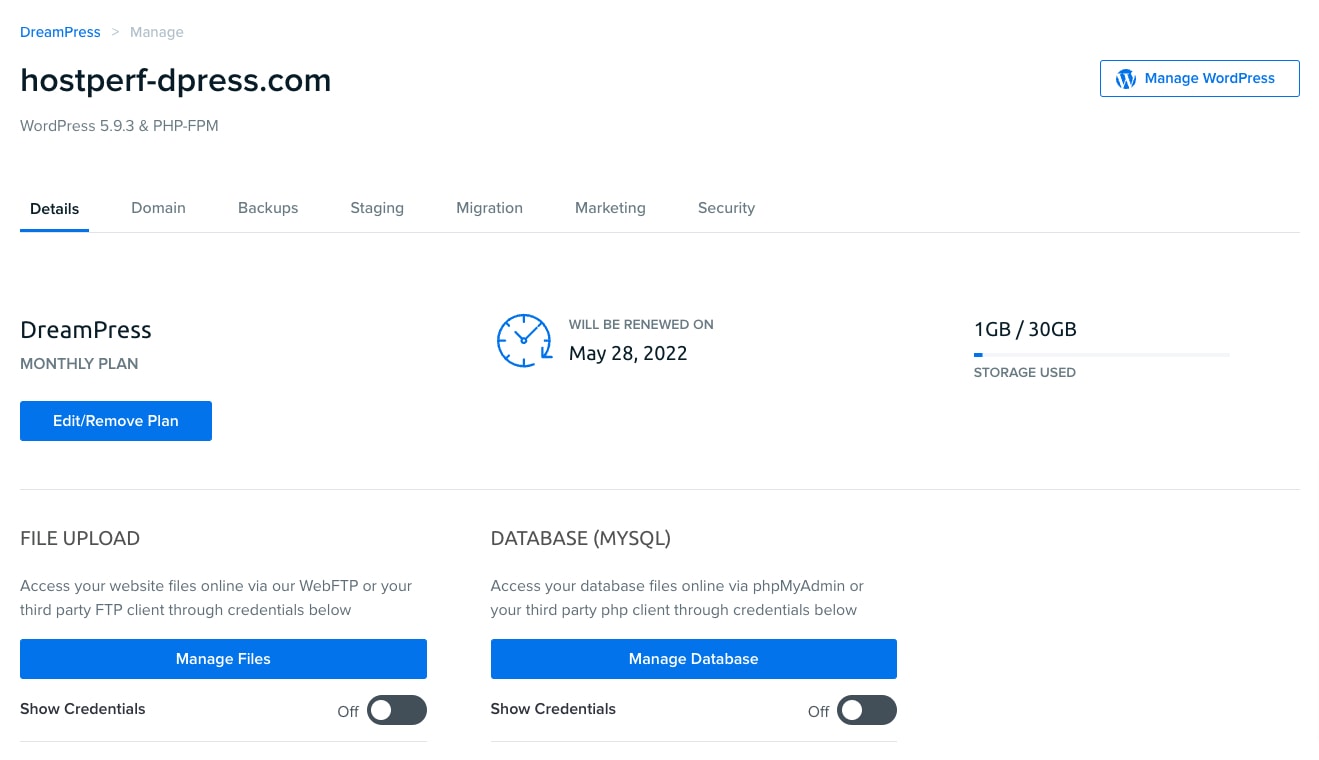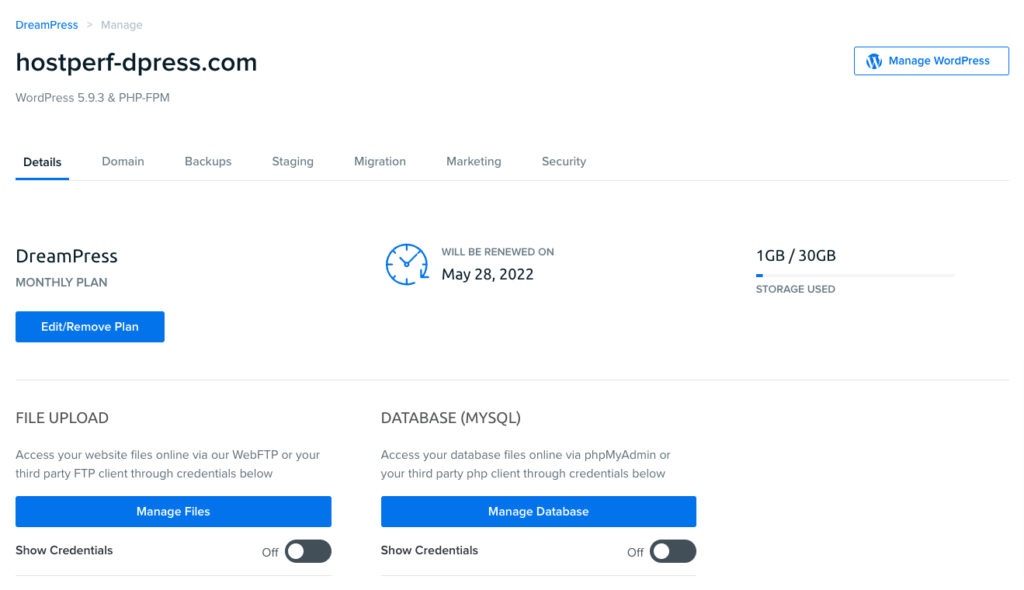 However, the control panel has all the options that are available in a cPanel. I also have to admit that the DreamHost control panel interface is a lot different from that of a cPanel. Initially, you may need some time to get familiar with the DreamHost control panel, and once you get the hang of it, you may find the control panel more intuitive than a cPanel.
Fast customer support
DreamHost has a reliable 24/7 support team backed by US-based experts. The support team is very responsive and does a great job of assisting customers with their technical issues through live chat and tickets. Besides, customers can refer to the DreamHost Knowledge Base anytime.
Decent performance
A decent website loading speed is crucial for your site ranking. It's time to talk about DreamHost's performance. In our list of seventeen web hosts with average server response times, DreamHost ranks eighth as per my recent test results.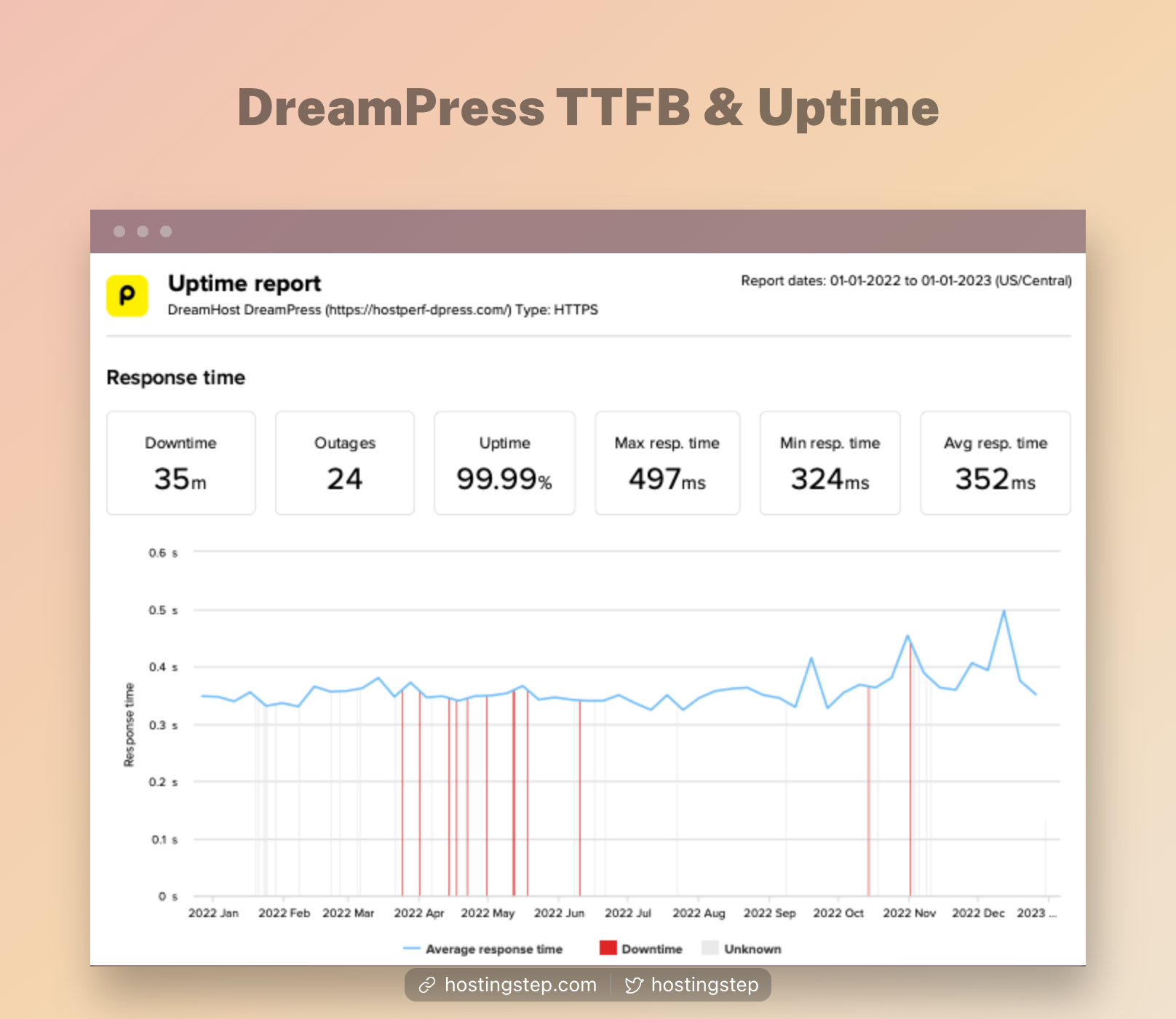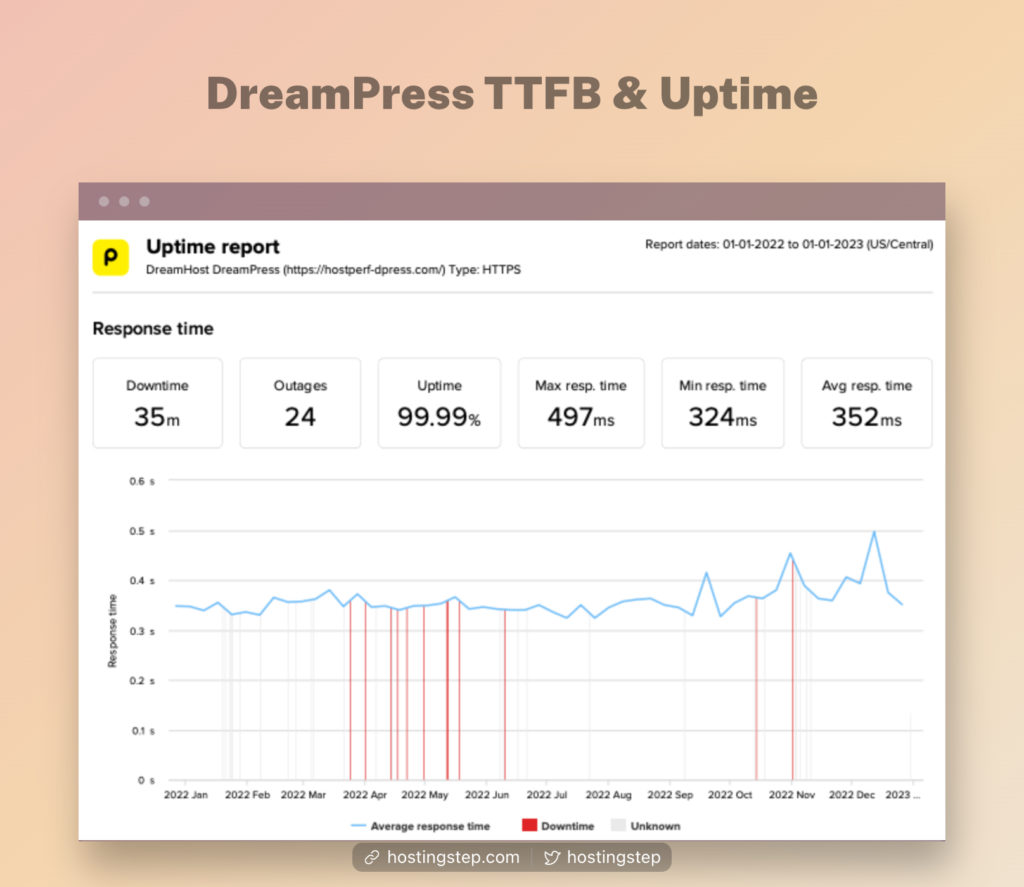 My DreamHost website recorded an average server response time of 360 ms. It is undoubtedly a decent response time for any website, and DreamHost has beaten some leading hosting providers, such as SiteGround, WP Engine, and Hostinger, in the server response time test. One of the reasons behind its brilliant performance is its solid-state drives.
100% uptime guarantee
Any website with a serious business must ensure that it is hosted on a platform with good uptime. I tested the uptime of my DreamHost website recently, and it recorded an uptime of 99.99%, which is a decent uptime.
DreamHost Cons
Email hosting costs extra
One con is that Email Hosting doesn't come for free with the DreamHost Shared Starter plan. The service offers email hosting at $1.67 per month. It can be slightly disappointing since services like Hostinger offer this feature for free on all plans.
Custom-built control panel
DreamHost comes with a custom-built control panel. Even though the control panel has a neat interface, customers will need some time to get familiar with it since it's different from the traditional control panel.
High renewal price
Even though the DreamHost plans seem affordable, it's essential to understand that it's because they are offered at a discounted introductory price. However, if we consider the renewal pricing, it's pretty high. For example, the Shared Starter plan is offered at $2.95 per month, while its renewal price is $6.99 per month.
FAQs
How much does DreamHost cost?
DreamHost has four pricing, and the lowest tier plan, Starter, starts at $2.95 per month. The plan allows you to host one website and comes with a free domain, free SSL, and SSD storage. However, to get the plan at the introductory price, you must choose at least one year of billing. The renewal of the same plan costs $6.99 per month.
Does DreamHost come with cPanel?
DreamHost doesn't come with cPanel. Instead, the web host has its custom control panel, which is more intuitive than cPanel in some places. The control panel has a clean interface and offers good usability.
Users can access all the essential tools from one place to control every aspect of their hosting accounts. However, users may have to initially spend some time understanding how the control panel works since it's different from cPanel.
What are the pros of DreamHost?
DreamHost is a reliable hosting service and has many pros. Here are the pros of DreamHost:
Affordable entry price
Free Domain, SSL, and WordPress migration
The control panel is easy to use
Customer support is fast and friendly
High performance and 99.99% uptime
What are the cons of DreamHost?
Here are the cons of DreamHost:
Email Hosting is not free and is available for an additional cost
The renewal price is high
The custom control panel may need customers some time to get familiar with
The Bottom Line
I have walked you through the pros and cons of DreamHost, and you should now have good clarity about DreamHost. As you have seen in this post, DreamHost is a reliable service in terms of performance and support. It's also commendable about the fact that the host offers an affordable entry price.
However, the renewal price of the plans is high, but I have to admit that DreamHost offers good value for money. Hence, you can decide for yourself if you should go ahead with DreamHost or go with a comparatively more affordable alternative.