Are you looking for the best WordPress hosting provider based on performance benchmarks? Look no further.
Our data-backed WordPress hosting benchmarks will provide you with all the information you need to make an informed decision.
In this latest article, I've compared the popular WordPress hosting services based on critical criteria such as TTFB, uptime, load testing, Core Web Vitals, and global TTFB.
By the end of this article, you will clearly understand which hosting provider is the best fit for your WordPress site.
WordPress Hosting Benchmark Methodology:
Our WordPress test sites are developed to simulate a production site. The setup consists of
Default WordPress theme
PHP 7.4
Akismet, Contact Form 7 and Rank Math plugins.
Here is the list of hosting with its caching setup: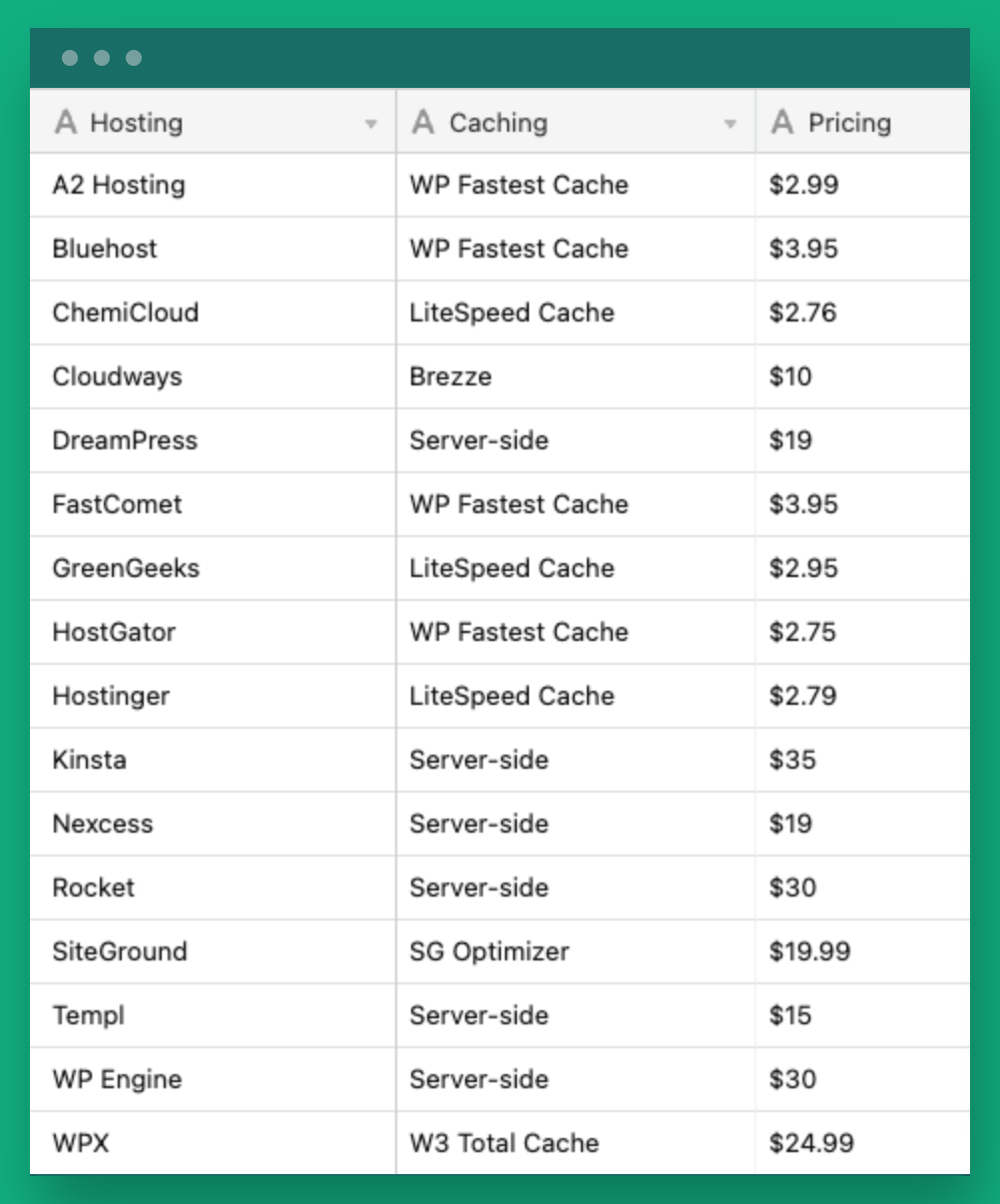 Criteria for Evaluating WordPress Hosting Performance:
Below is the list of tests I used to measure the performance.
Test 1: TTFB test using Pingdom (tested from 20 USA locations)
Test 2: Uptime (using Pingdom data from 20 locations)
Test 3: Load Test using Loader.io (1000 users)
Test 4: Core Web Vitals (using GTMetrix.com)
Test 5: Global TTFB using KeyCDN Performance test tool (tested from 10 global locations)
Benchmark Test 1 – TTFB
Server Response Time (TTFB) is the most critical factor for any WordPress hosting service. (lower the TTFB, faster the servers)
The site should have the fastest TTFB to provide the fastest full load time to visitors.
Our Pingdom tool monitors all the test sites from 20 USA locations every 60 seconds. A total of 10,100 tests are made to determine the average TTFB for the month.
Results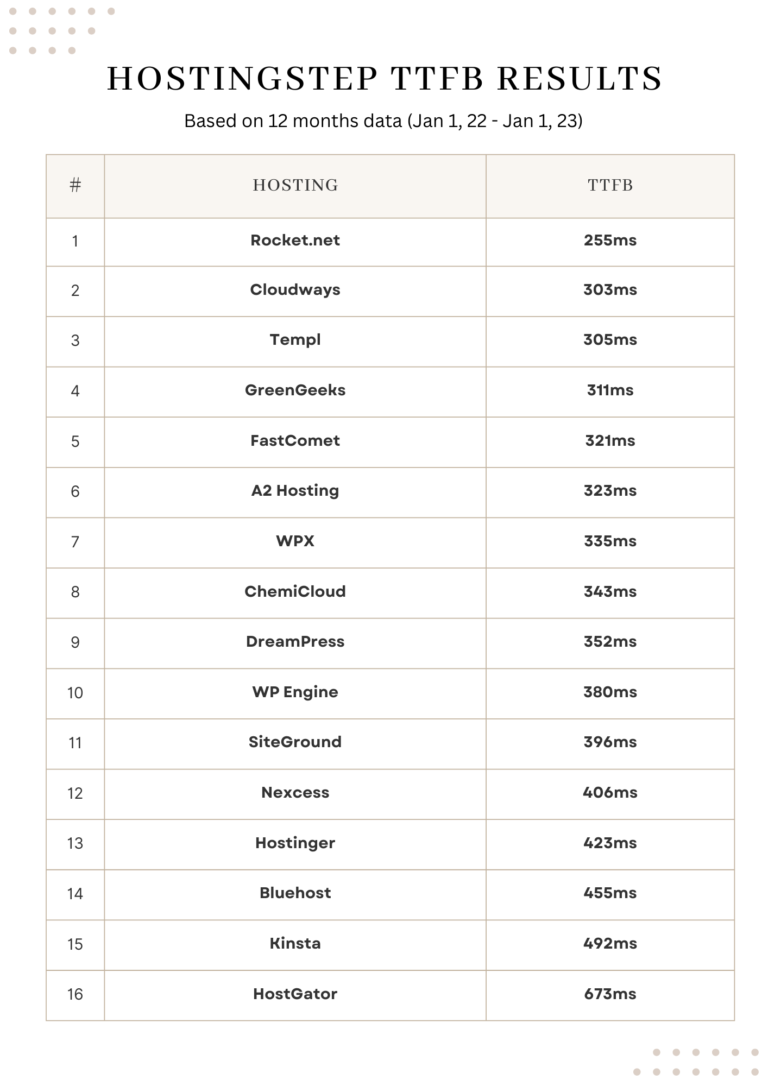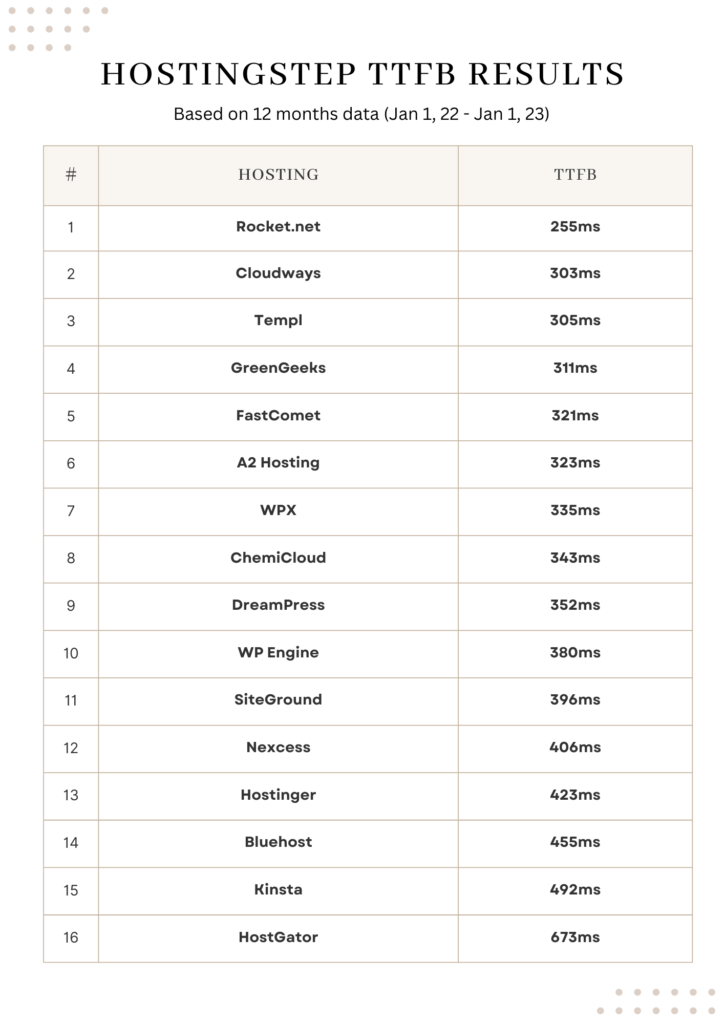 Key takeaways:
Rocket, Cloudways, GreenGeeks, Templ, and A2 Hosting are the top five fastest hosts in our server TTFB test.
Shared hosting services like GreenGeeks, and A2 Hosting comfortably beat WP Engine and Kinsta in terms of TTFB.
HostGator is the slowest host, with a TTFB of 684ms.
Benchmark Test 2 – Uptime
This uptime test is done to ensure the fastest WordPress hosting is also reliable. There is no use in using the fastest host with poor uptime records.
I used Pingdom to track the uptime from 20 USA locations. Refer to the above images for uptime data.
Results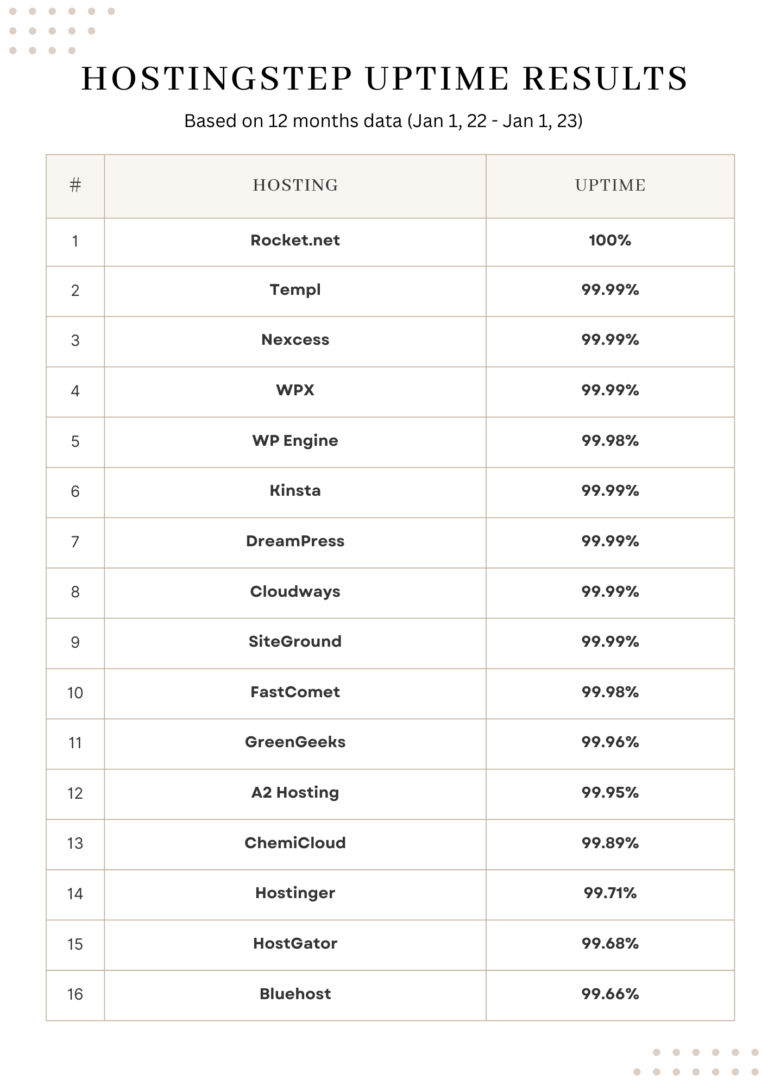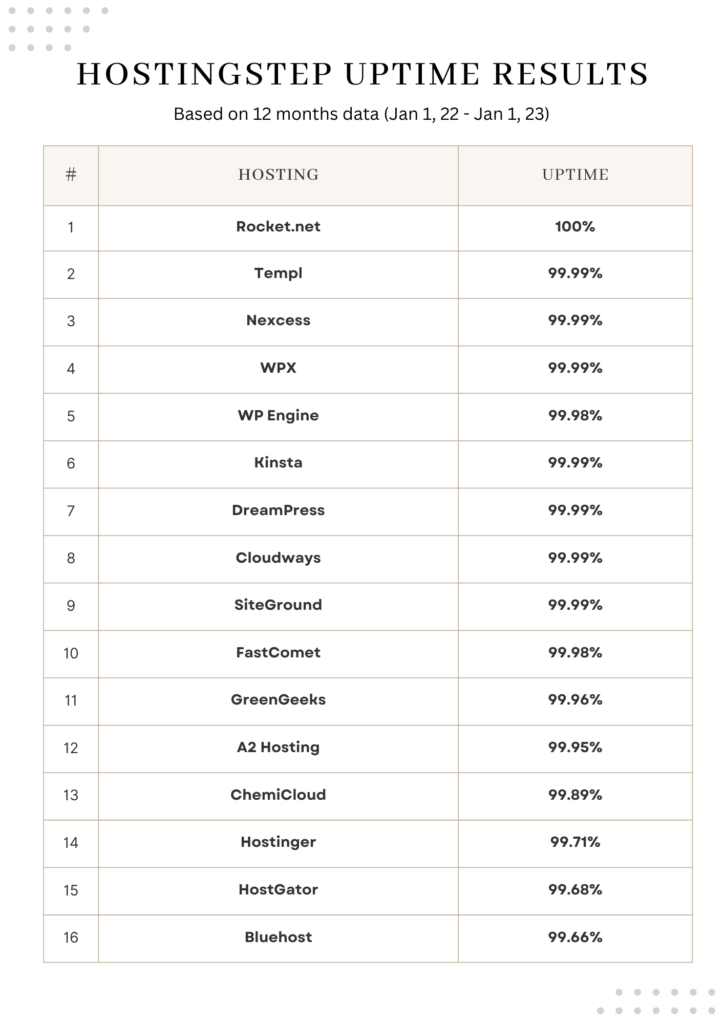 Key takeaways:
Out of all hosts, Rocket is the only host to secure 100% uptime in the last 12 months. There are seven companies that recorded 99.99% uptime.
Hostinger, HostGator, and Bluehost recorded the lowest uptime.
Benchmark Test 3 – Load Testing
WordPress load testing is a process to measure how much traffic the test sites can handle.
In this test, 500 simultaneous visitors are sent to the site, and the average response time is calculated. (lower the response time faster the servers)
Results
Load Testing – Clients Per Test (500 clients):
Rocket (19ms), WPX (24ms), Kinsta (47ms), ChemiCloud (62ms), and GreenGeeks(77ms) secured the top positions in WordPress load testing.
Benchmark Test 4 – Core Web Vitals
Core Web Vitals is the new performance metric developed by Google.
The test sites are tested using GTmetrix, and the Core Web Vitals metrics like Largest Contentful Paint and Cumulative Layout Shift are calculated in this test.
The First Input Delay is field data; hence, it can't be measured in tools. However, Google recommends considering Total Blocking Time as a proxy measurement; therefore, I include Total Blocking Time in the report.
Results
Takeaway:
Templ, Nexcess, and ChemiCloud are the top performers in this test. However, our test is lab data, and one needs to focus on improving the field data to get a pass in "Core Web Vitals".
Benchmark Test 5 – Global TTFB Test
The site is tested from 35 global locations to measure the server response time (TTFB). If your site has global visitors, watch these results.
Results
Based on the data, Rocket (227ms), Templ (405ms), Cloudways (437ms), Kinsta (449ms), and WPX (462ms) are the top WordPress hosts with the fastest global TTFB.
Comparison of WordPress Hosting Industry Benchmarks and Standards:
Rocket.net
Rocket.net secured the top positions in most benchmark tests. It's the only company that utilized the Cloudflare Enterprise in a better way.
Templ
Templ harnesses the complete power of Google Cloud (Server + CDN + DNS). Their benchmark results are better than other Google Cloud based WordPress hosting providers.
Cloudways
Cloudways continually provides better benchmarking results in most tests but performs slower at load tests. Since I tested them only with the basic plan, their higher plan can provide better load handling.
GreenGeeks
GreenGeeks is the surprising performer because their shared hosting outperforms many premium-priced Managed WP hosting services. The best option to get started for an affordable price.
A2 Hosting
A2 Hosting got decent benchmark scores on most tests. However, their starter plan (which I tested) is limited by many factors. But still, they're better than many shared hosting providers.
WPX
WPX benchmarks have improved a lot compared to last year. In 2021 data, they have got frequent downtimes (apart from the 5 hours outage that happened in Aug. 2021). Since moving their tech stacks to LiteSpeed, there have been better improvements in the performance.
Kinsta
Kinsta Edge caching made big improvements in their load testing benchmarks which I ran in January 2023. Kinsta had the slowest TTFB for 12 months (Dec 21 – Dec 22), but after the introduction of Edge caching, their TTFB has improved a lot by 100-150ms this month. I expect Kinsta's performance will be better in our Q2 2023 benchmarks.
WP Engine
WP Engine secured a decent score in TTFB and uptime test. I can't able to run load testing as their security system blocks our test, considering it a DDOS attack. Apart from that, WP Engine is a solid contender, considering the number speed based features like Advanced Network, which got introduced last year.
ChemiCloud
ChemiCloud Load test benchmarks are impressive followed by a great show in the TTFB test. However, their uptime is poor with the starter plan. I bet their Mid and top-tier plans can have better uptime.
DreamPress
DreamPress recorded decent performance in all tests but didn't come in the top 5 on any tests. Good in most terms but not the best at any.
FastComet
FastComet surprisingly scored better in most benchmarks except Load testing. It happens probably due to the Apache Web Servers. Their mid and top-tier plans have LiteSpeed servers that can handle a better load.
SiteGround
SiteGround scored average on all the tests. Their Global TTFB is one the slowest of all hosts benchmarked. GreeGeeks, which costs 2x lesser than SiteGround, provides 2x faster TTFB and load handling.
Nexcess
Nexcess scored average on all the tests. However, they're feature packed with many speed features, which I don't find in other managed WordPress hosts.
Hostinger
Hostinger scored below average on most tests. Their load handling and uptime are poor in their starter plan, which is reasonably priced.
Bluehost
Bluehost has the worst uptime on the list. All other benchmarks prove their performance is below average.
HostGator
HostGator services can be avoided at any cost. All their benchmarks performance is 2x slower compared to all other hosts combined.
Wrapping up
Based on our WordPress hosting benchmark results, I've identified the top performing hosting providers in terms of TTFB, Uptime, load testing, Core Web Vitals, and Global TTFB.
However, no benchmarks are perfect, and our review might not show the real face of hosting companies. For example, we tested the companies using the starter plan, but companies put the maximum speed benefits on the top-tier popular plans only.
A host mentioned as Average might be a Good top-tier plan. I suggest users sign up with companies that they think are a good fit and perform their own benchmarks. All the hosting services are covered by money-back guarantee, so you've nothing to lose.