1
FastComet Review – The Good, Better and Best Hosting?
Hostingstep.com recommended hosting for humans, package starts from $2.95/month Claim Now!
FastComet was the under-rated web hosting hosting company since its inception.For beginners who're on a budget and need a fast loading servers backed with customer support, You can blindly choose FastComet.
We are really proud to give FastComet, a limelight​, because there is nothing wrong in promoting a good web hosting company.
Enough said, let see whether FastComet survived from our testing.
FTC Disclamier : We get compensated from the recommended products at no extra for you.
FastComet Review
#1 Company History
FastComet is relatively new to web hosting industry but they are in business for more than seven years held privately, and they started offering cloud hosting in 2013 based on Platform as a Service (PaaS) business model.
As per our analysis, they have grown tremendously in the past few years and giving out some stiff competition to big players in the industry.
We accidentally landed on their website for a while and upon looking its features and offerings for an affordable price, and we bought a hosting account immediately, but we never expected it tops the list beating its competitors straight away.
Let's have a look at this Fastcomet review and find what's special about them.
#2 Demo Site Details
As for my testing parameter, I bought a hosting package and installed a demo site on their servers and started monitoring their services.
Site URL – http://hostingstep-fc.com
FC indicates FastComet
Domain and Hosting registered on Aug 2016.
Sign up process is simple. Only 3 screens to get started.
Customer UI and Cpanel images below. The Cpanel might look similar with most hosting provider and the highlighted JetPack plugin is exclusive to FastComet customers which usually costs $ 9.95 per month for single domain. The Customer portal UI looks promising giving us a quick navigation, easy to upgrade / downgrade accounts, support tickets.
#3 FastComet Pricing & Plans
#4 Features
General Features
SSD Web Space
1 Click installer
Free website transfer
45 days money back guarantee
24/7/365 Customer support
Free personal DNS
Technical Features
All files and MySQL files on SSD
Five layer caching mechanism (most hosting comes with three layer caching)
Free CDN
Guaranteed RAM And CPU cores
Asynchronous resource loading
APC, XCache and eAccelerator for shared hosting accounts
Google ModPageSpeeds control integrated in cpanel
Rocket-NginX and Engintron for improved WordPress performance
ModSecurity for improved malware protection
WordPress Staging & Server Name indicator (SNI)
Freebies
Free domain forever (learn more about domain registration)
Free Globalsign SSL
Free personal DNS
Free daily and weekly backups via JetBackup
Free Zopim livechat account
Malware expert Mod security for all shared hosting plans
Free McAfee Badge for sites to provide trust to visitors
Free CloudFare CDN account
$75 Grasshopper credit
Free Website transfer
#5 Historical Analysis
#1 FastComet Uptime
We keep monitoring demo sites for every 60 seconds to check for downtime. To build more trust to our reviews, you can check historical uptime data for upto two years using this link.
Check Fastcomet uptime for past 12 months ( Click to expand )
Most of the downtime's lasts for less than 30 seconds which happens due to server reboot and maintenance tasks.
I used a tool to check the last downtime of a another website hosted on their server. To my surprise, the server carries a uptime of 330 days (while writing this review post), that mean the server was down on November 5th, 2015.
Infact from our hosting reviews, FastComet stands high in terms of uptime when compared with other companies.
#2 FastComet First Time to Byte
Based on our testing methodology, I tested the FastComet demo site on byte check and the time to first byte is 60 – 335 ms based on different locations.
One should consider that the tests are conducted without any caching plugins (using so will reduce firstbyte time further)
Again, we checked a random site on byte check which is hosted on their servers and the results are great where the first byte time is 60ms which is industry's best first byte value.
#3 FastComet Response time
Sucuri test is carried out to find the average response time across the globe. I checked the demo site, and the results are good, Sucuri giving A+ grade (maximum)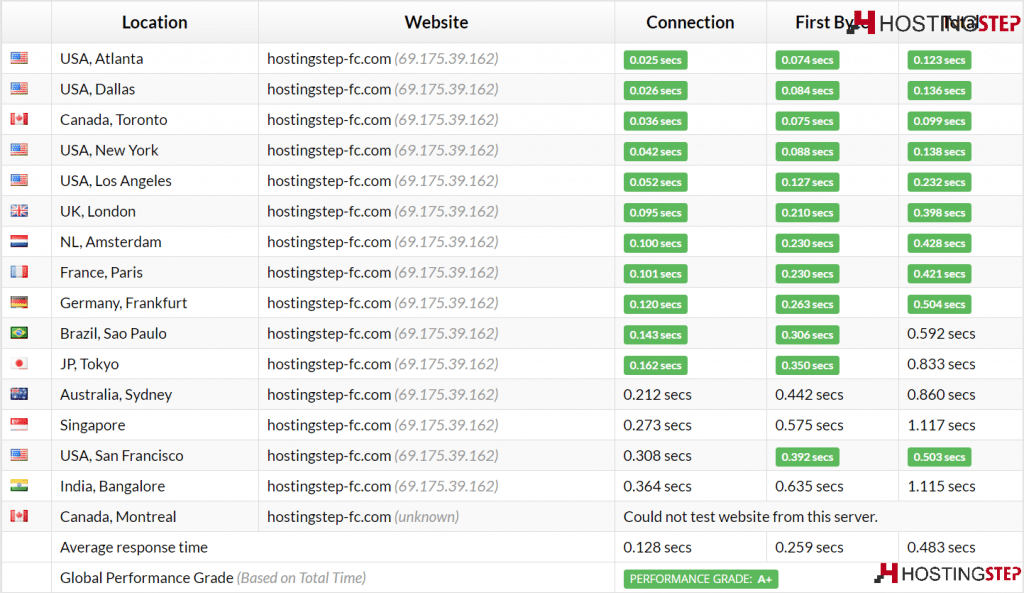 Great insights of #FastComet hosting with historical uptime, response time and TTFB values.
#6 Customer Support
The one thing I love and hate about their support. The thing I love – They are active 24 hours a day, seven days a week and 365 days a year, but it's only for billing and general inquiries.
The thing I hate ( not really) – For all technical queries, you need a raise a ticket, but most of the tickets are processed within 10-15 minutes which is better than industry's best support response time. To check it, we raised a ticket and got a reply within minutes.
If you're choosing a web hosting, then you should definitely look for customer support ticket and chat response time.
Their customer support people are real techies having absolute knowledge about most open source applications and they really helped me to install WordPress and SSL and essential plugins , tweaked few things for performance improvements. If you're completely new in building a website or a blog, then go for FastComet.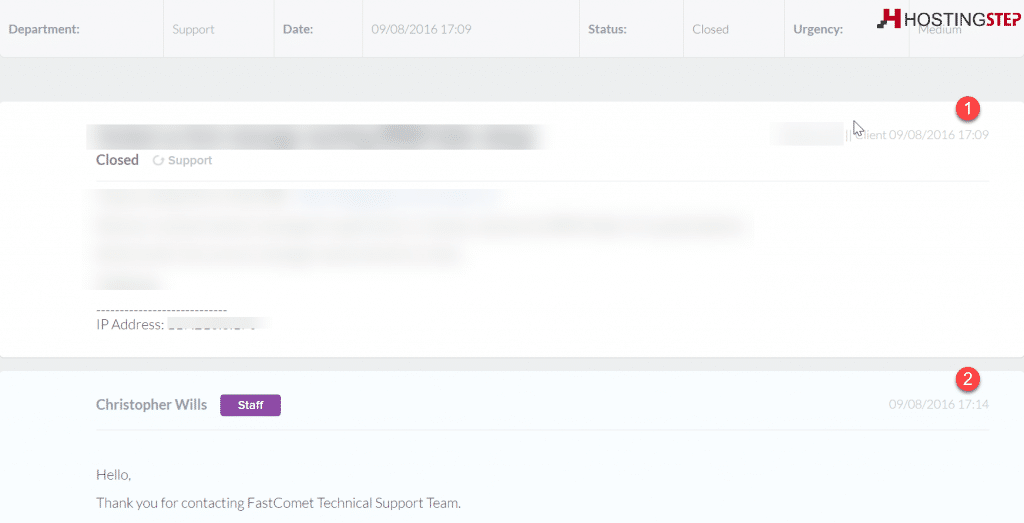 #7 Datacenters
Their datacenters are wide spread over the world with seven locations.
#8 Quick Facts
Same renewal pric

e

:

Package starts from $2.95/month

Free domain name forever :

no additional pricing

Free daily & weekly backups :

FastComet tied up with Jetbackup, an cpanel backup service usually costs $9/month for a single domain.

Two payments mode:

Credit card and PayPal

Seven data center locations :

US, UK and Asia pacific
45 DAYS MONEY BACK GUARANTEE
FastComet offering 45 days money back guarantee, so that you can test their servers, deploy your applications, experience the speed and support. While most companies offering 30 days and hard refund policy, FastComet has "no questions" policy, if you dont like their service, raise a ticket and your refund process will be initiated. There is no better time to start your online business,act now.
HostingStep Verdict
I'm absolute stunned and impressed with their business model. They built hosting package covering up the entire thing right from fast loading servers to awesome customer support, all bundled together with competitive pricing (infact same renewal price forever).
Now, its time for you to enjoy the hosting and hope you love this FastComet review.