Rocket.net and Cloudways are the two hottest WordPress hosting services popular among the masses in 2023.
In this post, the Rocket.net and Cloudways hosting got compared in terms of performance, pricing and support.
I've deployed a test site on both hosts and constantly been tracking the performance for more than a year.
My data-backed post will show you the real winner between Rocket hosting and Cloudways at the end of this post.
Quick Summary:
In terms of performance, Rocket.net is the clear winner. It has recorded better scores in TTFB, Uptime, load testing, Core Web Vitals, and Global TTFB tests when compared to Cloudways.
Regarding pricing, Cloudways is cheaper at $11/month, while the Rocket plan starts at $30/month.
Whatever host you're choosing, use our deals for discount prices. Hostingstep Cloudways Coupon offers a $25 hosting credit.
If you're looking for top-notch performance, close your eyes and choose Rocket hosting. Just move your site there and see the speed improvements without doing any kind of optimizations.
Rocket.net Vs Cloudways – Introduction
Rocket.net is the Managed WordPress hosting platform powered by Cloudflare Enterprise. Rocket CEO claims their hosting is not simply about Cloudflare Enterprise but the speed optimization they make on top of CF Enterprise. Rocket hosting has brought some of the industry-first features to its hosting solutions. Let's see how their servers perform in our tests.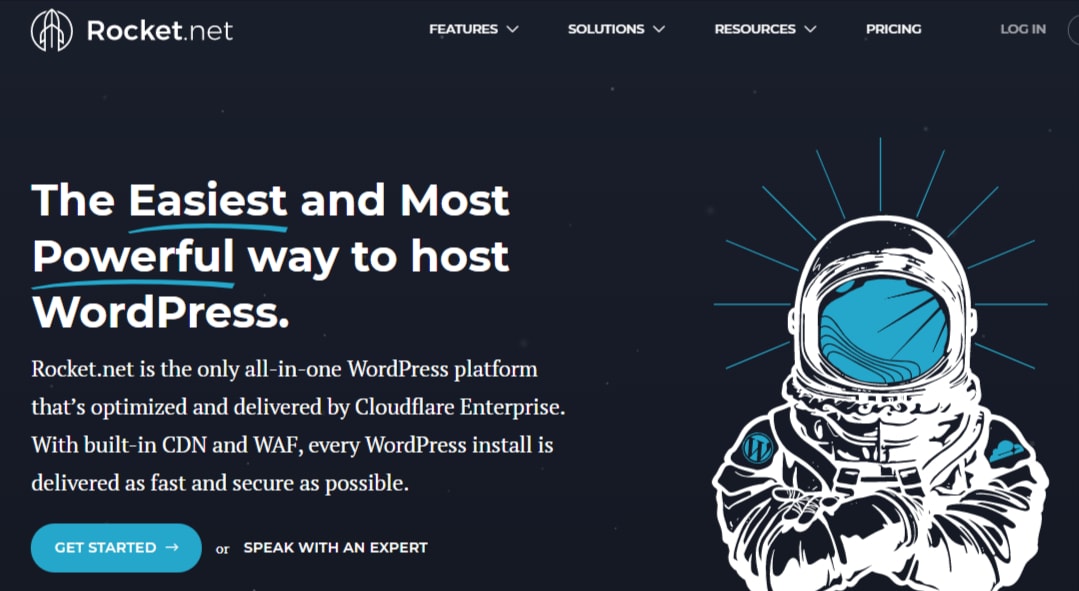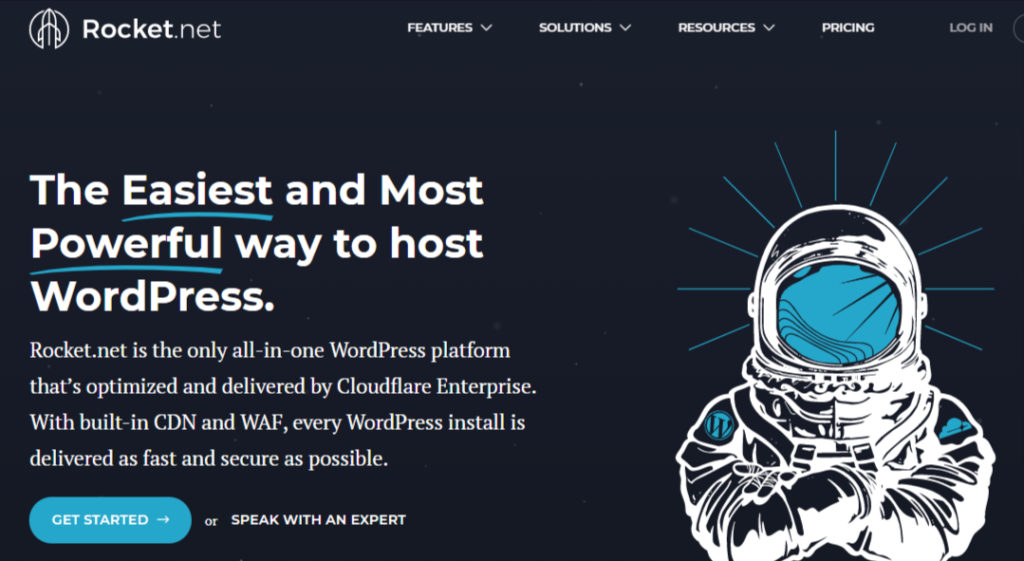 Cloudways is a managed cloud hosting platform for agencies and eCommerce businesses, and the service is characterized by high performance and reliability. Cloudways offers one of the most affordable hosting services, starting at $10/month. Recently, Cloudways too started offering CF Enterprise CDN as an add-on. Let's see their performance in this comparison post.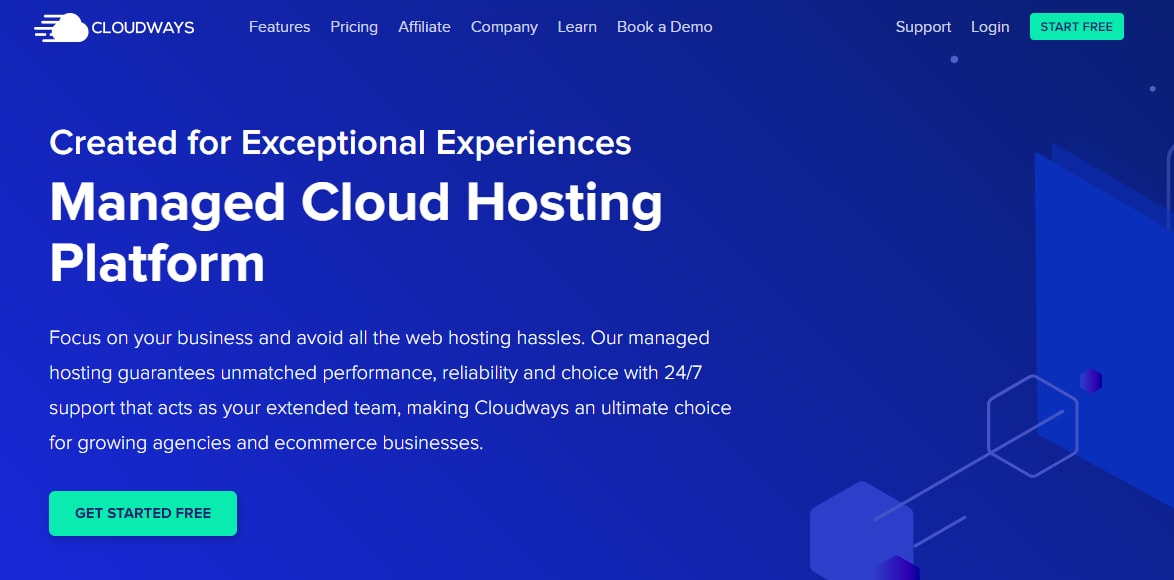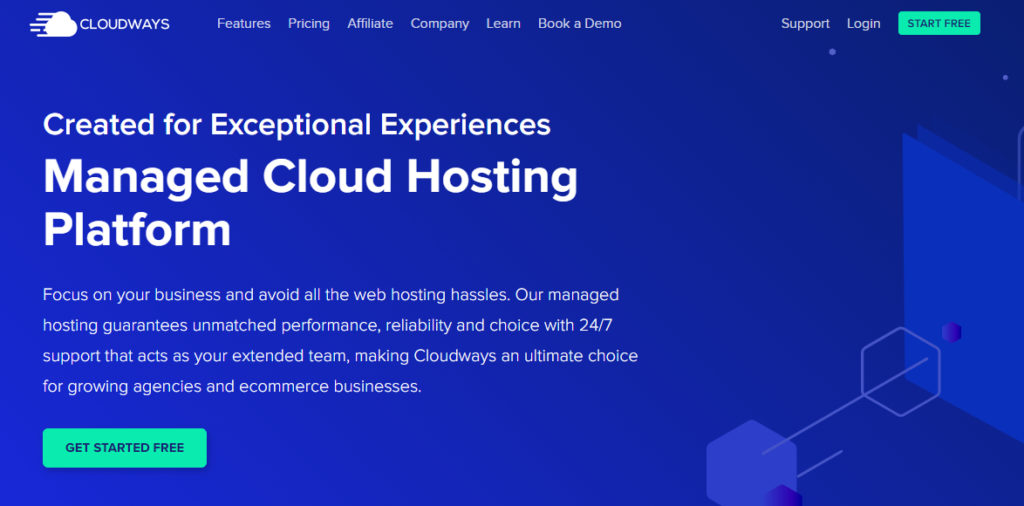 In this post, I will present brutal comparisons between Rocket hosting and Cloudways, and by the end, you should get good clarity on how the two services work.
Rocket.net Vs. Cloudways: Performance
1. Server Response Time (TTFB)
High performance is the key to success for any website, which is why we must take this aspect very seriously. The server Response Time (TTFB) is a crucial test to check the performance of any hosting service.
I tested the server response time of my sites hosted with Rocket and Cloudways. Each demo site is set to get monitored for 60 seconds once in Pingdom (1440 checks in a day, 43,200 checks in a month, 2,60,000 checks in 6 months, and 5,18,400 checks in 12 months)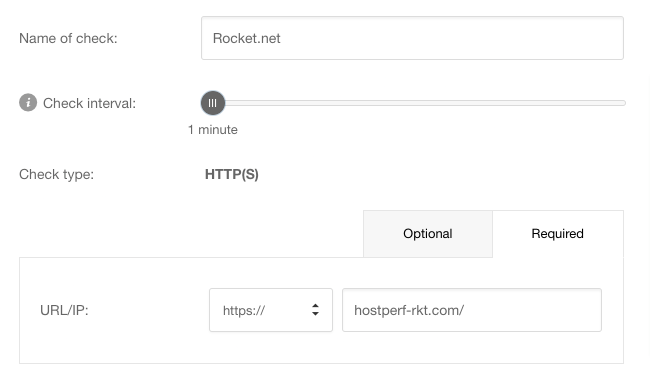 Based on 12 months of data, my Rocket site recorded an average server response time of 252ms, while my Cloudways site reflected an average server response time of 302ms. The Rocket hosting comes with CF Enterprise CDN full-page caching enabled by default, giving the fastest TTFB to the sites hosted.
However, at Cloudways, you need to buy CF Enterprise separately, which doesn't have full-page caching like on Rocket. Hence, Rocket has a better server response time (TTFB) than Cloudways.
Winner: Rocket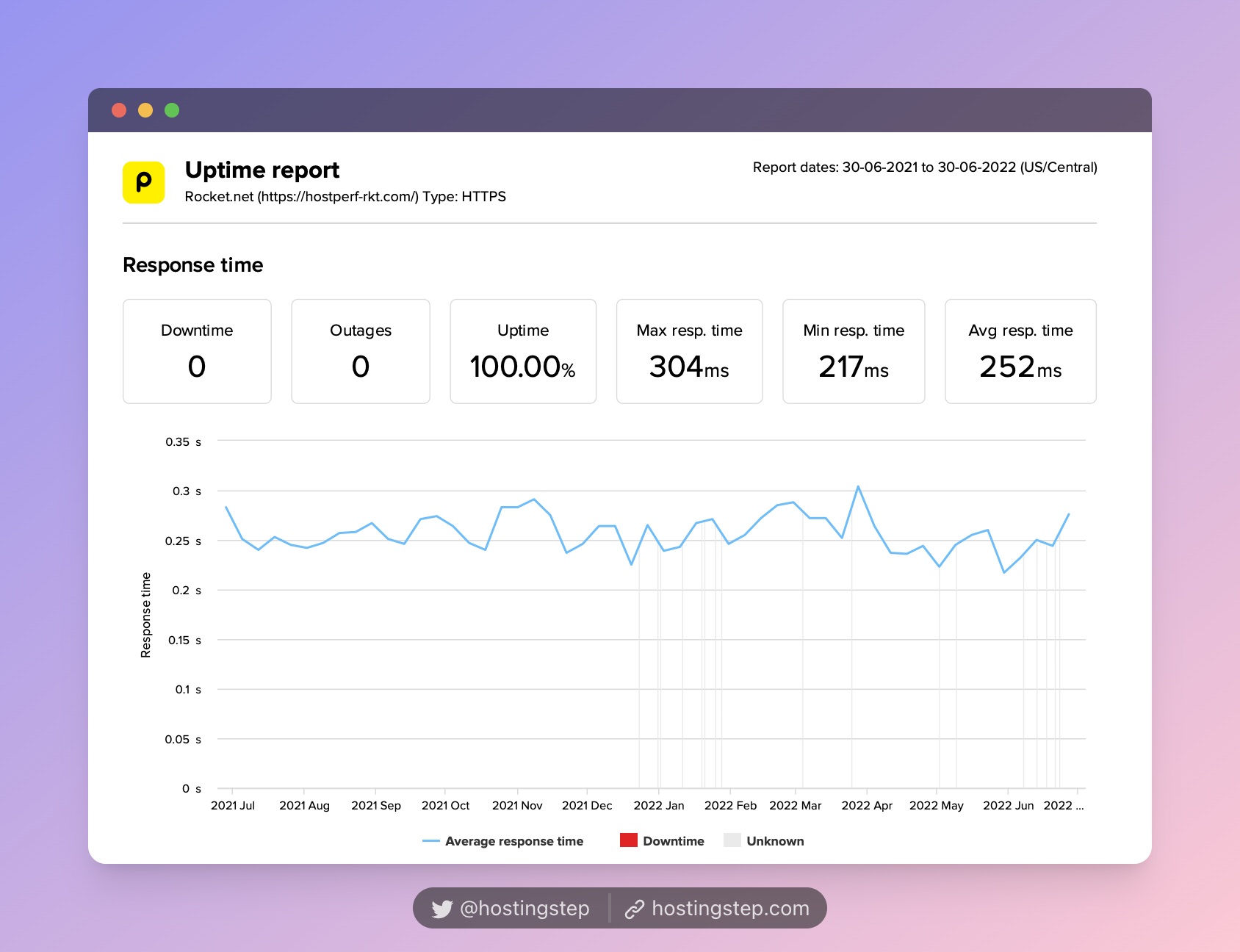 Rocket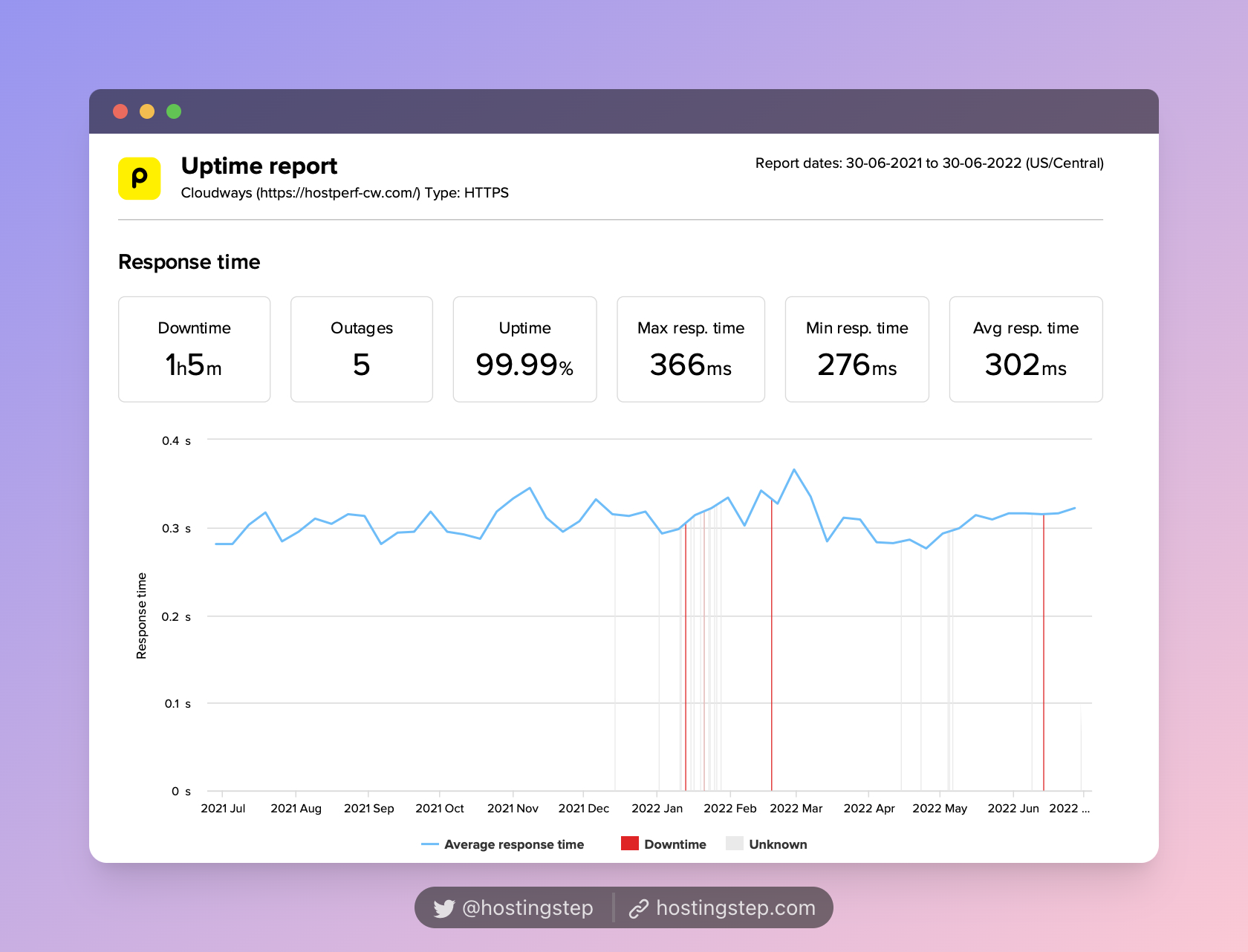 Cloudways
2. Uptime
Uptime is another crucial factor. Any site with a sales motive can't afford to have poor uptime. I tested the uptime of my Rocket and Cloudways site over 12 months.
While my Rocket site maintained an uptime of 100%, my Cloudways site recorded an uptime of 99.99%. Even though both have a reliable uptime, Rocket has slightly better uptime than Cloudways. One can refer to the above response time screenshot for uptime reports.
Winner: Rocket
3. Load Testing
Performance checks would be incomplete without load testing, and I performed load testing for the two services.
My Rocket site recorded a response time of
16 ms in Clients Per Test (1000 Clients in 1 Minute),
14 ms in Maintain Client Load (1000 Clients in 1 Minute).
My Cloudways site had a response time of
10 ms in Clients Per Test (1000 Clients in 1 Minute),
268 ms in Maintain Client Load (1000 Clients in 1 Minute).
*lower ms is better. The clients per test is a simple load test where the 1000 clients will load at random times in the 1-minute test duration. The maintain Client Load is an advanced test where the 1000 clients will load throughout the 1-minute test duration.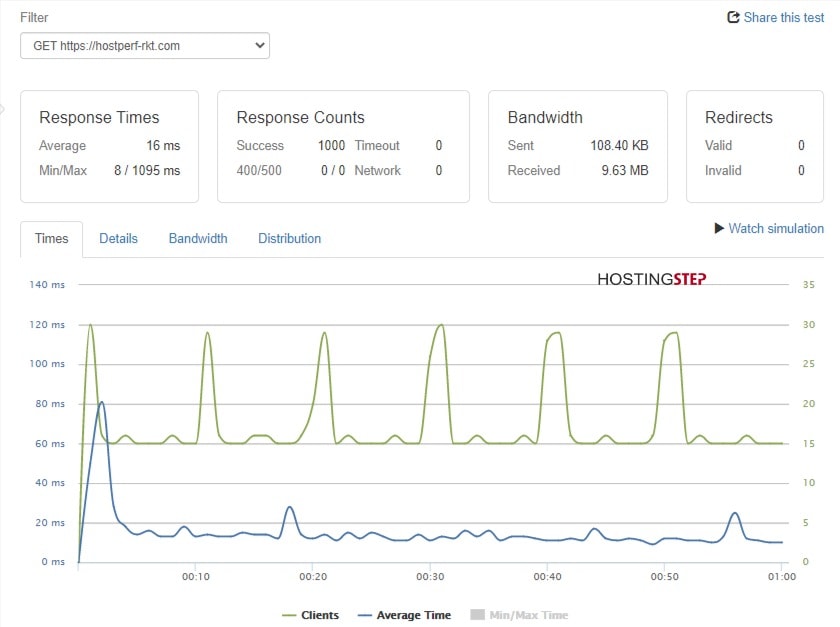 Modified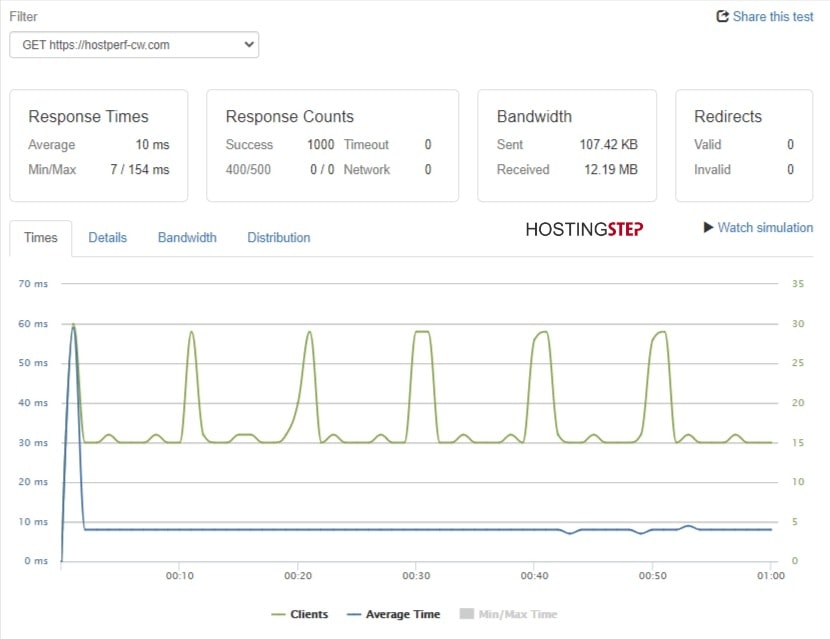 Original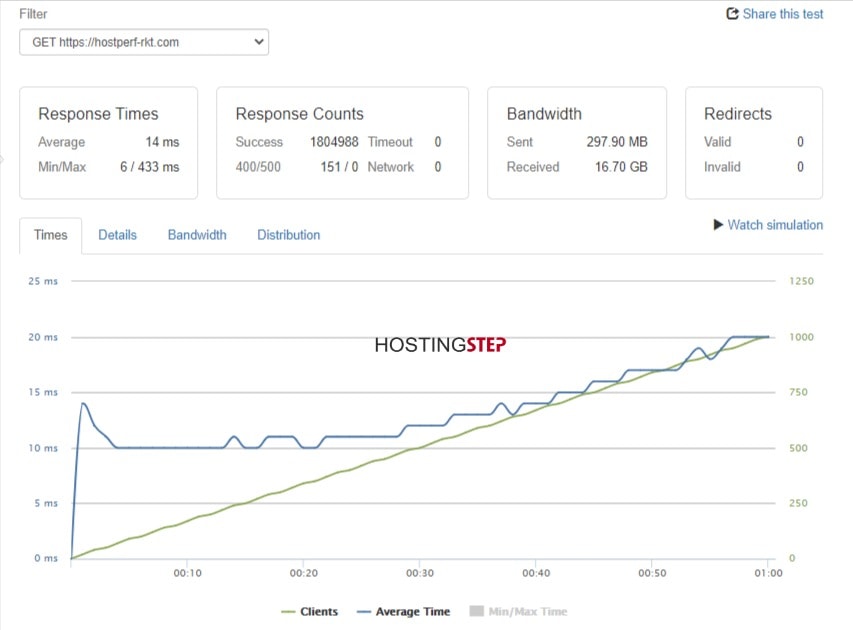 Modified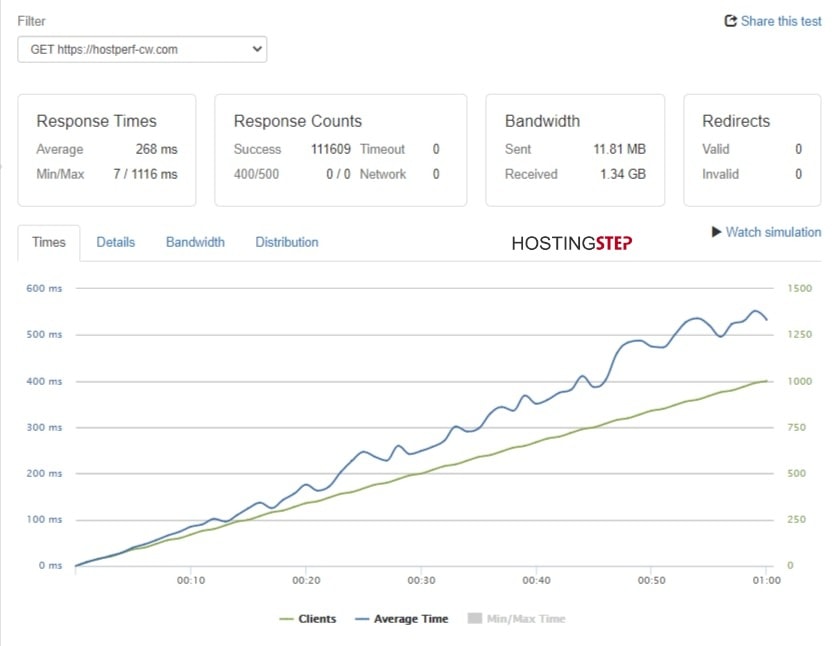 Original
While Cloudways performed faster in the simple load test, Rocket outperformed Cloudways in the advanced load tests. For high-traffic sites, Rocket hosting is my recommendation.
Winner: Rocket
4. Global TTFB
Global TTFB is an important test to check how well a hosting service performs in different international locations. The test is especially essential for those sites that get traffic from multiple global locations. I tested the global TTFB of the two services by pinging my sites hosted with them from as many as ten international locations.
The Rocket has better TTFB than Cloudways, thanks to CF Enterprise Edge caching.
My Rocket site has performed well with brilliant global TTFB across all the international locations. Rocket's had an average global TTFB of 158.28 ms. My Cloudways site had an average global TTFB of 390.15 ms.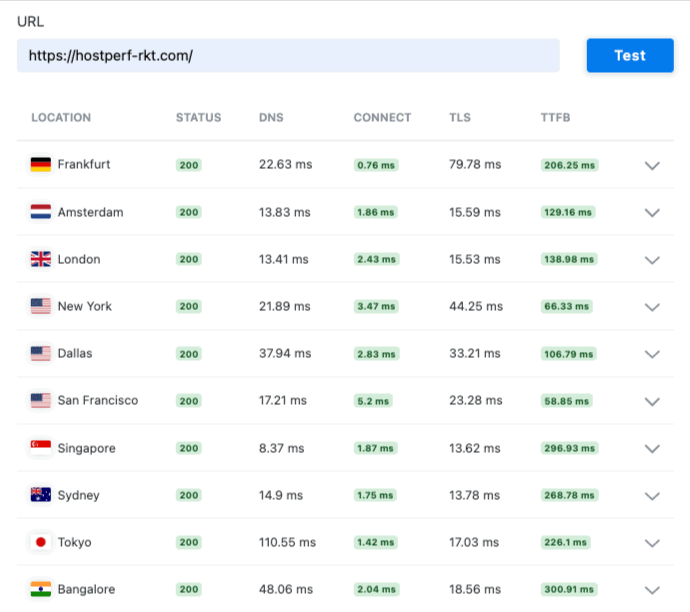 Rocket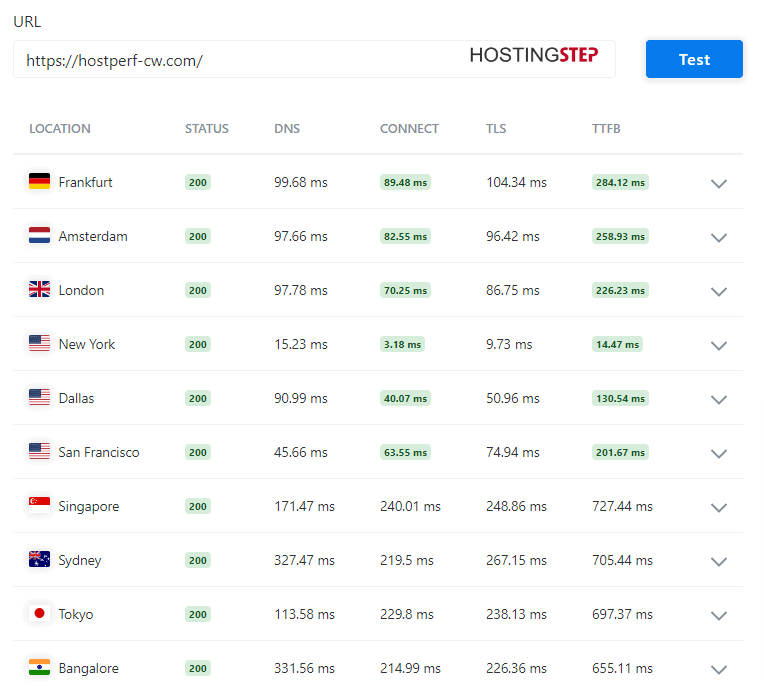 Cloudways
Winner: Rocket
5. Core Web Vitals
Better Core Web Vitals mean better user experience. I tested the Core Web Vitals of the two services. My Rocket site reflected a
Largest Contentful Paint of 507ms,
Total Blocking Time of 0ms, and
Cumulative Layout Shift of 0.
My Cloudways site had a
Largest Contentful Paint of 560ms,
Total Blocking Time of 0 ms, and
Cumulative Layout Shift of 0.
You can see that Rocket has a better 'Largest Contentful Paint' than Cloudways.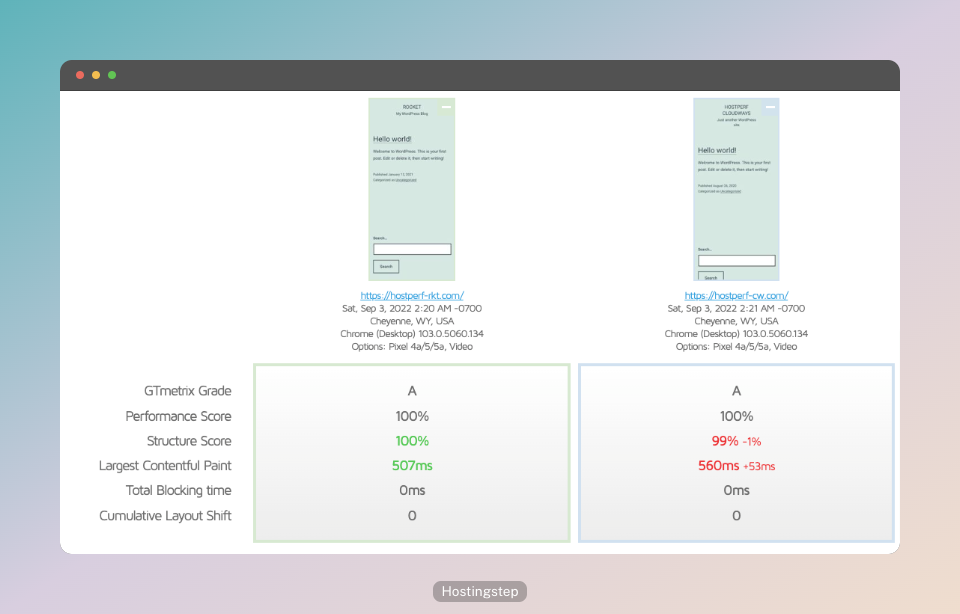 Winner: Cloudways
Rocket Vs. Cloudways: Features
Data Center Locations
Hosting a site in the closest data center location to your target audience helps offer them faster content delivery.
Rocket comes with 20 data center locations across the globe, while Cloudways has over 65 global locations. Hence, customers have more to choose from Cloudways.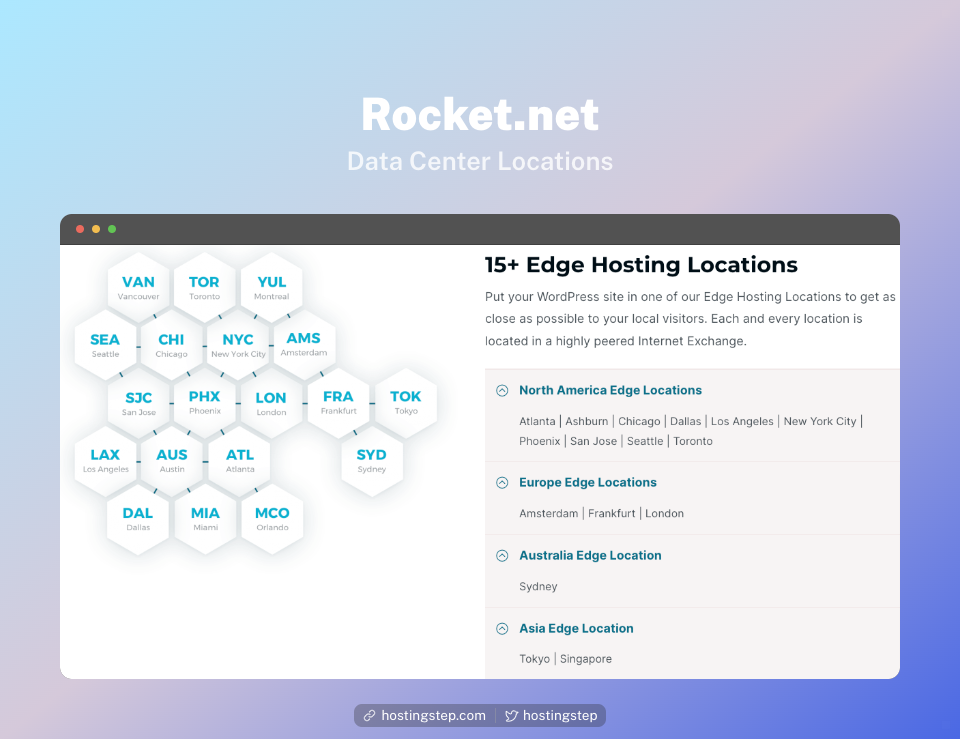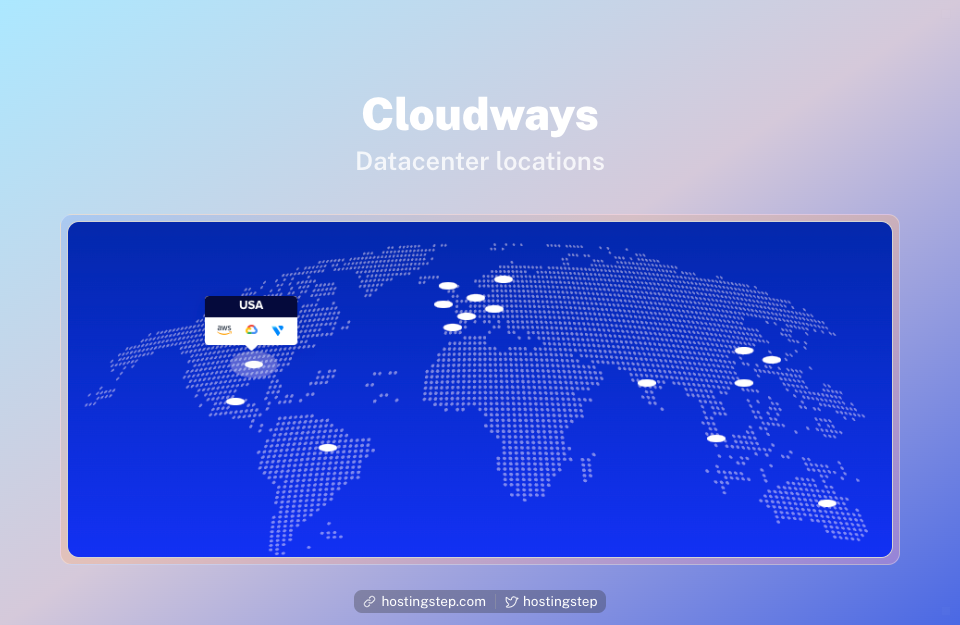 Control Panel
Rocket comes with a WordPress control panel which is pretty easy to use. Users can find all the essential tools for development, launching, staging, and optimization in a single interface. Further, the control panel gives 20+ Locations, SSO to WP-Admin, robust reporting, and collaboration tools.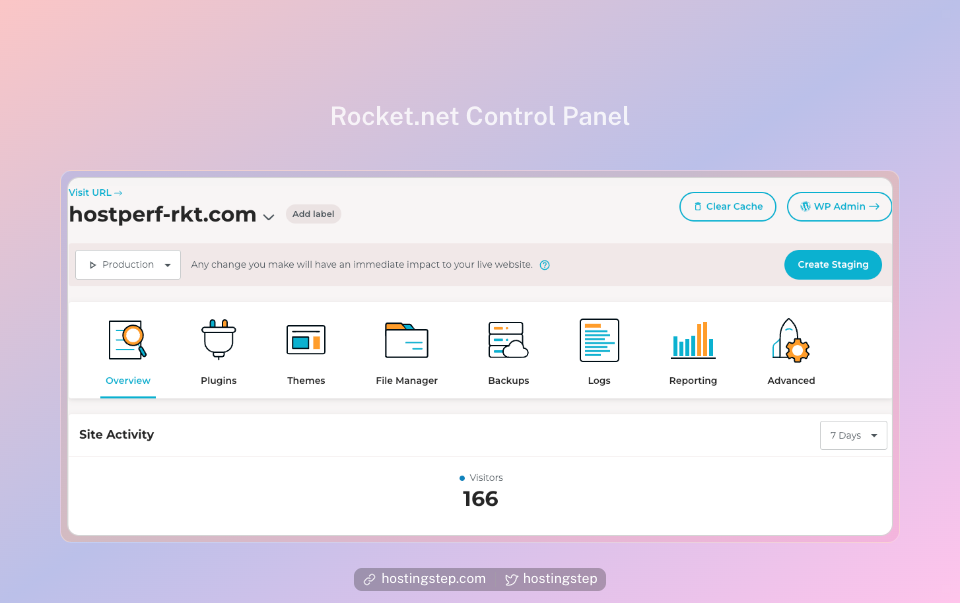 Cloudways comes with a custom control panel with a clean interface. The control panel consists of server monitoring, a Free built-in cache plugin, 1-Click CDN, server cloning, staging URL, and team collaboration. Even if you were a cPanel or Plesk user, you should get the hang of the Cloudways control panel in no time.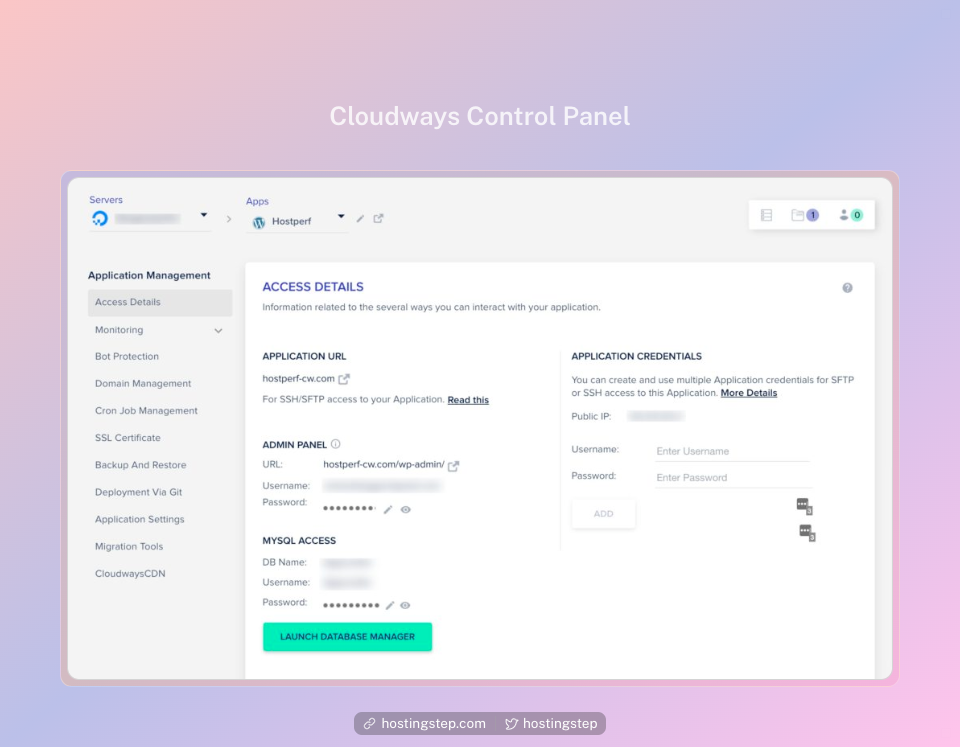 CDN
CDNs are crucial in delivering content to the target audience faster through multiple edge locations.
Rocket has an Enterprise Cloudflare CDN solution available for free on all plans. The CDN gives sites the advantage of Brotli file compression, Image Optimization, Tiered Caching, and Agro Smart Routing alongside serving your content from the closest server. The best part is users don't have to configure it at all. Everything about the CDN would be taken care of by the host itself.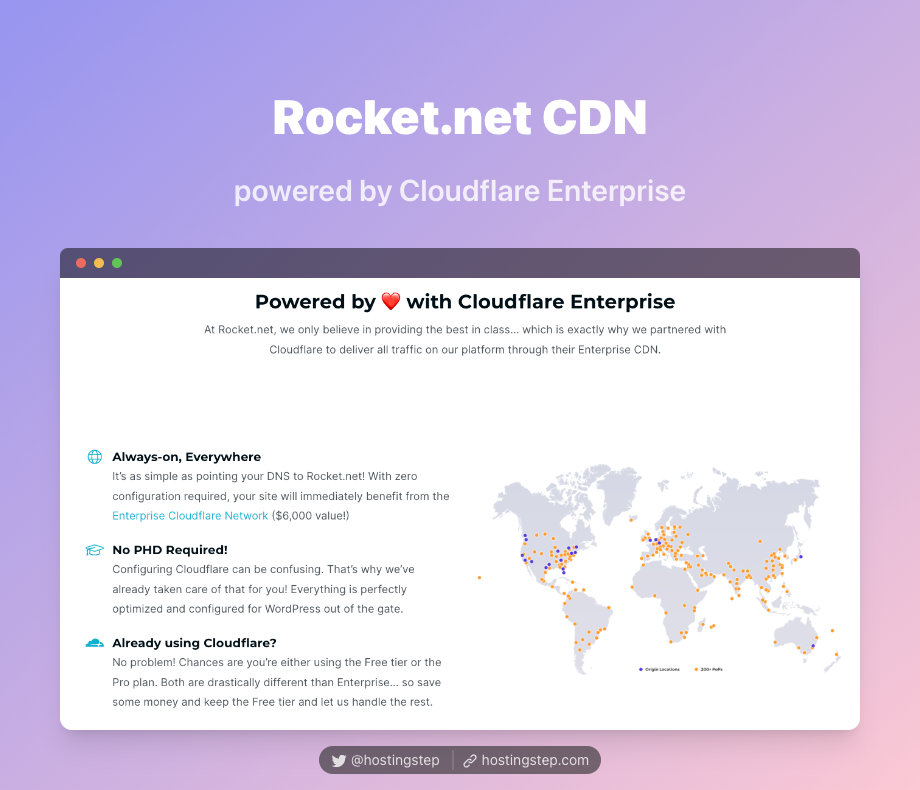 Cloudways comes with a built-in CDN powered by Cloudflare Enterprise with features such as built-in Asset Optimization, Low TTFB, and exceptional caching. Cloudways offers a CDN add-on on all plans for easy CDN integration. However, it charges $4.99/month for 100GB bandwidth.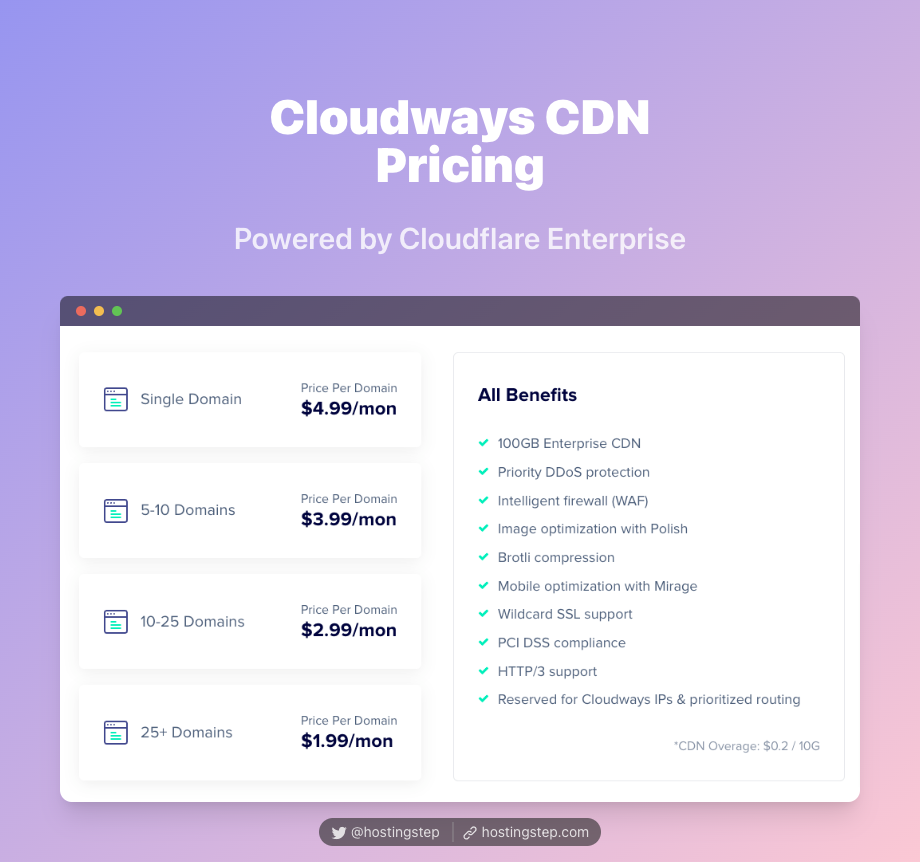 Backups
If you don't want to lose your website files unexpectedly, you must ensure that the hosting service you are up to choosing comes with a good backup solution.
Rocket has a reliable backup system and free automated daily backups on all plans. The backups are usually taken at night and saved on the Rocket server for disaster recovery. The host also allows customers to restore any backups at any time. Further, Rocket also offers on-demand backups on all plans, which means you can get a complete backup of your site before performing any site maintenance.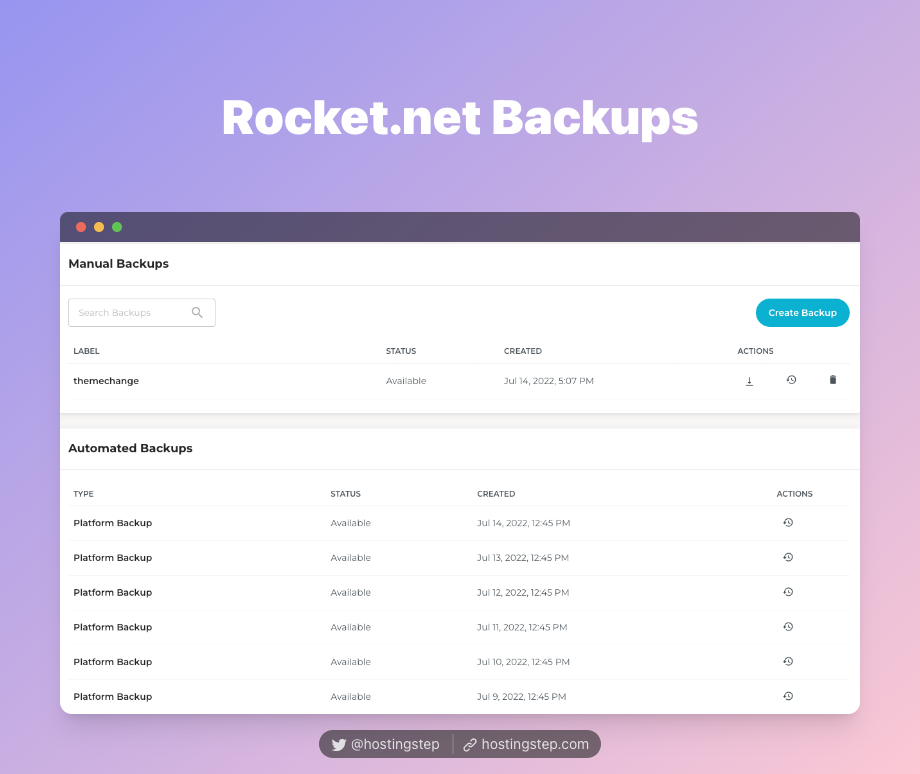 Cloudways doesn't offer backup for free and charges $0.33 per GB of backup and an additional price if you require more than 1 GB of backups. Regarding the backup system, it is pretty reliable, and the host takes automated daily backups of sites and saves them to an external storage network.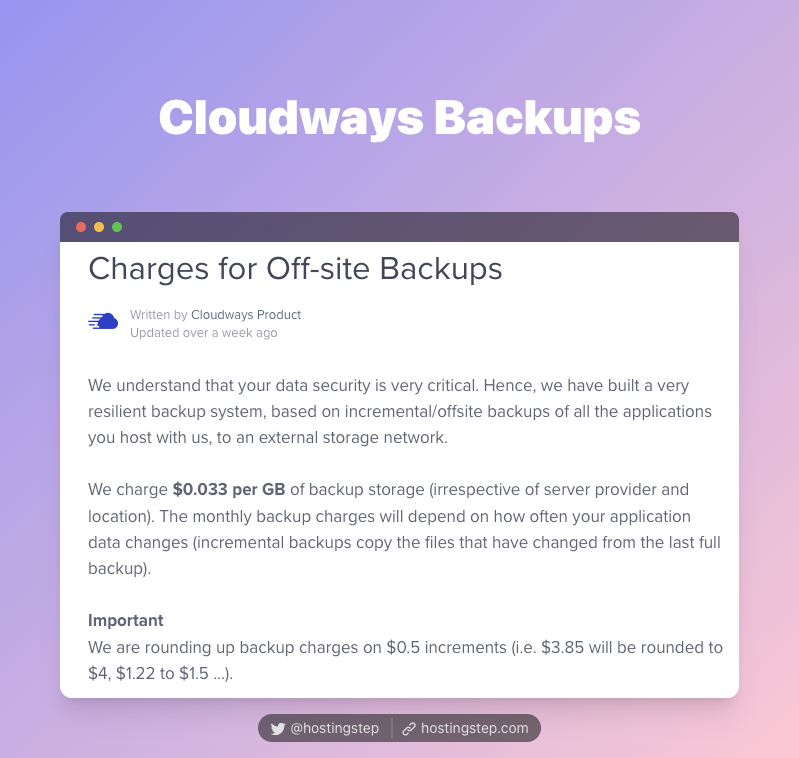 Staging
Staging or creating a copy of your live site can be very handy when you have to test some changes, like testing PHP versions or plugin compatibility, without hampering your live site.
Rocket offers a straightforward staging site creation, and it's free on all plans to help you create staging sites, test your changes and deploy significant changes from staging to live site.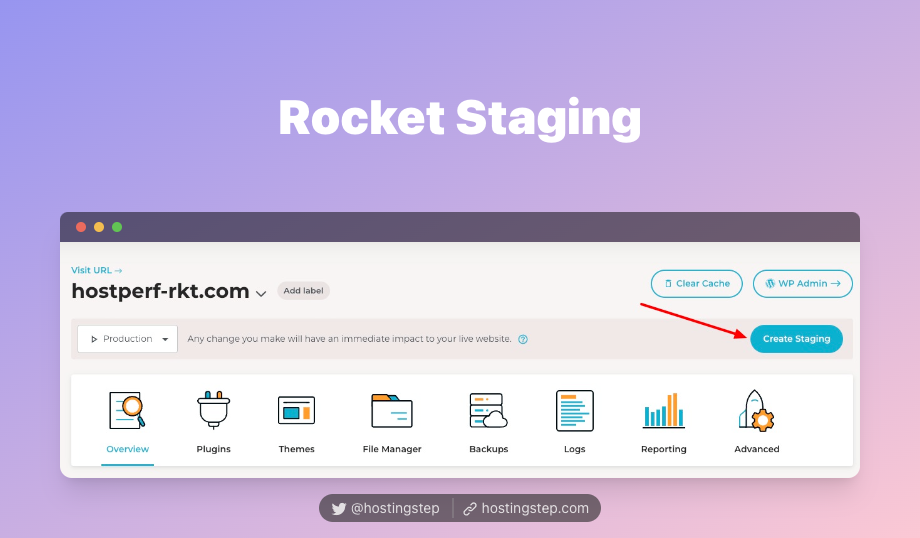 Staging is free in Cloudways, and the process is pretty simple, from creating a staging site to pushing the changes to the live site.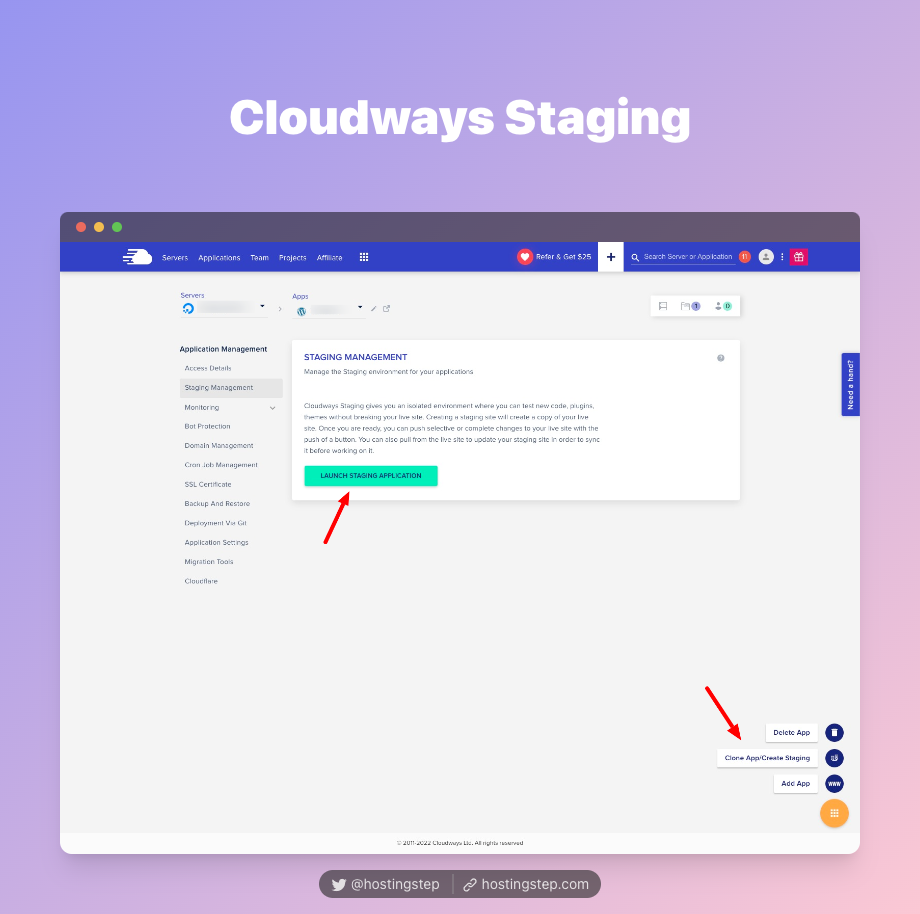 Security
You can't rule out the importance of security in web hosting, and you must ensure that a hosting service has the best security features before choosing one. Rocket has a robust security system that comprises WordPress Website Firewall, Hack & Malware Removal, Automated WP Core, Plugin, and Theme Updates.
Cloudways also has reliable security features for sites, including dedicated firewalls, Let's Encrypt SSL, IP Whitelisting, Regular Security Patching, Two-Factor Authentication, Bot Protection against DoS, and brute force.
Discounts
The Cloudways Promo code gives you 25% OFF for first-month billing, which is more than enough to test their hosting services.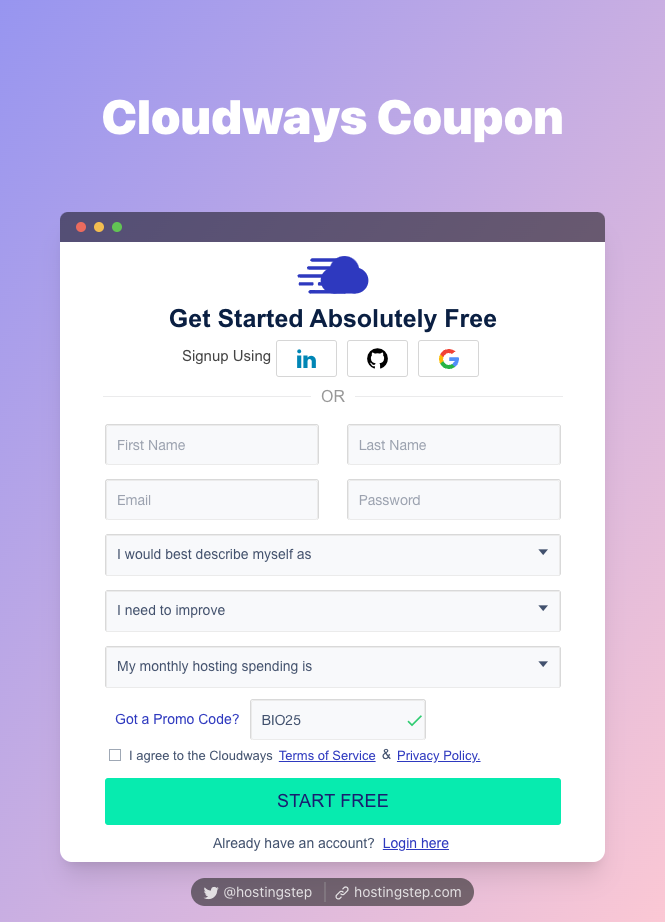 Support
Rocket offers customers brilliant support through 24×7 live chat, phone, and email and a comprehensive knowledge base. Most importantly, the support team has the most experienced WordPress executives to assist the customers.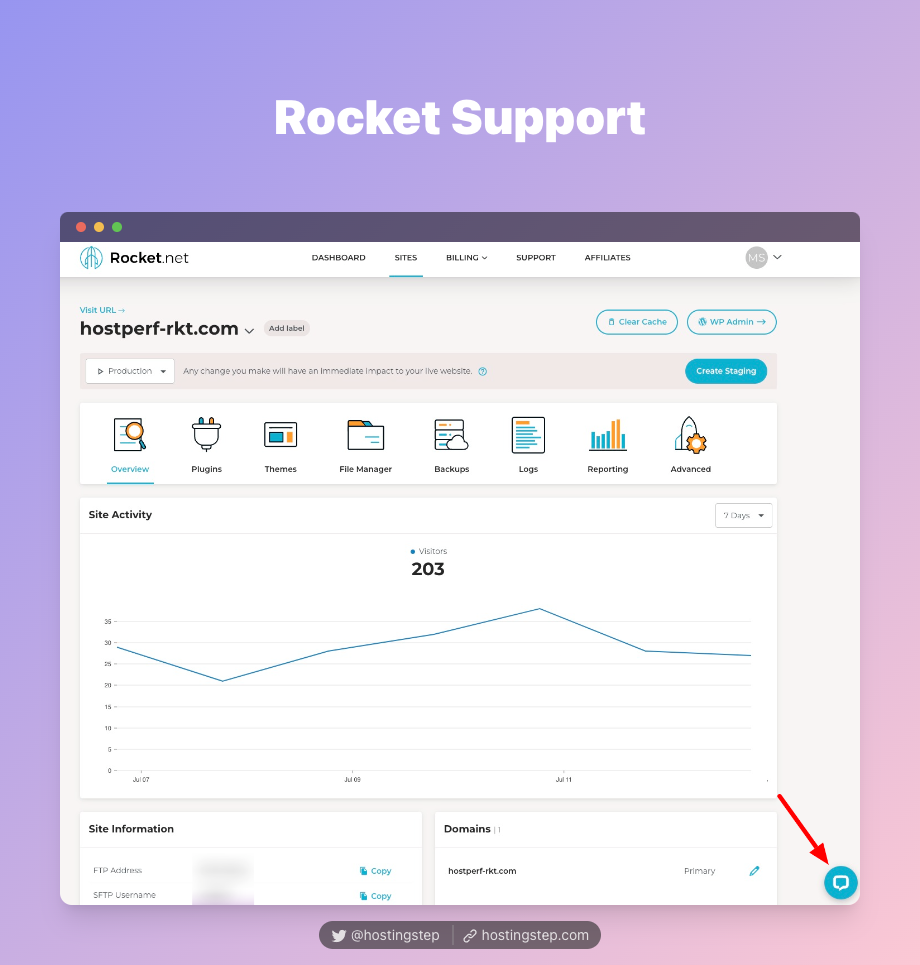 Cloudways also has one of the best support teams in the industry, and the team does a great job of assisting customers through 24×7 live chat and ticketing. One can access customer support inside their dashboard. Further, the host also has advanced and premium support add-ons for customers who need quicker assistance.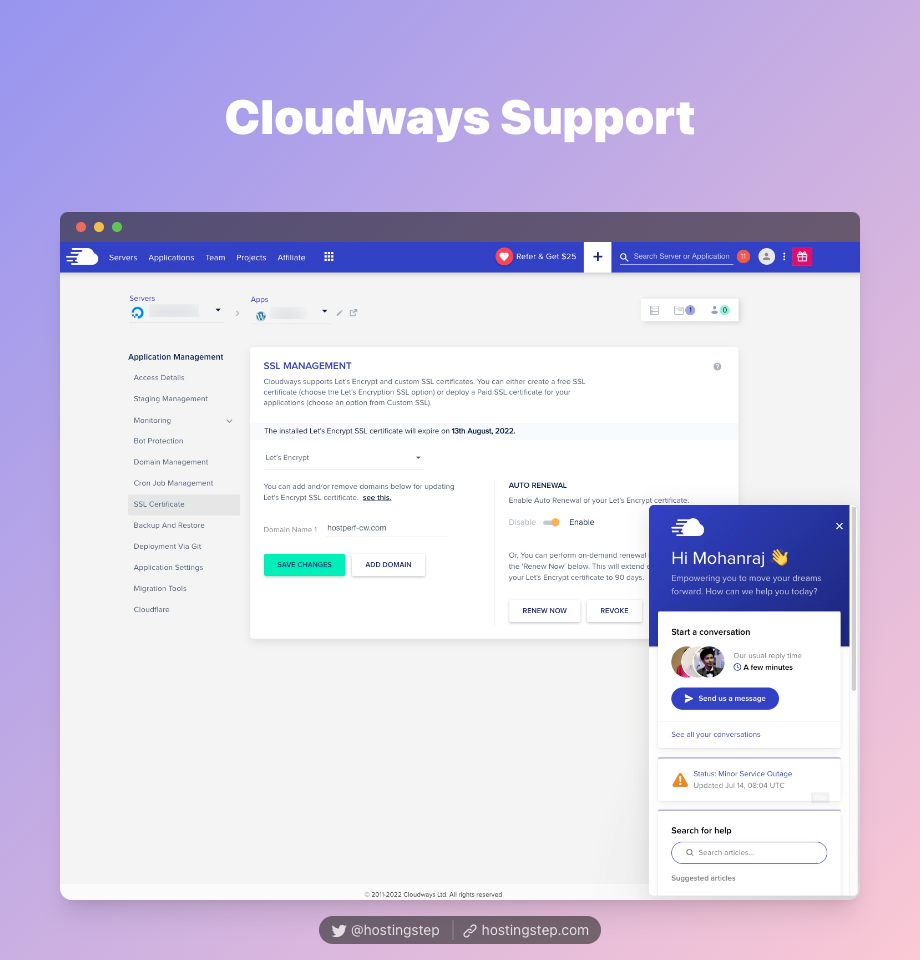 Rocket.net or Cloudways – Which is best?
Rocket and Cloudways are both pretty popular hosting services. However, choosing between the two isn't easy unless you know all the aspects of the two services. I spent some hours studying the various features of the two services and testing their performance.
Reading this post, you must have noticed that Rocket has a leading edge over Cloudways in many places. Cloudways is cheap to start as their pricing starts at just $11/month. However, for better performance and easy to use dashboard, then Rocket.net is the ultimate choice.