Cloudways is a managed cloud hosting company that started in 2012. The platform is known for its less complicated, affordable, secure, and flexible hosting experience and is trusted by many developers, agencies, and businesses.
In this post, I will share some of the pros and cons of Cloudways, and after you read this post to the end, you will gain good clarity about Cloudways.
Pros of Cloudways
Offers Fastest Hosting (Tested)
Cloudways offers the fastest hosting experience, and I can say that based on my recent testing on the platform. I hosted a test site on the platform and tested the server response time of my site for more than 24 months.
My Cloudways website recorded an average server response time of 302 ms and is faster than many leading hosting services, such as Bluehost, Kinsta and WP Engine.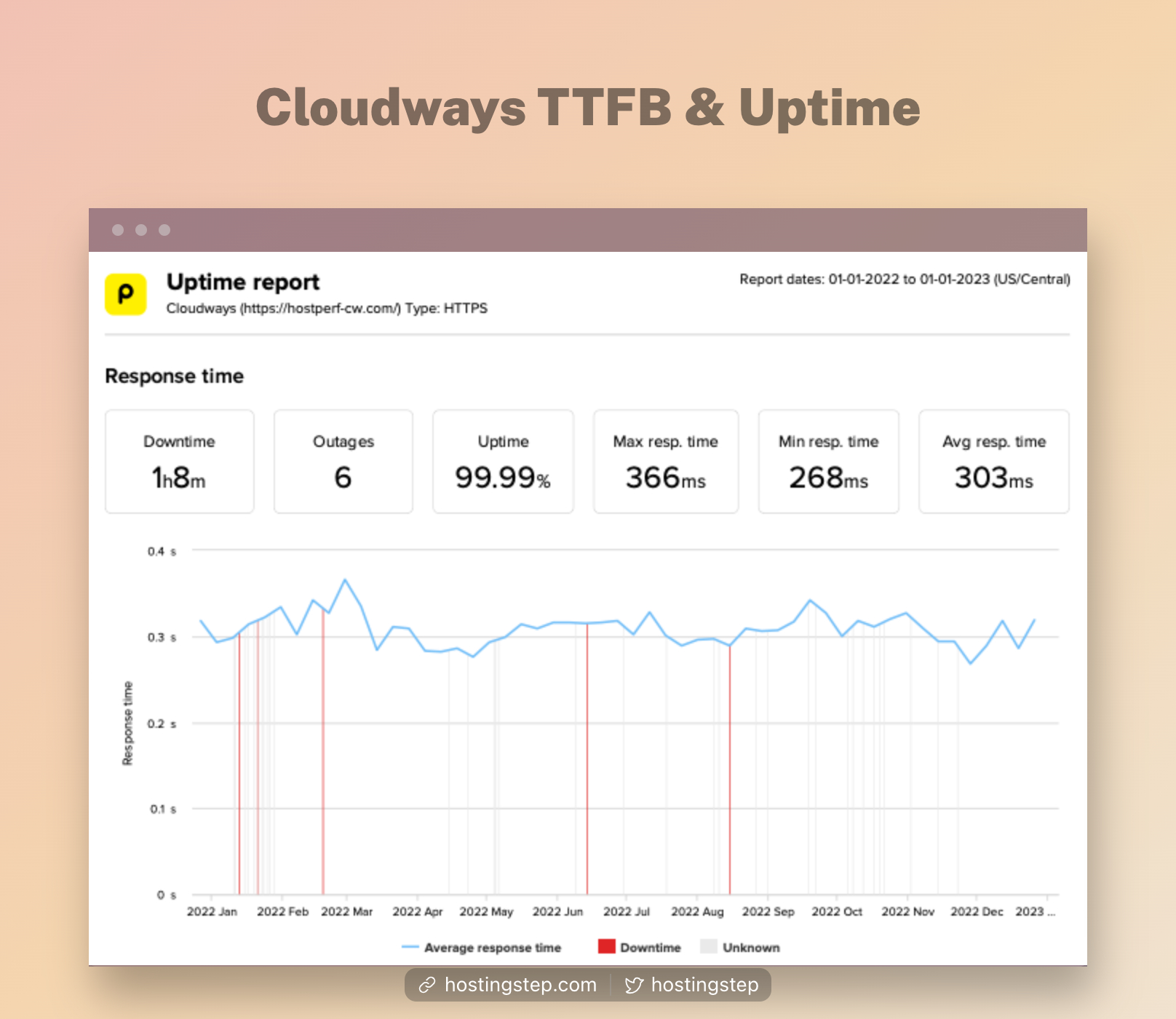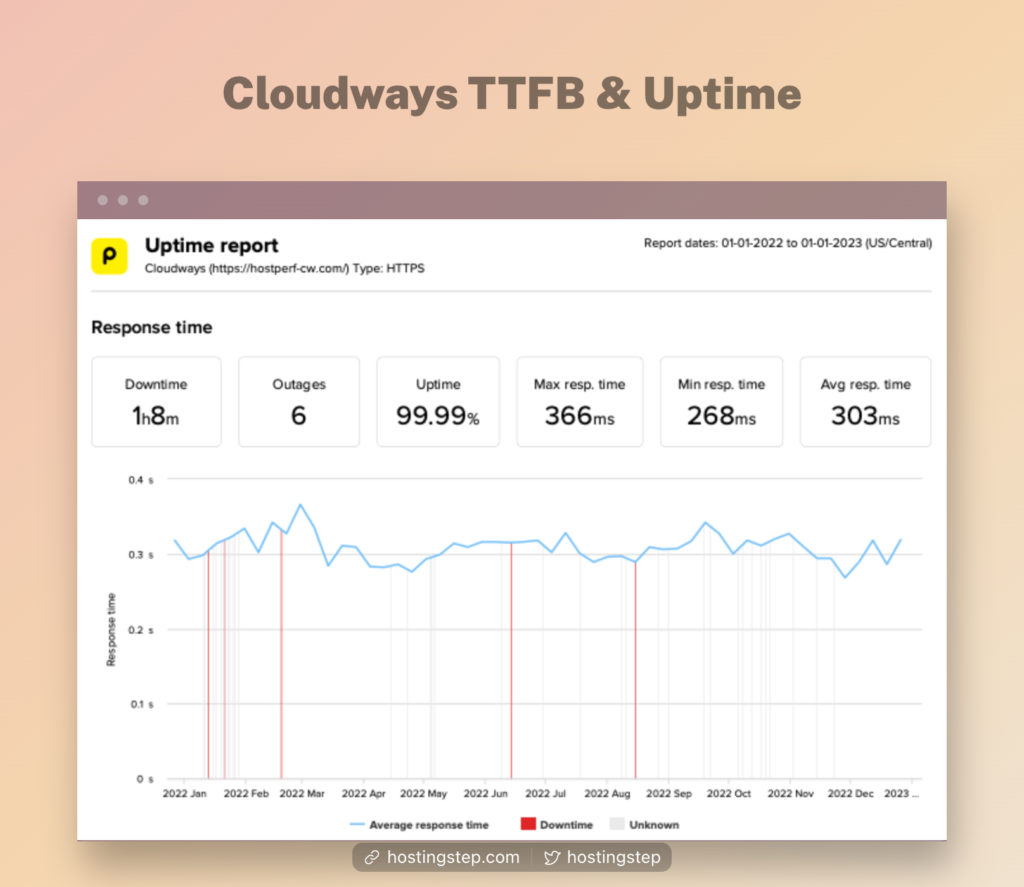 Hence, you can expect excellent loading times for your website if you host your website on Cloudways.
Affordable pricing
Cloudways offers affordable pricing under all five cloud providers. However, DigitalOcean has the lowest tier plan for $11 per month. The plan has 1 GB RAM, 1 Core Processor, and 25GB Storage. The Cloudways discount code also makes the pricing better with 30% Off for three months.
The best part is Cloudways maintains excellent transparency in terms of its pricing. All plans have the same renewal price as the advertised price on the website.
Unlimited domain hosting on any plan
Cloudways has a wide range of plans under three cloud providers. However, there is one thing in common in all plans: all Cloudways plans allow customers to host unlimited domains.
Most of the popular hosting companies limit the number of domains that can be hosted on the different plans.
Global data centers
Cloudways has tie-ups with leading cloud providers: DigitalOcean, AWS, and Google Cloud Platform. It gives Cloudways the advantage of over 65 global data centers.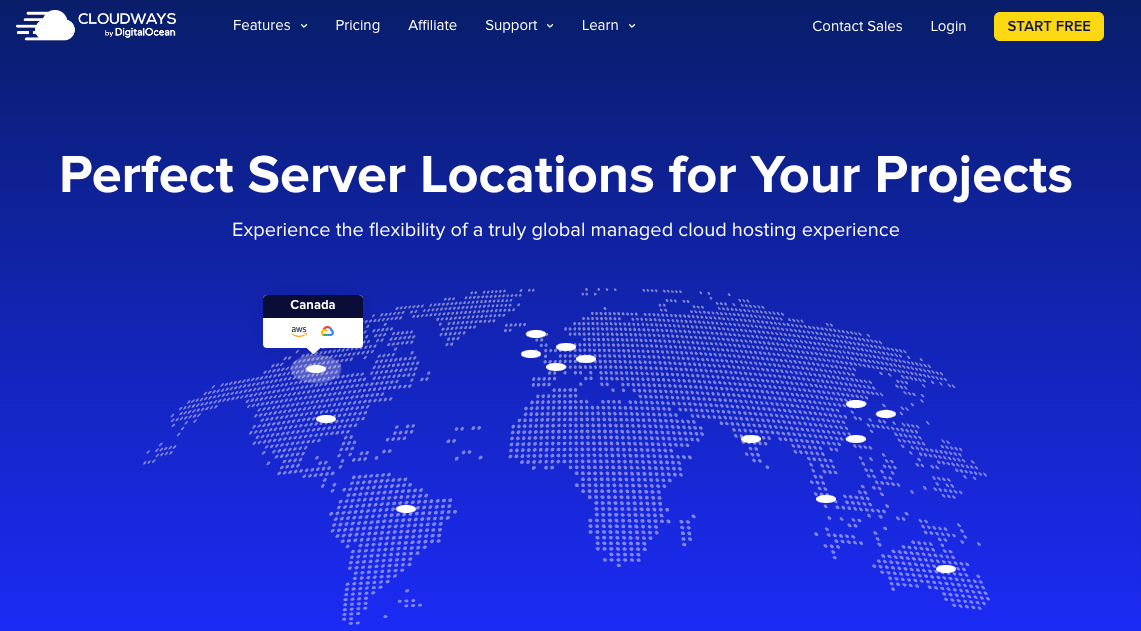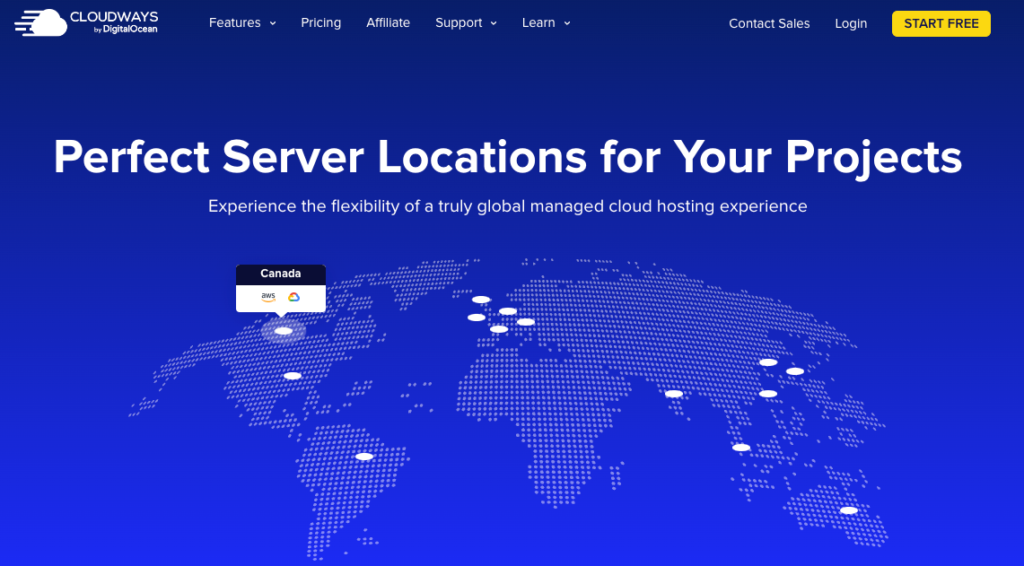 Hence, Cloudways users shouldn't have problems finding their desired data center location to ensure faster delivery of content to their target audience.
Modern control panel
Cloudways comes with a custom control panel, which is user-friendly yet advanced. All essential tools are arranged in neat order. Some of the tools you can find in the control panel are 1-Click Backup & Restore, Cron Job Manager, and WP-CLI Pre-installed.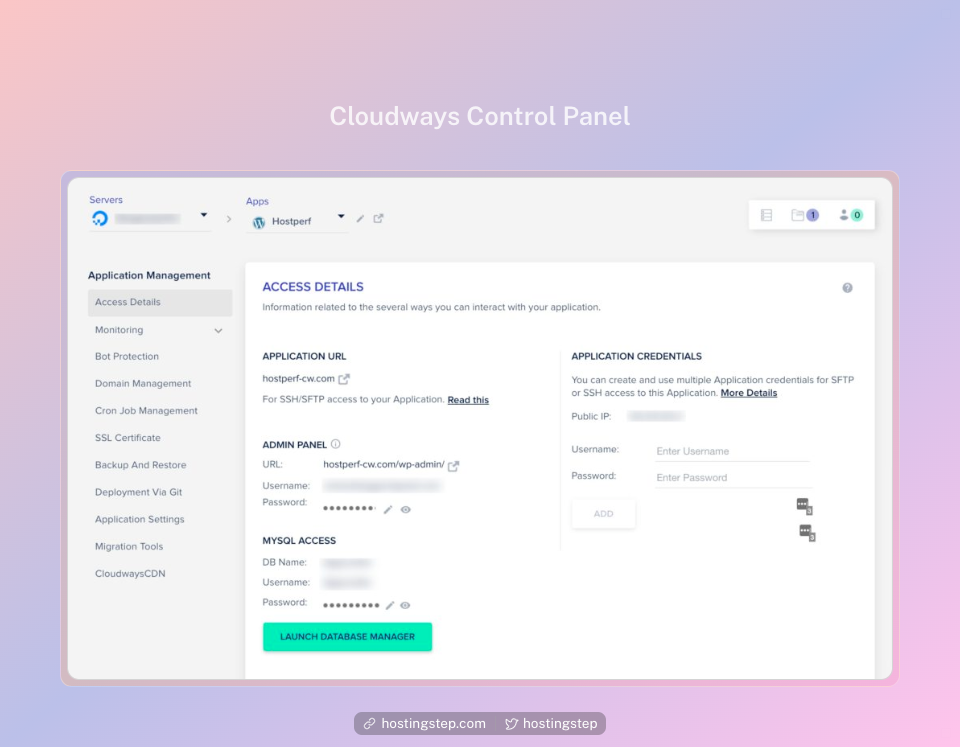 Even beginners can get the hang of the control panel in just about 5 to 10 minutes. Most importantly, the control panel offers customers an excellent single point of control for managing every aspect of the hosting account.
Good Customer support
Cloudways has one of the best customer support teams in the industry. Cloudways support team does a brilliant job assisting customers 24/7 through live chat, online ticketing, phone, and private Slack channel.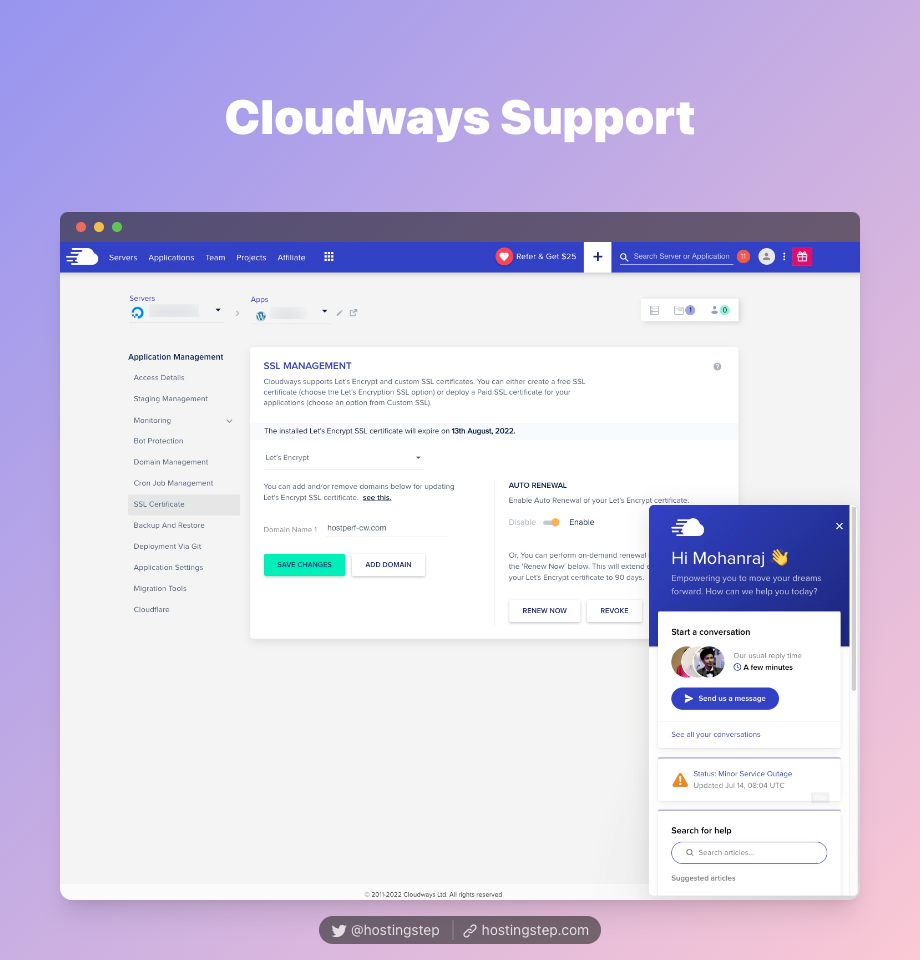 It's easy and quick to reach the Cloudways customer support team, and the support team is highly knowledgeable and friendly. Further, the platform has a good knowledge base, case studies and ebooks for a quick reference.
No upsells
One decent thing about Cloudways is that this platform has no upsells. Instead, the provider offers all premium features on all plans.
Some of these features are Object cache pro for speed optimization, Malcare for security, and Breeze (a free caching plugin).
Cons of Cloudways
CDN & Email hosting with additional charges
Even though all Cloudways plans come with Cloudflare Add-on, the CDN is not offered for free.
Cloudways users will need to get Cloudflare Enterprise CDN for an additional charge of $4.99/domain.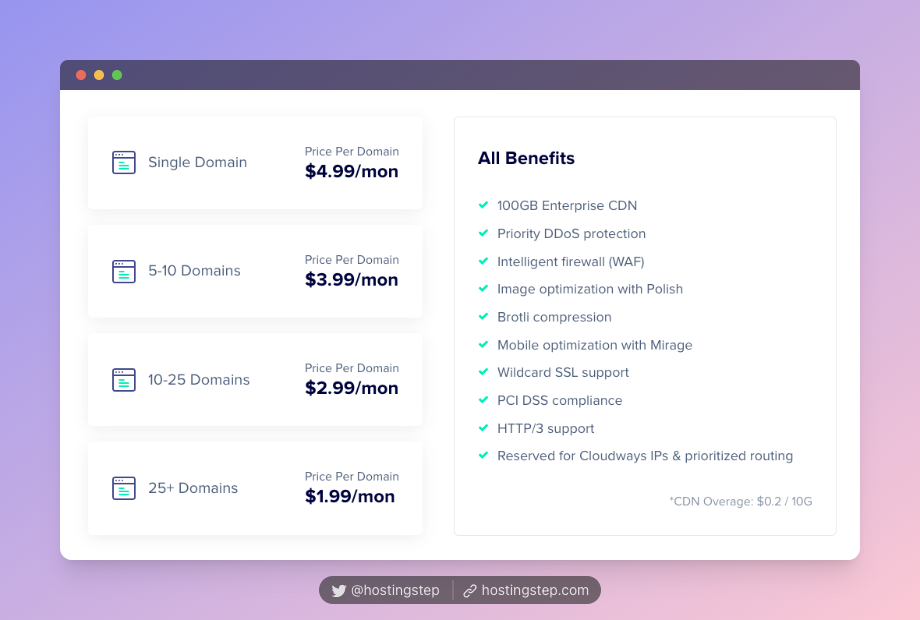 Email Hosting is also not a free feature in Cloudways and is available at an additional cost.
No free domain
While many hosting companies offer a free domain with hosting, Cloudways doesn't have such a generous feature yet.
If you are looking for a hosting service that comes with a free domain, Cloudways isn't the right hosting service for you.
FAQs
How much does Cloudways cost?
Cloudways offers excellent transparency and flexibility in terms of pricing. The hosting platform has a large number of plans under five leading cloud providers. DigitalOcean has the lowest tier plan, which costs $11 per month for 1GB RAM, 1 Core Processor, and 25GB Storage.
What are the pros of Cloudways?
Cloudways is one of the finest hosting companies and has many pros. Here are some of the pros of Cloudways:
Cloudways offers unlimited domains on all plans
Cloudways comes with over 65 global data centers
The service comes with affordable pricing, as low as $10 per month
The control panel is advanced and user-friendly
Cloudways offers many premium features on all plans
Cloudways is one of the fastest hosting services
The service has a decent support team backed by highly experienced executives
What are the cons of Cloudways?
Even though Cloudways is a reliable hosting service, it has a few cons. The cons of Cloudways are:
CDN and Email Hosting are not free features in Cloudways, and customers can have them for an additional cost
The service doesn't come with any free domain
The Bottom Line
If you are looking forward to buying a Cloudways plan, you should be clear on how the service works after reading the post so far. As you have seen in the post, Cloudways is a reliable service with an excellent server response time.
The platform comes with transparent and flexible pricing. Besides, the service has many other pros. However, the service doesn't offer any free domain with hosting, and CDN and Email Hosting aren't free either. If you are okay with it, you are good to go with Cloudways.