Rocket.net and Kinsta are two popular Managed WordPress hosting services providers.
To test both the hosting services, I became their paying customer, bought a hosting account, installed a test site with same setup.
In this post, I've compared Rocket.net and Kinsta in terms of performance, features, pricing, and support.
Let us get started.
Quick overview:
Based on the last 12 months data, I found that Rocket hosting offers 2x faster performance than Kinsta in terms of TTFB, load testing, and Uptime.
As Rocket is a few years old, Kinsta has been in the industry for nearly a decade. So, Kinsta has a premium set of features with an advanced control panel. You'll find these features missing in Rocket hosting.
If you're looking for value-for-money hosting, choose Rocket hosting.
Considering you're an agency or a big corporation and need to host your site in a reliable and renowned service, Kinsta should be your choice. There is a 2-month free hosting available on annual plans.
Rocket.net vs Kinsta – Overview
Rocket.net
Rocket.net was established in 2020 and soon emerged as one of the finest managed WordPress hosting providers. The service is ideal for both agencies and bloggers. Most importantly, the service is lightning fast, and Rocket.net websites are highly optimized and easy to set up. Further, Rocket.net offers a highly secure WordPress hosting environment. On top of that, the company has the industry's leading live support.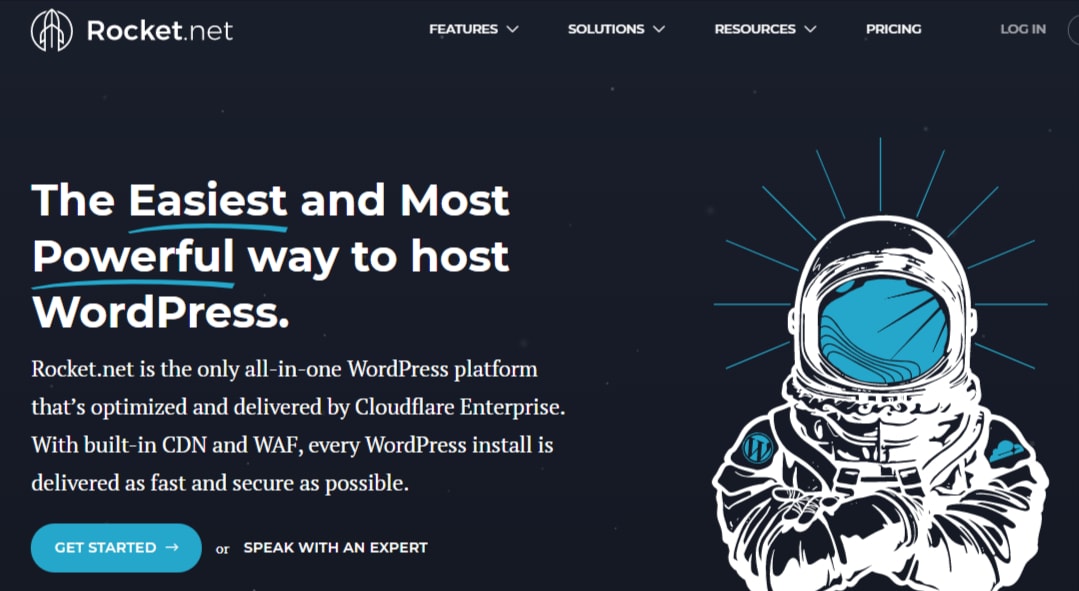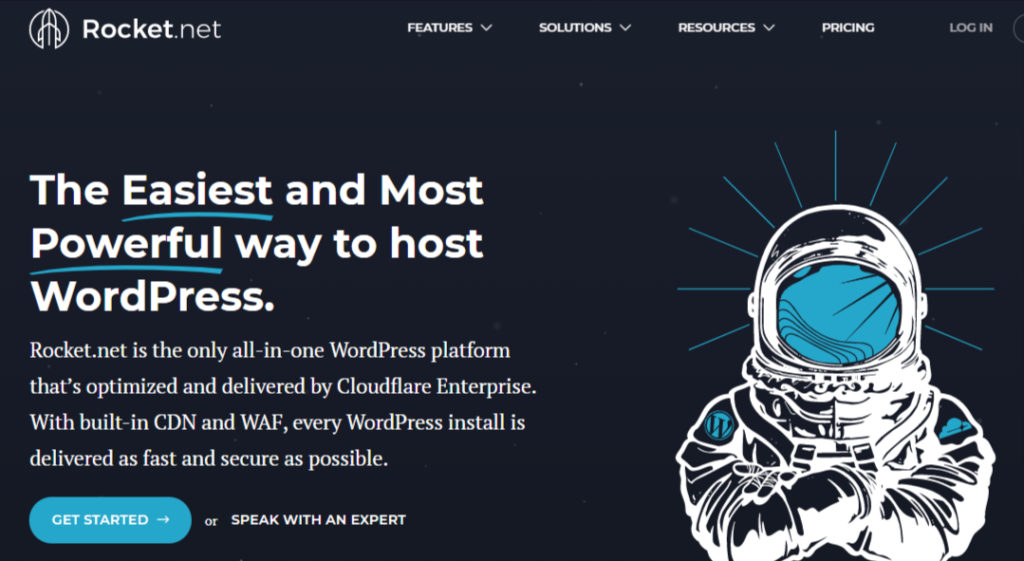 Kinsta
Kinsta was founded in 2013 and is a reliable, managed WordPress hosting platform. Kinsta runs on the Google Cloud Platform. The platform is known for its cutting-edge technology. Kinsta uses an enterprise-level firewall and DDoS protection. Kinsta also offers excellent loading speed and uptime.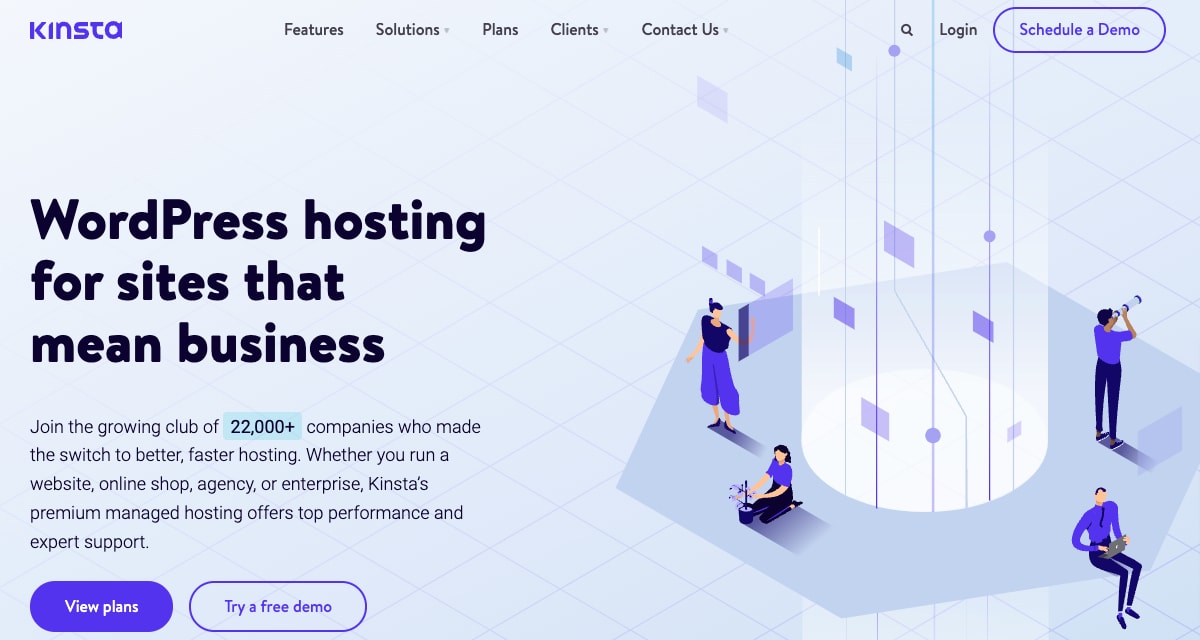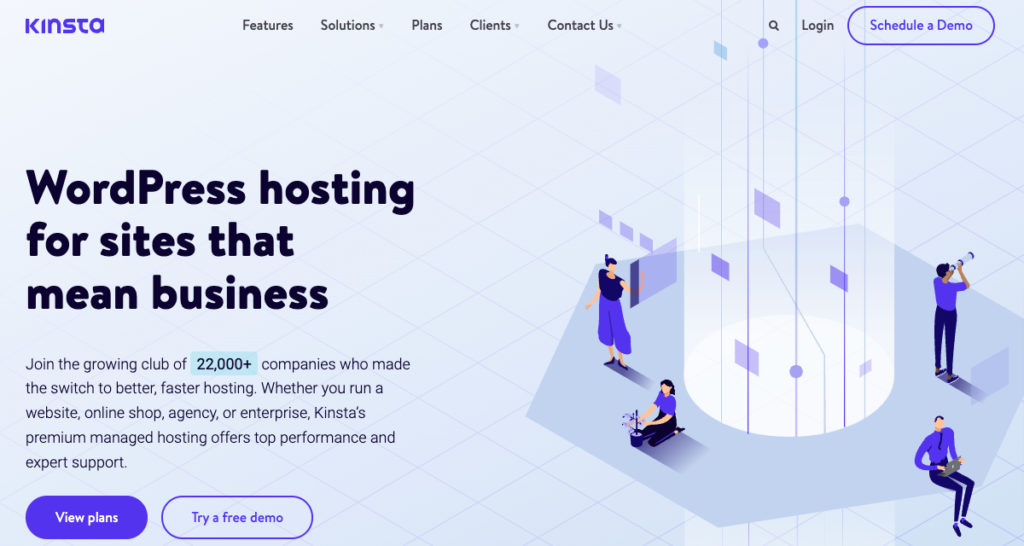 Rocket.net vs Kinsta: Performance
Server Response Time
The best way to measure the performance of any hosting company is the traditional Server Response Time TTFB Test. (lower the TTFB, faster the server)
Rocket.net's average response time TTFB is 255ms based on 12-months average data.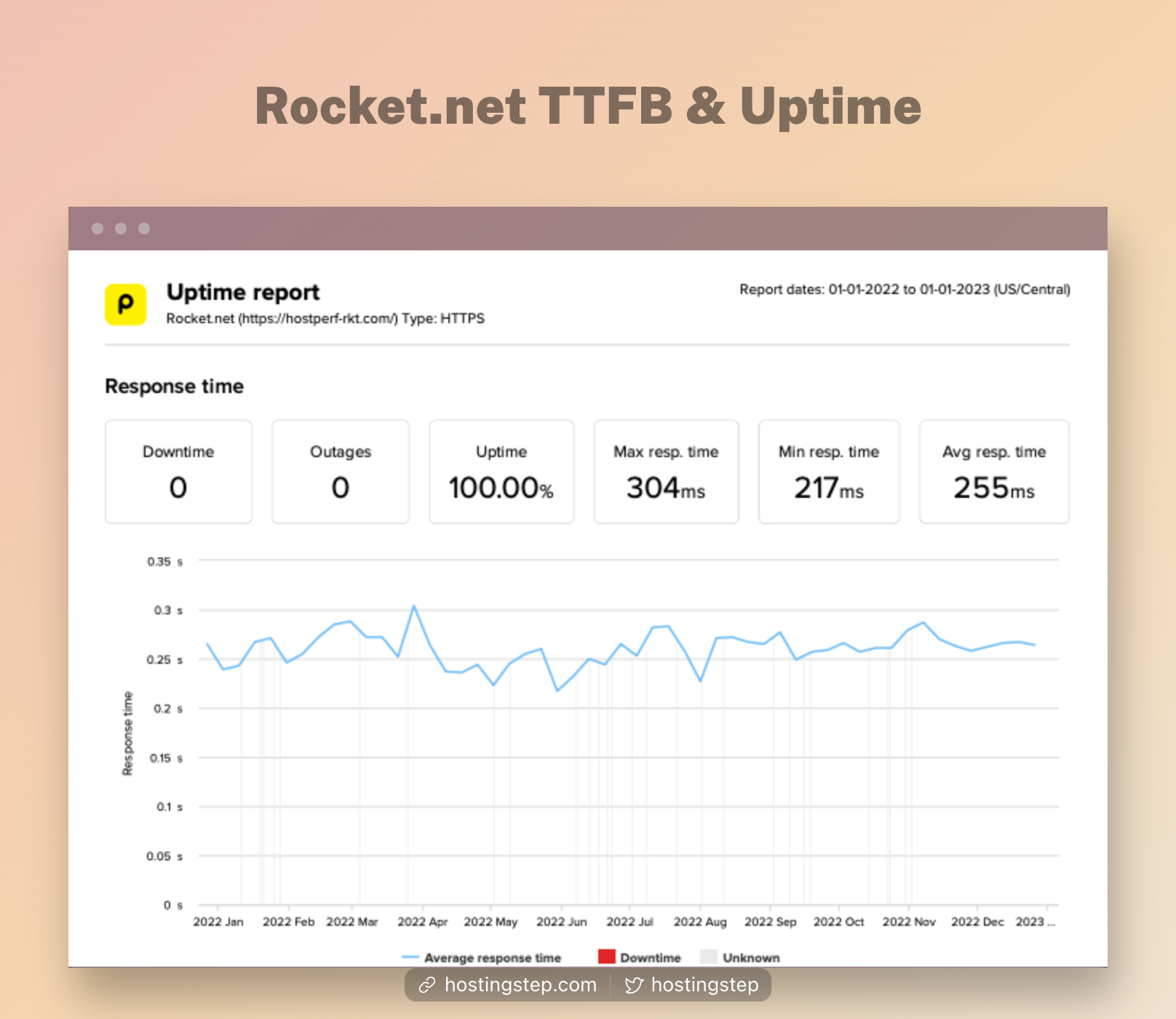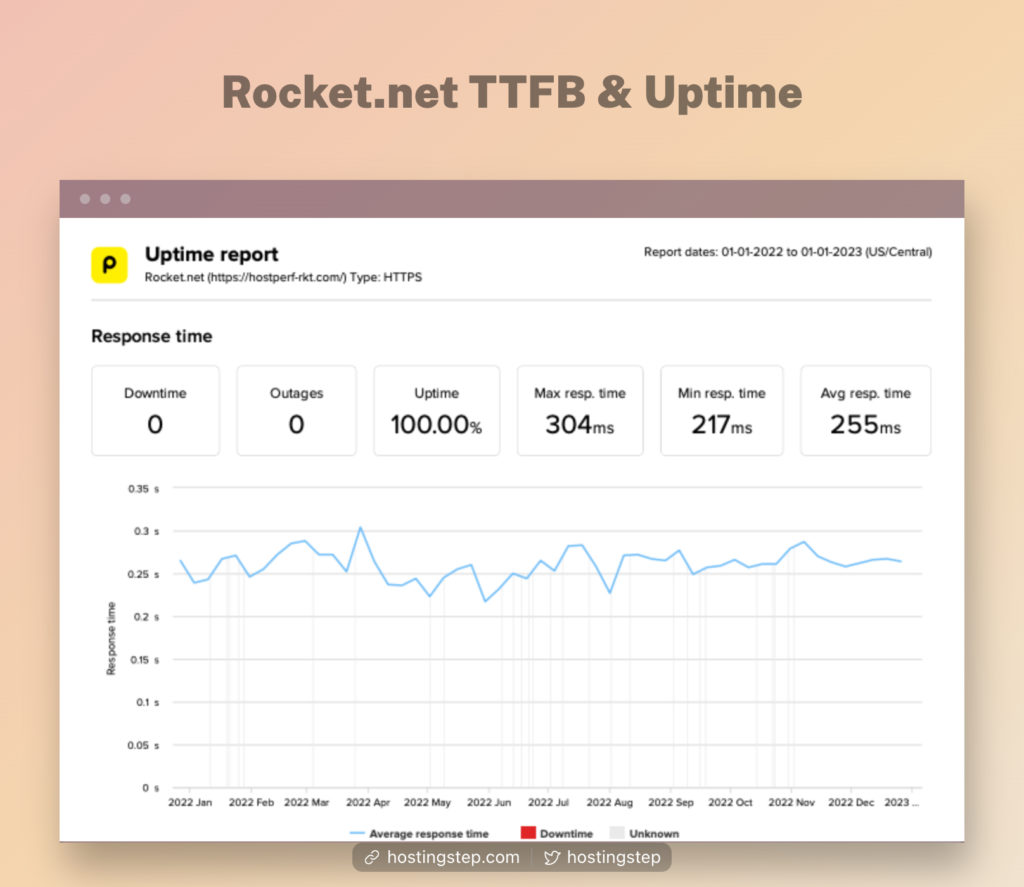 During the same period, the Kinsta site recorded an average server response time of 492ms.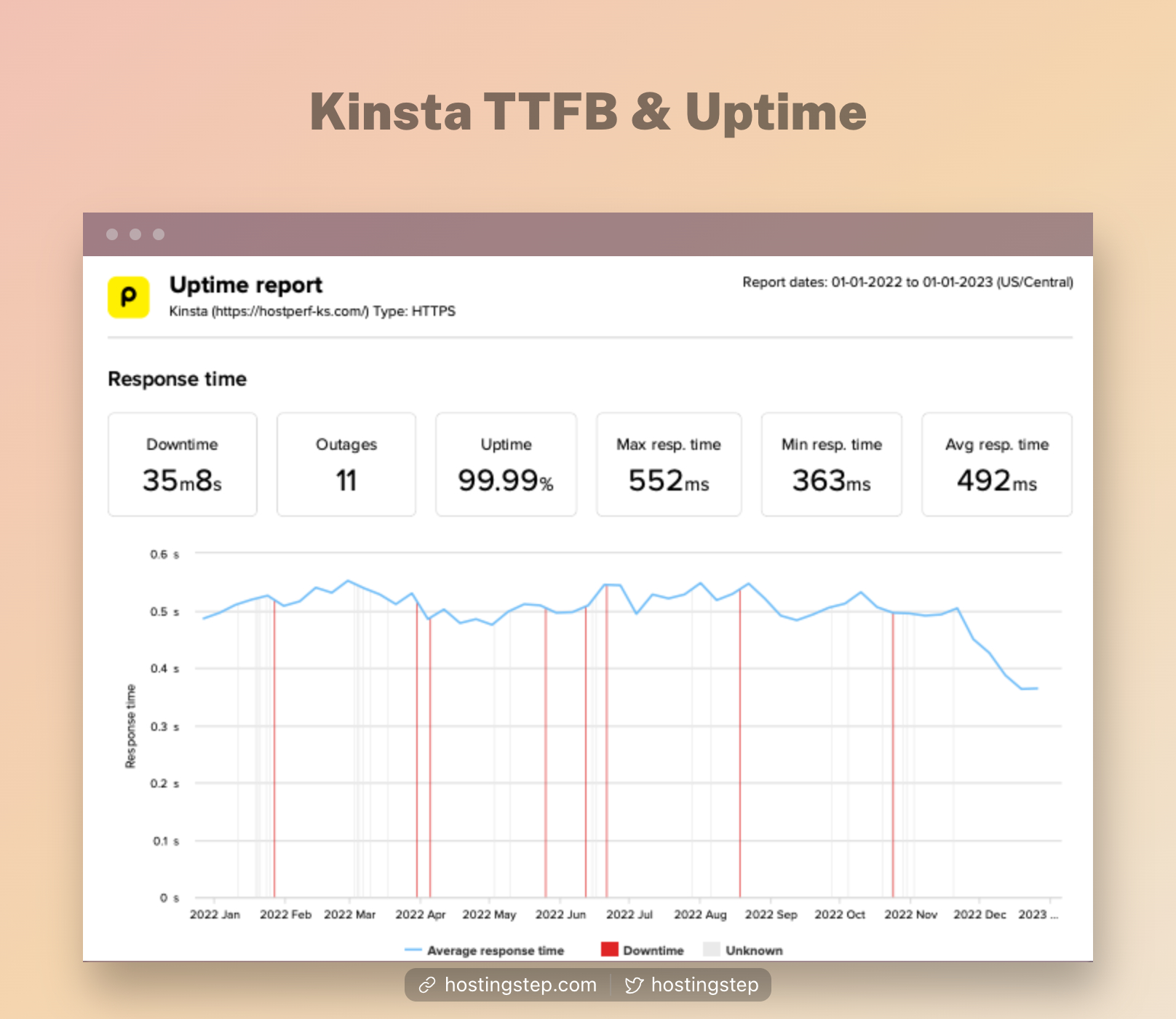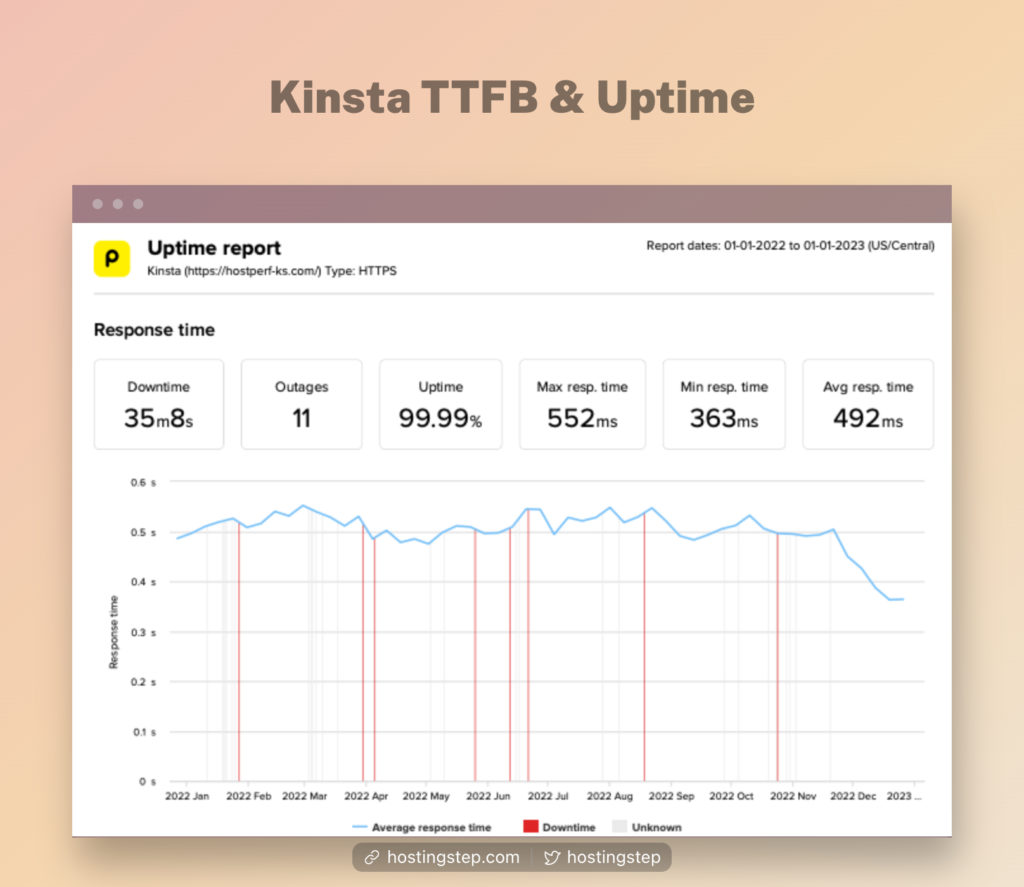 Rocket hosting has the Cloudflare Enterprise CDN enabled by default. They also use full-page caching, delivering sub-100ms TTFB across the globe. These are the major reasons for Rocket hosting to deliver exponentially faster TTFB.
Kinsta introduced its Edge caching similar to Rocket hosting in December 2022 and one can notice the huge drop in the response time on Kinsta graph.
Kinsta sites are undoubtedly fast, but they aren't as fast as Rocket.net sites.
Hence, Rocket.net has a leading edge over Kinsta regarding Server Response Time.
Winner: Rocket.net
Latest Update on March 2023: With Kinsta Edge caching got activated, the Kinsta test site gets a huge performance boost. In this section, I'm taking the last two months data of these hosts and compare the response time since the above graph is compared using last 12 months data.
January – February 2023 (2 months) (lower the TTFB, faster is the server)
Rocket.net – 250ms
Kinsta – 351ms
Earlier, there has been 250ms difference between the response time of two hosts. Now, the gap reduced to just 100ms difference.
Therefore, based on latest data, both Rocket.net and Kinsta are good to use.
Uptime
Uptime is a crucial factor for any kind of hosting services.
Based on the 12-months data, Rocket.net hosting recorded 100% uptime with zero downtime. Kinsta site got an uptime of 99.99%. (Refer above screenshot for data)
Both Rocket and Kinsta are equivalently good.
Winner: Both
Load Testing
The next crucial performance test is Load Testing. I tested the load-handling capacity of the two services one by one.
I sent 500 simultaneous visitors to the site. The Rocket hosting took 19ms to handle all the request while Kinsta took 47ms to handle the same request.
Lesser the response time, faster is the server. Hence Rocket hosting is a clear winner.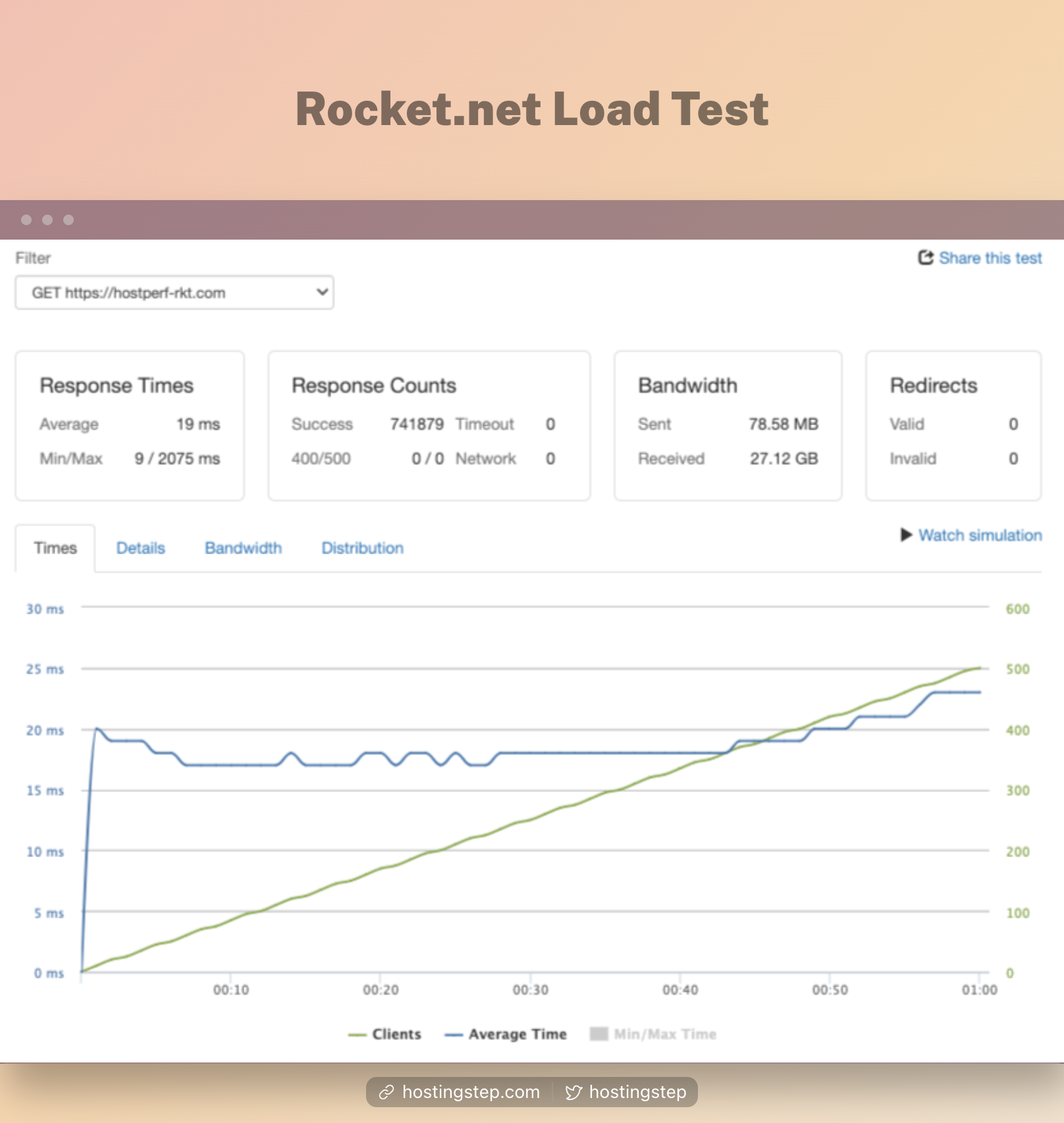 Modified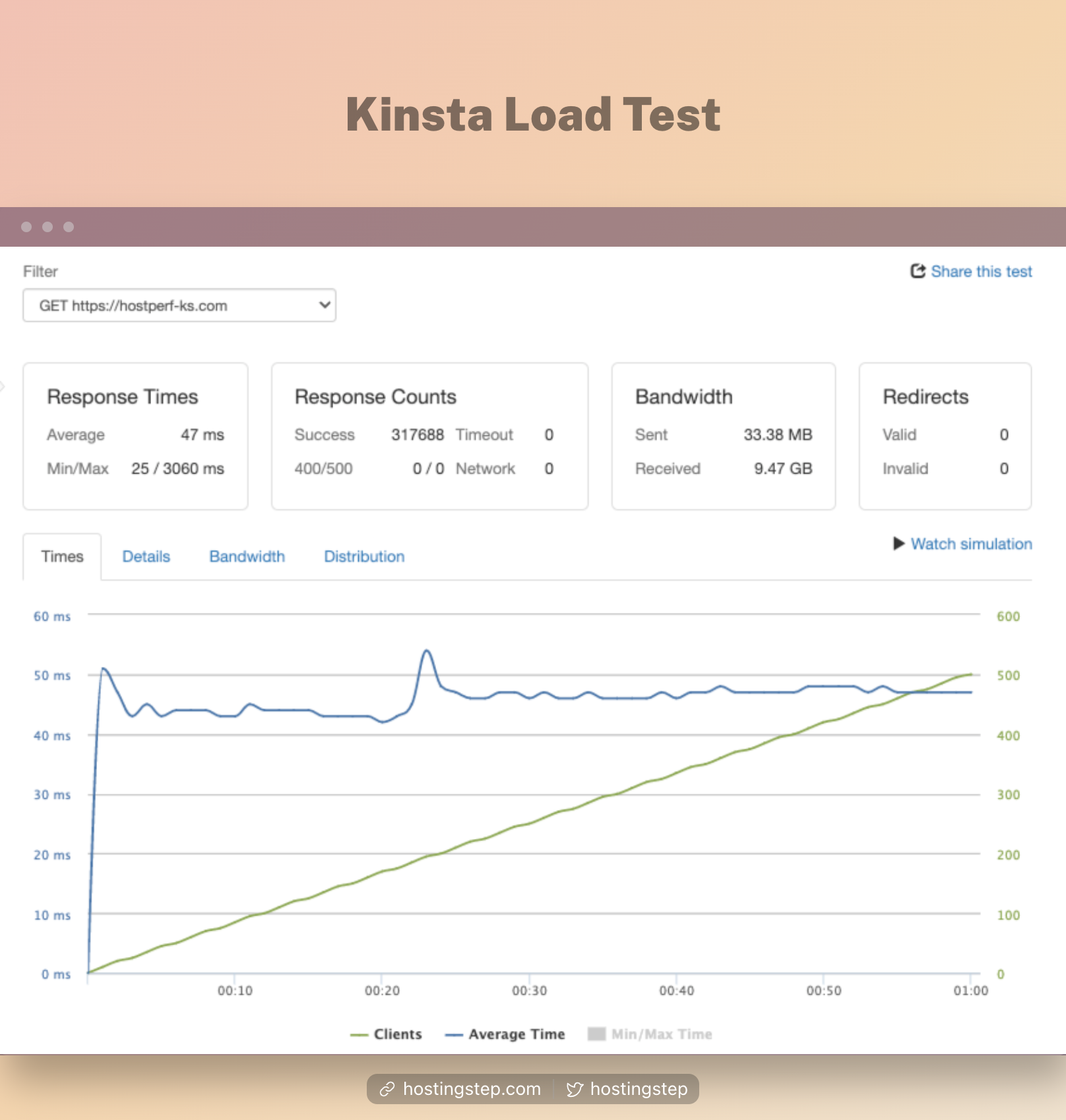 Original
Again, thanks to Rocket.net Edge caching integration, the results are stunning and they're 2x faster than Kinsta.
Winner: Rocket
Global TTFB
Moving ahead, it's time to look at the Global TTFB of the two services. This is important for those sites that want to drive traffic from multiple global locations.
To test the Global TTFB, I pinged my Rocket.net site and the Kinsta site from ten global locations. My Rocket site responded well with an average TTFB of 158.28 ms and recorded the fastest TTFB across all ten locations.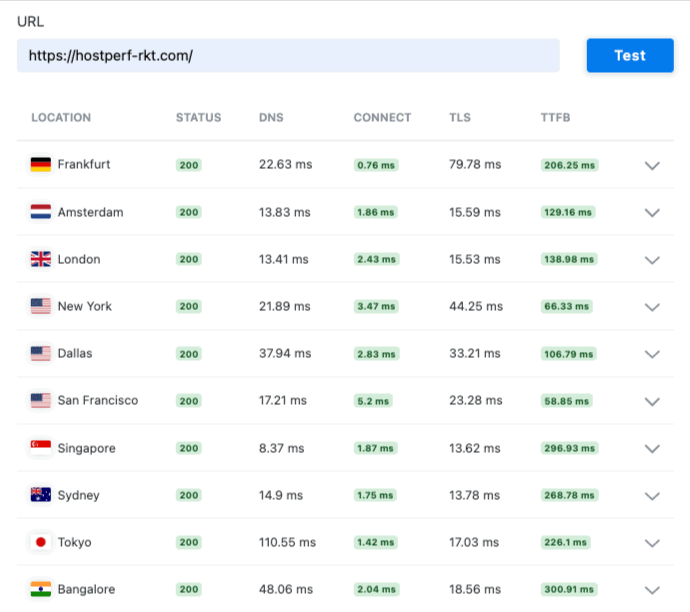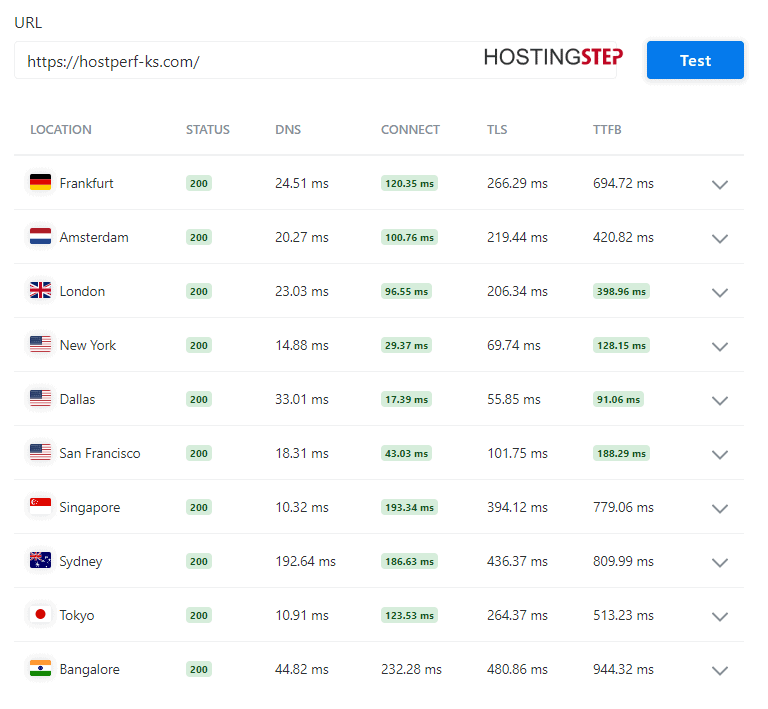 When I tested the Global TTFB of my Kinsta site, it recorded an average TTFB of 496.86 ms and had good TTFB across the ten locations. However, if we compare, Rocket.net has better global TTFB than Kinsta.
Winner: Rocket.net
Core Web Vitals
Understanding the Core Web Vitals of a hosting service is extremely important to understanding the user experience it can offer.
When I tested the core web vitals of my Rocket.net site, my Rocket site reflected a 'Largest Contentful Paint' of 480ms, a 'Total Blocking Time' of 0.000 s, and a 'Cumulative Layout Shift' of 0.


My Kinsta site reflected a 'Largest Contentful Paint' of 677ms, a 'Total Blocking Time' of 0.000 s, and a 'Cumulative Layout Shift' of 0.
Hence, both Rocket.net and Kinsta have good core web vitals but Rocket scores are better.


Winner: Rocket.net
Rocket.net vs Kinsta: Features
Data Center Locations
Moving ahead, we look into the data center locations. Knowing this is important since hosting a site on the closest server to the target audience is always considered the best practice for faster speeds.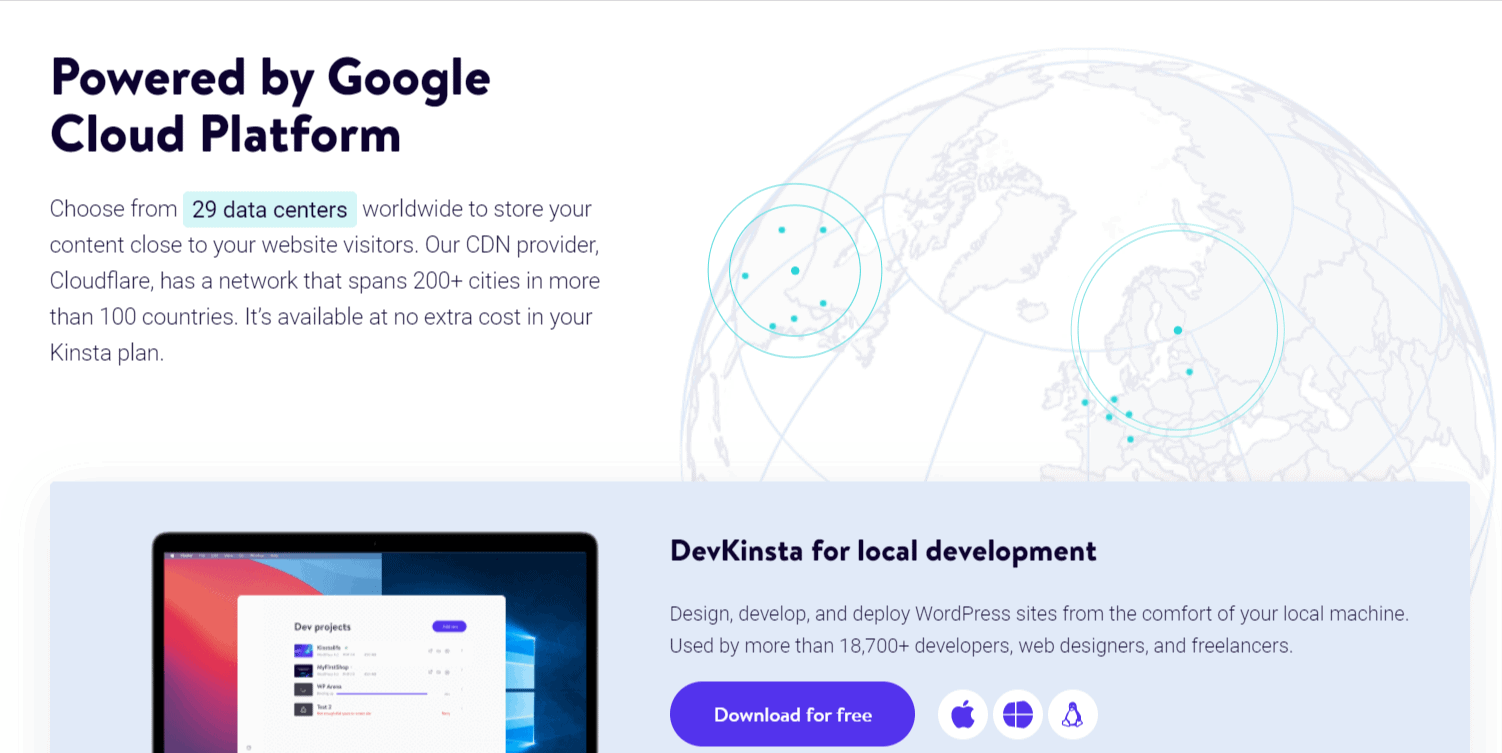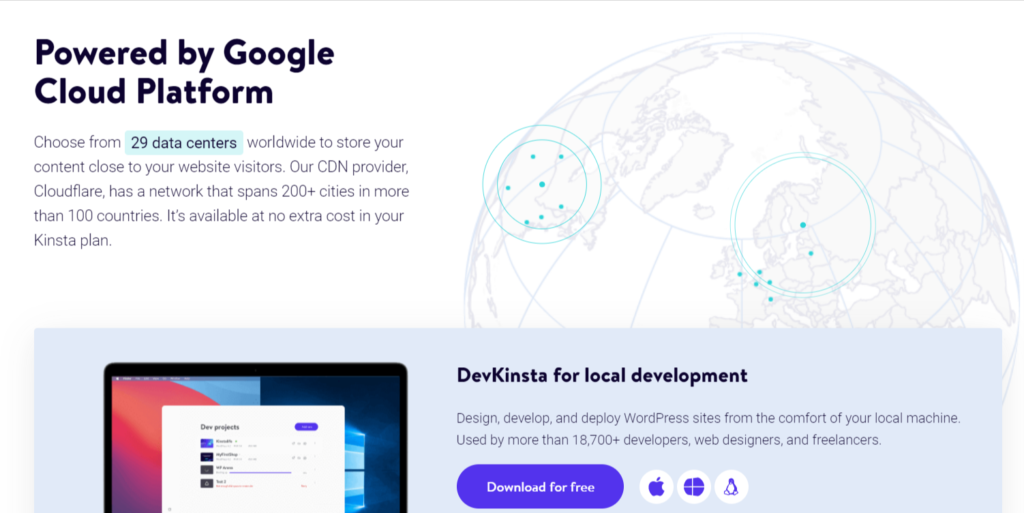 Rocket has as many as 20 data center locations across the globe, while Kinsta has 27 GCP data center locations worldwide. Hence, both Rocket and Kinsta offer customers many data center locations. Kinsta provides a comparatively more number of data center locations.
CDN
CDN or Content Delivery Networks can be very effective in improving the content delivery speed of sites. The CDN has many advantages, including Brotli file compression, Image Optimization, Tiered Caching, and Agro Smart Routing. Rocket provides customers with Enterprise Cloudflare CDN for free on all plans.
Just like Rocket, Kinsta also offers free CDN on all plans. Kinsta also uses Cloudflare Enterprise, with 200+ global locations backed by HTTP/2 and IPv6. However, Kinsta charges $0.10 per GB when using more than the given CDN bandwidth.
Control Panel
Control Panel is an important feature and needs to be simple to operate. Rocket comes with its custom WordPress control panel, which is exceptionally simple to use and gives access to all the essential tools in one place.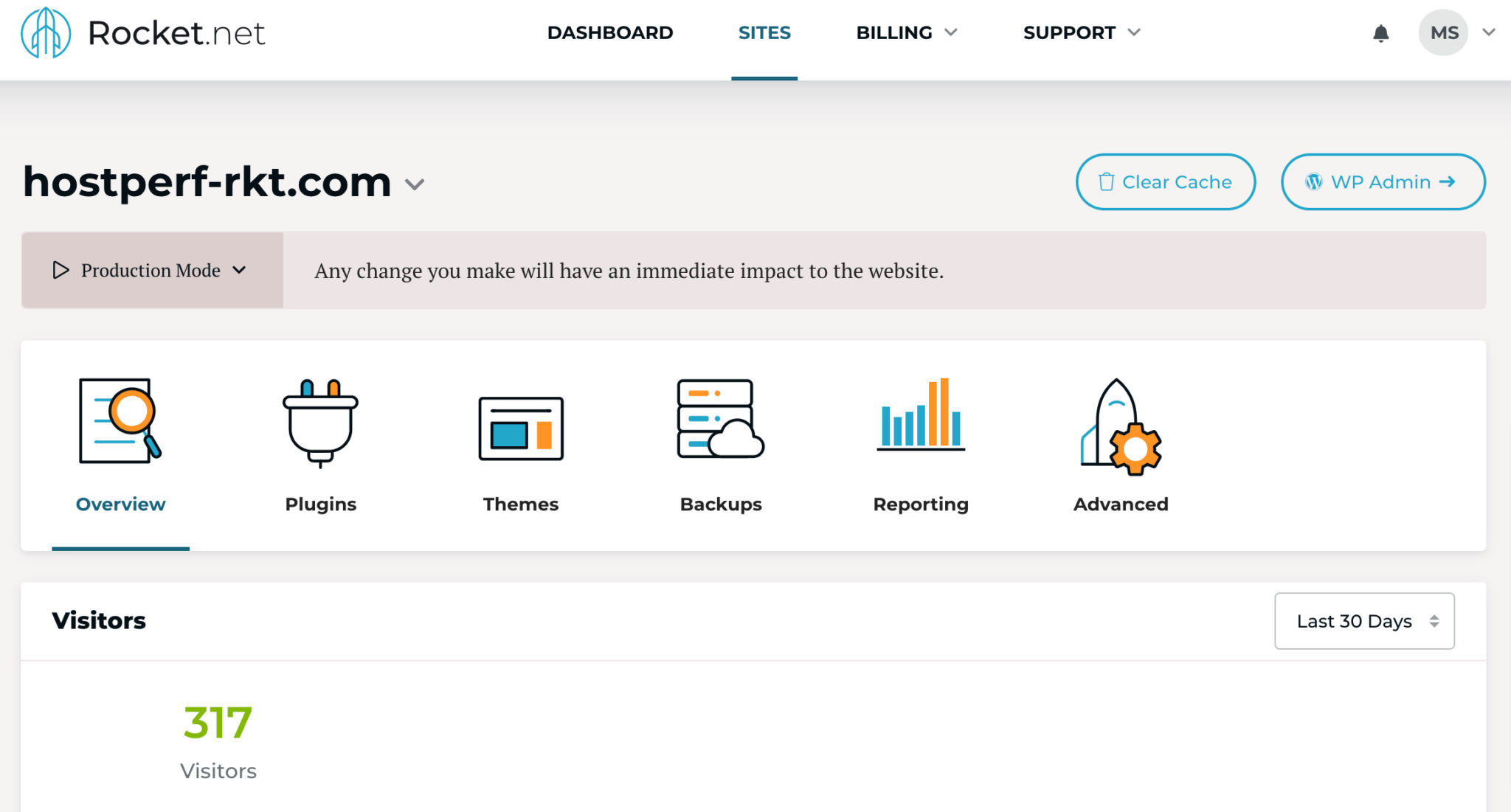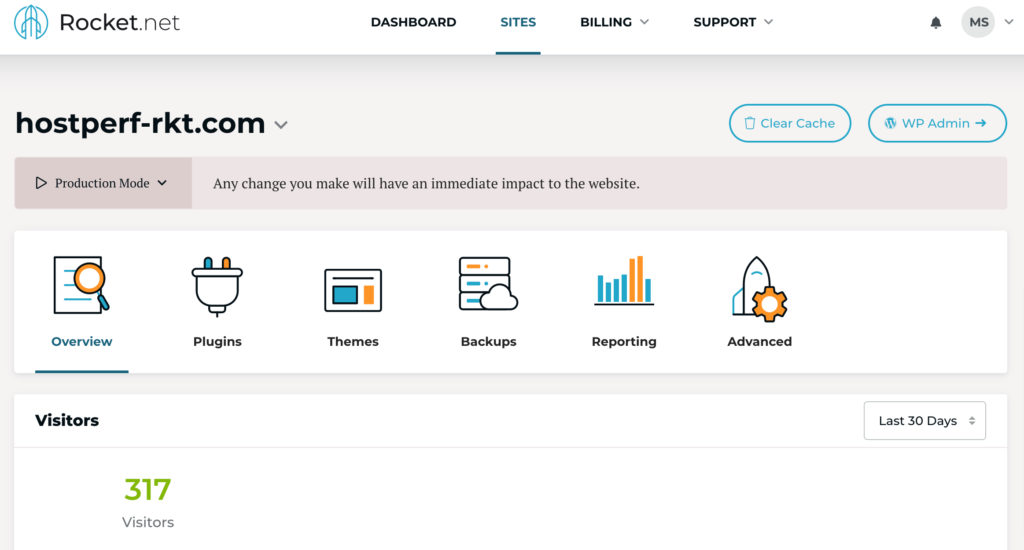 Kinsta is no different from Rocket in terms of control panel and somewhat follows the same perception. Kinsta has its custom dashboard called MyKinsta. The dashboard is pretty easy to use, and one can find all the useful hosting tools in one place. Users can connect to Kinsta support right from their MyKinsta Dashboard.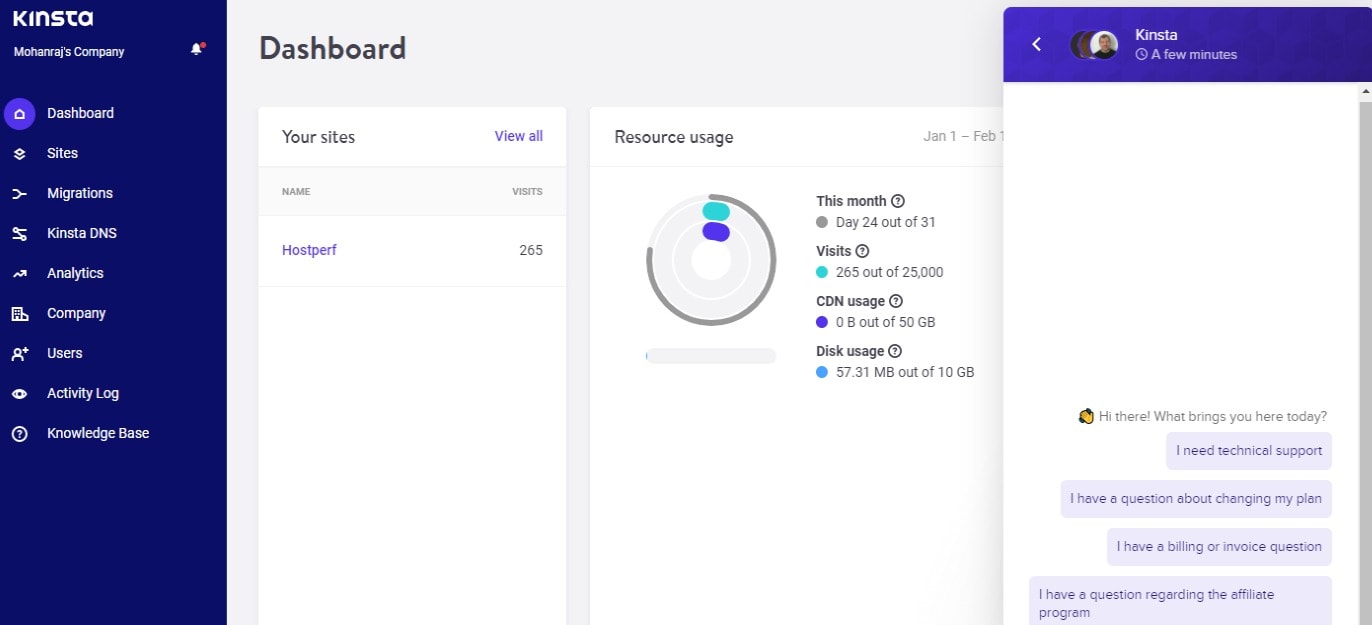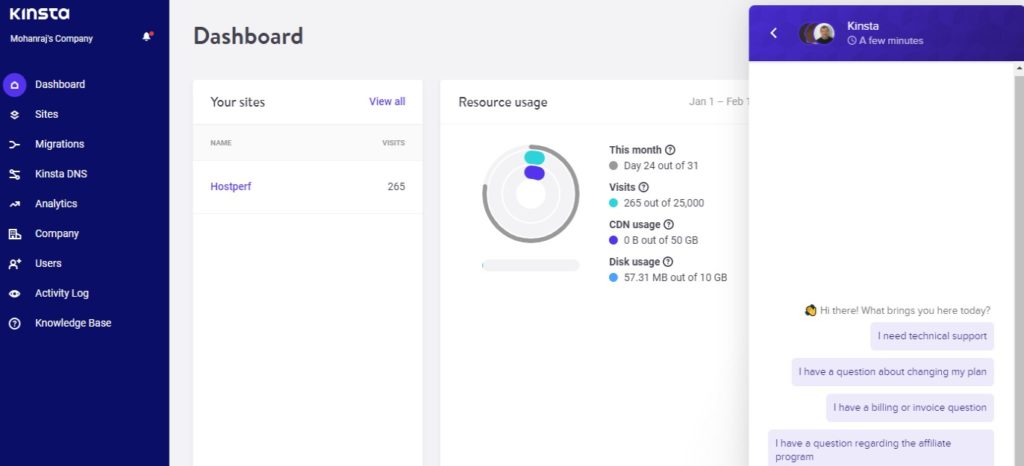 Backups
When I looked into the backup systems of the two services, I found both equally good with a reliable backup system in place. Both Rocket and Kinsta offer free daily automated backup. Besides, both provide a straightforward restoration, and users can restore a backup quickly whenever needed without paying additional charges.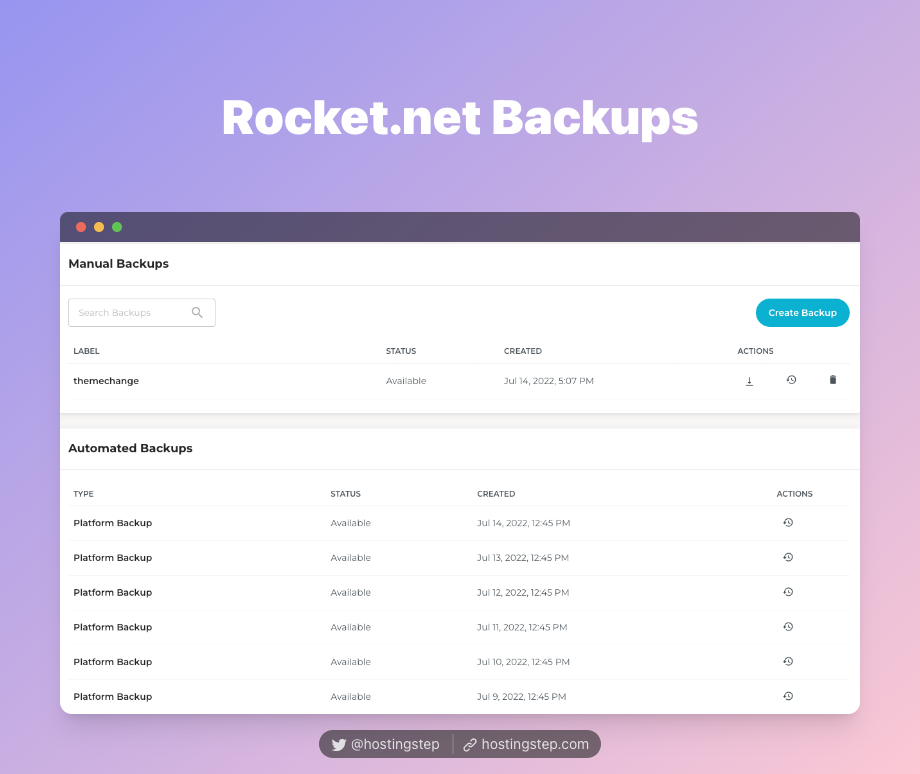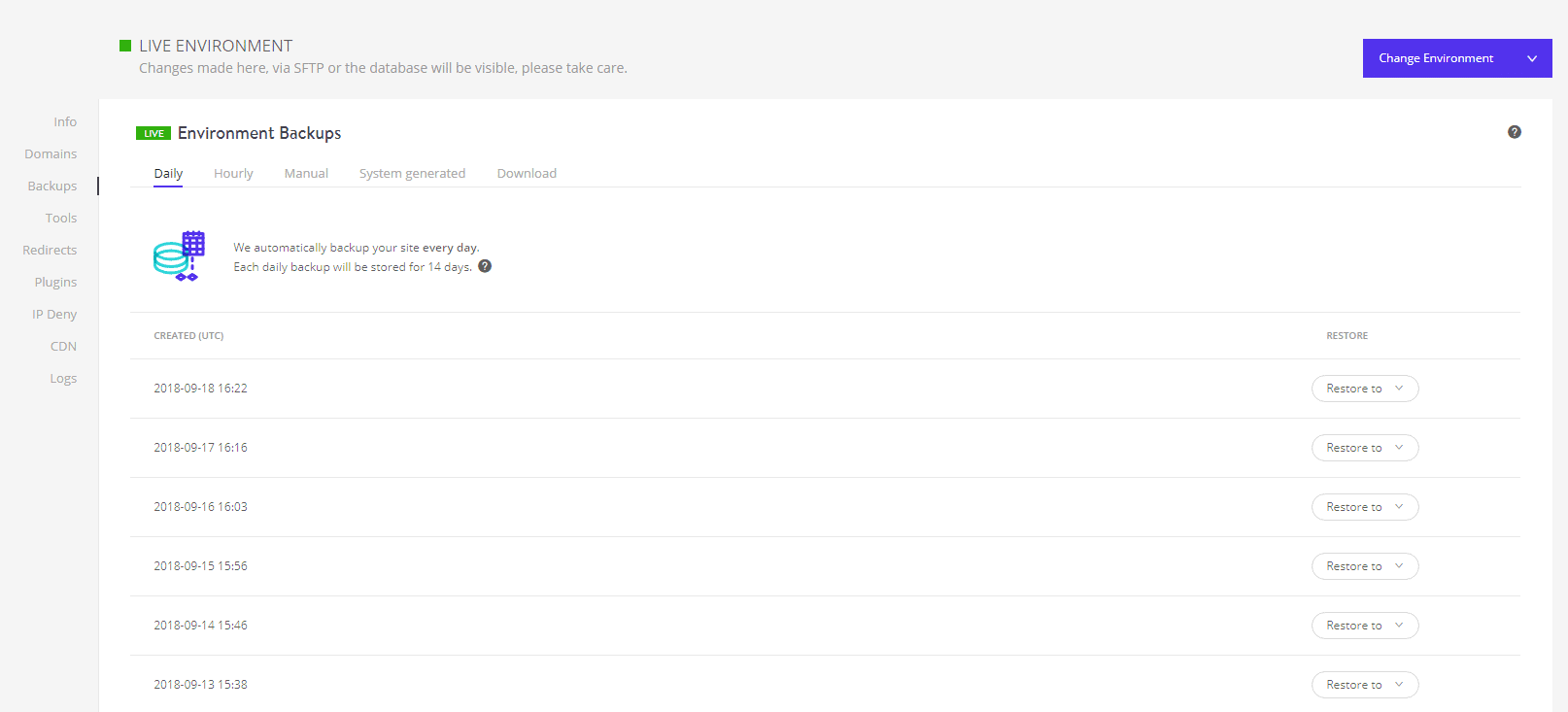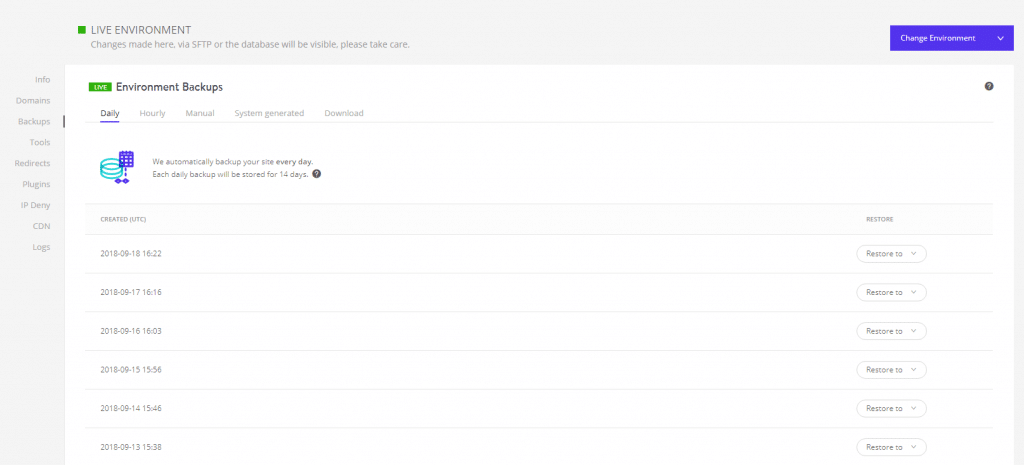 Staging
Staging is a handy feature for testing different modifications before implementing them on the live website. Rocket allows customers to create staging sites for free and test different changes quickly. Deploying final changes to the live site is also equally simple.
Kinsta also has an excellent staging feature to help customers create staging areas to test different changes effortlessly. After you finish testing, you can quickly deploy the final changes to your production site. Most importantly, staging is a free feature on Kinsta.
Security
Security plays a huge role in hosting, so it is always wise to look at how robust the security features are when analyzing a hosting service. Rocket has impressive security features: WordPress Website Firewall, Hack & Malware Removal, Automated WP Core, Plugin, and Theme Updates.
Like Rocket, Kinsta also has a rock-solid security system, including resource isolation, DDoS protection, hardware firewalls, and Google's high-security network.
Hence, you can see both services are highly secure, and you will never need to worry about the security of your website as long as you choose any of these services.
Support
So far, we have looked into many crucial aspects of the two services, which must have given you good clarity. Before jumping to any conclusion, we need to check the support service of the two platforms.
Rocket has an excellent support team of WordPress experts to assist customers 24×7 through live chat, phone, and email.
Kinsta, on the other hand, has a highly dedicated support team, working round the clock to assist customers through 24×7 live chat and email.
FACT: With more years in the industry, I find Kinsta's support to be more useful as they identify the issues quicker and have a clear idea of the fixes.
Rocket.net Vs Kinsta – Which is Best?
In this post, I have walked you through all the essential aspects of the two services, Rocket and Kinsta.
You have seen that Rocket has better performance than Kinsta, and the service is a lot simpler to use. Further, Rocket comes with Cloudflare Enterprise CDN on all plans with no bandwidth limits like on Kinsta.
My Takeaway: Rocket hosting offers the best value for money, and I recommend them to my visitors. However, if you're looking for advanced features like APM, Kinsta should be your choice.