To create an unbiased, data-backed Fastest WordPress Hosting list, I went to buy all popular hosting services, installed a demo WordPress site, and put them into rigorous testing.
After doing this test for over 24 months, I've got some interesting facts and statistics about the WordPress industry.
The following list unveils some of the best WordPress hosting statistics that will be helpful for Web Performance enthusiasts.
Nginx is faster or equivalent to LiteSpeed; Apache is slower.
Cloudflare DNS is the fastest DNS compared to all other DNS providers.
Managed WordPress Hosting offers better uptime than shared hosting.
Neither all shared hosting services are poor, nor all managed WordPress hosting services are excellent.
Global Edge Caching will be a standard feature in the future; Cloudflare leads the race.
Control panel-based WordPress Hosting is cost-effective but not the fastest.
Premium Caching plugins are similar, with not much difference in speed.
Both Nginx and LiteSpeed are faster; Apache is slower.
Contrary to multiple case studies, I found both Nginx and LiteSpeed are equally faster at multiple performance tests.
Out of the 20+ WordPress hosts I tested, let's look at the top five hosting services that scored better in each test.
Test 1: Average TTFB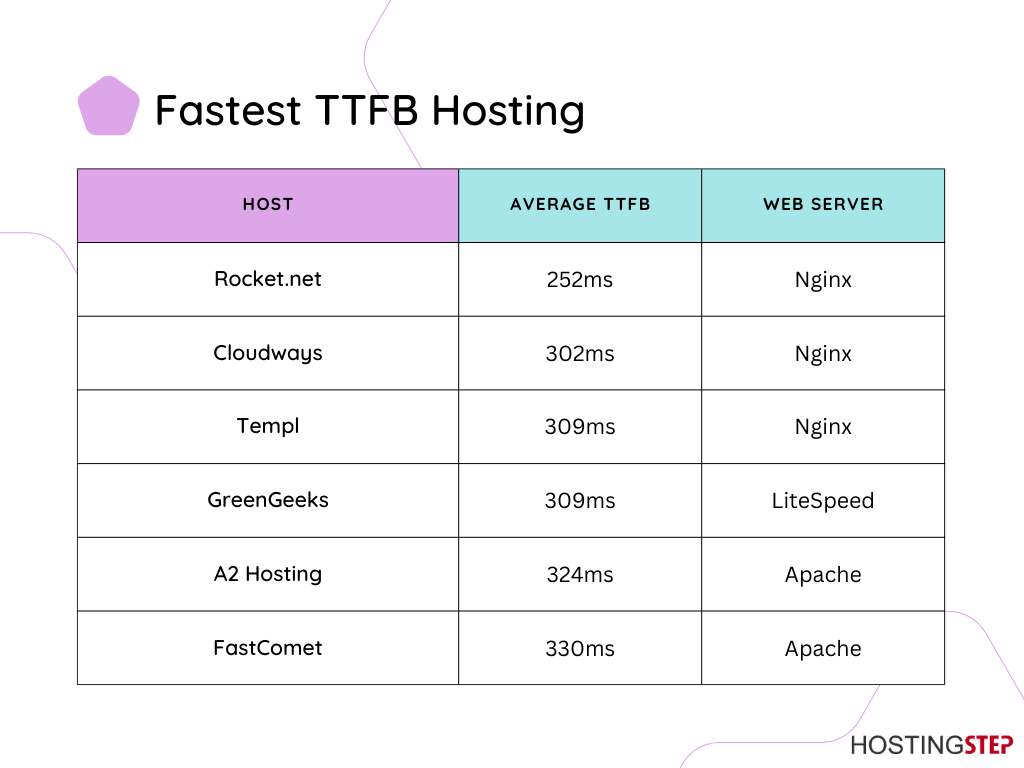 * Rocket.net Hosting is tested with CDN enabled.
Test 2: Load Test
There are two load tests done.
Load Test 1: Clients Per Test (1000 Clients in 1 Minute)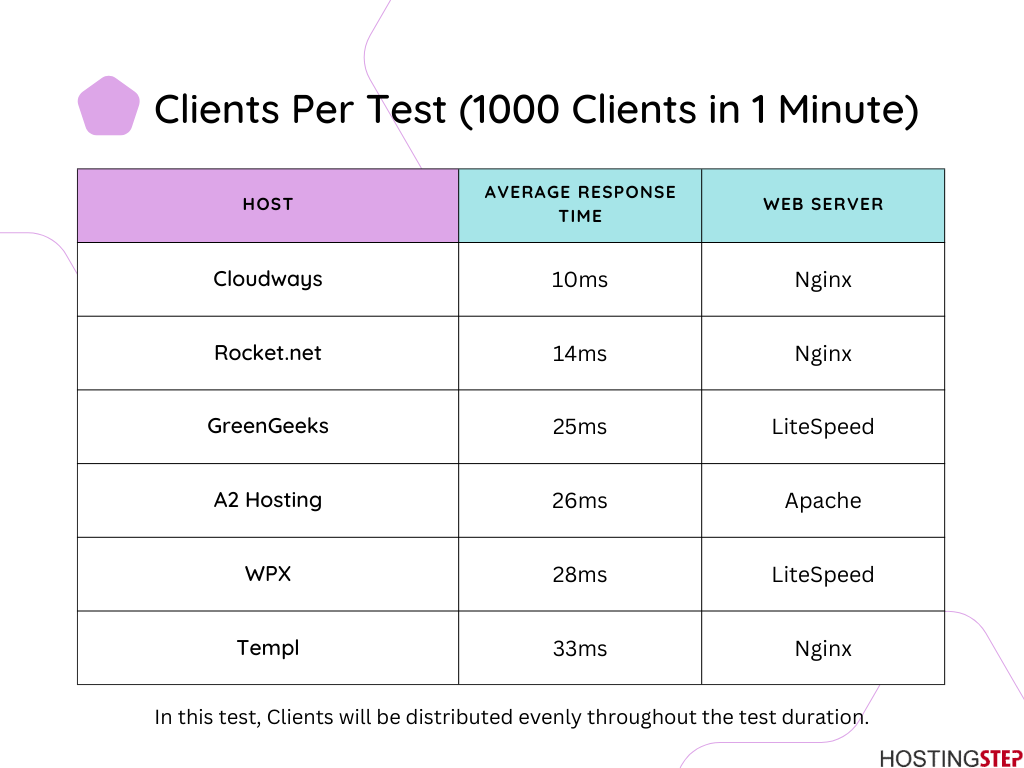 Load Test 2: Maintain Client Load (500 Clients in 1 Minute)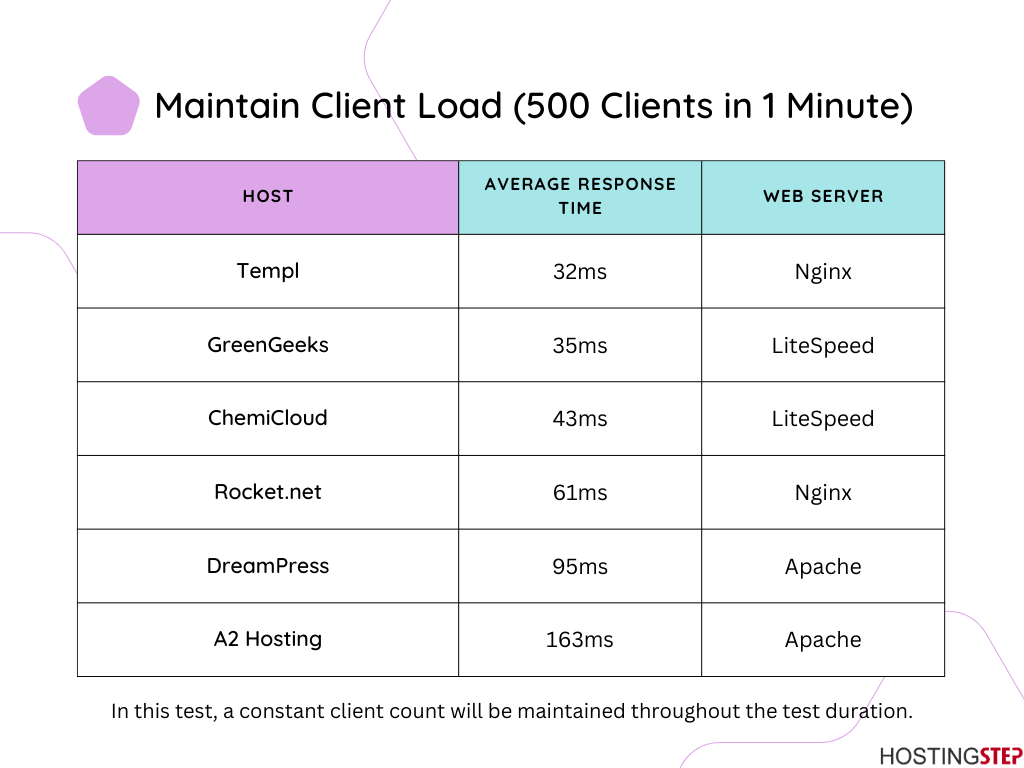 Test 3: Global TTFB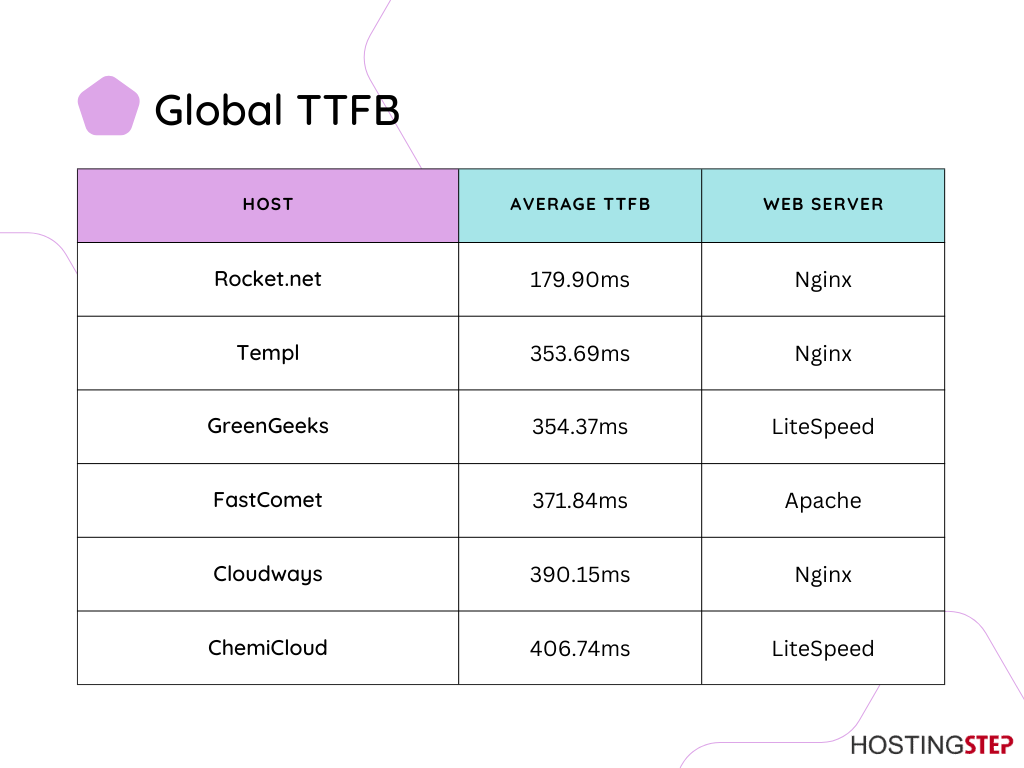 Takeaways: From the above 12-month data, it's proven Ngnix and LiteSpeed are equally better.
The new companies prefer Litespeed because of its out-of-box speed-optimized setup, while the decade-old companies which started with Apache migrated to LiteSpeed in recent years.
However, I didn't find any major company that migrated their tech stacks from Ngnix to LiteSpeed.
The renowned Managed WordPress hosting companies like WP Engine, Kinsta, Cloudways, SiteGround, etc., and the new entrants like Rocket, Templ, etc, are still using Ngnix.
Cloudflare DNS is the fastest DNS compared to all other DNS providers.
Cloudflare's free DNS service is an excellent gift to the modern web. Their DNS is miles faster than many premium-priced DNS services in the market.
If any WordPress site is slow at the network level, moving the DNS to Cloudflare will bring up to 50 – 100 ms faster TTFB and full load time.
Our Top 2 fastest TTFB hosting (Rocket & Cloudways) are powered by Cloudflare DNS, while Google Cloud DNS powers the 3rd fastest Templ.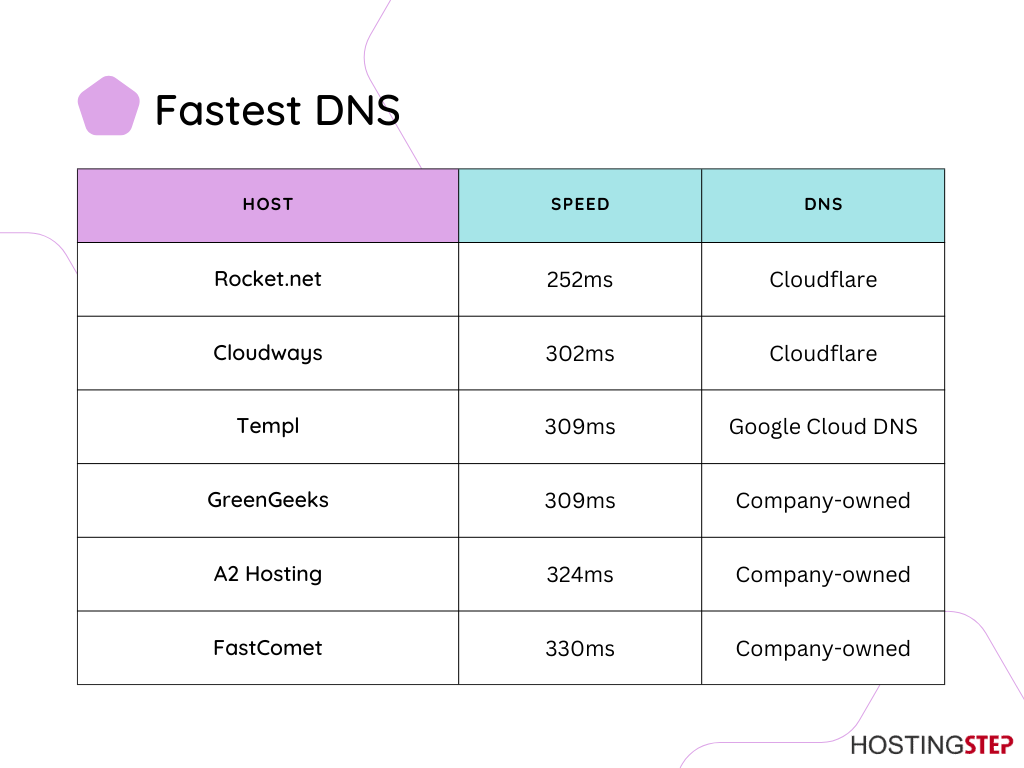 The Managed WordPress hosting services offered the highest uptime with very minimal outages. Though few companies are average in speed, their uptimes are better.
On the other hand, shared hosting companies offer good uptime, but there will be frequent short downtimes, thanks to the shared hosting architecture with many sites hosted on it.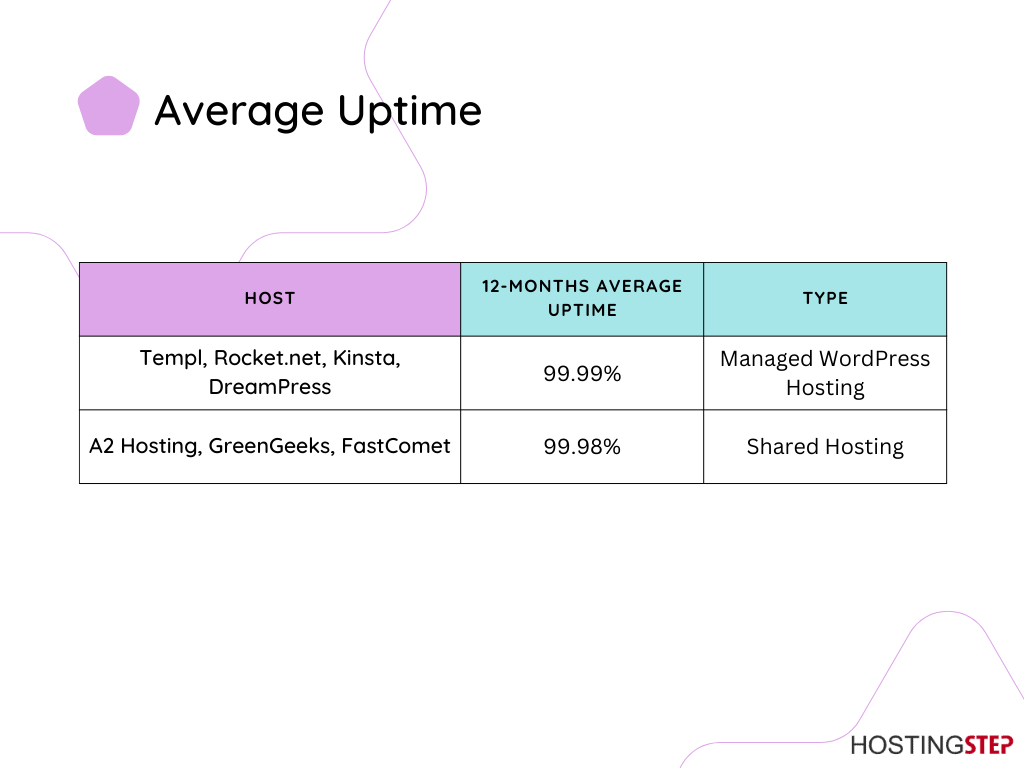 If you care about Uptime more than performance, then Managed WordPress Hosting should be your ultimate choice.
Our bottom five WordPress hosting companies are a mix of Managed and shared hosting companies.
GreenGeeks, A2 Hosting, and ChemiCloud are popular shared hostings that comfortably beat premium hosting services in TTFB and simple load tests.
This indicates that shared hosting is still a good option for beginners, who don't need to spend more than $10/month on new and starter sites.
Global Edge Caching will be a standard feature in the future; Cloudflare leads the race.
Global Edge Caching is a great addition to WordPress hosting stacks in 2022. Many companies are tightly integrating their architecture on the top of Global Edge caching powered by Cloudflare.
Rocket.net hosting is built on top of Cloudflare Enterprise CDN, and there is no option to disable its CDN. Kinsta launched in Global Edge, caching free for all customers in December 2022.
Flywheel offers Fastly CDN-based Edge caching on all their plans by default. However, one can disable CDN for testing purposes. Templ hosting offers Edge caching powered by Google CDN.
Even more, companies are offering Cloudflare Enterprise CDN-based hosting services, and I've compiled a separate article for it.
With growing trends of Edge caching, many hosting companies are predicted to join the race in 2023 & beyond.
There might arise a situation where Cloudflare will power Global Edge caching for most of the site despite your site getting hosted on different hosting providers.
Let's watch how companies differentiate themselves.
Control panel based WordPress Hosting is cost-effective but not the fastest.
The last few years witnessed the highest growth of WordPress hosting control panels. One can buy servers from cloud providers and use a control panel service to manage your server. We can call it Self-Managed WordPress Hosting.
Some popular companies in this segment are RunCloud, GridPane, ServerAvatar, ServerPilot, etc. When I benchmarked the sites hosted on RunCloud and GridPane against Cloudways (which offers a similar service), Cloudways was ahead in all the performance tests.
The primary reason is that fully-managed hosting companies like Cloudways offer a speed-optimized WordPress setup, while with these control panels, one needs to optimize the sites on their own.
Apart from performance, these control panels are an excellent option for agencies to host multiple sites at affordable rates.
Premium Caching plugins are similar, with not much difference in speed.
WordPress Caching is the fastest way to improve site performance. With Server-side caching being ON with premium hosting services, Caching plugins are still a great way to perform additional speed improvements.
While working on multiple medium to Enterprise grade WordPress sites, we have this mandatory cache plugin check. Based on the test, it doesn't matter which plugin you choose; there might be only a mighty speed difference.
The premium WordPress caching plugins are WP Rocket, Swift, and FlyingPress. Use whatever feels excellent and cost-effective.
Conclusion
Our above outcomes are based on 22 hosting services I've tested so far in the last two years.
As someone who works with servers for a living, I really enjoyed writing this list of my learnings.
I would also like to hear your thoughts on which information impressed you greatly!
Add your comments now.