Nexcess Coupon Code 2022 – 50% OFF For 6 Months
Our Nexcess Coupon code will help you get 50% off on Managed WordPress Hosting, Managed WooCommerce Hosting, and Magento Hosting and 40% off on Joomla Hosting. Using our Nexcess Coupon code, you can start for as low as $9.50 per month.
Nexcess Coupon Code
Deal: 50% OFF for the first six months
Coupon: SUPERJUNE
Website: www.Nexcess.net
2 Exciting Deals on Managed WordPress Hosting
Deal 1: Get 50% off for the first 6 months on Nexcess Managed WordPress Hosting. Use our coupon code SPRINGSALE50.
Deal 2: Get 4 additional months on selecting an annual billing using our coupon code 4MOFREE.
2 Amazing deals on Managed WooCommerce Hosting
Deal 1: Get 50% off for the first 6 months on Nexcess WooCommerce Managed Hosting for fast and high-performance stores using our coupon code SPRINGSALE50.
Deal 2: Get 4 additional months when you sign up for annual billing using our code 4MOFREE.
50% off on Magento Hosting
Get 50% off for the first 4 months on Nexcess Magento for an optimized eCommerce hosting using our coupon code MAGENTOSALE50.
40% off on Joomla Hosting
Get 40% off on Joomla Hosting for the first 3 months using our coupon code JOOMLA40.
How to claim the Nexcess Coupon?
As you click on the link for every deal, you will be redirected to the pricing page wherein you could choose a plan, and the code will be automatically applied at the checkout.
Step 1: Select the right plan.
Click on any of our links, and this should redirect you to the pricing page. After you get there, you can select a plan and hit the GET STARTED button.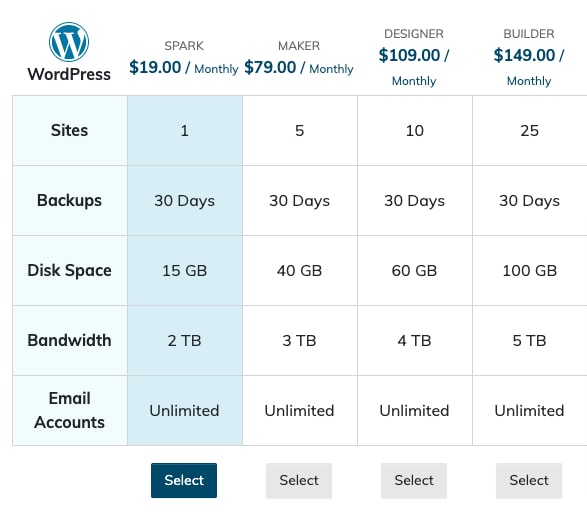 Step 2: Create Profile
After you click on the GET STARTED button, you will be presented with the Sign-Up screen, and as you look to the right side, you will be able to see your order with the code automatically applied.
Just in case the code is not applied automatically, you can enter it at the checkout. After you complete the sign-up process, you will get to the Review Order page.
Step 3: Review your Order & Checkout
After you get to the Review your Order page, you will need to fill in a few more details, choose a payment method, and complete the payment process. Once you apply the coupon, you will get up to 50% OFF for the first six months.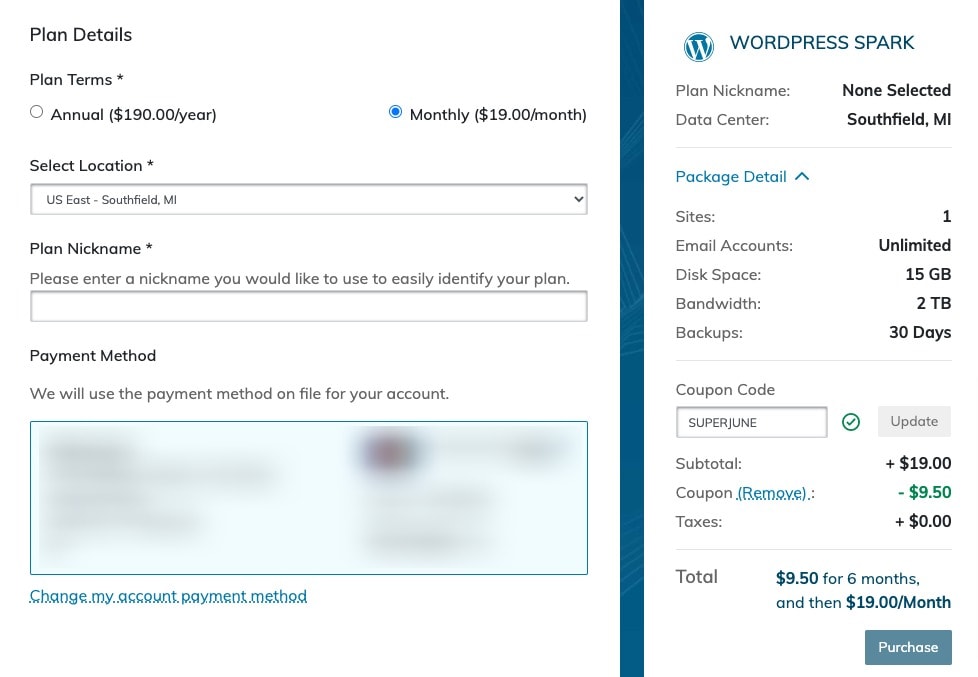 Reasons to choose Nexcess
I am sure many of you are still wondering what is so special about Nexcess and why you would choose it over the other providers. After having done an in-depth study, I can tell you that there are just so many advantages to choosing this service. So let me share the pros one by one.
Nexcess comes with exceptional performance.
I performed 5 different advanced tests on my Nexcess site and found the performance of the service up to the mark in all the tests. The service recorded an average server response time of 374 ms and an uptime of 100% without any outage. They also have a decent load handling capacity, and you can surely rely on this service for high-traffic sites.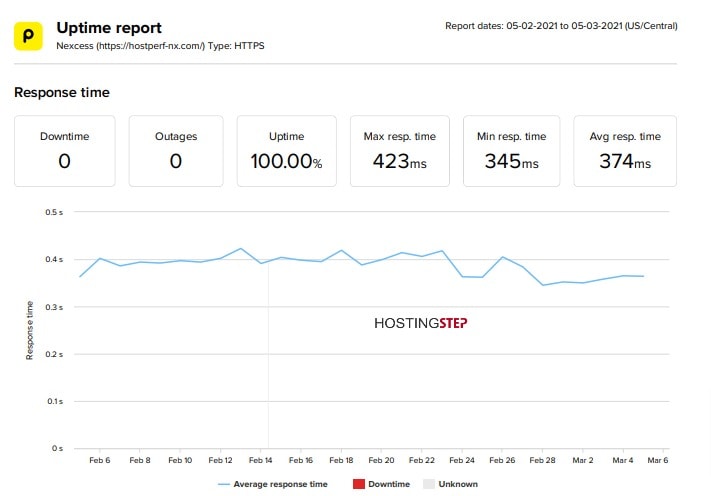 According to my last Global TTFB test, the service had good TTFB in almost all the places and an average TTFB of 544.15 ms. On top of that, the service has pretty good Core Web Vitals. So sites hosted on this platform will certainly get a lot of help in improving their user experience.
Nexcess comes with an easy-to-use and neat custom control panel.
Their control panel is far better than any other control panel in terms of usability and navigation. Most importantly, the interface is exceptionally clean and has all the options neatly arranged for smooth navigation. As a result, you can easily manage Email, MySQL, htaccess, Firewall rules, Cron jobs, Backups, Statistics, and more from a single point of control.
Nexcess comes with its free built-in CDN
It has its in-built CDN, known as the Edge CDN, and the host offers it for free on all plans. The CDN gives sites the advantage of a wide global network and an intelligent caching mechanism for lightning-fast page loading.
Nexcess offers free automated daily backups.
The host has a very impressive and reliable backup system wherein the host automatically takes backups of sites daily and stores them on an offsite server for 30 days.
Customers can easily restore any backup copy anytime before it's removed from the server after 30 days. Most importantly, the host offers automated daily backups for free on all plans, while other hosting companies charge additionally for this feature.
Nexcess has a robust security system in place.
You don't need to worry a bit about their site security since the host has extremely straightforward and effective security in place.
All the plan comes with iThemes Security Pro on all plans for no additional cost, and iThemes Security Pro is known for its rock-solid site protection. At present, this is the only hosting company that offers this feature for free.
Nexcess has one of the finest support teams.
The company has maintained a very good track record so far in terms of support. The host has an extremely dedicated, experienced, and proactive support team that has continually assisted the customers most professionally through 24×7 live chat and phone.
About Nexcess
Nexcess is an extremely reliable hosting service for sure, and this is your golden chance to get this service at an extremely low price, making the most out of the Nexcess coupon codes. Getting one of these deals shouldn't be difficult since I have meticulously explained all the steps you need to follow to grab one of these deals.
I have also provided you with some of the most important aspects of this service for good clarity. I am sure you hardly have any doubt left by now, and you must be getting ready to grab the deals. However, you should bear in mind that these deals are valid for a limited time only. Get started with Nexcess through our Coupon code and enjoy great discounts on their service. Don't forget to leave your Nexcess Review 2021 on our site.