1
TMDHosting Reviews 2019
TMDHosting was operating from 2007 in Orlando, Flordia with just four employees and now they have grown to near 100+ employees which itself shows the growth of the company and its customers base.
They looked promising to me and started testing it for my TMDHosting review.
I got a package with them, added a demo site. Started monitoring uptime and response time.I got the results and what is your mind thinking about TMDHosting? Good or Bad?
Let's have a look at our results and learn about them in this TMDHosting Review.
#1 Company History
TMDHosting was started by Peter with couple of his high school friends when graduated from Rollins college in Orlando back in 2007. They never looked back what happened, now they were close to host millions of customers and infact 2017 marks their tenth year in business.
They are quick enough to adapt to latest technologies in their business , they introduced cloud sites in 2015. Their office located in Orlando where data center wide spread over different parts of world and as per the data collected, they are hosting more than 70000 customers in the Q1 2016.
#2 Demo Site Details
As for my testing process and this TMDHosting review, I bought a hosting package and installed a demo site on their servers and started monitoring their services.
Site URL – http://hostingstep-tmd.review
TMD indicates TMDHosting
Domain and Hosting registered on Aug 2016.
Sign up process is simple. Only 3 screens to get started. 
#3 Hosting Plans
Apart from Shared hosting plan, TMDHosting offer managed Cloud hosting, Cloud VPS,reseller and dedicated hosting for its customer at some seriously stunning pricing (learn more). Infact, they offer cheapest pricing compared with other hosting companies in my list.
#4 Features
General Features
SSD Web Space
1 Click installer
Free website transfer
60 days money back guarantee
24/7/365 TMD Genius Customer support
Free personal DNS
Technical Features
All files and MySQL files on SSD
Six layer caching mechanism ( most hosting comes with three layer caching)
Free CDN
Guaranteed RAM And CPU cores
Spam Experts tool powered Email service
Inhouse web firewall
Freebies
Free domain forever (learn more about domain registration)
Free WildCard SSL
Free daily backups via JetBackup
Free CloudFare CDN account
Free application, template and module installation for 100+ open source applications
Free Website transfer
#1 TMDHosting Uptime
When I started using TMDHosting, I saw some small outages happening regularly and thought of raising a ticket regarding it. But I got an email from them indicating that there are some problems with their current data center location and they are moving my site to another data center facility in Singapore.
I love this indication. What do you feel when you're hosting company voluntarily takes part in solving the issues?

After this mail, I didn't get any outages, and you can check the uptime of the past 30 days below.
Meanwhile, I accidentally got Singapore data center and later moved my website to US data center to find the accurate response time from my tools.
Considering the price (starting price $2.85/month) I can bet, you won't get this much uptime with similar priced hosting companies like ipage.
Check TMDHosting uptime for past 12 months ( Click to expand )
#2 Historical First Time to Byte
Based on our testing methodology, I tested the TMDHosting demo site on byte check and the time to first byte is 160 ms which is industry's best time.
One should consider that the tests are conducted without any caching plugins (using so will reduce firstbyte time further)
#3 TMDHosting Response time
Sucuri test is carried out to find the average response time across the globe. I checked the demo site, and the results are good, got A+ grade (maximum)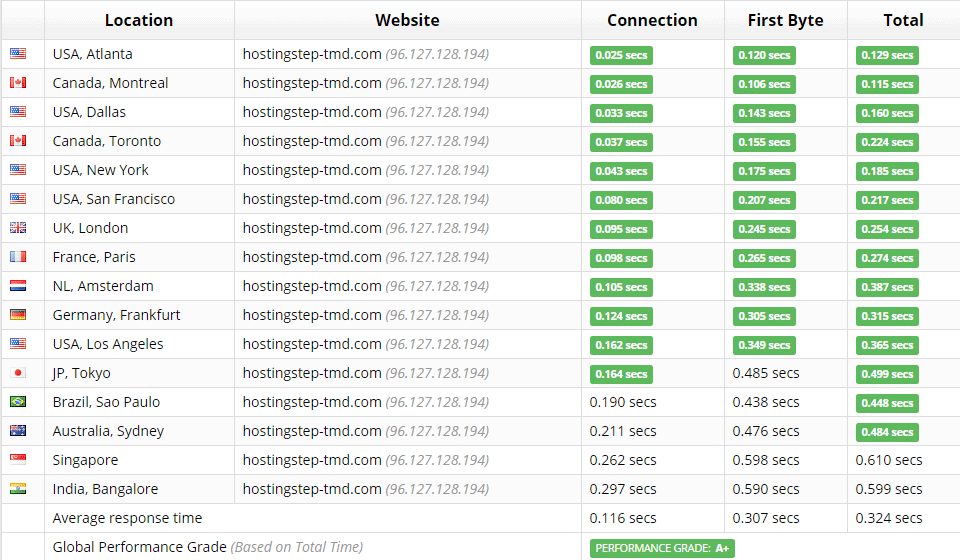 When using SSD based drives, one can get such results and yes, TMDHosting servers are powered by SSD drives ( Check it out )
TMDHosting provides SSD Hosting which performs 20X read-write operations thus helping your site to load faster than ever. Though they offer SSD Hosting, the price they offer is still lower compared with big hosting companies.
These results are obtained using Shared hosting package and there is an cloud hosting option which costs few bucks higher than shared hosting account but offering 2X powerful and 4X speed hosting.
Shared Hosting costs $2.85/month while Cloud Hosting costs $5.85/month.
I'm constantly adding new test tools to predict further accurate results to this TMDHosting review and it will added in upcoming days.
Great insights of #TMDHosting with historical uptime, response time and TTFB values.
#6 Customer Support
I believe that by looking at the customer support of a company, one can decide the value of the brand. TMDHosting provides dedicated support for everything, yes everything.
Once if you got an account, you can ask them for WordPress or any CMS installation, Plugin installation, even a theme installation or feared of upgrading your website to a new version, TMDHosting is there to solve all your queries.
They call it TMD Genius Support.
In October month, they handled over 18419 + live chats, 90201+ tickets solved and what do you think about the average response time? Between 15 – 20 minutes?
No. It's 9 min average response time. You can look at how keen they are working to solve customer issues.
To confirm further, I raised a ticket, and they replied in 11 minutes to my query, and I'm satisfied with it.
Apart from that, I found that they are helping website owners to identify and remove malware from their sites. I think this an deal breaker since many top hosting companies ask hundreds of dollars to do such kinds of stuff and TMDHosting is offering it free for their customers.
This is what I consider best for TMDHosting in this TMDHosting Review.
#6 Seven data center locations
While writing this TMDHosting review post, they had wide spread data centers over seven locations in three continents. So, Hosting your site for any part of your target visitors is not an issue. The data center possesses excellent infrastructure with better hardware and backup solutions.
TMD Hosting Datacenter presents in
Chicago, US
Phoenix, US
London, UK
Amsterdam, NL
Singapore, SG
Sydney, AU
Tokyo, JP
Even you can find which data center provided shared hosting, VPS and dedicated hosting through this picture.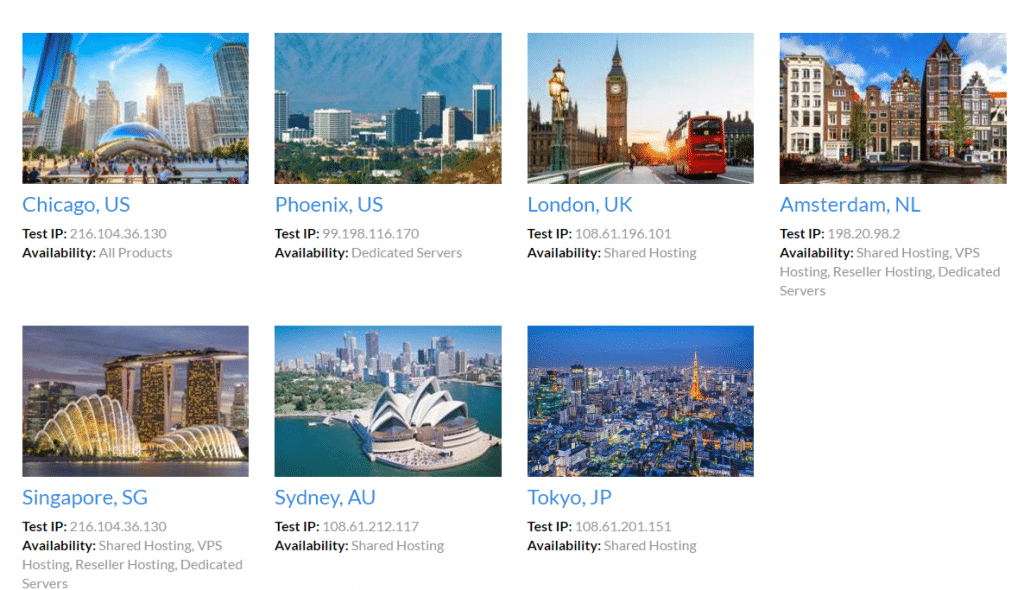 Exclusive Discount
50% + 5% OFF
When clicking this link, you will be assigned 50% off automatically and during checkout enter coupon code GREEN to get additional 5% OFF on final price.
Same renewal pric

e

:

Package starts from $2.85/month

Free domain name forever :

no additional pricing

Free daily backups :

TMDHosting tied up with Jetbackup, an cpanel backup service usually costs $9/month for a single domain.
Free site transfer with no limitations

WildCard SSL

: For free of cost ( costs $70/year)

Two payments mode:

Credit card and PayPal

Seven data center locations :

US, UK and Asia pacific
60 DAYS MONEY BACK GUARANTEE
Right from day 1, you will enjoy their service and if in case, you're planning to cancel the account, they are offering 60 days money back guarantee.
HostingStep Verdict
Do we recommend? Yes for sure.
You might learn from above data, TMDHosting offering better performance, good uptime and impressive features and the best thing the same renewal price.
It will not take a minute to get an account on their servers, and you can deploy your site with 60 days money back guarantee. Being looking for some EIG Hosting, you can test TMDHosting for a while, and I hope you won't disappointed.
I hope this TMDHosting review holds you to get an account on the fastest shared hosting account at TMDHosting.